2010 NBA Mock Draft: NBA Player Comparisons Edition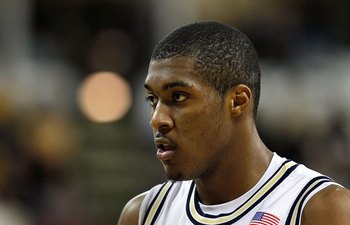 The actual order for the 2010 NBA Draft may not be set yet, but it's never too early to speculate how the pieces will fit together on draft day.
After the draft lottery is held and we know exactly which teams will be picking in what slots, mock drafts are likely to take on a very different look—because things such as team needs and system will be taken into consideration.
For now, it's fun to speculate.
In addition to my earlier mock, I've included player comparisons for each player, because speculating what type of player a draftee will become is nearly as much fun as creating a mock draft itself!
1. New Jersey Net: John Wall PG, Kentucky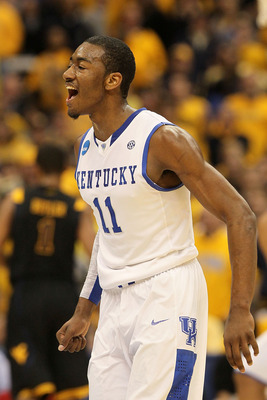 He's got a rare combination of size, athleticism, and speed that is sure to make him a star. The comparisons to Derrick Rose are right on.
2. Minnesota Timberwolves: Evan Turner SG, Ohio State
He is unbelievably versatile and does everything well. At 6'7" he handles the ball like a point guard. He reminds me of a young Grant Hill.
3. Sacramento Kings: DeMarcus Cousins PF/C, Kentucky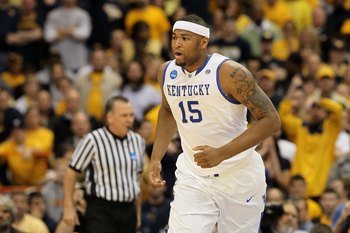 He's huge, strong, tall and much quicker than most guys his size. He will be a mismatch for nearly everyone. He is a bigger Al Jefferson in my book.
4. Golden State Warriors: Derrick Favors PF, Georgia Tech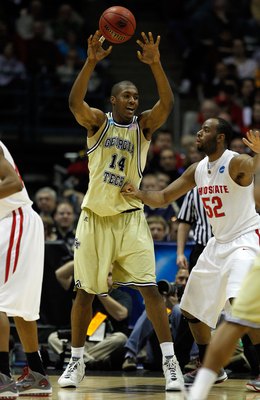 He is extremely athletic for a kid his size and has a tremendous wingspan. He runs on floor extremely well and has as much upside as anyone in the draft. When I see Favors play, I think Amar'e Stoudamire.
5. Washington Wizards: Wesley Johnson SF, Syracuse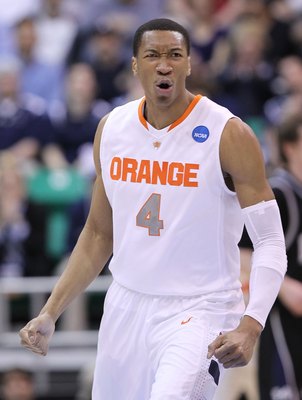 He is a tremendous athlete with a huge wingspan. His crisp jump shots and strong mid-range game will make the transition to the NBA easy. Shawn Marion anyone?
6. Philadelphia 76ers-Al-Farouq Aminu SF, Wake Forest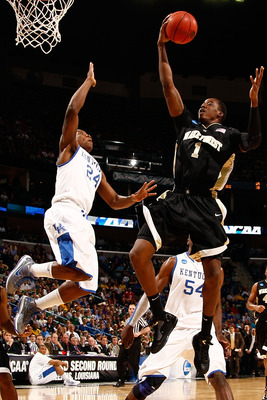 Athleticism, athleticism, and athleticism. His size and length combined with his freakish athleticism make him a strong rebounder and defender. He brings to mind the Hawks' Josh Smith.
7. Detroit Pistons: Greg Monroe PF, Georgetown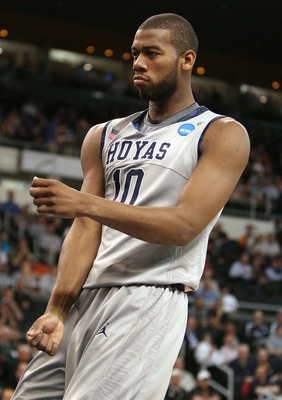 He is 6'10" but has the skill set of a guard. The lefty is also an extremely gifted passer. He is a unique talent and therefore hard to compare to anyone, but Chris Webber isn't far off.
8. Los Angeles Clippers: Cole Aldrich PF/C, Kansas
Aldrich got better in each of his three seasons in Lawrence, and is developing a nice all around game. He has an excellent wingspan and reminds me a lot of Brendan Haywood.
9. Utah Jazz: Ed Davis PF, North Carolina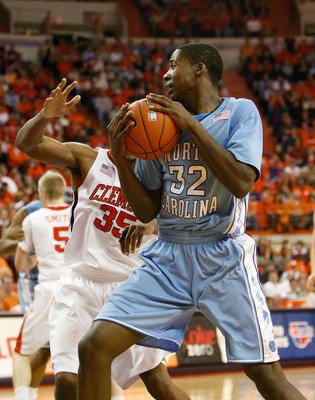 The lefty with a high motor has tremendous upside due to his length, skill set, and underrated athleticism. He also possesses great post moves and seems like a P.J. Brown clone.
10. Indiana Pacers-Patrick Patterson PF, Kentucky
Patterson went back to school last season and developed a smooth jump shot to go with some nice post moves. He is a much more complete player now and could be the next David West.
11. New Orleans Hornets: Donatas Motiejunas PF, Lithuania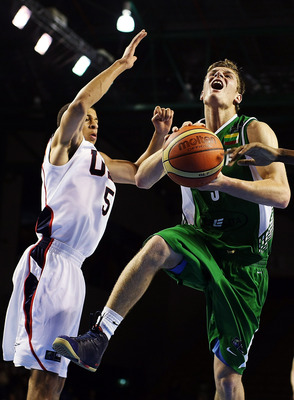 Motiejunas is built from the same mold as Andrea Bragnani—a 7'0. European who is more of a finesse player than a banger. He is versatile and has a ton of upside.
12. Memphis Grizzlies: Hassan Whiteside C, Marshall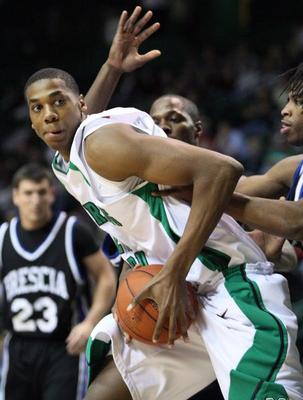 Legit NBA centers are hard to come by, but this athletic 7'0" big man sure looks like one. He has the size and strength to be a force in the NBA. Marcus Camby is not a bad comparison.
13. Toronto Raptors: Gordon Hayward SF, Butler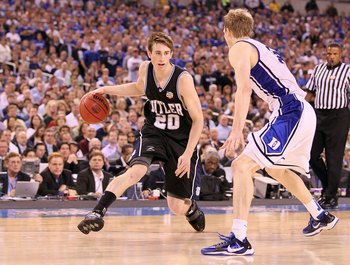 At 6'8" and with tremendous shooting ability, Hayward could be a match-up problem at the 3. He is gritty and plays the game intelligently. I think of Matt Harpring when I watch Hayward.
14. Houston Rockets: Xavier Henry SG, Kansas
Henry can shoot, slash to the hoop, and has an NBA body despite being barely 19. He has top notch upside that could make my comparison to Martell Webster seem foolish.
15. Milwaukee Bucks: James Anderson SG, Oklahoma State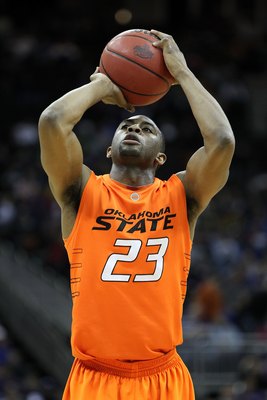 Anderson is a lights out shooter with unlimited range. He has shown improvement in taking the ball to the hole and is an excellent defender. He is a Nick Anderson clone.
16. Minnesota Timberwolves: Ekpe Udoh PF, Baylor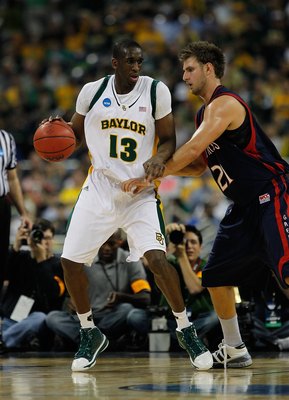 Udoh is a skilled big guy who excels at shot blocking. He has a tremendous frame and is an excellent offensive rebounder. He looks a lot like the second coming of Jason Thompson.
17. Chicago Bulls: Larry Sanders PF, VCU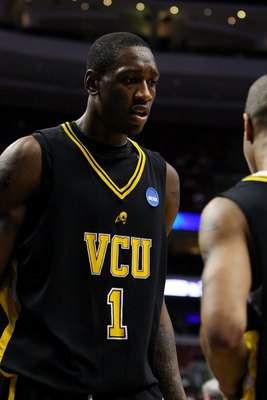 Sanders is an excellent rebounder due to his great size (6'10"), length, and explosiveness. His offensive game developed nicely in his three seasons at VCU. Theo Ratliff is a good comparison for Sanders.
18. Miami Heat: Eric Bledsoe PG, Kentucky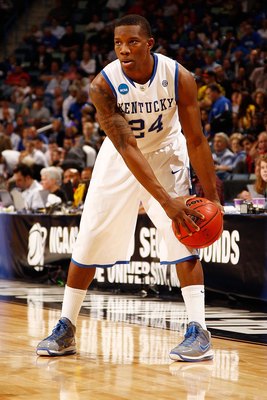 Bledsoe has an extremely quick first step and is a gifted athlete. He has more upside than most guys you can get at this point in the draft, but may have been better off staying school. Right now he looks a lot like Mo Williams.
19. Boston Celtics: Damion James SF, Texas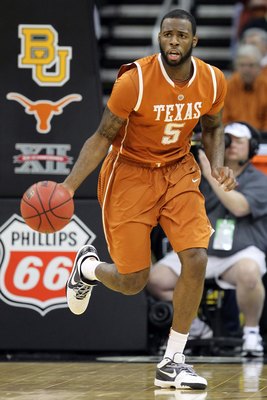 James is so athletic and quick that he is nearly impossible to stay in front of. He relies on a strong midrange game for much of his scoring. I think Gerald Wallace is a pretty good comparison.
20. San Antonio Spurs: Daniel Orton PF, Kentucky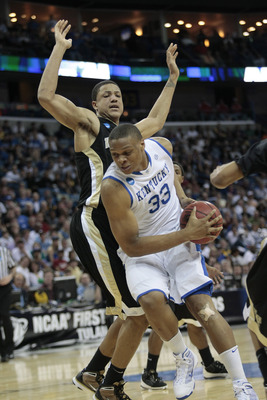 He has a great body and is athletic for a guy his size. He was impressive on both ends of the court in the limited minutes he played last season. He is a lot like Erick Dampier.
21. Oklahoma City Thunder: Paul George SF, Fresno State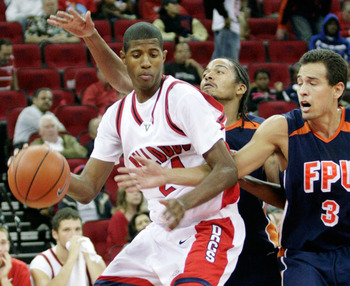 George looks like one of those guys who becomes a better NBA player than he was a college player. He has size (6'8"), unlimited range and is explosive. He could be another Trevor Ariza.
22. Portland Trailblazer: Avery Bradley SG, Texas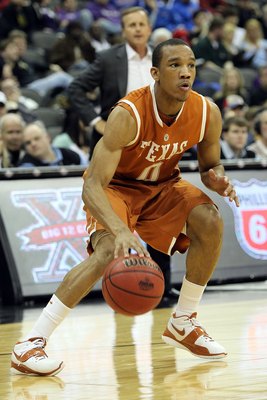 Bradley is a big time scorer who always is looking to attack. He may not be ready to help right away, but he has a lot of upside. Think of Monta Ellis.
23. Minnesota Timberwolves: Kevin Seraphin PF, France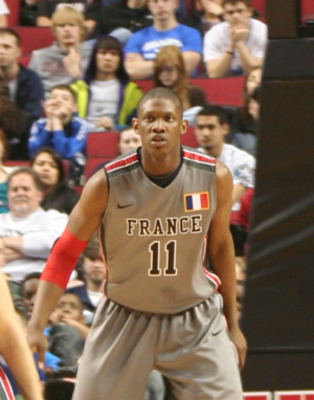 He is raw, but a gifted athlete who collects rebounds in bunches and runs the floor well. He looks like another project that could pay off big time down the road. He could develop into an Emeka Okafor type.
24. Atlanta Hawks: Luke Babbitt PF/SF, Nevada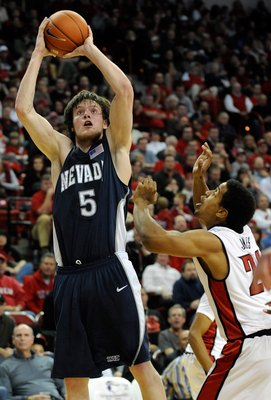 Babbitt is a big guy who knocks down everything. He is highly skilled and easily one of the most underrated talents in the draft. I swear to God that Keith Van Horn found the Fountain of Youth!
25. Memphis Grizzlies: Solomon Alabi C, Florida State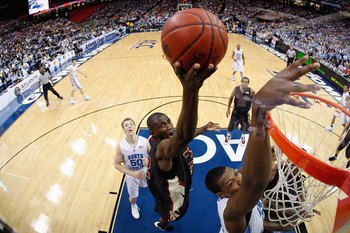 Alabi has the height and frame to be a legit NBA center. He'll have to put on weight, but he moves well and is athletic for a big. He needs time to develop, but could be a Samuel Dalembert type.
26. Oklahoma City Thunder: Elliot Williams SG, Memphis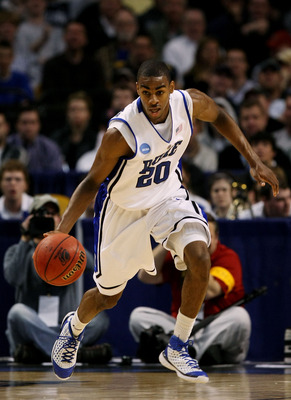 Williams is a versatile lefty with good athleticism. He gets to the basket effectively with a quick first step. He needs to work on his jump shot. Williams reminds me of Rodney Stuckey.
27. New Jersey Nets: Devin Ebanks SF, West Virginia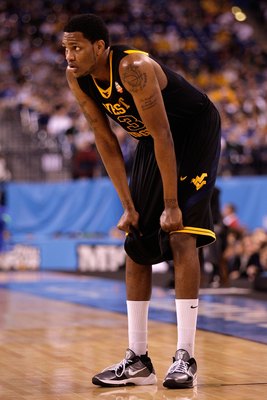 Ebanks is tall and smooth. He doesn't shoot particularly well, but takes high percentage shots. He is a ferocious rebounder. I think the comparisons to Corey Brewer are right on.
28. Memphis Grizzlies: Dominique Jones SG, South Florida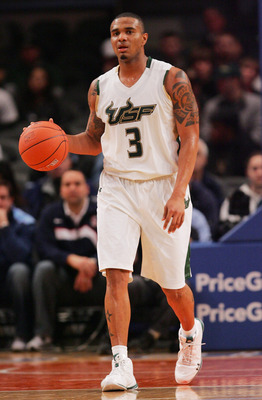 Jones is a nice all-round talent who can score in bunches. He really matured as a player while at South Florida. He could also play the point if necessary. Rodney Stuckey is a good comparison for Jones as well, but I also like Shannon Brown. Jones probably falls somewhere in the middle.
29. Orlando Magic: Willie Warren PG/SG, Oklahoma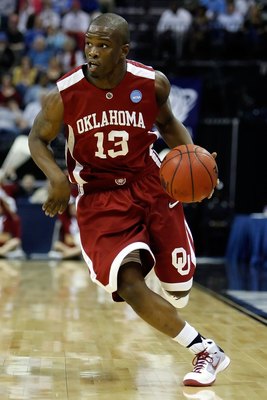 Warren's stock dropped this past season, but he could end of being a steal at the end of the fist round. He has a quick first step and can create offense for himself.
30. Washington Wizards: Quincy Pondexter SF, Washington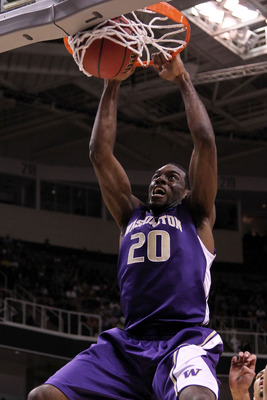 Pondexter has a great motor and is athletic and long. He finally live up to his potential during his senior year, and could develop into a productive NBA role-player. Pondexter brings to mind Desmond Mason.
For more articles like this visit us at RealSportsNet.com!
Keep Reading