2010 NBA Mock Draft: Derrick Favors Falls Out of the Top Five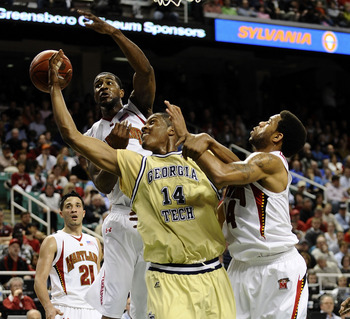 It is very difficult to accurately predict where in the draft a player will be selected. Outside of the first few picks, you should feel lucky to come close.
Truth is, NBA general managers wouldn't have it any other way. Us knowing who the Sacramento Kings or the Oklahoma City Thunder are going to draft only makes those teams more vulnerable.
At the same time, it is fun to try to pick the brains of the NBA front offices. And it is possible to make educated guesses.
If you think the Raptors are going to lose Chris Bosh to free agency this summer, it's safe to assume they will try and replace him with the No. 13 overall pick, right? I'm no Chad Ford, but I did my best to apply that same logic to all 30 first-round picks.
Take a look at my 2010 NBA Mock Draft and check back when you watch the actual NBA draft on June 24th.
Pick 1, New Jersey Nets: John Wall, Kentucky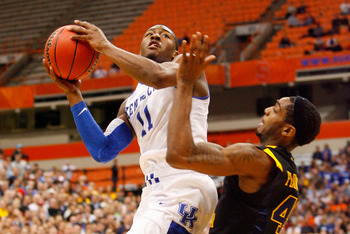 The Nets don't need a point guard. They have Chris Quinn and Devin Harris.
The Nets need a face for their franchise. They need a player with swagger. A player with a dance named after him. Not the kid from Ohio State, who off the court is as forgettable as three-day-old meatloaf. No, they need a player whom can be attractive in the New York media.
John Wall is this player, and this is why he will be the first overall pick.
Pick 2, Minnesota Timberwolves: Evan Turner, Ohio State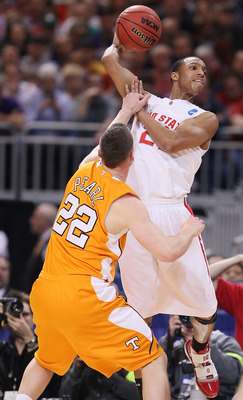 Turner is not a true point guard. This is evidenced by his 4.4 turnovers per game this past season.
For the Wolves, this is a good thing. They just drafted Jonny Flynn and Ricky Rubio.
Turner is a playmaker and the best available player. A 6'7" guard is not easy to come by, and he will create matchup problems for most every team in the league.
Pick 3, Sacramento Kings: DeMarcus Cousins, Kentucky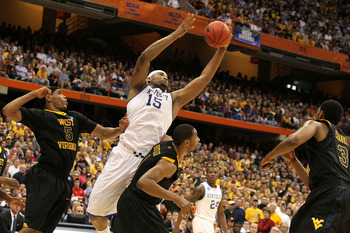 Where the Nets need swagger, the Kings need attitude.
They are soft. They have been since Chris Webber and Vlade Divac left town. Francisco Garcia and Donte Greene are many things, but intimidating they are not.
DeMarcus Cousins and all of his 270 pounds will bring all the toughness and attitude the Kings need.
Pick 4, Washington Wizards: Wesley Johnson, Syracuse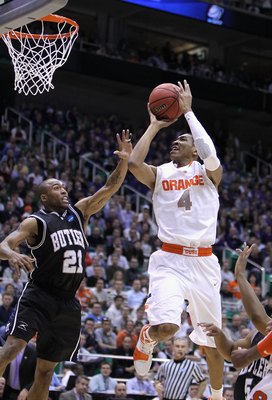 The Wizards are in a state of disarray. In just a few years, they have gone from playoff team to bottom-feeder.
Gilbert Arenas, their "star player," on top of being paid an outlandish $111 million over six years, thinks it a good idea to bring guns into the locker room.
Who better to rejuvenate this franchise then Wesley Johnson?
He's a high-character player who stays out of the spotlight. Johnson has oodles of skill and an abundance of athleticism. He can play every position on the floor.
Pick 5, Golden State Warriors: Greg Monroe, Georgetown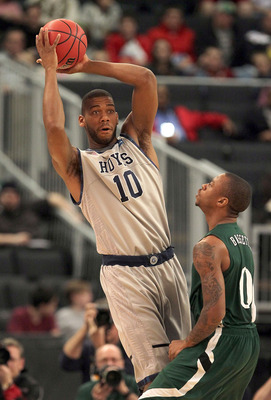 This pick makes sense for two reasons.
1. The Warriors play Nelly Ball, meaning they like to run. They averaged the most points in the NBA this past season. Monroe runs the floor very well for a 6'11" center.

2. Golden State is only one player away from contending for the playoffs. Monroe, unlike many of the top players who are selected based on potential, is NBA ready.
Give him a jersey and some shorts, and he will be ready to start for the Warriors tomorrow.
Pick 6, Philadelphia 76ers: Derrick Favors, Georgia Tech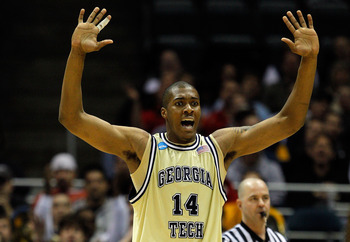 The 76ers, unlike the Warriors, are not one player away. They have entirely too much money tied up in an injury-prone and aging Elton Brand.
And who knows what the deal is with Allen Iverson? The 76ers need to rebuild, and it's going to take some time.
Philadelphia should spend that time developing a player in Derrick Favors who has the potential to be truly great.
Added to that, Favors is an absolute steal at the sixth pick.
Pick 7, Detroit Pistons: Ekpe Udoh, Baylor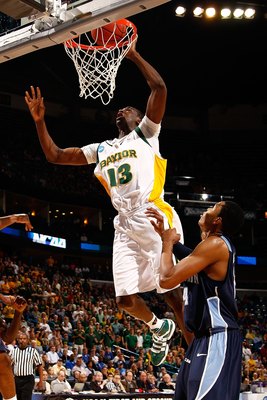 What happened to the hard-nosed Pistons teams from a few years back?
You remember the no-nonsense, no-flash, tough defensive teams that were in the conference finals for what seemed liked 10 years in a row.
If the Pistons want to get back to their winning ways, they should draft Mr. Ekpe Udoh. He is a defensive force with a burgeoning offensive game.
Udoh's game is a hybrid of Rasheed Wallace, Ben Wallace, and Tayshaun Prince. He has the length of Rasheed Wallace, the defensive and rebounding prowess of Ben Wallace, and the athletic ability of Prince.
Pick 8, LA Clippers: Ed Davis, North Carolina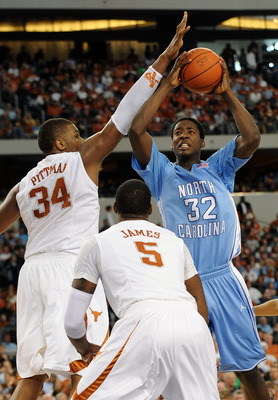 Does anyone else smell a bust here?
He is a soft big man being selected purely on potential. He is somewhat injury-prone and should have remained at UNC for an additional season.
Finally, who better to make another bad decision then the lowly L.A. Clippers?
Pick 9, Utah Jazz: Cole Aldrich, Kansas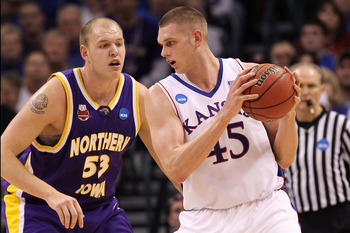 There is an above-average chance that the Jazz won't re-sign Carlos Boozer. Two of their other big men, Kyrylo Fesenko and Kosta Koufas, are not exactly established NBA players.
Needless to say, the Jazz could use a solid big man.
Aldrich appears to be one of the few sure things in the 2010 draft. While he may never be dominant, he will be able to rebound and play defense at the next level.
I look at Aldrich as a rich man's Greg Ostertag.
Pick 10, New Orleans Hornets: Al-Farouq Aminu, Wake Forest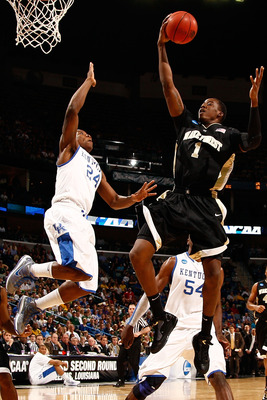 The alley-oop was a big reason for Chris Paul and Tyson Chandler's success together. How many times did you see Chandler screen for Paul, roll and throw down a monstrous dunk?
Emeka Okafor doesn't have that same athletic ability, and this is partly why he and the Hornets struggled last season.
Aminu should be able to add this missing athleticism to a New Orleans squad that isn't too far off from being a competitor again.
Pick 11, Indiana Pacers: Gordon Hayward, Butler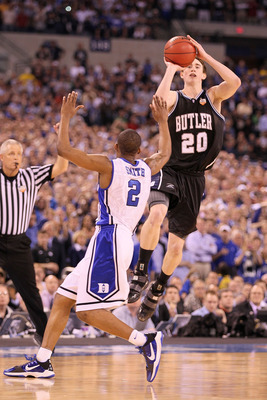 This pick is a match made in heaven. You have the hometown kid attempting to resurrect this once great franchise.
Hayward will without question be the most-sold jersey in town.
On a different note, it's a shame that Hayward is leaving. Butler would have been the most talented team in the country and would have been in the Final Four for the second straight season.
Pick 12, Memphis Grizzlies: Damion James, Texas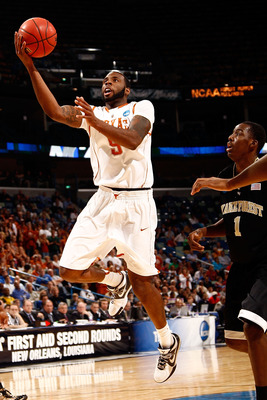 After the Hasheem Thabeet debacle, the Grizzlies owe their fans a solid.
James may not be the most talented player left on the board, but at least Memphis knows what they will be getting.
James will never be a perennial all-star, but he will be a solid contributor for the next 10-plus seasons.
When you employ talents like Marc Gasol and O.J. Mayo, you need to surround them with quality role players.
Pick 13, Toronto Raptors: Hassan Whiteside, Marshall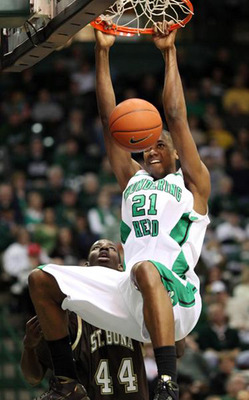 Rather then hold their breath waiting for Chris Bosh to decide his future, the Raptors should go out and find the next Chris Bosh.
Whiteside is the best player in the country that no casual fan has ever heard of.
At the same time, as he shined against lesser competition in Conference USA, there is definitely some risk associated with drafting him.
Then again, if Bosh leaves, the Raptors are doomed for the next two seasons anyway, right?
So why not take a chance?
Pick 14, Houston Rockets: Daniel Orton, Kentucky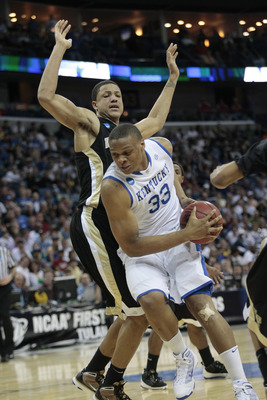 Yao Ming is the biggest wild card in the NBA. Will he play next season? Will be be effective?
Outside of Ming, the Rockets big men are Jared Jeffries and Jordan Hill. At times, these two appear as if they're allergic to the paint.
Orton may not have logged big minutes at Kentucky last season, but it was clear that he had no problem getting his hands dirty. He should add a much needed defensive and rebounding presence to a team that's on the rise.
Pick 15, Milwaukee Bucks: Solomon Alabi, Florida State
The Bucks surprised everyone with their play in the '09-'10 NBA playoffs. After losing Andrew Bogut, they could have rolled over.
Instead, they took the Hawks to a Game Seven.
The Bucks ultimately fell short due to a lack of size. Alabi is 7'1", 250 pounds.
Fear the Deer? How about, fear the Alabi.
Pick 16, Minnesota Timberwolves: Patrick Patterson, Kentucky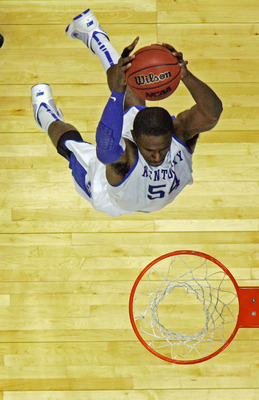 This pick would be similar to when the Thunder drafted Kevin Durant and Jeff Green to be their Batman and Robin.
The Wolves drafted their Batman in Turner and now they get their Robin.
Pick 17, Chicago Bulls: Donatas Motiejunas, Lithuania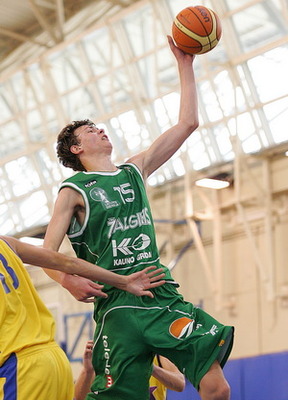 Chicago is hoping to land one of the top free agents this summer, and it would go a long way for the Bulls to show one of these stars that they are a top priority.
What better way to do this then to draft a player you can stash in Europe and not pay right away?
In doing so, the Bulls would be saying to Dwyane Wade or Chris Bosh that they are the only missing piece to the puzzle.
Pick 18, Miami Heat: Quincy Pondexter, Washington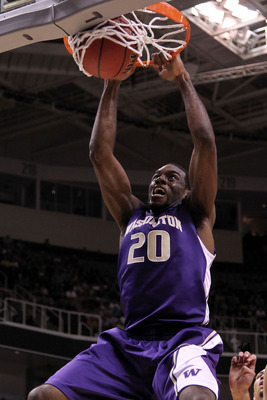 Let's be honest with each other.
The Miami Heat made a horrible decision in drafting Michael Beasley No. 2 overall. He's soft, has a below average jumper, and doesn't play a lick of defense.
I say the above, because if the Heat expect Wade to remain in Miami, they need to start surrounding him with real talent. As Wade wants to win now, they need a player who can come in and contribute right away.
Pondexter is this player.
Pondexter spent four seasons at Washington developing his body and game, and he is ready to take Beasley's starting spot.
Pick 19, Boston Celtics: Xavier Henry, Kansas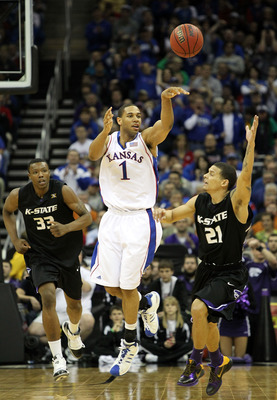 Where the Heat need to draft an already established player, the Celtics can afford to select a player based on his potential.
Rajon Rondo owes much of his success to the way in which Garnett, Pierce, and Allen raised him.
From Day One, they ensured that he made all the right decisions to maximize his talent. Expect Henry to be brought up the same way.
Pick 20, San Antonio Spurs: James Anderson, Oklahoma State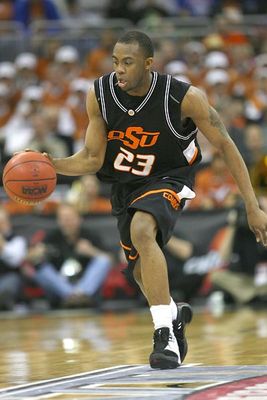 Anderson's score-first attitude doesn't exactly fit with the Spurs' team-first strategy, but he's too good a talent to pass up at this spot.
He is one of the most prolific scorers in the draft, and selecting him at No. 20 would be a steal.
Pick 21, Oklahoma City Thunder: Eric Bledsoe, Kentucky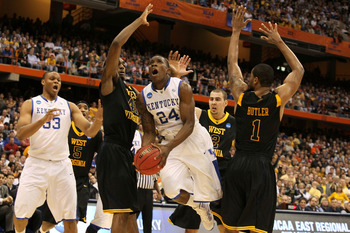 The Thunder aren't in desperate need of anything. With Durant, Ibaka, Westbrook, Green, and Harden, they have a fantastic young core.
If one was to nitpick, they could say the Thunder lack depth. This is where Bledsoe comes in.
Bledsoe will have the same role in Oklahoma City as he had in Kentucky. He will be the third or fourth option, and will spend most of his time hovering around the perimeter.
If he can knock down the three-ball like he did as a Wildcat, he will have a successful NBA career.
Pick 22, Portland Trail Blazers: Devin Ebanks, West Virginia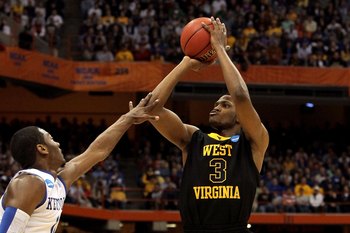 Make no mistake. It's certainly a risk to draft Ebanks. Then again, the Trail Blazers already have a perennial playoff team in place and can afford to take a risk with the No. 22 pick.
Nobody questions Ebanks' athletic ability. It's his lack of raw basketball skill that worries NBA general managers. His jump shot and handle need much work.
Pick 23, Minnesota Timberwolves: Willie Warren, Oklahoma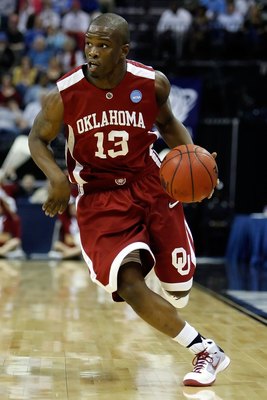 If nothing else, Warren adds some much needed toughness to a soft Wolves backcourt.
Corey Brewer is 6'9", 180 pounds; Jonny Flynn is 6'0", 185 pounds; Ramon Sessions is 6'3", 190 pounds; and Ricky Rubio is 6'5", 190 pounds. Warren is 6'4" and a thick 210 pounds.
Pick 24, Atlanta Hawks: Paul George, Fresno State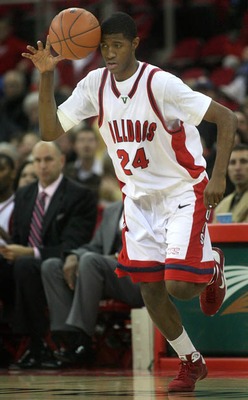 The Hawks need to figure out what to do if Joe Johnson decides not to return. They will be losing a team leader who averaged 21 points and nearly five assists per game.
One thing the Hawks could do is draft Paul George.
We know the Hawks have guard play and big men, but they need help in the swing man department. George is an excellent athlete with a great upside and would be more well known if not for the East Coast bias.
Pick 25, Memphis Grizzlies: Luke Babbitt, Nevada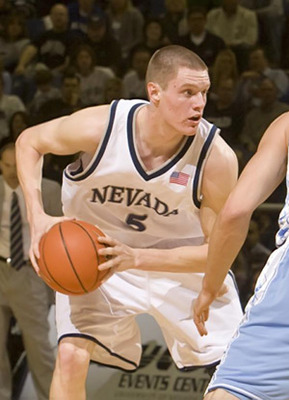 The Grizzlies have the same free agency worries as the Hawks. While Rudy Gay isn't the same player as Joe Johnson, he did average nearly 20 points per game this past season.
Memphis would be fortunate if Babbitt fell to them at No. 25. He is not as athletic as Gay, but is as explosive on the offensive end of the floor.
Pick 26, Oklahoma City Thunder: Larry Sanders, Virginia Commonwealth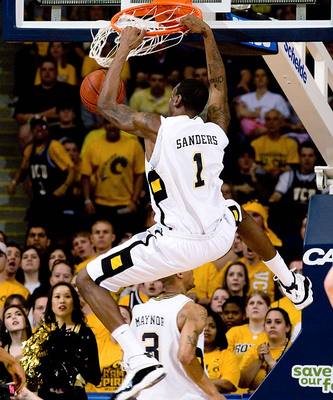 Similar to the James pick, the Thunder would draft Sanders to compliment Westbrook and Durant.
Sanders averaged nearly a double-double in school, and appears to have the skill set to have a long NBA career.
It's no big deal if it takes him a few years to pan out, as the Thunder have a playoff team already in place.
Pick 27, New Jersey Nets: Avery Bradley, Texas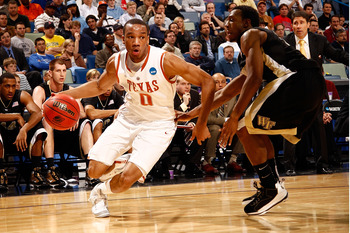 It's no secret the Nets need all the help they can get.
Bradley can inject defense into one of the poorest defensive teams in the NBA. As with many younger players entering the draft, he will need time to develop.
As the Nets are still a few years away from competing, this should not be an issue.
Pick 28, Memphis Grizzlies: Elliot Williams, Memphis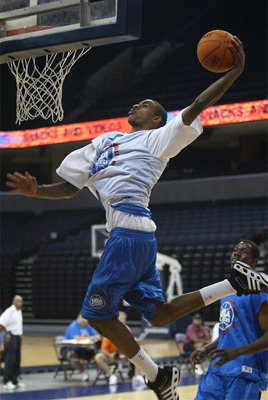 A team can never have too many guards. Williams is versatile and can back up Conley at point, as well as Mayo, at the two guard spot.
Having gone to Memphis, he is familiar with the area and should fit in well.
Pick 29, Orlando Magic: Kevin Seraphin, France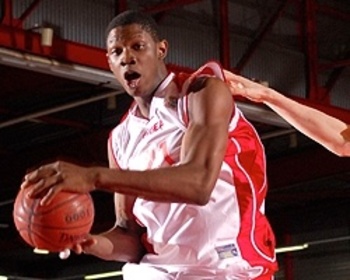 Have you been watching the Magic dismantle the Hawks?
Orlando is loaded.
If Seraphin needs to stay in France for a few more seasons, it's no big deal.
In general, I would trust the Orlando Magic front office.
Firstly, they drafted Dwight Howard over Emeka Okafor. Secondly, they brought in Jameer Nelson, who has turned out to be one of the premier point guards in the NBA. Finally, they let go of their most clutch playoff performer from last season, Hedo Turkoglu, and haven't missed a beat.
Pick 30, Washington Wizards: Dominique Jones, South Florida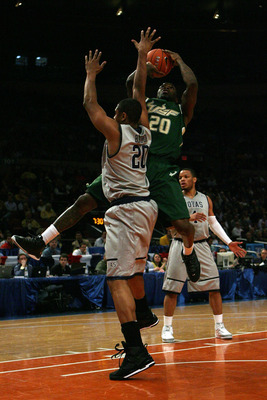 There is no mystery as to what you are going to get with Jones. He is a physical guard, and one of the top scorers in the draft.
There should be no risk associated with the pick. I feel confident in saying that he will be a contributing member of the NBA for upwards of 10 seasons.
Keep Reading