2010 NBA Playoffs: Wild Wild Finish in the Wild Wild West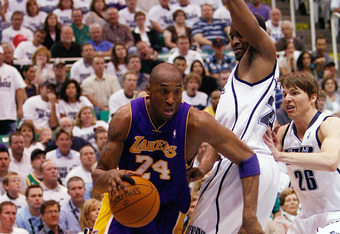 Jonathan Ferrey/Getty Images
One of the most exhilarating finishes in this young 2010 NBA Playoffs came in Game Three of the Lakers-Jazz series. It was a game in which the biggest stars shined brightest, complemented by some heroics from a relative unknown.
Of course, a good deal of the game was dominated by none other than Kobe Bryant, who led the way for the Lakers with 35 points and seven assists. For Utah, it was Deron Williams, with his 28 points and nine assists who paved the way.
Also coming up big in the clutch for the Jazz was Kyle Korver, who had a key 23 points coming off the bench.
The game started off with a series of runs by Utah, in which they led 6-15 and 15-22. For Los Angeles, Kobe Bryant scored the first six points and was held scoreless for the remainder of the first quarter.
At one point in the second quarter the Jazz were able to extend their lead to 12, having a 29-41 advantage. But the combination of Kobe, Derek Fisher, and Shannon Brown were enough to pull L.A. within four at the half.
The Lakers took their first lead of the half after Bryant knocked down a 24 foot-jumper to put the top seed in the west up by one. After that, lead changes were frequent and both teams received adequate offensive and defensive production from a wealth of their players.
Those involved for Los Angeles were, as usual, Kobe Bryant, Pau Gasol, Derek Fisher, and Ron Artest, the ladder of whom surprisingly knocked down back to back threes at one point.
Meanwhile, the Jazz got help from Deron Williams, Carlos Boozer, Paul Millsap, and Wesley Matthews. Even C.J. Miles made a couple of baskets early in the quarter. When it was time for the fourth quarter to begin, the score was 82-80 in favor of the Lakers.
It was only during the fourth quarter where the real drama unfolded.
L.A. received an early spark from Ron Artest, who had their first nine points of the fourth quarter. For Utah, Kyle Korver got things started by knocking down a pair of threes and a long two.
The largest lead of the quarter for either team came with 7:45 remaining in the game, when the Wesley Matthews scored two on a dunk and then another point off an ensuing free throw.
Things looked bleak for the team in purple in gold, but they got a major boost when they needed it most from one of their core players. No, it wasn't Kobe Bryant. This time it was Lamar Odom.
Odom scored six points, with the first three coming from the free throw line. After that, with about 2:25 left in regulation, Odom hit a big-time three that put the Lakers atop at 101-100.
The Jazz countered with a Paul Millsap layup, but the Lakers' response was swift, with a Kobe Bryant jump-shot coming immediately after. However, as was mentioned earlier, Kyle Korver was a clutch performer for the Jazz.
So it was Korver who struck next, hitting another shot from beyond the arc, giving his team a 103-105 lead with just under a remaining. Wesley Matthews added to the lead, tacking another point from the charity stripe.
But Kobe Bryant was not to be silenced. "The Black Mamba" struck again, draining a three-pointer just as the game entered its final minute. Deron Williams returned the favor with a two-point jumper, making the score 106-108.
So who did the Lakers turn to next? Not Kobe. So it had to be Derek "Big Shot" Fisher, as he shall now be called, who, while in the process of giving the Lakers a 109-108 lead, added another clutch three-point shot to his illustrious collection.
The Lakers found themselves with a golden opportunity when Kobe Bryant rebounded a Carlos Boozer miss and was consequently fouled. Kobe made the most of his chance, making shots during his trip to the free-throw line.
With 0:06 left, Deron Williams was fouled. He hit both foul shots, and cut the L.A. lead to one. Following a Lakers' timeout, Ron Artest's inbounds pass was stolen by Kyle Korver who got the ball up-court, into the reliable hands of Deron Williams.
Williams, who was wide-open at the top of the arc, fired a shot that struck rim and bounced out. There for the rebound was Wesley Matthews, who missed a desperation put-back, ending the game with the Lakers on top 111-110.
It was a phenomenal effort by the Jazz who were lead by Deron Williams, who, as was previously mentioned, had 28 points and 9 assists, Kyle Korver, who scored 23 points, and Carlos Boozer, who tallied 14 points and 14 boards.
Also adding to the effort were Paul Millsap, who had 13 points, C.J. Miles, who totaled 11 points, and Wesley Matthews with nine points.
On the other hand, Kobe, who had 35 points and seven assists, shouldered a great deal of the load for Los Angeles.
Others who contributed were Ron Artest and Derek Fisher, who had 20 points a piece. Pau Gasol, who scored 14 and had an impressive 17 rebounds, and Shannon Brown and Lamar Odom, who had nine and eight points respectively.
While it was a valiant effort for the Jazz, in the end, the Lakers proved they were the superior team. If there was such a thing as a moral victory in sports, this might be a game were that term was applicable, but unfortunately for Utah there is not.
Instead, the Jazz should attempt to duplicate this performance for Game 4. If they do, then they will have a great chance of getting a victory. For the Lakers, this game was just another step toward their ultimate goal: Another NBA Finals Championship.
They should try to build on this win for the next game. Their latest victory should not get into their heads, as even though they are one game away from eliminating the Jazz and moving on to the Western Conference Finals, the Jazz are a tough and strong team, capable of bouncing back in even the hardest of times.
For now, let this game remain as one of the top games of the 2010 NBA Playoffs thus far. It was one of the most thrilling games of the season, and hopefully foreshadows an even more exciting Championship round.
This article is
What is the duplicate article?
Why is this article offensive?
Where is this article plagiarized from?
Why is this article poorly edited?

Los Angeles Lakers: Like this team?