Sports Take: Volume 3: The Commissioner Strikes Back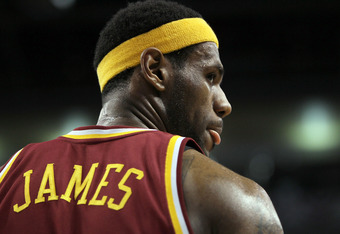 Jim Rogash/Getty Images
I realize I'm playing off of Star Wars Episode V here, but you can deal with it.
After all, how often do suspensions in the NFL happen? Come to think of it, there's been three passed out this week. That's okay, you can deal with it anyways.
Let's see if I can get my readership up by mentioning LeBron a ton. Here goes: LeBron James, LeBron James, LeBron James.
Okay, seriously, read on so I can say what I've wanted to say since the first quarter of the first game yesterday.
I told you soooooo **wicked laugh**. This was in my Sports Take article from yesterday. "The series shifts back to Boston tonight with a (1-1) series tie, but I'm expecting the Cavaliers to come out tonight and flex their muscles. This team was the best team in the Eastern Conference for a reason, and unless Danny Ainge whips LeBron hard with a towel on his elbow tonight, I'm thinking King James might just go off."
That's exactly what happened, as the Cavaliers took a (2-1) series lead over the Celtics. The Cavaliers were up 65-43 on the Celtics at the half, and this one was just never a game.
LeBron James led all players in points, rebounds, and assists in the first half. James had 28 points, eight rebounds, and four assists in the first half alone.
When a team comes out and gets embarrassed on its home floor, the players usually wind up coming back the next game.
I'm expecting that to happen in Game 4 in Boston, with the Celtics eventually making the series even at (2-2).
Brian Cushing Suspended for Steroids:
Last year's NFL Defensive Rookie of the Year, Brian Cushing, was suspended four games by the NFL Friday for violating the league's policy on steroids and related substances.
Cushing originally appealed the decision during the scouting combine back in February, but today was notified by the league of the suspension.
It's very interesting to note the reaction to the suspension around the league. His teammate, Texans Safety Dominique Barber, noted on his twitter account a message that spoke his frustration with the situation.
Barber's response? "F*****kkkkkk" Meanwhile, Bills Safety Donte Whitner clearly believes that the award Cushing received for his play last season should be stripped. Whitner said, ""B. Kushing suspended for sterods! I don't respect guys that CHEAT! . . . They should take his Defensive rookie of the year away!"
Coincidentally, Whitner's teammate Jairus Byrd was second in voting for the award, with Cushing receiving 39 of the 50 votes, with Byrd receiving six.
In my opinion, Cushing should absolutely be stripped of his award. How can you award someone for his achievements when it was proven it was done through cheating?
You can't, and league commissioner and part-time pitbull, Roger Goodell, I'm assuming will have the same feelings as well.

Gregg Popovich made the move to bench George Hill for Tony Parker as expected. The move didn't exactly pay out statistically for Parker, or the team. The Spurs lost by 14, 110-96, with the bench for Phoenix dominating the game in the second half.
Goran Dragic absolutely played out of his mind in the second half of this game. All of his points came in the second half, and whether it was a four-point play, or layup after layup, he seemed unstoppable.
Steve who? The former MVP was busy sitting on the bench for most of the fourth quarter as this no-name player lit up the floor for 26 points on 10-13 shooting from the floor.
Now it's on to Game 4 in San Antonio, where I'm predicting the Spurs win one game to avoid a sweep. One has to wonder though, is there any life left in the Spurs?
Quote of the Night: Suns coach Alvin Gentry when responding to a question about what the rowdy AT&T center has done to his team - "I haven't seen a fan make a jump shot yet."
This article is
What is the duplicate article?
Why is this article offensive?
Where is this article plagiarized from?
Why is this article poorly edited?

Cleveland Cavaliers: Like this team?