Confidence hasn't always been Klay Thompson's forte. During his rookie campaign with the Golden State Warriors, even those around the team might've mistaken the 11th pick in the 2011 NBA draft for a mute.
As Thompson told SLAM's Nima Zarrabi in December:
Ask anybody on the team, I said very few words here my first year. I feel a lot more comfortable around the facility and all the guys. Even with Bob Myers and our owners Joe and Peter—it's easier to joke around with those guys being in my fifth year. But they really may have only heard me say 10 words my entire rookie year. It's been a drastic change.
That much he's made clear in both word and deed. In mid-December, when the Bay Area News Group's Diamond Leung asked Thompson to name the top shooting guard in the game, he replied, "I'm going to go with myself."
At the time, his choice was plenty justified. The night before, he had poured in 27 points to torch the Milwaukee Bucks. Two nights prior to that, he'd erupted for 27 points in the third quarter alone on the way to a 43-point evening at the Phoenix Suns' expense.
Since then, Thompson's case for No. 1 at his position has only strengthened. His 36-point flame show during the Warriors' 109-88 win over the short-handed Los Angeles Lakers on Tuesday was just the latest exhibit.
Thompson did most of his damage against his dad's old team with one of his patented hot streaks in the first quarter. The All-Star hit his and Golden State's initial shot of the game and finished the opening period with 22 points on 9-of-14 shooting, including 4-of-7 from three-point range.
Thompson took a break from scoring in the second quarter but got back in the act with 14 in the third. For whatever reason, the Warriors put him back in about halfway through the final frame, despite the 28-point margin separating the West's best team from its worst. He barely broke a sweat before heading back to the bench three minutes later.
Lakers guard Jordan Clarkson did his best to shine opposite Thompson. He led L.A. with 23 points, though he couldn't make up for the absences of Kobe Bryant in the starting five and D'Angelo Russell off the bench.
As impressive as Thompson was and has been, his positional assertion remains far from foolproof. His five 30-plus-point performances this season, while remarkable, leave him well behind James Harden's league-leading 14. Among 2-guards, Thompson sits fifth in scoring.
NBA's Highest Scoring Shooting Guards

| | |
| --- | --- |
| | PPG |
| James Harden | 28.1 |
| DeMar DeRozan | 22.9 |
| Jimmy Butler | 22.1 |
| C.J. McCollum | 21 |
| Klay Thompson | 20.9 |
NBA.com/stats
Thompson has some ground to make up. Harden was and still is a one-man offense for the Houston Rockets. Jimmy Butler has become the Chicago Bulls' Big Kahuna (more on him in a bit). DeMar DeRozan and Kyle Lowry take turns as the Toronto Raptors' top dog.
Thompson, meanwhile, will forever play second fiddle to Stephen Curry so long as the reigning MVP is ambulatory.
That, as it happens, means that now might be Thompson's best chance to prove he's the cream of the crop among 2-guards. Curry chipped in 17 points and six assists before re-aggravating his nagging shin injury during a collision with Roy Hibbert in the third quarter. If Curry has to miss more time to lick his wounds, the onus will fall in part on Thompson to pick up the slack.
So far this season, his track record in those situations has been mixed. Thompson managed a mere 10 points on 4-of-15 shooting in a 23-point loss to the Dallas Mavericks on Dec. 30, but he followed that up with 38 in Houston the following night—out-dueling Harden, who piled up 30 of his own—and 26 in an overtime game against the Denver Nuggets.
With or without Curry, nobody puts the "shooting" in "shooting guard" like the taller and younger of Golden State's Splash Brothers. Among the quintet of 2-guards mentioned earlier, Thompson is easily the deadliest marksman.
His argument stems from more than just his own sniping, though. At the time, Thompson cited his team's 26-1 record, the best 27-game start in NBA history, in support of his claim to the off-guard throne.
Golden State has gone 6-1 since then to once again set itself apart in the annals of Association lore, per ESPN Stats & Info:

The Warriors set the record for best 35-game start in NBA history (33-2) with their win against LA. Three teams went 32-3. All won titles.

— ESPN Stats & Info (@ESPNStatsInfo) January 6, 2016
Blend Thompson's soaring confidence with his smooth stroke, signature scoring explosions, critical role on the league's best team and, perhaps, a second title, and calling him anything but the best shooting guard in the game could be as futile as trying to squeeze a complete sentence out of his 21-year-old self.
Butler, Bulls Break Point Bank Again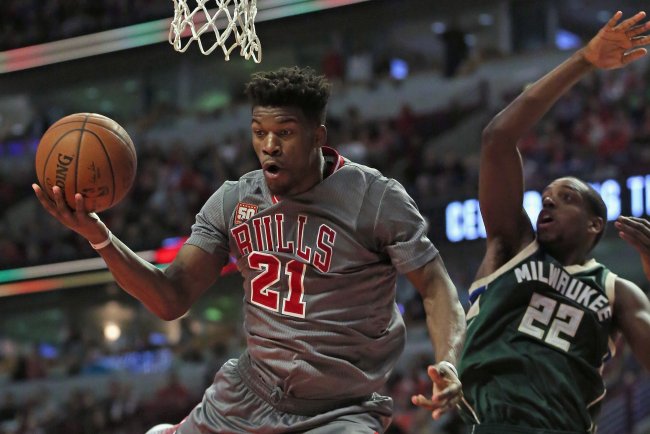 Jonathan Daniel/Getty Images
Jimmy Butler is no Michael Jordan—nobody is—but his latest feat put him within a breathless sentence of His Airness in some small way.
Combine the 20 points Butler scored in the first half of the Chicago Bulls' 117-106 win over the Milwaukee Bucks with the franchise-record 40 he dropped on the Toronto Raptors after halftime on Sunday, and Butler basically put together a 60-point game.
No Bull other than Jordan has ever gone sexagenarian in a single contest, but Butler has been plenty prolific of late. With 32 points at Milwaukee's expense, Butler ran his two-game total to 74 and extended his streak of 20-plus-point performances to four.
Butler's individual brilliance has helped light up Chicago's lagging offense. The Bulls' effort against the Bucks doubled as their eighth straight outing with at least 100 points—a feat that, as the Chicago Tribune's K.C. Johnson noted, this defensive-minded franchise hadn't pulled off in over a year:
Bulls are trying to score 100 or more points in 8th straight game for 1st time since 11/25/14 to 12/12/14.

— K.C. Johnson (@KCJHoop) January 5, 2016
"If we don't play for one another and stick together, we're not a good team," Butler told reporters afterward, per Bulls reporter Sam Smith. "But I think everybody has the team's best interests at heart."
Butler included.
Knicks Leave Last Season's Ignominy Behind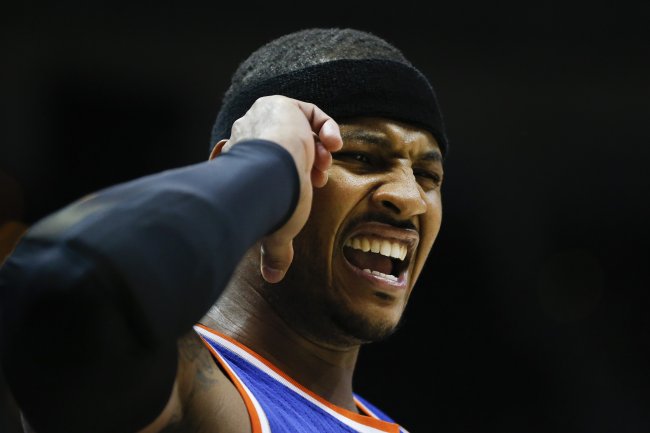 John Bazemore/Associated Press
How far have the New York Knicks come since their debacle of a season in 2014-15? Consider what they accomplished by holding off the Atlanta Hawks, 107-101.
The Knicks' victory at Philips Arena was their eighth in 19 road games so far. That 8-11 mark may not look like much, but it's already better than last season's sorry 7-34 showing outside of Madison Square Garden.
In the bigger picture, New York (17-19) matched its entire win total from the franchise-worst campaign that preceded this one. As ESPN.com's Ian Begley pointed out, the Knicks are 12 games better now than they were exactly a year ago:
After their game on Jan. 5 last season, the Knicks were 5-32.

— Ian Begley (@IanBegley) January 6, 2016
What a difference it makes to have a healthy Carmelo Anthony (23 points, 11 rebounds, seven assists) surrounded by quality contributors such as Arron Afflalo (23 points, seven rebounds, four assists), Jose Calderon (seven points, six assists), Robin Lopez (nine points, eight boards), rookie Kristaps Porzingis (17 points, 11 rebounds) and, on this night, Derrick Williams (15 points).
If the Knicks keep the good times rolling for a while, they could become the second straight team to go from Eastern Conference cellar-dweller to playoff participant, following in Milwaukee's footsteps.
Throwback D-Will Saves the Day
There was a time when Deron Williams taking and making a game-winning shot wouldn't have startled a soul. But time—and the injuries accrued therein—has a way of turning crunch-time heroes and All-Stars into bystanders and also-rans.
On Tuesday, though, Williams looked more like D-Will than Old Deron during the Dallas Mavericks' 117-116 double-overtime win over the Sacramento Kings. The Texas native paced the Mavs in points (25) and assists (four), but he did his most critical damage on a buzzer-beating three to save Dallas' bacon at the end of the second overtime.
The three-time All-Star's 2015-16 season hasn't been short on big games. The Mavericks' victory (their 22nd straight over Sacramento at American Airlines Center) was Williams' seventh game of the campaign with at least 20 points.
With DeMarcus Cousins going off, Dallas needed every drop D-Will had to offer. Boogie forced the first overtime with a clutch layup at the end of regulation and dominated the second extra period with nine of his game-high 35 points.
But Cousins' 10 turnovers—which, along with his scoring total and 17 rebounds, technically gave him a triple-double—cut into his overall effectiveness. So did his difficulty keeping Zaza Pachulia (six offensive rebounds, 17 total) off the glass.
Still, Williams will go down as Dallas' savior in this one. The more magic the Mavericks can wring out of him going forward, the better equipped they'll be to hang around the wild West all year long.
Josh Martin covers the NBA for Bleacher Report. Follow him on Twitter.