Memphis Grizzlies power forward James Johnson was arrested on Saturday morning following an alleged domestic dispute with his wife, according to Fox 13 Memphis' Peter Fleischer on Twitter:
Grizzlies forward James Johnson was arrested early this morning outside his Memphis home. More on @myfoxmemphis shortly.

— Peter Fleischer (@Peter_Fleischer) June 7, 2014
James Johnson was arrested for domestic assault. His wife told police that he struck her open handed and choked her. pic.twitter.com/pDN57Ns0Of

— Peter Fleischer (@Peter_Fleischer) June 7, 2014
Fleisher details the situation described in the police report:
The police report says JJ pushed his wife's mom grabbed his baby & ran off. Returned to the scene when police were there and was arrested.

— Peter Fleischer (@Peter_Fleischer) June 7, 2014
Fleisher adds that alcohol may have been a factor in the alleged incident that led to Johnson's arrest:
Police observed no physical damage to JJ's wife, and she refused medical treatment. She admitted that both parties had been drinking.

— Peter Fleischer (@Peter_Fleischer) June 7, 2014
According to MyFoxMemphis.com, the 6'9", 245-pound Johnson and his wife got into an altercation early Saturday morning around 2 a.m. local time. That's when Johnson allegedly struck her in the face and choked her, according to what she told police.
She also alleges that Johnson punched a hole in the bathroom door while she was in there with their child. Johnson has been charged with domestic assault-bodily harm and is scheduled to be in court on Monday, per MyFoxMemphis.com.
A former first-round draft pick of the Chicago Bulls in 2009, Johnson has played for four different NBA teams over the past five seasons, starting 91 regular-season games for his career.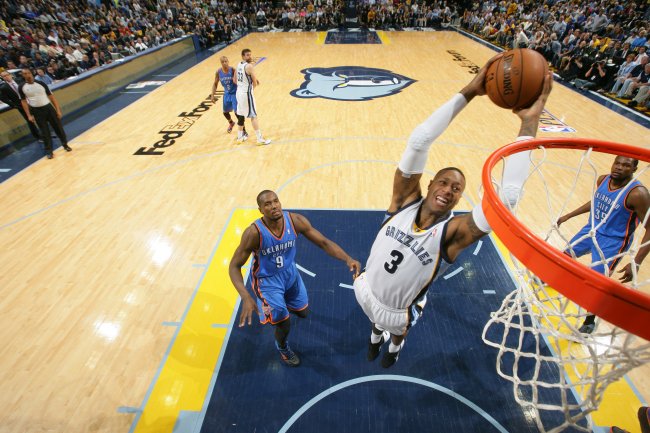 Joe Murphy/Getty Images
The 27-year-old was starring for the Rio Grande Valley Vipers of the NBA's Development League last fall before being signed by Memphis. He would appear in 52 regular-season games for the Grizzlies in 2013-14, averaging 7.4 points and 3.2 rebounds in 18.4 minutes per game off the bench.
Johnson would appear briefly for Memphis in the 2014 NBA playoffs, making a minimal impact in three games against the Oklahoma City Thunder.
Follow Bleacher Report Featured Columnist Patrick Clarke on Twitter.