The No. 8 seed Dallas Mavericks staved off elimination on Friday night, erasing a seven-point deficit in the fourth quarter to beat the top-seeded San Antonio Spurs, 113-111, in Game 6 of their first-round playoff series.
With the series tied 3-3, Game 7 is set for Sunday in San Antonio.
ESPN Stats & Info puts Dallas' win into perspective:
Only two 1-8 matchups had reached Game 7 prior to this postseason. Both 1-8 matchups will play a Game 7 this weekend.

— ESPN Stats & Info (@ESPNStatsInfo) May 3, 2014
Monta Ellis and Dirk Nowitzki led the way for the Mavericks, scoring 29 points and 22 points, respectively. DeJuan Blair was huge off the bench, recording a double-double and making several key plays on the defensive end of the floor.
Tony Parker poured in a team-high 22 points for the Spurs, but committed a costly turnover late in the game.
Game 6: Mavericks 113, Spurs 111

| | | | | | |
| --- | --- | --- | --- | --- | --- |
| | 1st | 2nd | 3rd | 4th | Final |
| (1) San Antonio Spurs | 26 | 26 | 29 | 30 | 111 |
| (8) Dallas Mavericks | 34 | 24 | 18 | 37 | 113 |
ESPN
Prior to Friday's game, Nowitzki talked about the Mavericks' mindset coming into the do-or-die matchup, per The Associated Press, via ESPN.com:
"The way you've got to look at it is you've got to win one home game. We worry about everything else after that. Fun setup tomorrow, one game to win at home."
Desperate, the Mavericks got off to a fast start in front of a raucous crowd, shooting 55.6 percent from the field as a team and committing just one turnover in the opening period. After putting San Antonio on its heels, Dallas would lead by eight at the end of the first quarter, per NBA on ESPN:
Facing elimination, the Mavs got off to a hot start and lead the Spurs 34-26 after 1 in Game 6. #SAvsDAL pic.twitter.com/XLBHzuE7bs

— NBA on ESPN (@ESPNNBA) May 3, 2014
ESPN Stats & Info added an eye-popping fact:
Mavericks scored 34 points in the 1st quarter, their most in any quarter this postseason.

— ESPN Stats & Info (@ESPNStatsInfo) May 3, 2014
Naturally, San Antonio would make adjustments. The Spurs' biggest improvement came on the defensive end, where they turned up the pressure and forced six turnovers in the second quarter.
But Dallas' defense was every bit as stout, forcing Tony Parker into tough shot after tough shot. Parker would shoot just 4-of-12 from the floor in the first half. Manu Ginobili also struggled in the opening half, picking up two fouls and going scoreless in eight minutes.
The Spurs shot 18 free throws in the first half, but were just 2-of-7 from beyond the arc as a team and were unable to take it to the Mavericks in the paint, per ESPN Stats & Info:
Mavericks were outscored by combined 64 points in the paint in the first 5 games this series. Mavs outscoring Spurs by 12 in paint tonight.

— ESPN Stats & Info (@ESPNStatsInfo) May 3, 2014
Despite getting five points from Patty Mills, the Spurs bench was largely missing at halftime, as pointed out by the San Antonio Express-News' Dan McCarney:
Spurs starters: 45 points. Spurs bench: 7 points.

— Dan McCarney (@danmccarneysaen) May 3, 2014
Meanwhile, the Mavericks' bench was huge in the first half, especially Blair, who made his presence felt on the glass with three offensive rebounds in the first half, as noted by Mavs beat writer Dwain Price:
Blair is making up for sitting out Game 5. He has 3 pts, 9 reb, 2 steals and a very hard pick that rattled Tony Parker's cage.

— Dwain Price (@DwainPrice) May 3, 2014
San Antonio's defense would continue to improve in the second half, forcing Dallas out of its rhythm and taking the crowd out of the game.
The Spurs began the third quarter on an 11-4 run and outscored Dallas 29-18 in the period to take a five-point lead into the fourth quarter.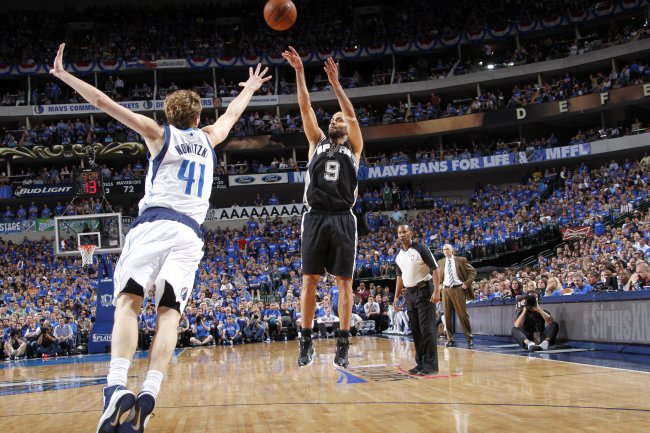 Glenn James/Getty Images
In addition to the Spurs' defensive adjustments, their ability to score on the interior was a huge reason for the momentum shift. At the end of the third quarter, San Antonio was plus-two in points in the paint.
After falling behind by seven early in the fourth quarter, the Mavericks got a huge lift from the three-ball as Vince Carter and Jose Calderon connected on back-to-back threes to cut the deficit to one, per ESPNLosAngeles's Dave McMenamin:
Mavs pull within one at 83-82 on the Calderon corner 3. It was preceded by yet another miss by Manu. He's 1-for-6

— Dave McMenamin (@mcten) May 3, 2014
Parker responded, though, scoring seven straight points for San Antonio to extend the Spurs' lead.
Trailing 92-88, Carter and the Mavericks went on a 9-0 run to take their first lead since the beginning of the third quarter. Ellis was huge during the Dallas spurt, sinking a 25-foot three, scoring on an old fashioned three-point play and hitting a floater to extend the Mavs' lead to eight points with under three minutes to play.
Blair was also huge during the 14-2 run, playing tight defense, rebounding and connecting on a three-point play. ESPNDallas.com's Tim MacMahon noted Blair's impact:
The DeJuan Blair difference: 8 points, 13 rebounds, 3 steals, plus-10 in 25 minutes.

— Tim MacMahon (@espn_macmahon) May 3, 2014
But as they did all night long, the Spurs came roaring back, going on an 11-4 run of their own to pull within one point with under 50 seconds to play.
Dallas eventually iced the game on the defensive end and at the free-throw line, but not before San Antonio made things interesting with a few desperation threes. San Antonio's game-winning attempt would go begging at the buzzer as the Mavs celebrated moving within one win of the second round.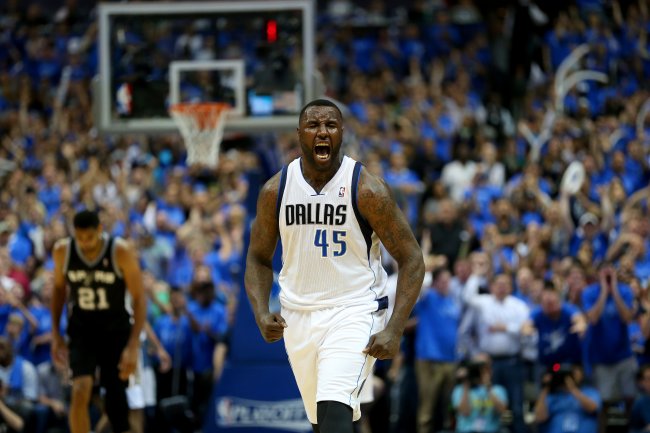 Ronald Martinez/Getty Images
With Game 7 set to tip off in less than 48 hours, both teams will look to rest up ahead of Sunday.
While the Spurs will feel good about their chances of advancing on their home court, the Mavericks certainly won't be lacking in confidence after coming from behind to save their season on Friday.
If Dallas can cut down on turnovers in Game 7 and defend the three-point line the way it did in Game 6, the Mavericks have the firepower to earn a second playoff road win and stun the top-seeded Spurs. However, executing on the road and under the immense pressure of a Game 7 situation is much easier said than done.
If the Spurs can tighten things up defensively, their experience paired with a home crowd should be enough to advance to Round 2.
Follow Bleacher Report Featured Columnist Patrick Clarke on Twitter.