With all eyes fixed squarely on Monday night's national championship between the Connecticut Huskies and his Kentucky Wildcats, John Calipari's collegiate accomplishments—taking a pair of teams to the title game in three seasons—will undoubtedly be discussed.
With Kentucky falling 50-64, expect Tuesday's chatter to take on another tone entirely:
Was messin' 'round on Sat nite re: Cal. But word is - win or lose 2nite - it's a #DoneDeal ...Cal 2 La-La-Land 2 coach Mamba's Lakers. #NoBS

— Rex Chapman (@rexchapman) April 7, 2014
No word yet on Rex Chapman's source, but considering his status as a beloved UK alum, you can bet he's pretty plugged in.
The Lakers, not surprisingly, have been quick to dismiss the rumor, according to Chris Dufresne of the L.A. Times:
Lakers are refuting Calipari to Lakers story put out by Rex Chapman before NCAA tip: GM Mitch Kupchak says "rumor is untrue"

— Chris Dufresne (@DufresneLATimes) April 8, 2014
Per USA Today's Sam Amick, Lakers spokesman John Black echoed Kupchak's remarks:
Black: "Mike (D'Antoni) is our coach & there have been no conversations that have discussed any specific names about anyone to replace him."

— Sam Amick (@sam_amick) April 8, 2014
Whatever the genesis and merit of the rumor, the idea certainly sounds compelling.
The Los Angeles Lakers are winding down arguably their worst season in franchise history and Mike D'Antoni—doomed more by sheer circumstance than coaching ineptitude—doesn't seem long for L.A.
Calipari's star power, coupled with his unique approach—a player's coach if ever there was one—could help the Lakers' cause of attracting additional star talent to team with aging superstar Kobe Bryant.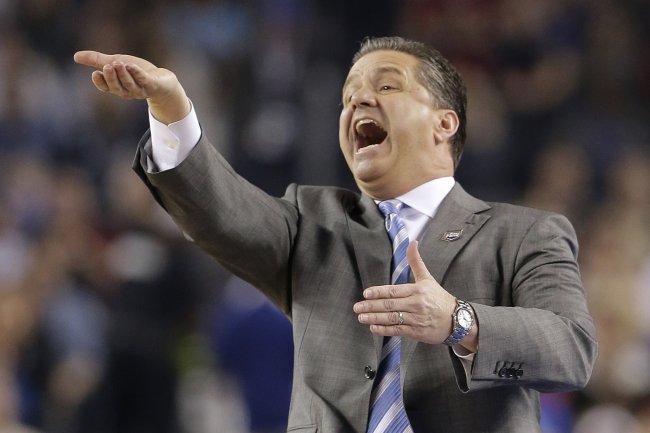 Eric Gay
His NBA coaching experience, however, leaves a bit to be desired: In a little over two seasons as the head coach of the New Jersey Nets between 1996 and 1998, Calipari compiled a record of 72-112.
Phil Jackson, he is not.
Since returning to the collegiate ranks, Calipari has become one of the most polarizing figures in sports. But, as this piece by SB Nation's Ricky O'Donnell underscores, Coach Cal's carpet-bagging reputation is balanced out by a unique respect:
Honesty. It might not be the first trait an outsider would associate with the Kentucky coach, not after scandals involving former players like Derrick Rose and Marcus Camby. But talk to any of the kids or parents who have committed to Calipari, and that same word keeps popping up. Those who don't know him are prone to describe Calipari as a salesman. Some even use the adjective 'sleazy.' To those around him, though, John Calipari might be the most honest man in sports.
Predictably, Cal has been mostly mum on the issue of returning to the NBA. Back in November, Calipari dismissed rumors linking him to the New York Knicks. From Kyle Tucker of USA Today:
I'm good where I am. I've said it publicly. What makes this unique … I was reading a new book, and it's about purpose – and the purpose here is real clear to me: I'm getting someone's child, and my job is to develop them in all areas, not just on the basketball court (but) to prepare them for reaching their dreams. And when they reach their dreams, they become successful and understand the bigger picture.
Might losing the national championship change that equation? We'll just have to wait and see. Calipari did, however, address the question directly during the postgame press conference. From ESPN's Brett McMurphy:
Calipari: "Lakers have a basketball coach. Kentucky has a basketball coach. I'm not going to dignify that"

— Brett McMurphy (@McMurphyESPN) April 8, 2014
One of his players also had a chance to chime in, per Adam Himmelsbach of the Louisville Courier-Journal:
Marcus Lee on Cal possibly to Lakers: "We're not worried about that at all. It's not our problem. If it happens, he'll talk to us."

— Adam Himmelsbach (@AdamHimmelsbach) April 8, 2014
Should Calipari somehow wind up with the Lakers, he'll have on his hands a rebuilding project that far exceeds anything he undertook at the University of Massachusetts, the University of Memphis or even Kentucky.