Updates from Wednesday, April 2
Fred McLeod of Cavs.com provides and update on Kyrie Irving's return:
Mike says Kyrie is a go with Dion starting too

— Fred McLeod (@CavsFredMcLeod) April 2, 2014
Mary Schmitt Boyer and Jodie Valade of The Plain Dealer previously listed Irvin a game-time decision:
After shootaround, #Cavs still listing Kyrie Irving as a game-time decision tonight at Magic

— M.S. Boyer/J. Valade (@PDcavsinsider) April 2, 2014
Updates from Tuesday, April 1
NBA.com provides an update from Kyrie Irving:
"I feel good," Irving said. "It was great to be back out there. It was definitely hard for me these last two weeks just sitting on the bench. But as always, if I go down, I'm the biggest cheerleader. "

[...]

"If I'm ready to go, I see no reason to stop me," he said. "But obviously everyone has their reason, as we know in this business. Obviously, you have a respect for it, but as a basketball player and as a competitor, there's an inner drive to be back out there. We'll see what happens."
Updates from Monday, March 31
Mary Schmitt Boyer and Jodie Valade of The Plain Dealer have an update on Kyrie Irving:
#Cavs Kyrie Irving (strained left biceps) cleared to resume practice

— M.S. Boyer/J. Valade (@PDcavsinsider) March 31, 2014
Updates from Sunday, March 30
Sam Amico of Fox Sports Ohio had the latest on Kyrie Irving:
#Cavs' Kyrie Irving will have his strained biceps evaluated today, but no conclusion is expected. Irving said he's hopeful of playing Tues.

— Sam Amico (@SamAmicoFSO) March 30, 2014
Updates from Monday, March 17
Mary Schmitt Boyer and Jodie Valade of The Plain Dealer provided a troubling update on Kyrie Irving's biceps injury:
Sources tell Plain Dealer Kyrie Irving's left biceps injury could be bad enough to end season. MRI on Monday in Cleveland

— M.S. Boyer/J. Valade (@PDcavsinsider) March 17, 2014
On Monday evening Cavs.com provided an update on how the team is handling the injury and what the next step will be:
Irving traveled back to Cleveland with the team and was examined at Cleveland Clinic Sports Health this afternoon by Cavaliers Head Team Physician Dr. Richard Parker. Imaging revealed a strain in the long head tendon of his left biceps. Irving will now undergo a period of inactivity for his left biceps and be re-evaluated in two weeks. The injury's response during this period will determine the most appropriate course of treatment and his status will be updated as appropriate.
Original Text
Like you expected anything else, Cleveland Cavaliers fans?
Kyrie Irving went down with a left biceps injury during Sunday night's game against the Los Angeles Clippers, per Jason Lloyd of the Akron Beacon Journal:
Kyrie Irving has a left biceps injury, will not return for #Cavs. Uh-oh.

— Jason Lloyd (@JasonLloydABJ) March 17, 2014
NBA.com posted a video of when Irving got hurt:
Mary Schmitt Boyer provided a postgame statement from Cavaliers head coach Mike Brown:
After Sunday's game, Cavs coach Mike Brown said only that Irving had a biceps injury that would be reevaluated on Monday. The coach said he wasn't sure how the injury happened, although Fox Sports Ohio replays seemed to indicate Blake Griffin hit the ball while it was in Irving's hand.

"I wish I had an opportunity to look at a lot of replays tonight, just to make sure everything was OK out there,'' Brown said.
Although he's only in his third year, the 21-year-old has built a reputation as being injury-prone. He played in 51 of the team's 66 games in 2011-12 and 59 games last year. The saving grace is that Irving hasn't been afflicted with chronic injuries that affect only one area.
Obviously, no player is more important to the Cavaliers than Irving. He leads the team in points (21.2) and assists (6.2) and was the one positive the fanbase could cling to when things got really bad, like with the whole Andrew Bynum fiasco.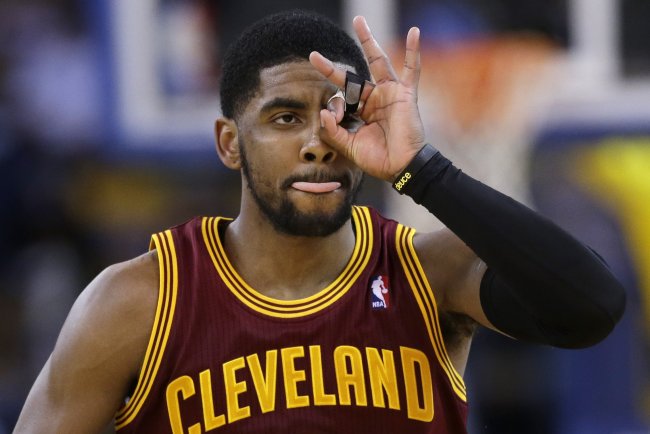 Marcio Jose Sanchez/Associated Press
Should Irving miss serious time, you can say goodbye to Cleveland's already dwindling hopes of making the playoffs. They are 4.5 games back of the eighth-seeded Atlanta Hawks and are now behind the surging New York Knicks as well.
With only 15 games left in the regular season, the 26-41 Cavs would need a miracle.
The team has had some luck in nabbing No. 1 overall picks in the NBA draft. If it comes to that, hopefully the Cavs finds another LeBron James and not an Anthony Bennett.