Jamal Crawford Injury: Updates on Clippers Guard's Calf and Return
Use your ← → (arrow) keys to browse more stories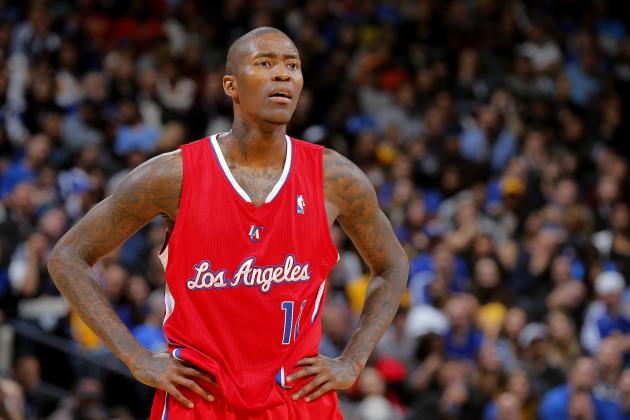 Rocky Widner/Getty Images

Updates from Sunday, Mar. 9
Arash Markazi of ESPNLosAngeles.com provides a statement from Jamal Crawford discussing his injury status:
Clippers guard Jamal Crawford, who returned Saturday after a three-game absence, said he may have returned too soon and will miss at least Monday's game against thePhoenix Suns as he recovers from a strained left calf.

[...]

"I just have to get it stronger because I don't want the same pain to continue to bother me going into the playoffs," Crawford said. "I didn't re-injure it but I could tell it has to be stronger for sure to feel confident pushing off and doing certain things."
Updates from Saturday, Mar. 8
The Clippers officially announce that Crawford will come off the bench:
Doc says Jamal will come off bench tonight. "I don't think he will play a lot of minutes." Jared Dudley (back) is out.

— Los Angeles Clippers (@LAClippers) March 9, 2014
Dan Woike of The Orange County Register had a report earlier in the day on Crawford:
Jamal Crawford is a game-time decision tonight. Went through shootaround and felt good.

— Dan Woike (@DanWoikeSports) March 8, 2014
Updates from Saturday, Mar. 1
ESPN's Arash Markazi has some bad news about Crawford's status:
Jamal Crawford is out tonight and will likely miss 2-3 games with a strained left calf.

— Arash Markazi (@ArashMarkazi) March 2, 2014
Updates from Thursday, Feb. 27
Eric Patten of Clippers.com provides an update on Jamal Crawford, who underwent an MRI on his calf after injuring it Wednesday night:
An MRI exam on Clippers guard Jamal Crawford's strained left calf did not reveal any major structural damage.

He is day-to-day and could miss as many as 2-3 games. The Clippers (40-20) next play Saturday against the New Orleans Pelicans before facing the Phoenix Suns on Tuesday, Mar. 4. He is hoping to return by the time the Clippers take on the Lakers Thursday, Mar. 6.
Original Text:
Los Angeles Clippers guard Jamal Crawford exited Wednesday's game against the Houston Rockets in the second quarter with a strained left calf.
The Clippers' official Twitter account reported that Crawford would not return to the contest at the Staples Center:
Jamal Crawford (left calf strain) will NOT return tonight vs. Houston.

— Los Angeles Clippers (@LAClippers) February 27, 2014
ESPN.com's J.A. Adande provided an update after the game:
As Jamal Crawford limped out of Staples Center he said he'll have tests (probably MRI) on his strained left calf tomorrow. Missed 2nd half.

— J.A. Adande (@jadande) February 27, 2014
Head coach Doc Rivers expressed concern that Crawford hurt himself on a non-contact play, per the Orange County Register's Dan Woike:
Doc Rivers said he's concerned about Jamal Crawford's injury because it was non-contact.

— Dan Woike (@DanWoikeSports) February 27, 2014
Crawford adds an explosive punch to Rivers' squad, which ranked second in the NBA in scoring entering Wednesday's showdown. However, the Rockets prefer to push the pace with their stacked, athletic starting five and can score with the best in the Association, too, making Crawford's absence all the more difficult to overcome.
It wasn't a good night for Crawford overall, as he sank just two of 10 shots from the field—including just one of six attempts from three-point range—to score eight points in 16 minutes. That was in stark contrast to the roll Crawford had been on before this game, per BasketballInsiders.com's Alex Kennedy:
Jamal Crawford has scored 20 or more points in eight straight games since joining the Clippers' starting lineup.

— Alex Kennedy (@AlexKennedyNBA) February 25, 2014
The 33-year-old veteran has often played the role of sixth man throughout his career, but Rivers has deployed him in the starting lineup as of late with great success. Unfortunately, Crawford won't be able to return to action in this battle for leverage in the Western Conference playoff race.
It doesn't seem as though this injury is too serious, or that it should keep Crawford out for a long stretch of time. The Clippers made a sound move to sit him for the rest of this game and gear him up as the team makes a postseason push.