According to ESPN, NBA executives have actually considered adding a four-point line, flirting with giving fans something they never knew they wanted.
ESPN's Tom Haberstroh shared the news via Twitter on Tuesday:
NBA has discussed adding a 4-point line, per president of basketball ops Rod Thorn. How would it change the NBA? http://t.co/15yrf0av9N [in]

— Tom Haberstroh (@tomhaberstroh) February 25, 2014
However, NBA spokesman Tim Frank quickly dismissed the idea of serious four-point line discussions, per Bleacher Report's Howard Beck:
NBA spokesman Tim Frank responding to report that league considering 4-pt shot and expanding the court...

— Howard Beck (@HowardBeck) February 25, 2014
Frank: ""No one at the NBA,nor the competition committee, has had any serious conversations about increasing the size of the floor ..."

— Howard Beck (@HowardBeck) February 25, 2014
Frank, cont: "...or adding a 4-point line. Rod Thorn and Kiki VanDeWeghe were entertaining a line of questioning..."

— Howard Beck (@HowardBeck) February 25, 2014
Frank, cont: "about out of the box ideas and ESPN. com chose to make a story that doesn't exist."

— Howard Beck (@HowardBeck) February 25, 2014
Haberstroh's report (subscription required) gives a bit more insight into the idea of the league adding a four-point line. It all starts with ESPN's Henry Abbott, who spoke recently with Rod Thorn, the NBA's president of basketball operations.
Here is what Haberstroh wrote about that conversation:
Turns out, Thorn didn't think the advent of a 4-pointer would be outlandish at all. Rather than reflexively squash the radical idea like you might expect from a 72-year-old NBA lifer who has worn just about every hat in the league, Thorn seemed genuinely intrigued at the notion and revealed that the 4-pointer has "come up" in league discussions.
When I was a kid, I decided to just up and ask my parents for Super Mario 3, knowing that the answer would be a no anyway. However, my parents actually considered the audacious request.
This is the same kind of thing. The whole thing has me, well...
Thorn was quite taken with the idea when speaking with Abbott, even mentioning there are some athletes, like Vince Carter, who could effectively launch from that distance. "Some of the players we have can shoot the ball from 30 feet... as easily as they shoot a 23-, 24-foot shot," he stated.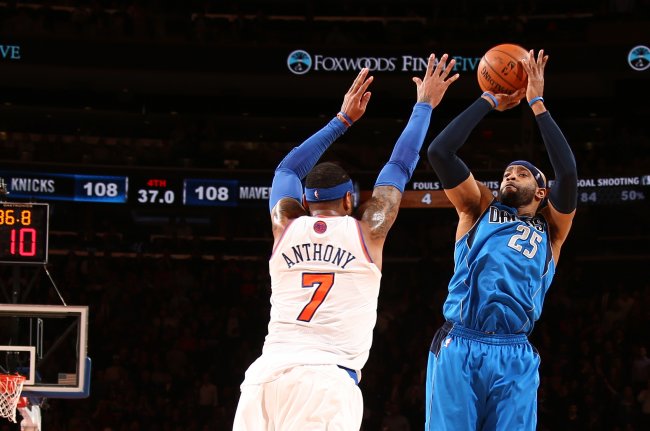 Nathaniel S. Butler/Getty Images
But why stop there?
Let's talk about a nine-point spot on the court (a la NBA Jam), a money ball or other MTV Rock 'N' Jock type wackiness. Hell, let's mandate Dan Cortese play for one team on a nightly basis.
The sooner we can render Blake Griffin's slam dunks meaningless and infuse the game with long-range cannon shots, the better. In fact, we would like someone to kindly ask Thorn if the league has ever mulled over the possibility of Baseketball's "Psyche Out."
Sure, that sounds absurd, but so does the thought of moving back the line that J.R. Smith considers a wide-open shot.
For a serious take on the possibility, Haberstroh coincidentally covered this very subject in a January column (subscription required). Sheridan Hoops' Brett Poirier, meanwhile, pours some cold water on the idea:
ONLY way a 4-point shot makes sense is if it's from half court or beyond. 28-feet is too easy for some guys and they would fire all game.

— Brett Poirier NBA (@BrettNBA) February 25, 2014
Now, to reiterate, Thorn states that the idea of a four-point line has simply "come up" in league discussions. We assume this is one of countless items the league discusses on an annual basis, many of which lie dormant on the cutting-room floor.
For the moment, simply savor the fact that such a notion was bandied about, because there doesn't seem to be any concrete evidence that the advent of the four-point shot is on the way anytime soon.
Fans of the league will be the first to say the NBA isn't broken, so officials probably won't try to fix it with crazy new shots.
Hit me up on Twitter: