Metta World Peace is having a hard time penning his own basketball story.
Last summer, he was cut loose from the Los Angeles Lakers by way of the amnesty clause. Now, his hometown New York Knicks have shown him the door after 29 forgettable appearances, via Bleacher Report's Howard Beck:
Knicks make it official, waive Metta World Peace and Beno Udrih. (Headline: Knicks can't keep the Peace.)

— Howard Beck (@HowardBeck) February 24, 2014
The 34-year-old is losing control of his narrative, but he's hoping his luck will change soon.
According to ESPN's Chris Broussard, World Peace is attempting to handpick his next NBA home. Based on his rumored targets, he's looking to spend his twilight years going ring chasing:
Source: After being waived by the Knicks, Metta World Peace hoping to land in Miami, San Antonio or OKC

— Chris Broussard (@Chris_Broussard) February 24, 2014
Cash-strapped contenders are often major players on the buyout market, but they're not just shopping for a hanger-on. They're searching for serviceable skills, things that can fill a current void or at least help strengthen a weakness.
Things that World Peace used to have in droves. Things that Father Time has eroded or completely taken away over the past few seasons.
He still might find his way to a contender on name-recognition alone, but he won't be any help once he gets there.
Declining Defensive Impact
Not that long ago, World Peace had everything a coach could want in a defensive stopper.
Size. Strength. Quickness. Toughness. A hint—or two or three—of crazy.
The man formerly known as Ron Artest was the Defensive Player of the Year in 2003-04 and a four-time All-Defensive team selection, most recently making the cut in 2008-09.
"You can put Ron on an island with a good offensive player, and he'll hold his ground more often than not," Fran Fraschilla, World Peace's coach at St. John's, said in late 2010, via Jonathan Abrams of The New York Times.
That used to be one of the league's ultimate truths, but no one has echoed that sentiment for some time. World Peace went from being a featured defender to someone who needs to be hidden on that end of the floor, as his isolation defense stat sheet shows, via Synergy Sports (subscription required).
MWP's Dramatic Fall from Isolation Stopper to Isolation Sieve

| | | | |
| --- | --- | --- | --- |
| Season | Pts Per Poss | NBA Rank | FG% Allowed |
| 2009-10 | 0.66 | 19th | 29.6 |
| 2010-11 | 0.62 | 26th | 31.5 |
| 2011-12 | 0.72 | 102nd | 35.3 |
| 2012-13 | 0.76 | 103rd | 37.3 |
| 2013-14 | 1.30 | N/A | 60.0 |
SynergySports.com
He's more liable to get stops off his defensive reputation than any actual ability at this point.
Plagued by nagging knee pain—he has undergone multiple blood spinning procedures—this is not a problem that will correct itself.
Of course, it's not as if he was a mainstay in coach Mike Woodson's rotation before the knee problems surfaced. Prior to taking a month-long absence starting in late December, he was averaging just 15.1 minutes per game.
On a bad Knicks team that couldn't have been in more dire need of a wing defender:
The Knicks perimeter defense is just atrocious. For fans hoping their team picks up Metta World Peace, remember he couldn't crack rotation.

— Kurt Helin (@basketballtalk) February 25, 2014
Now, the Knicks were a significantly better defensive team when World Peace was on the floor (100.2 points allowed per 100 possessions) than when he was off it (107.5).
Still, the sample size is so minuscule (13.4 minutes per game, 29 appearances), it's hard putting any faith into the figures.
That's what World Peace's agent will have to sell to whatever suitors his client might have, though. There's nothing to sell at the opposite end of the floor.
Misfiring Gunner
World Peace deservedly draws the most praise for his defense—or did at one point—but people forget how talented he was offensively.
He had a six-year run of 18.5 points on .426/.356/.730 shooting from 2003-09. When he picked up third-team All-NBA honors in 2003-04 it wasn't for his suffocating defense alone.
Those days are long behind him now, though. He's always been a quantity-over-quality scorer, but even that quantity is disappearing at an alarming rate.
A Volume Scorer Going Silent

| | | | | |
| --- | --- | --- | --- | --- |
| Season | PPG | FG% | 3PT | PER |
| 2009-10 | 11.0 | 41.4 | 35.5 | 12.1 |
| 2010-11 | 8.5 | 39.7 | 35.6 | 11.2 |
| 2011-12 | 7.7 | 39.4 | 29.6 | 11.0 |
| 2012-13 | 12.4 | 40.3 | 34.2 | 12.5 |
| 2013-14 | 4.8 | 39.7 | 31.5 | 11.7 |
Basketball-Reference.com
He's a floor spacer who doesn't space the floor.
He can't be a slasher because he doesn't have the speed to slip past defenders nor the lift (two dunks this entire season) to finish around the basket. Nearly 65 percent (64.5 to be precise) of his field-goal attempts have been jump shots, which he's converted just 27.5 percent.
He struggled from both short corners (27.3 percent from the left side, 30.0 on the right) and was only marginally better from the less efficient above-the-break triple (33.3).
He's even failed to reach 70 percent at the free-throw line in four of the last five seasons.
When Woodson said "I couldn't play" World Peace, via ESPN New York, he wasn't saying the forward was blocked by a crowded rotation or simply a poor fit with the pieces around him.
He couldn't play World Peace because World Peace hasn't been worth playing for a while.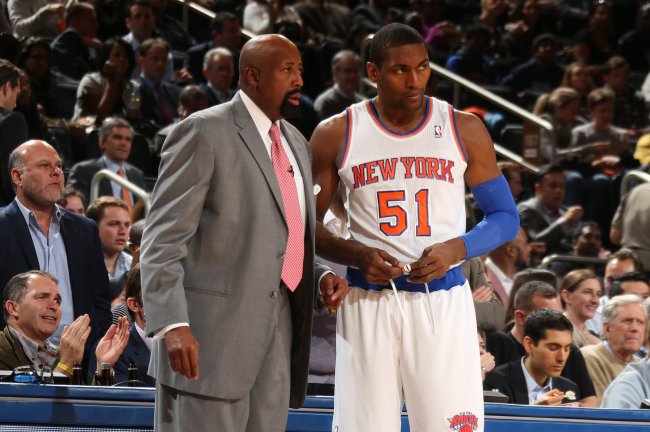 Nathaniel S. Butler/Getty Images
Would a change of scenery really correct those problems?
Will World Peace even have the chance to find out that answer?
His Next Landing Spot...
...may not be any of the ones he's aiming for.
If Oklahoma City Thunder coach Scott Brooks wants to expand his rotation, he has a far better in-house option in Perry Jones III. World Peace may have his eyes on OKC, but that feeling doesn't appear to be mutual:
Metta World Peace may be interested in OKC, but I'm not so sure the Thunder are very interested back.

— Royce Young (@royceyoung) February 24, 2014
The Miami Heat are gearing up to be waiver-wire buyers and they're likely looking for a defensive-minded wing.
Take World Peace's reputation out of the equation, though, and he's not any better than what they already have. Not to mention the fact he'd eat into some of the spacing Miami's work so hard to create.
The San Antonio Spurs always seem to have something for some crazy (see: Jackson, Stephen), but I'm not sure even they'd take this gamble. It's possible he could be some short-term relief for their injury problems, but he could well end up with the mop-up duty Tracy McGrady held last season.
If not those three teams, then where might he end up?
Well, USA Today's Sam Amick reports the Los Angeles Clippers will give him a look:
Clippers will have some interest in Metta World Peace when he is bought out by Knicks, I'm told, but not a slam dunk, so to speak.

— Sam Amick (@sam_amick) February 24, 2014
The Houston Rockets' perimeter defense is leaky enough they might consider him. Maybe even the playoff-hungry Charlotte Bobcats will kick the tires on him, perhaps when Ben Gordon's buyout is finally completed.
World Peace is too big of a name not to light up someone's eyes as he sits out on the free-agent market.
But he's not the World Peace that fans remember. He's battered and bruised, slower and far more ineffective than he used to be.
If there's a contender out there that he could help, we might want to reconsider that team's "contender" credentials.
Unless otherwise noted, statistics used courtesy of Basketball-Reference.com and NBA.com.