With the NBA's best players set to play in the All-Star Game on Sunday, some of the greatest competitors in NBA history were named finalists for the Naismith Memorial Basketball Hall of Fame on Friday.
Among those selected as finalists for the 2014 Hall of Fame class are Alonzo Mourning and Tim Hardaway, although they are far from shoe-ins due to the depth and talent of this year's finalist crop. Recently retired NBA commissioner David Stern is also part of the class after being directly elected by the contributors committee.
According to David Aldridge of NBA.com, 10 finalists were named overall:
HOF Finalists: Tim Hardaway, Spencer Haywood, Kevin Johnson, Harley Redin, Mitch Richmond, Nolan Richardson, Eddie Sutton, Gary Williams,

— David Aldridge (@daldridgetnt) February 14, 2014
(con't) Immaculata University (team) and Alonzo Mourning.

— David Aldridge (@daldridgetnt) February 14, 2014
As announced on NBA TV, here is a full list of players the voters will have to choose from:
2014 Basketball Hall of Fame Finalists

| | | |
| --- | --- | --- |
| Finalist | Position | Team |
| Tim Hardaway | PG | GS, MIA, DAL, DEN, IND |
| Spencer Haywood | PF | DEN, SEA, NY, NO, LAL, WAS |
| Kevin Johnson | PG | PHO, CLE |
| Harley Redin | Coach | Wayland Baptist University |
| Mitch Richmond | SG | GS, SAC, WAS, LAL |
| Nolan Richardson | Coach | University of Arkansas |
| Eddie Sutton | Coach | Oklahoma State University |
| Gary Williams | Coach | University of Maryland |
| Immaculata University | Women's Basketball Team | |
| Alonzo Mourning | C | CHA, MIA, NJ |
NBA TV
Also, in addition to the finalists, five people were elected directly into the Hall of Fame, of which Stern is one, according to NBA on ESPN:
The Basketball Hall of Fame announced the first 5 members of the Class of 2014, including David Stern. pic.twitter.com/FKxkRItdDd

— NBA on ESPN (@ESPNNBA) February 14, 2014
According to the Naismith Memorial Basketball Hall of Fame's official website, a traditional finalist requires 18 affirmative votes from the Honors Committee in order to be enshrined, and the 2014 class should make for some interesting debates.
Most of the finalists appear to be worthy of making it into the Hall of Fame; however, some of them will inevitably be left out.
Here is a closer look at a couple of the finalists who stand a great chance of making the trip to Springfield, Mass. in August for their induction into the Hall of Fame.
Notable Finalists
Alonzo Mourning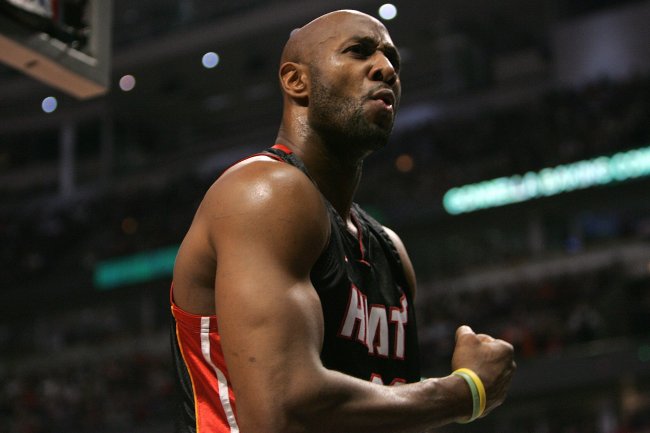 Jonathan Daniel/Getty Images
In his first year of Hall of Fame eligibility, Mourning certainly presents an interesting case. The 6'10" center enjoyed a fantastic NBA career that saw him play for the Charlotte Hornets, Miami Heat and New Jersey Nets over the course of 15 productive seasons. During his prime, Mourning was easily one of the most dominant big men in the game on both ends of the court as he averaged at least 19 points and 9.5 rebounds per game in every season from his rookie year in 1992-93 through 1999-2000.
Mourning is a seven-time All-Star and two-time NBA Defensive Player of the Year. He also won an NBA title with the Heat in 2006, so the big man has everything that the voters typically look for in a Hall of Famer. The one strike against him is that his production dropped off considerably in the latter part of his career. Much of that had to do with the fact that Mourning had severe kidney disease, which forced him to miss the entire 2002-03 season as well as large parts of two others.
Mourning was still a key player in spurts over his final several seasons, and he is a model of perseverance. Even if Mourning doesn't make it in on the first ballot, he seems like a sure thing to make it eventually. He is currently involved in several high-profile projects, including hosting a fundraiser along with President Barack Obama, according to Politico:
.@BarackObama is hosting a fundraiser at the home of former NBA star Alonzo Mourning: http://t.co/oTpeVwcTDF

— POLITICO (@politico) February 11, 2014
If the entire package including on-court excellence and off-court philanthropy is taken into account, Mourning stands a great chance to earning the requisite 18 votes.
Mourning made it clear that potentially going into the Hall of Fame alongside Hardaway would make it extra special, according to Joseph Goodman of the Miami Herald:
Alonzo Mourning on he and Tim Hardaway being finalists for Hall of Fame: "Timmy and I are like brothers. We're joined at the hip."

— Joseph Goodman (@JoeGoodmanJr) February 14, 2014
Looking at the crop of finalists, it definitely appears to be a distinct possibility.
Tim Hardaway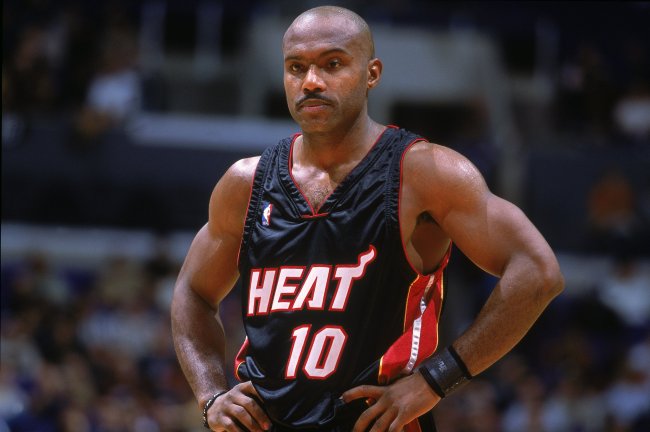 Harry How/Getty Images
Few point guards in the history of the NBA have been more dynamic from a scoring perspective than Tim Hardaway. The former UTEP standout played 13 seasons with the Golden State Warriors, Miami Heat, Dallas Mavericks, Denver Nuggets and Indiana Pacers. Hardaway ranks in the top 15 all time in assists and three-point attempts, which makes him one of the most well-rounded point men in league history.
Which NBA player most deserves to be elected to the 2014 Basketball Hall of Fame class?
Hardaway made five All-Star teams and averaged more than 20 points per game in a season five times as well. He also averaged at least eight assists per game in every season from 1989-90 through 1997-98. Hardaway never won an NBA title, which is the lone hole in his resume, but he did play well in the playoffs with career averages of nearly 17 points and seven assists per contest in the postseason.
Hardaway was a finalist last season, but he didn't get the call. That surprised many, so he is naturally a top candidate this year. Hardaway will have something to take his mind off of the situation, though, as he will compete alongside his son and WNBA star Elena Delle Donne in the All-Star Shooting Stars competition on Saturday, according to the Heat's official Twitter account:
HEAT Legend Tim Hardaway will also be participating in the '14 Shooting Stars competition, teaming w/ Tim Hardaway, Jr. & Elena Delle Donne.

— Miami HEAT (@MiamiHEAT) February 7, 2014
The fact that Hardaway Jr. is now in the NBA means that his father's legacy will continue to grow, but making it into the Hall of Fame will ensure it.
Follow @MikeChiari on Twitter