Mo Cheeks is out for the Detroit Pistons, but the root of all the team's problems, president Joe Dumars, remains in Motor City.
According to Yahoo Sports' Adrian Wojnarowski, Detroit decided to can Cheeks 50 games into his tenure with the team:
The Detroit Pistons have fired coach Mo Cheeks, league sources tell Yahoo Sports.

— Adrian Wojnarowski (@WojYahooNBA) February 9, 2014
The Detroit Free Press' Vincent Ellis confirmed the report:
Source: Cheeks out as #Pistons coach. Confirming @WojYahooNBA report.

— Vincent Ellis (@Vincent_Ellis56) February 9, 2014
The timing is slightly curious since the Pistons have won two in a row, but owner Tom Gores apparently played a big part in making the final decision:
Owner Tom Gores had become increasingly impatient with Cheeks and young Pistons team, league sources told Yahoo. He had pushed for change.

— Adrian Wojnarowski (@WojYahooNBA) February 9, 2014
"Change" has been a recurring theme in Detroit, where despite their two-game winning streak, the Pistons are still a half-game back of a playoff spot. And Gores has made it abundantly clear the status quo is unacceptable.
"It's frustrating because we're better than our record," Gores said previously, via The Detroit News' Vincent Goodwill. "I see a lot of possibilities; we have to come together, we have to jell. I don't think you can say our team and players don't work hard. We just have to figure out how to work together."
Those comments initially read like an owner prepared to weather the storm and see what he was left with, but Cheeks' abrupt dismissal proves otherwise. Not even Pistons point guard Brandon Jennings saw this coming:
Wait what

— BRANDON JENNINGS (@BrandonJennings) February 9, 2014
I will like to thank Mo Cheeks for everything, thank you for helping me become a better person & player. I'm still learning

— BRANDON JENNINGS (@BrandonJennings) February 9, 2014
At times like these, you're left asking the question: What's next?
Do the Pistons blow up their current, floor-space-killing roster? Do they hope a new coach, whoever it is, extracts more out of this group?
Detroit plans to let John Loyer coach the rest of season, league sources tells Yahoo Sports. Pistons won't be conducting a search now.

— Adrian Wojnarowski (@WojYahooNBA) February 9, 2014
Or does Gores nip the real issue in the bud and dismiss Dumars next?
Pumping the brakes on a coaching search doesn't bode well for Dumars, as it could be a sign that the organization doesn't trust him to lead it. Remember, it's not even him that made the executive decision on Cheeks. Gores pulled rank. That's never a good sign.
Dumars seems like a lame duck at this point, approaching judgment day, when he'll be forced to pay for all his transgressions. And there are a lot of them.
Meaning Dumars may not make hire MT @WojYahooNBA: Detroit to let John Loyer coach rest of season. Pistons won't be conducting a search now.

— Kurt Helin (@basketballtalk) February 9, 2014
It was Dumars who, with the help of Phil Jackson, appointed Cheeks Detroit's head coach. This roster, from top to bottom, is his baby. His failure.
Investing approximately $80 million in Josh Smith and Brandon Jennings over the summer was a gutsy decision, one the Pistons hoped would catapult them into the Eastern Conference playoff conversation. But instead of contending for a high-seeded postseason slot, the Pistons are a team without an identity.
Detroit ranks 20th in offensive efficiency and 19th in defensive efficiency, and it's tracking toward a fifth straight lottery appearance. Andre Drummond has blossomed into a fringe star, but the team's bright spots end there. The Pistons aren't built to contend for a title, having spent most of their time demonstrating dysfunction exceeded by only a handful of teams, like the Cleveland Cavaliers.
Footing a $61.9 million salary bill should yield more than Cavaliers comparisons. When it doesn't, the natural response is to blame the coach. He's tasked with winning, with inspiring his players. If he's not winning, if he's not coaching up to snuff, then he has to go.
Cheeks, for the record, has his own problems. Most recently, David Mayo of MLive.com revealed he got into it with point guard Will Bynum, a surefire sign he lost part, if not all, of the locker room.
But at the heart of everything is Dumars, who has now cycled through almost two starting lineups' worth of head coaches:
Since becoming GM of the @DetroitPistons in 2000 Joe Dumars has now fired 8 different coaches.

— ESPN Stats & Info (@ESPNStatsInfo) February 9, 2014
Failing, and having the team pay for those failures, has been par for Dumars' course. He hasn't just whiffed on coaching decisions. Overpaid players have paraded in and out of Detroit for quite some time. From Ben Gordon's five-year contract to Charlie Villanueva's five-year pact to Smith's four-year deal, Dumars has spent money like he's being paid to fail.
Dumars received the benefit of the doubt for so long. Spearheading the construction of Detroit's 2004 NBA championship team—and 2005 NBA Finals outfit—bought him time. Eight consecutive playoff berths earned him respect.
All of that's gone.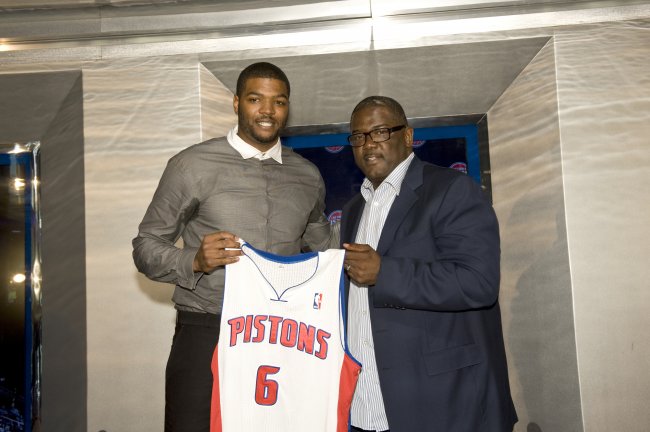 Allen Einstein/Getty Images
Under Dumars' watch, the Pistons—once a banner for slick and judicious cap-managing—have regressed into a wasteful contingent willing to throw cash at players who create more questions and problems, and sire more obstacles, than answers and solutions.
Same goes for his coaching decisions. The last four—Cheeks, Lawrence Frank, John Kuester and Michael Curry—all have winning percentages below .500. At some point, it stops being about the hires and starts being about the man behind those hires.
And at some point, the Pistons have to realize there is no quick fix.
Firing Cheeks solves little, if anything, even if the Pistons are targeting a respectable replacement like Yahoo Sports' Marc J. Spears says:
Former NBA coach Lionel Hollins is very interested in Pistons head coach opening, but has not been contacted yet, a source said.

— Marc J. Spears (@SpearsNBAYahoo) February 9, 2014
Lionel Hollins, a defensive specialist and authoritative presence, would be good for Detroit's roster, as USA Today's Sam Amick notes:
The pitch for Lionel Hollins as new Pistons coach will be made, I'm told, & it's a good one. Tough, smart leader could help disjointed group

— Sam Amick (@sam_amick) February 9, 2014
As ESPN's Marc Stein reminds us, he's also no stranger to assuming control under these types of circumstances:
Lionel Hollins has taken over teams in midseason before. And Pistons said to be looking for someone w/an authoritative locker-room presence

— Marc Stein (@ESPNSteinLine) February 9, 2014
The right coach can only go so far, though. Bringing in Hollins, or anyone else, doesn't change the roster. It doesn't change the fact that the man who assembled the roster is still in charge.
No matter who's coaching this Pistons team, they're going nowhere this season. Maybe they secure a playoff berth and subsequent first- or second-round exit, but what does that mean long-term?
Should the Pistons fire Joe Dumars?
Smith's contract will remain (close to) immovable. Detroit won't suddenly become a skilled three-point-shooting team. Greg Monroe's restricted free agency is still around the corner. Changes to the roster will still need to be made and the man responsible for making them will still be Dumars, who has exhibited an alarming inability to effectively rebuild over the last seven or so years.
"It's not a concern of ours," Dumars said of his new, flawed front line in a question-and-answer session with Grantland's Zach Lowe last August.
It should have been. It still should be. The entire roster and its direction should be. Detroit's current state is unacceptable. Not after all the money they spent, after all the money Dumars spent.
So what's next for these Pistons? More change. More upheaval.
And if Gores allows Dumars to continue quarterbacking another inevitable reformation, more disaster.
*Salary information via ShamSports.