The 2014 NBA All-Star Game jerseys have been revealed, and fans may a bit surprised when they see what the league has in store this year. The best players the Association has to offer will be wearing short-sleeve jerseys during their midseason showcase.
Basket4Ballers.com, a French site, put the uniforms on sale, and Paul Lukas of Uni-Watch.com has confirmed that these are the "real deal":
EXCLUSIVE! NBA All-Star jersey leaked on French site. I confirm it's the real deal --> http://t.co/ihX7lPzEQu pic.twitter.com/7tuvUvp3E4

— Paul Lukas (@UniWatch) January 16, 2014
Lukas added more pictures of each team's uniform, plus a peek at the warmup jacket:
More NBA All-Star leaks, this time showing the West jersey: pic.twitter.com/rv25isyUkr

— Paul Lukas (@UniWatch) January 16, 2014
Adidas also confirmed that these are the official uniforms and released the following statement (via ProBasketballTalk.com):
Designed by adidas, the uniforms are inspired by New Orleans' rich and unique culture, featuring vibrant Mardi Gras colors and shiny brass and silver accents on a short-sleeved silhouette. The NBA All-Star logo appears on the chest of the blue "East" and red "West" jerseys in the shape of the fleur-de-lis, the official symbol of Louisiana, with a purple "W" or green "E" cut out to identify the conference of each player.

"Each year, we look forward to developing a unique on-court look for the players that pays homage to the host city and adds to the excitement of this highly anticipated game," said Chris Grancio, adidas head of global basketball sports marketing. "This year's All-Star collection reflects New Orleans' festive musical history while also providing the premium performance elements that NBA athletes have grown accustomed to."

The All-Stars will take to the court in black, white and gray varsity-style warm-ups featuring conference logo patches. Each player's jacket will be customized to represent individual career accomplishments such as NBA All-Star Game appearances and NBA All-Star MVP awards, NBA Championships, regular season accolades and scoring titles. Players will also wear shooting shirts that feature a colorful primal print.
Now that we have glimpses of LeBron James' No. 6 Eastern Conference uniform and Kobe Bryant's No. 24 Western Conference jersey, it's time to break them down.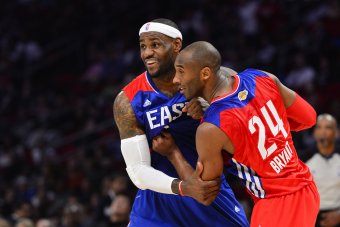 Bob Donnan-USA TODAY Sports
The East's jersey is primarily blue, with green accents on the collar, front graphic and back lettering. The player's name and a small team logo are also featured on the back in white. A fleur-de-lis is prominently featured on the front, a nod toward New Orleans, the event's host city.
The Western Conference's version is identical, although the primary color is red and the secondary color is blue. Nike fans may be a little peeved, as there are three signature Adidas stripes going up the sides of both these unis.
Those hoping that this is just a peek at the pre-game shooting jerseys will be sorely disappointed. Lukas confirmed that the NBA plans to have its players don this in the actual game:
@P_NYK THe jersey.

— Paul Lukas (@UniWatch) January 16, 2014
This is the first All-Star game that will force its participants to wear the short-sleeve jersey the league has been tinkering with for the past few seasons. A number of players and owners have gone on record to voice their distaste in the style, but that won't stop the NBA from pursuing this new look and putting it on display come Feb. 16.
Incidentally, LeBron James—the game's biggest star and one who had his uniform leaked—is not a fan of the style. He told Joseph Goodman of the Miami Herald that he didn't want his teammates worried about it impacting their shot when they wore them on Christmas Day:
LEBRON: "I can't have my shooters out there worrying about some sleeves and not shooting the ball."

— Joseph Goodman (@JoeGoodmanJr) December 21, 2013
LeBron said in pregame that the Heat's shooters "are already upset about" the Christmas jerseys.

— Joseph Goodman (@JoeGoodmanJr) December 21, 2013
It seems short-sleeve jerseys will be sticking around and have only become more pervasive since their debut in February of last year.
Drop a line in the comments with your thoughts on the league's choice for the 2014 All-Star Game jerseys.