Hold your breath. Cross your fingers. Pet your lucky rabbit's foot. Go find a four-leaf clover.
Do whatever you have to do if you want to pull a Daft Punk and get lucky, because the Chicago Bulls—and NBA fans in general—can't afford for Derrick Rose to suffer another major knee injury. It took him an entire season to rehab from a torn ACL, and we were finally getting used to seeing him suit up on a nightly basis.
But then, after starting to hit his stride against the Portland Trail Blazers on Friday night, Rose's right knee buckled as he lost his handle in the third quarter, and he was forced to limp to the bench, exiting with 20 points, five rebounds, three assists and two steals on 6-of-19 shooting from the field.
After that, he was assisted to the training room, and we were treated to this ugly picture:
Gulp. #Blazers #Bulls #DRose pic.twitter.com/uC817MgP3o

— Isaac Ropp (@iropp) November 23, 2013
You can see the play that caused the injury below.
At first glance, it doesn't appear to be all that bad, but the knee does buckle. And on a non-contact injury, that's never a good sign. It also didn't take long for ESPN's Nick Friedell to confirm that Rose would not be returning to the game:
Bulls PR says Rose has a right knee injury and will not return.

— Nick Friedell (@NickFriedell) November 23, 2013
It doesn't appear as though we'll be getting much more definitive information the night of the injury, as the Chicago Tribune's K.C. Johnson reports that he'll be getting an MRI in L.A. on Saturday, Nov. 23:
Rose will have MRI in LA tomorrow.

— K.C. Johnson (@KCJHoop) November 23, 2013
But yikes...the early indications don't look good:
Rose looked to be in considerable pain. Not putting weight on the knee on his way to the shower. Teammates very concerned.

— Nick Friedell (@NickFriedell) November 23, 2013
Rose on crutches

— K.C. Johnson (@KCJHoop) November 23, 2013
Despite the wonders of optimism, it's hard not to fear the worst, especially because he's coming off a non-contact ACL tear on the other knee. Painful as it is, this is still an enduring memory:
For what it's worth, Rose is staying positive:
Taj Gibson said he talked to Rose and said Rose had positive attitude.

— K.C. Johnson (@KCJHoop) November 23, 2013
That can't be said for the rest of the world. Again, the early indications don't look good. Jordan Bernfield of WGN Radio has this on Rose's injury:
Good source tells me #Bulls fear it's a torn right ACL for Derrick Rose. If so, unlikely he will ever be the same.

— Jordan Bernfield (@JordanBernfield) November 23, 2013
Early word on Rose is initial tests suggest acl tear on right knee. MRI to confirm soon. This is bad.

— Will Carroll (@injuryexpert) November 23, 2013
Let's also not blame Tom Thibodeau this time. He may or may not have been over-utilizing Rose when he tore his left ACL, but he's been much more cautious with Rose this season than he was during the 2012 playoffs:
FYI before making Thibs jokes: Rose had been playing career-low 31.6 mpg entering tonight. Hadn't yet topped 34 in a game.

— Jared Dubin (@JADubin5) November 23, 2013
There are admittedly many other knee injuries that a basketball player can suffer on such a play, and there's no guarantee this was bad enough to knock Rose out for an extended period of time.
Let's have Hardwood Paroxysm's official Twitter feed put things in perspective for us:
There are lots of things that could have happend with Rose that aren't that bad.

— Hardwood Paroxysm (@HPbasketball) November 23, 2013
That said, it could be bad.
And that's bad news for the Bulls because Chicago just isn't the same basketball team without him. Tom Thibodeau is forced to rely heavily on Kirk Hinrich at the point when Rose isn't in the lineup, even though he's been more effective off the ball as he's aged, and Marquis Teague has to play big minutes. While the Kentucky product has potential, he plays like he's terrified to shoot the ball, and that's problematic for a team that already is lacking offensive options.
Without Rose, Luol Deng and Carlos Boozer become the go-to players, and it's tough for them to score enough that the suffocating defense Chicago employs actually matters.
Why else do you think we're seeing reactions like this one from B/R's Kelly Scaletta?
I quit drinking 23 years ago. Times like this I wonder why. Oh man. Rose out. WHY?!?!?

— Kelly Scaletta (@KellyScaletta) November 23, 2013
Once Rose went down, the Blazers were able to complete their comeback, storming into the lead thanks to a huge third-quarter run and then holding off Chicago during the closing minutes. Even though Rip City was having trouble putting the ball in the basket, the Bulls couldn't generate any offense either.
Rose left the game with 3:20 remaining in the third quarter and the score tied at 68. His Bulls would score only 27 points during the rest of the game. If you prorate that pace to 48 minutes, they would have put up an 85-spot.
Obviously that isn't going to cut it.
It was already becoming clear that while Chicago was still one of the three powerhouses in the Eastern Conference—along with the Indiana Pacers and Miami Heat— the other two were starting to separate themselves. If Rose is going to miss a significant amount of time, the Bulls will fall into the second tier of teams in the weaker conference.
How exactly are they supposed to generate enough offense in his absence?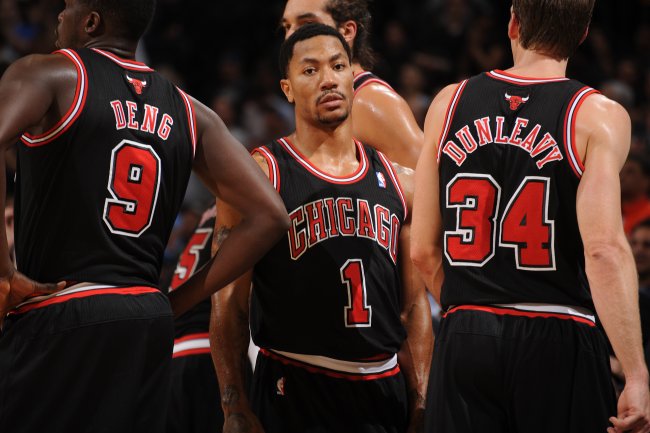 Bart Young/Getty Images
According to Basketball-Reference, the Bulls entered the game scoring 100.3 points per 100 possessions. That was already a remarkably low number, one that left the team ranked just No. 25 in the NBA. Without their No. 1 option, the man who creates just about everything when he's on the court, scoring points might just be a hopeless endeavor.
Rose's return from injury already wasn't going as planned. He entered the game against Portland shooting 35.9 percent from the field and recording 3.3 turnovers per game while dishing out only 4.4 dimes each contest. All of those numbers got worse after Friday night's game.
How far could this Bulls team go without Rose?
There had been signs of pre-injury Rose returning to dazzle fans—especially in the first half of both the game against the Blazers and the preceding one, a second-half blowout loss to the Denver Nuggets—but he was still struggling.
This could be the worst news yet, though.
Lets cross our fingers and hope for the best. It doesn't matter whether you're a Bulls fan, a Heat fan, a Pacers fan or a neutral bystander who just enjoys NBA basketball.

This sport is more fun when Derrick Rose is on the court.