We've gotten 17 long years to dissect Kobe Bryant and learn every minute detail about who he is—on the court.
On Thursday night, though, we got a better chance off of the hardwood to go deeper into the mind of the Black Mamba and learn more about one of the greatest stars in NBA history, as he lent himself to a live interview with late-night talk show host Jimmy Kimmel at the Nokia Center L.A. Live in a charity event for the Kobe and Vanessa Bryant Family Foundation and Cedars-Sinai Medical Center's Sports Spectacular.

There were reportedly several thousand people in attendance, a turnout ESPN's Ramona Shelbourne thinks only a few other sports figures could attract:
Honestly, I think only about 5-10 sports figures could pull this kind of turnout off

— Ramona Shelburne (@ramonashelburne) August 16, 2013
If you think about, it was an unprecedented event: one of the greatest players in history opening up for a very candid interview—in which fans got to participate—in the midst of a highly publicized return from a career-threatening injury.
Opportunities like these are few and far between. Let's take a look at some of the biggest takeaways from "Kobe Up Close."
Kobe's Relationship with the Lakers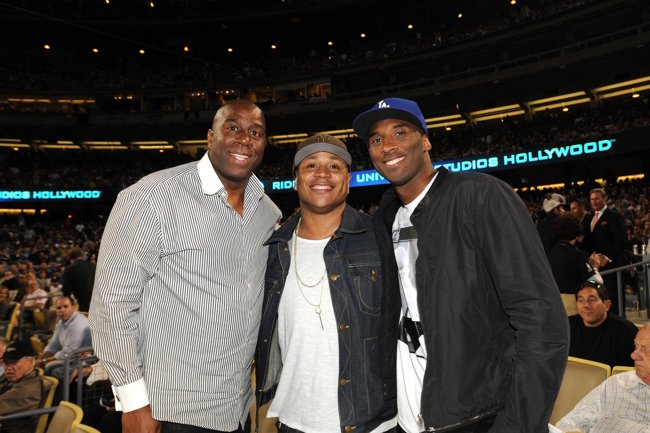 Handout/Getty Images
In short, it's good.
Bryant began the interview by talking about his place in Los Angeles Lakers history. There have been a lot of incredible players who have waltzed through this franchise, and as a result, an argument for "Best Laker Ever" can be made for a few different players.
For Kobe, though, it's the man he learned the most from—Magic Johnson, per ESPN's Arash Markazi:
Kobe said he said he will never accept the honor of being the greatest Laker from Magic because he learned so much from him.

— Arash Markazi (@ArashMarkazi) August 16, 2013
Bryant has always been known as a confident, stone-cold killer, but that's a pretty impressive amount of humility right there.
Of course, the Mamba still has some time to build on his legacy. After talking about how he always felt he belonged in the Purple and Gold, he made it clear he isn't going anywhere:
Kobe says he will be a Laker for life.

— Arash Markazi (@ArashMarkazi) August 16, 2013
Bryant has just one year remaining on his current contract, but as long as he continues to play at a high level, it sounds like there's a good chance he'll be re-signing.
One of the more interesting moments of the interview came when he was talking about his own pre-draft experience many years ago. The "other" Los Angeles team showed a lot of interest in him, but decided to pass:
Clippers told Kobe they wanted to turn things around and wouldn't be taken seriously if they drafted a 17 year old kid.

— Arash Markazi (@ArashMarkazi) August 16, 2013
Kobe said Clippers told him he had best workout theyd ever had, but said they wouldnt draft him. Kimmel "that's why theyre the Clippers"

— Ramona Shelburne (@ramonashelburne) August 16, 2013
Whoops.
The veteran also talked a little bit about his former teammates:
Kobe when asked if he could have one former teammate return: "I'd take Derek Fisher back ... That's my guy"

— Dave McMenamin (@mcten) August 16, 2013
Will Kobe miss MWP? "Tremendously."

— Arash Markazi (@ArashMarkazi) August 16, 2013
Kobe on Dwight: "He's actually a good kid. We have different perspectives on what it takes to win and what it takes to be successful."

— Arash Markazi (@ArashMarkazi) August 16, 2013
Crowd is loudly booing a kid wearing a Dwight Lakers jersey. Kobe says, "He got that jersey for sale."

— Arash Markazi (@ArashMarkazi) August 16, 2013
Oh boy.
And a current one, whom he has a strong relationship with:
Kobe said it bothers him alot when Lakers think about trading Pau Gasol.

— Ramona Shelburne (@ramonashelburne) August 16, 2013
Kobe as a Tar Heel?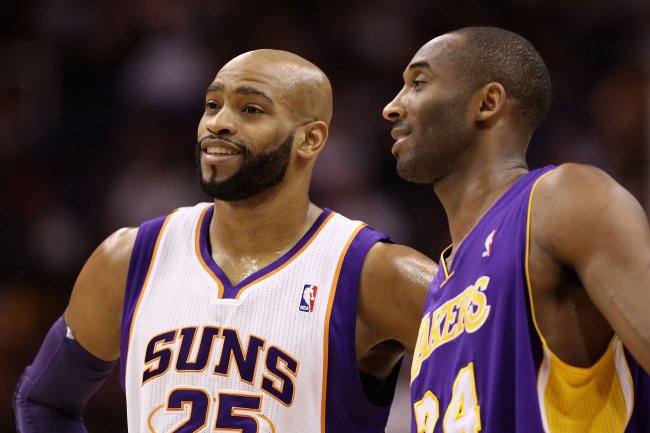 Christian Petersen/Getty Images
Bryant famously entered the NBA draft straight out of Lower Merion High School back in 1996, and there's a simple question we always wonder about guys who skipped college: Where would he have gone?
With Kobe, it would have been North Carolina, per Markazi:
Kobe said he probably would have gone to North Carolina if he went to college. I always thought he'd go to Duke.

— Arash Markazi (@ArashMarkazi) August 16, 2013
Could you imagine?
Bryant would have played on Dean Smith's last team during the 1996-97 season, teaming up with Antawn Jamison and Vince Carter on a squad that was talented enough to make it to the Final Four without him.
Goodness.
You think maybe Mike Krzyzewski or Lute Olson—whose Arizona Wildcats won the title that year—are counting their lucky stars that Bryant decided to go to the NBA instead?
Kobe's Toughest Competition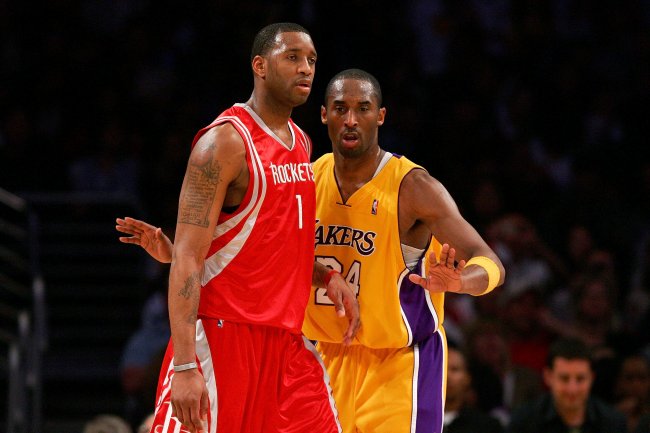 Lisa Blumenfeld/Getty Images
In 17 seasons, Bryant has faced an incredible amount of formidable opponents. The one he's had the most trouble with?
Tracy McGrady, per AXS TV:
The toughest guys I played against... Allen Iverson, Marbury, Arenas, Carmelo, Durant but T-mac gave me the most problems #axsKobe

— AXS TV (@AXSTV) August 16, 2013
T-Mac, a fellow guard who forwent college, hasn't aged quite as brilliantly as Bryant, but he was a downright deadly scorer in his prime, leading the league during the 2002-03 and 2003-04 seasons with the Orlando Magic.
Kobe's All-Time Starting 5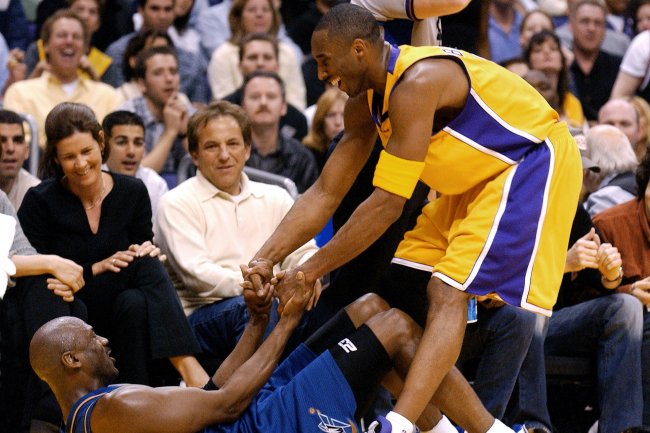 Vince Bucci/Getty Images
This is another one that is often highly debated, but it's always good to have the opinion of one of the greatest of all time.
Here is Kobe's top five:
Kobe's Top 5: Magic Michael Bird Russell Kareem

— Lakers Nation (@LakersNation) August 16, 2013
He also talked a little more about Michael Jordan:
Kobe says he learned most about the NBA was from Michael Jordan.

— Arash Markazi (@ArashMarkazi) August 16, 2013
That somewhat epitomizes the theme of the interview, which was respect. Bryant talked with much respect about Magic, Jordan, his teammates and the future of the NBA (mentioning Russell Westbrook, James Harden and Kyrie Irving).

Which is all more than you can learn from game film.
Kobe took to Twitter after the interview was over:
Thank you #mambaarmy #LakerNation for the love and support for #kbvff lets do it again soon #RNI #mambaout

— Kobe Bryant (@kobebryant) August 16, 2013
I think we can all agree another edition of "Kobe Up Close" is a must.