7 Takeaways from First Day at 2013 Orlando Summer League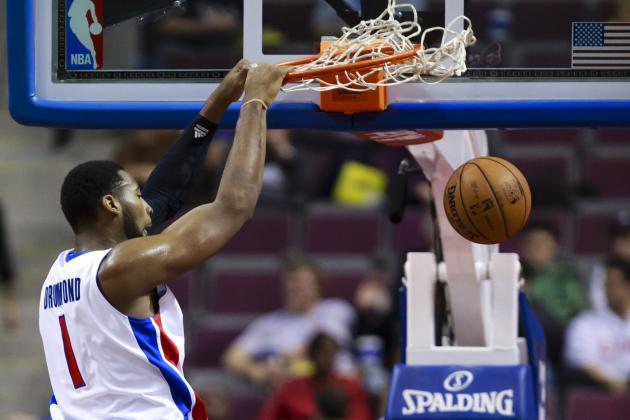 USA TODAY Sports

The 2013-14 regular season is still months away, but now that the Orlando Summer League has kicked off, fans around the NBA will get a chance to do some early scouting on some of the league's most intriguing young players.
The usual caveats apply here: Reading too much into summer league performances is like judging a movie on its 30-second trailer. You'll see a lot of the good parts, but until there's some real context, it's almost impossible to know whether you should put any stock into what you're watching.
Still, rookies like Trey Burke and Victor Oladipo have serious questions attached to their games, and the summer league is the first opportunity they'll have to answer them. Without spoiling too much, let's just say that the Orlando Magic are probably feeling a little bit better about their young guard than the Utah Jazz are about theirs after Sunday.
There was some sloppy play, a handful of highlights and even a man-child that clearly didn't belong on the first day of the Orlando Summer League. Consider this your summarized version of the day's key takeaways.
Begin Slideshow

»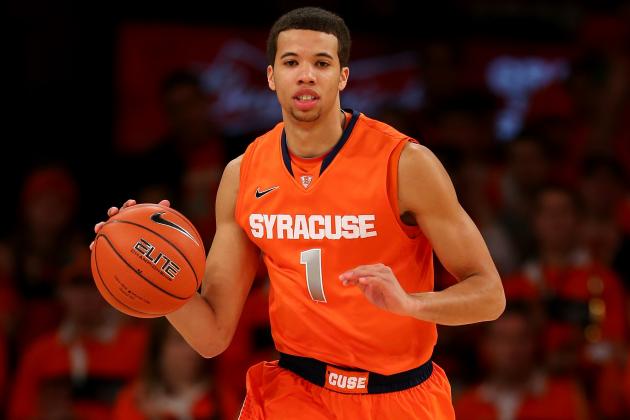 Elsa/Getty Images

Michael Carter-Williams did his very best to simultaneously prove his defenders and detractors correct in his summer league debut.
The rangy point guard from Syracuse showed flashes of expert ball-handling, the ability to create in transition and a keen passing eye. But at the same time, he struggled mightily when running the pick-and-roll and featured the same busted jumper that had many wondering whether he'd ever be able to keep defenders honest at the NBA level.
With a final stat line of 26 points, eight assists, seven rebounds and a whopping nine turnovers, MCW did nothing to silence the debate surrounding his unusual mix of strengths and weaknesses.
At every turn, there was a positive and a negative for Carter-Williams.
He got to the foul line 11 times in just 34 minutes, but also missed all six of his three-point attempts and had a pair of shots blocked at the rim.
It's far too early to be certain about what kind of player Carter-Williams will become, but his error-filled, yet somehow promising performance definitely didn't help.
The only thing that is clear is that MCW is going to have a very long leash as the Sixers embark on their rebuilding process.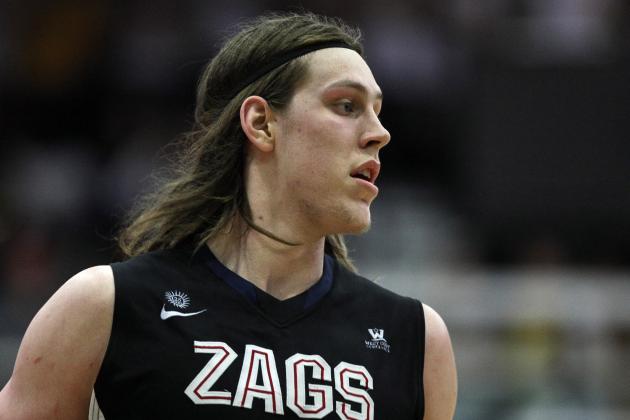 USA TODAY Sports

Kelly Olynyk came out of Gonzaga with a particularly unusual skill set. With great size at 7'0" and 238 pounds, the big man was never really much of an interior presence on offense. He also showed a decent stroke from the outside, but actually was most effective when utilizing his surprising quickness and impressive first step to attack the basket.
It appears that Olynyk has been getting plenty of jumpers up since joining the Boston Celtics, as the rookie displayed excellent form on the way to a 9-of-12 shooting performance against the Orlando Magic on Sunday.
Olynyk hit a pair of threes and even ran a surprisingly effective 4-5 pick-and-roll with Fab Melo. There are only a handful of power forwards in the NBA who have the skill and touch to do that.
Based on the improvement in his shooting and the technical soundness of Olynyk's mechanics, there's a great chance he eventually develops into a slightly larger version of the New Orleans Pelicans' Ryan Anderson.
Stretch 4s are all the rage in the NBA these days, and it's high praise to compare Olynyk to one of the league's best. But after seeing him in Orlando, it appears that he may have that kind of ceiling.
Joe Robbins/Getty Images

The Orlando Magic made it known that they'd try out Victor Oladipo at the point almost as soon as they drafted him with the No. 2 overall pick. And after his summer league debut, it's still not clear whether or not that experiment will ultimately work out.
What's very obvious, though, is that Oladipo is a whole lot of fun to watch.
In 33 minutes, the high-energy guard was all over the court. Sometimes, his aggressiveness was a negative, as he got caught in the air a handful of times and often attacked without a clear plan. But there were a ton of positives as well.
He showed off a couple of wicked crossovers, hit a couple of threes, snatched a bunch of steals and even came out of nowhere to meet Celtics center Fab Melo at the rim on a where-did-he-come-from help rotation.
That play was deemed a foul, but the takeaway here is that Oladipo is as tenacious and athletic as advertised.
And that means that if he truly wants to become a point guard, he's got the physical tools and work ethic to make it happen. Maybe it'll take some time, but after seeing Oladipo play with relentless energy en route to 18 points, seven assists, six rebounds and five steals, it'd be crazy to rule out the possibility.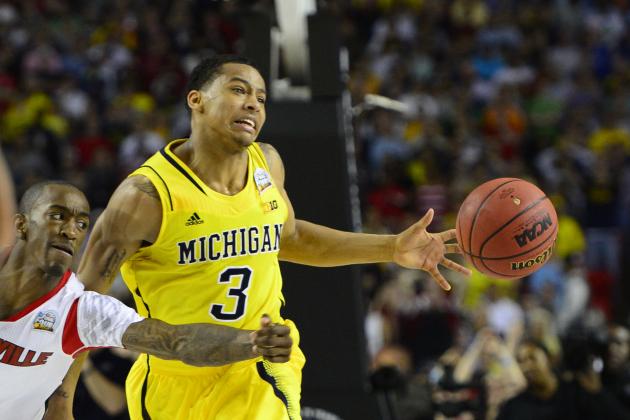 Bob Donnan-USA TODAY Sports

One of the biggest knocks on Trey Burke during the lead-up to the NBA draft was that he might not have the size to get his shot off against bigger, stronger NBA defenders.
It turns out that concern might have been well-founded.
Burke shot just 1-of-12 in 32 minutes against the Miami Heat, including a 0-of-4 effort from beyond the arc. The rest of his game was there, as the heady point guard dished out five assists against two turnovers and grabbed seven rebounds.
But if Burke can't find a way to score, he's going to have a very difficult time as the Utah Jazz's primary backcourt threat.
Henceforth, July 7 is going to be known as "Plumlee Day" in the Orlando Summer League.
Miles Plumlee got things started by putting up nine points, nine rebounds and six blocks in 29 impressive minutes for the Indiana Pacers. And then brother Mason Plumlee logged the day's most eye-popping highlight when he dribbled the ball up the left side of the court, spun hard to the middle and crammed home a vicious two-handed spike over rookie Kentavious Caldwell-Pope.
It should be noted here that Caldwell-Pope had a particularly rough day. He shot 1-of-10 from the field, turned the ball over four times and will now be featured on highlight reels for all of the wrong reasons.
But enough about KCP; this is a Plumlee-centric slide.
In addition to the monster slam, Mason put up 10 points and grabbed 14 boards in a solid 30-minute stint for the Brooklyn Nets. If you're scoring at home, that means the Plumlee brothers totaled 19 points and 23 rebounds on the day.
I'm not sure how we're supposed to celebrate "Plumlee Day," but I'm excited to find out.
USA TODAY Sports

Last season, the Golden State Warriors sent Klay Thompson home after he utterly dominated the first couple of games at the Las Vegas Summer League.
Expect the Detroit Pistons to do the same with Andre Drummond.
The frighteningly athletic big man poured in 12 points, snatched 16 rebounds (seven on the offensive end), blocked six shots and totally controlled the interior in just 25 minutes. Better still, he took the ball coast to coast on one play and even tallied five steals, showcasing the kind of speed and mobility that simply shouldn't belong to a man of Drummond's size.
The big man still struggled to score in the post and didn't show any signs of straightening out his free-throw stroke (he was just 2-of-9 from the stripe), but from a physical standpoint, Drummond was utterly dominant.
Here's hoping the Pistons lift him from further summer league competition, lock him in a room with a free-throw guru and turn him loose in a few months. It's abundantly clear that he doesn't belong in Orlando.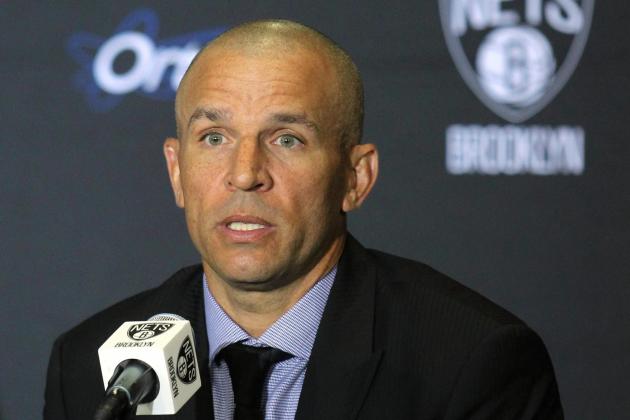 Brad Penner-USA TODAY Sports

Jason Kidd is taking his first stint as an NBA head coach pretty seriously. In fact, based on the technical foul he incurred during the Nets' victory over the Pistons, he's probably taking it a little too seriously.
But hey, summer league games are supposed to give teams an idea of what areas their young talent needs to work on. So now the Nets know that Kidd has to learn how to keep his cool on the sidelines.
If you think about it, it's actually sort of impressive that Kidd earned a tech. He didn't blow up or storm onto the court, which means he probably directed a magic word at the officials. If that's the case, maybe the Nets should spring for a "swear jar" so Kidd will have to pay a few bucks every time he tosses off a four-letter word.
Brooklyn is about a zillion dollars into the luxury tax, so every little bit helps.