Realistic Draft Targets for the Atlanta Hawks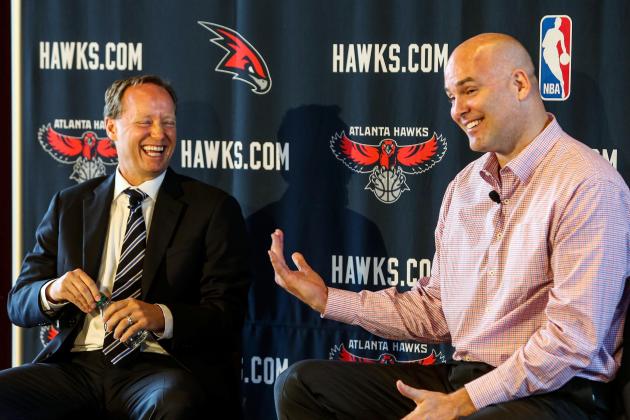 USA TODAY Sports
Atlanta Hawks GM Danny Ferry and new head coach Mike Budenholzer are set to tackle their first NBA Draft together.
The Atlanta Hawks are in a precarious position heading into the offseason.
With 2013 NBA Draft only a week away, the Hawks coaching staff has yet to be fully assembled. Mike Budenholzer and his assistants, Quin Snyder and Darvin Ham, will have to work feverishly with GM Danny Ferry to formulate their blueprint for reconstructing the team.
With only three players presently guaranteed to be under contract, practically every position could be seen as a need. Fortunately, the Hawks have four draft picks, two consecutive selections in the first round (17 and 18) and two more in the second (47 and 50). For the sake of simplicity, we'll focus on prospects that are in play in the first round.
The Hawks are planning to make a run at free agent All-Stars Chris Paul and Dwight Howard, so expect them to target shooters and build frontcourt depth.
Assuming the Hawks don't trade away their picks, let's take a look at four of the prospects that stand a realistic chance of putting on an Atlanta jersey.
Begin Slideshow

»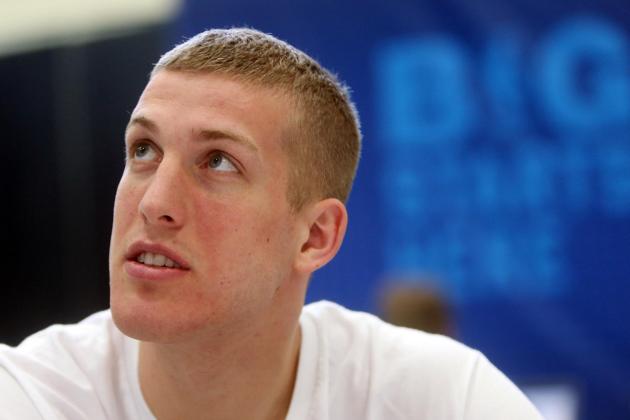 Jerry Lai-USA TODAY Sports
Will the Hawks call Mason Plumlee's name in the first round?
The 7-foot power forward from Duke University is a favorite among popular mock drafts for the Atlanta Hawks at the 17th pick in the first round.
Jim Kelley from DukeReport.com compares Mason Plumlee to Nick Collison of the Oklahoma City Thunder.
Much like Collison, Plumlee was a four-year player at one of the best college basketball programs in the country. Both players improved every year … Collison's career per-36-minute averages of 10.8 points and 9.3 rebounds since entering the league in 2004-05 look awfully similar to what Plumlee could produce.
What Plumlee lacks in natural athleticism, he makes up for in effort and work ethic. He is a team-oriented, high-energy player that runs the floor hard and is willing to learn. His character and skill set fit the ideal system for which both GM Ferry and Coach Budenholzer intend to replicate in Atlanta—that of the San Antonio Spurs.
Thus, he makes perfect sense for the kind of team that the Hawks hope to build.
The Hawks recently polled their fans on Twitter to ask if they should draft Plumlee or San Diego State shooting guard Jamaal Franklin. Plumlee received half of the votes. Which brings us to…
Howard Smith-USA TODAY Sports
Could San Diego State guard Jamaal Franklin be the future of Atlanta's backcourt?
The marketing and public relations departments have to know something if they're polling fans, right? After all, these are the same people who managed to get the organization fined for tampering when they sent out mailers to season ticket holders expressing the team's desire to sign Dwight Howard and Chris Paul.
Back to Jamaal Franklin. In size, he is a prototypical shooting guard. He stands 6'5" in sneakers and has almost a 7-foot wingspan. As a sophomore, he won Mountain West Player of the Year honors while averaging almost 17 points and 10 rebounds per game. However, in college he played mostly at forward, so he'll have to learn the wing position.
His shooting could use significant improvement, but he's extremely athletic, runs the floor well and is an excellent rebounder for his size. He can penetrate to the basket and shows solid potential on the defensive end.
If the Hawks are unable to acquire Monta Ellis—whom they have been rumored to have interest in—Franklin could be their guy.
Giannis Antetokounmpo might be the most intriguing prospect in the draft.
Many of you reading this may not have even heard of him. Most of you won't be able to pronounce his name—the original Nigerian spelling [Adetokunbo] might be easier to figure out. He lives in Greece, where his parents immigrated before he and his brothers, save for the eldest, were ever born.
He is a physical specimen with the unique combination of a long 6'9" frame and point guard skills. He has a lot of raw potential. At the youthful age of 18, he is still growing and honing his skills.
ESPN's Chad Ford describes Antetokounmpo as having "the raw skills and physical tools of a lottery pick." He then poses the question, "Can he use those tools and skills to play basketball at a high level?"
Of course, that is an unknown.
He has not yet competed against top tier international talent. So why, when there are plenty of players with raw potential each year, should the Atlanta Hawks draft him in the first round?
Cap space. Allow Peachtree Hoops to explain:
Giannis represents a high-upside draft and follow for the Hawks, who can immediately state to the NBA that he will not play in the league this season and bank the approximately [$1.6 million] off the cap for that draft slot. This is why the Hawks used their higher pick of the two in the first round to make this selection.

This allows the Hawks to speculate on a unique talent while maintaining cap flexibility in order to chase max-level free agents this offseason.
In Antetokounmpo, the Hawks get a future talent with great potential and financial freedom. In a year with an inferior crop of draftees, that has to be considered a win-win.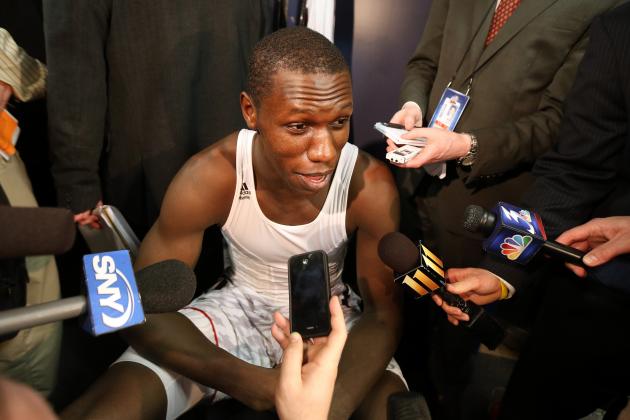 Andy Lyons/Getty Images
National Championship winning big man Gorgui Dieng may be the next big man playing in the Atlanta Hawks rotation.
This year, when the Louisville Cardinals won the National Championship, Gorgui Dieng played big.
This kid is capable of filling up the stat sheet. Against the Michigan Wolverines, he got eight points, eight rebounds, six assists, one steal and three blocks in 37 minutes of play.
In the Elite 8 against the Duke Blue Devils, he outplayed fellow first-round prospect Mason Plumlee to the tune of 14 points, 11 rebounds, one assist, two steals and four blocks in what became an 85-63 blowout victory.
Sounds good, right?
The caveat? Dieng is 23 years old, making him the oldest prospect in the draft.
He is, however, probably the most "NBA ready" player in the draft. He stands at nearly 6'11" with a 7'4" reach and has a reputation as a hard worker. He is a solid defender, as witnessed by him winning the Big East Defensive Player of the Year award.
While he isn't an offensive threat every night, he isn't worthless as a scorer, either. He should play well next to Atlanta Hawks power forward Al Horford, as HawksHoop's Cole Patty writes:
One of the team's biggest priorities when drafting a big man—as stated earlier—is being able to play with Al Horford. This requires being able to finish at or near the rim with extreme efficiency. Dieng is a great finisher close to the basket, and would be able to play there with Horford operating in the high post. On the defensive end, Dieng would also fair well with Horford; both are athletic and could guard expansive space together.
It's hard to tell what direction Atlanta will go with their draft picks, but—should they take Dieng—at least they'll be able to expect some production right away.