Winnipeg Jets forward Evander Kane landed in hot water for a controversial tweet aimed at Miami Heat star Chris Bosh. In the since-deleted tweet, Kane said "Bosh looked like a fairy going to the rim," per CBC in Manitoba, who grabbed an image of the tweet before Kane deleted it.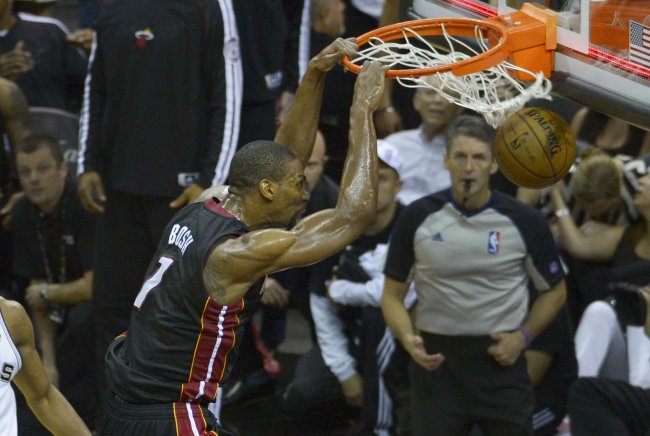 Brendan Maloney-USA TODAY Sports
When Kane was initially taken to task by members of the Twitter community, he defended his words. He released the following tweets at his critics.
Man there's a lot of overly sensitive people on here. It's unreal how some of you on here turn absolutely nothing into something so wrong.

— Evander Kane (@EKane9JETS) June 14, 2013
As I have said before and I'll say it again if you can't handle real talk #clickunfollow if you can't handle it.

— Evander Kane (@EKane9JETS) June 14, 2013
Per CBC, Jets spokesman Scott Brown said officials had spoken to Kane about his tweet, but he would not be fined for his actions. Instead, he would receive counseling on making better decisions.
After some deliberation—and/or conversation with those in the Jets' organization—Kane has issued an apology for his tweet. He has also spoken with Patrick Burke of You Can Play, an organization that works to ensure the rights and inclusion of LGBT athletes.
Apparently all of this helped to change his tune.
Just spoke with Patrick Burke + @YouCanPlayTeam and would like to sincerely apologize for a tweet where I used a homophobic term. I made...

— Evander Kane (@EKane9JETS) June 14, 2013
A mistake and will learn from this. I apologize to anyone I offended by my tweet and this will not happen again. #YouCanPlay

— Evander Kane (@EKane9JETS) June 14, 2013
Were you offended by Kane's tweet?
These types of comments have been the nucleus for controversy amongst athletes in the sports world recently. Though Kane's words may be viewed by some as harmless, any association with athletic ineptitude and sexual orientation will be taken offensively by others.
At some point, athletes and others in the limelight will have to learn to be more careful with their vehicles of expression. High-profile players are never completely out of the public eye, thus every word they utter or type must be looked at as a public appearance.
If it wouldn't fly in an interview after a game, it won't pass on Twitter.
Kane may not have thought about how his tweet might be viewed before he released it. But behind this mini-controversy, he'll surely think twice before he uses social media to express himself again.
Follow me for Sports Did You Knows, News and Spirited Opinions.