NBA Playoffs 2013: 4 Keys for the Indiana Pacers to Beat the Miami Heat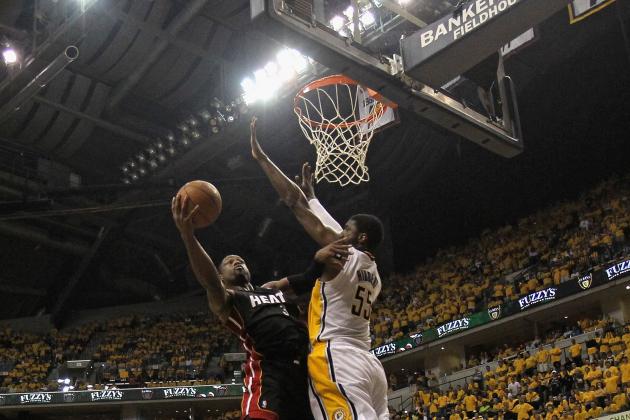 Jonathan Daniel/Getty Images

The 2013 NBA playoffs have reached their final four, and now things really get fun. On paper, the Eastern final is akin to a Biblical showdown. The grit-and-grind Indiana Pacers against the pyrotechnic show that is the Miami Heat. Blue collar, Midwestern pride against the sinful vanity of South Beach. Lance Stephenson against, well, just about everyone in a red and white jersey.
A title would put the 2013 Heat in rarefied air, squarely in any debate about the greatest teams of all time. They ripped off a 27-game winning streak while practically sleepwalking through half of them. They have arguably the greatest (and certainly the most versatile) player to ever pick up a basketball. So how, exactly, can anyone throw a wrench in the Miami coronation? Those humble, hardworking Pacers may have the personnel to pull it off, if they can follow these four keys to victory.
Begin Slideshow

»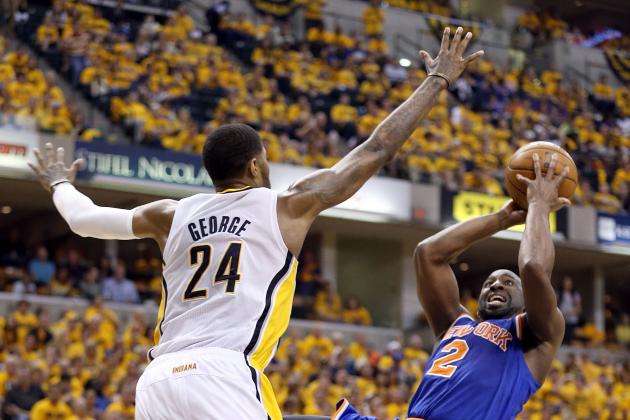 Andy Lyons/Getty Images
Paul George's defense wreaked a whole lot of havoc on the Knicks in round 2.
Prior to the 2013 postseason, Paul George may have been the best player you hadn't heard about. He's a long, lanky and athletic freak of nature, explosive (if inconsistent) on offense and suffocating on defense. He helped to disrupt New York's pick and roll/swing the ball offense in round 2, and he'll need to be in full-on Swiss army knife mode if the Pacers hope to knock off the defending champs.
In many ways, George is a poor man's LeBron circa 2008 — an unreal combination of size and speed, capable of breaking down any defense despite a jump shot that comes and goes. But it's at the other end of the floor where he'll make a difference in this series. If anyone can keep James and Dwyane Wade out of the lane, it's George, and cutting off dribble penetration will make the Heat supporting cast (Battier, Chalmers, Mike Miller, Rashard Lewis and that vaunted drive and kick game) less effective.
He's also the only guy on the floor for Indiana that create his own shot if things go south in the half court (and this is Indiana, so things will go south at some point) — a huge key to slowing down the Heat, because bad shots are the engine that drives their transition game. Because of his offensive contributions and his ability to both keep teams out of the paint and cover the three-point line, an effective George firing on all cylinders could be the difference in this series.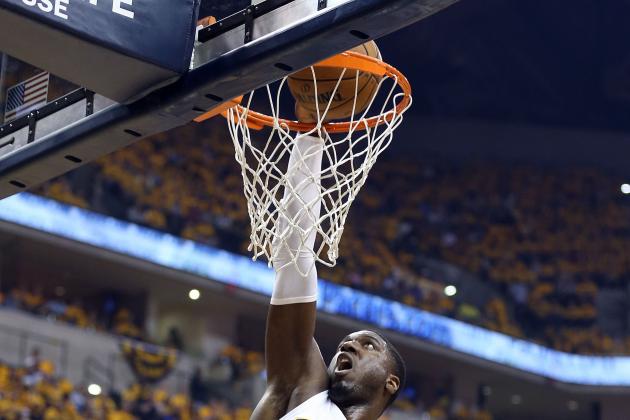 Andy Lyons/Getty Images

The Pacers' success on defense hinges on their ability to play inside-out — they rebound and protect the paint better than just about anybody without sacrificing the three-point line. And while Paul George and Lance Stephenson are certainly a big part of that (they're athletic enough to provide weak side help and then scramble back out to the perimeter), Roy Hibbert is the fixture in the middle that makes the whole thing go.
Hibbert was a terror on the interior against the Knicks, managing to significantly contest everything New York did in the paint without getting into foul trouble and forcing the paper-thin Pacers to go to their bench. If he can stand his ground and prevent Wade and LeBron from slashing to the rim consistently, it'll throw off Miami's supporting cast who rely on drive and kick-outs to open corner 3s.
The Heat are also vulnerable on the glass (21st overall in rebounding rate, per espn.com), and despite the boost Chris Andersen has given, there simply isn't enough size down low to handle the 7-footer. Tyson Chandler and Kenyon Martin are both solid interior defenders, and both were embarrassed consistently by Hibbert. If he can give Indiana's often-inefficient offense second chances while limiting Miami's ability to finish on the other end, look out.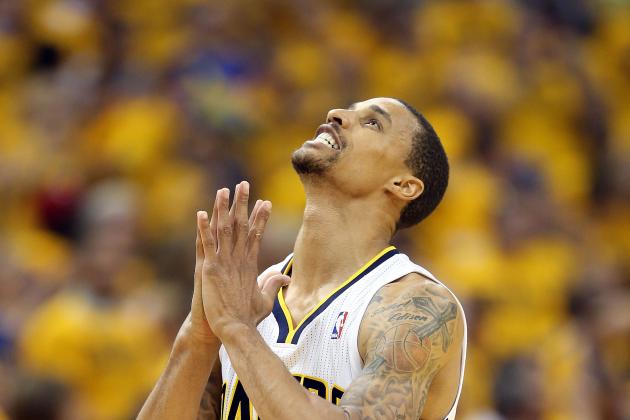 Andy Lyons/Getty Images

The Pacers are easily the thinnest team still playing, and any injury to a starter will be magnified because of it — no one wants to have to ride Gerald Green or Sam Young in May.
All of which makes Hill's health of utmost importance for Indiana. Hill only missed one game of the New York series, but his shot was consistently flat in Game 6 and he was an offensive non-factor. If he's on his game, he'll space the floor well and make life easier for Hibbert and David West on the low block.
But the reasons for Hill's importance go beyond his abilities. D.J. Augustin is a serviceable backup and a respectable role player, but if Indiana has to play him for significant minutes at the point, they're in trouble. Augustin provides good spacing and shooting and can get the Pacers into their half court sets reasonably well, but his lack of size costs him on defense. In Game 5 against the Knicks, Raymond Felton routinely abused him in the pick and roll, as the shorter Augustin got swallowed up by ball screens.
And if Hill is limited, that means that Indiana will be forced to find a backup on the roster to take Augustin's usual place. Lance Stephenson was an X-factor against the Knicks, but that was as an off-ball slasher, not a point guard. There are no suitable replacements for the Pacers, and if they turn the ball over like they did in MSG, the Heat will run them out of the building.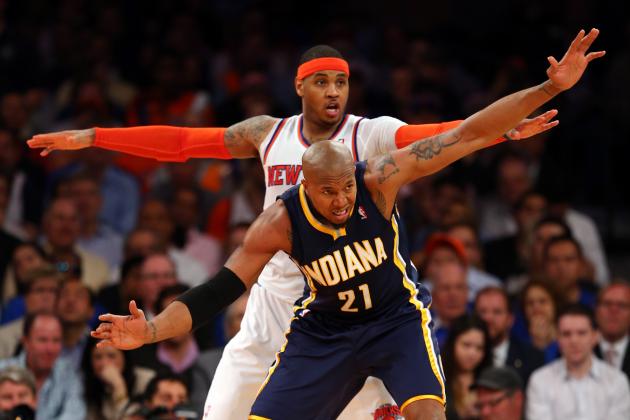 Elsa/Getty Images

This time last year, the Pacers had Miami on the ropes. The Heat were down 2-1 and had to face a rabid Bankers Life Fieldhouse (really, can we change that back to Market Square Arena already?) crowd for Game 4. The Pacers had pounded Miami, bruised them and knocked them back. Then, all of a sudden, everything changed.
A series that had been dominated by Roy Hibbert and David West suddenly got away from Indiana as the Pacers got away from what they did best — pound it inside and play into their height advantage. If Indiana hopes to advance this time, they'll need to dance with who brung them, and that means feeding their beasts on the block early and often.
If Hibbert and West get going, all of a sudden they start to dictate the tempo. They get high-efficiency looks close to the rim, which means more makes and less run-outs for LeBron and the Heat. They turn it into a knock-down, drag-out slugfest, which is the only kind of series they can win. Miami is thin inside, with only Andersen, Chris Bosh and the undersized Udonis Haslem down low. Get one of those guys into early foul trouble and everything changes.