New York Knicks vs. Indiana Pacers: Game 6 Postgame Grades and Analysis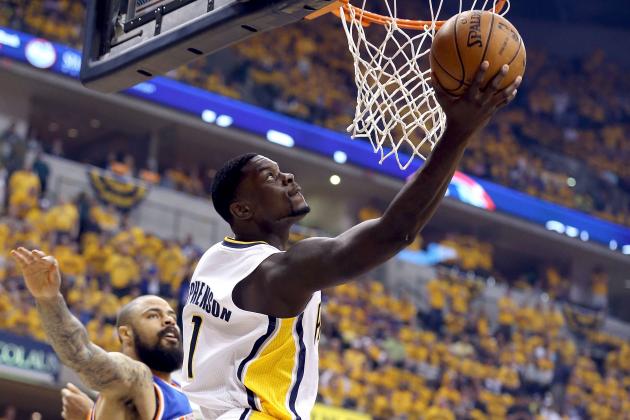 Andy Lyons/Getty Images

Monster games by Lance Stephenson and Roy Hibbert overcame a 39-point performance by Carmelo Anthony, as the Indiana Pacers topped the New York Knicks, 106-99, to advance to the Eastern Conference Finals.
A 52-20 advantage in the paint helped Frank Vogel's club overcome a 16-point third-quarter barrage by Iman Shumpert, as Indiana outlasted the Knickerbockers in an intense battle.
The Pacers' size, physicality and aggressiveness earned them 46 trips to the free-throw line, a major factor down the stretch.
Although George Hill's return was a psychological boost, Stephenson's career night was the game-changer, as his 25 points and 10 rebounds supercharged the blue and gold.
How did everyone else fare, and what were the positional keys that led to Indiana's triumph? Find out as we hand out grades for this series-clincher.
Begin Slideshow

»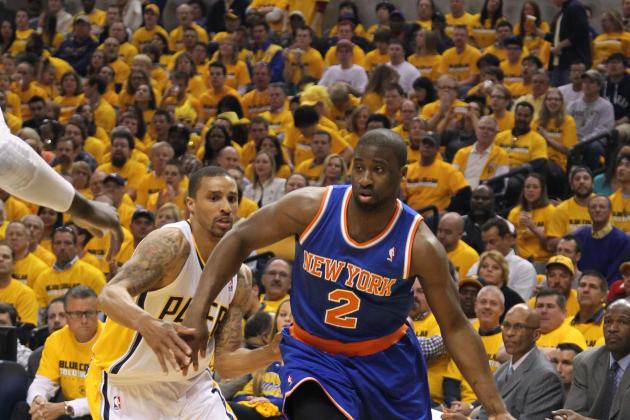 Brian Spurlock-USA TODAY Sports

Raymond Felton
New York's floor general dished the ball effectively for stretches in Game 6.
And that's about it.
George Hill rendered him ineffective as an attacker and slasher, as Felton went 0-of-7 from the floor and wasn't a factor for most of the Knicks' important possessions.
Grade: C-
George Hill
If you only look at the box score, it would seem like George Hill had an ugly outing.
Sure, it was unspectacular, and he shot the ball awfully. However, his defense, leadership and aggressiveness was invaluable to Indiana's attack.
His return after missing Game 5 with a concussion was just enough to change the identity of Indiana's backcourt on both ends.
Grade: B-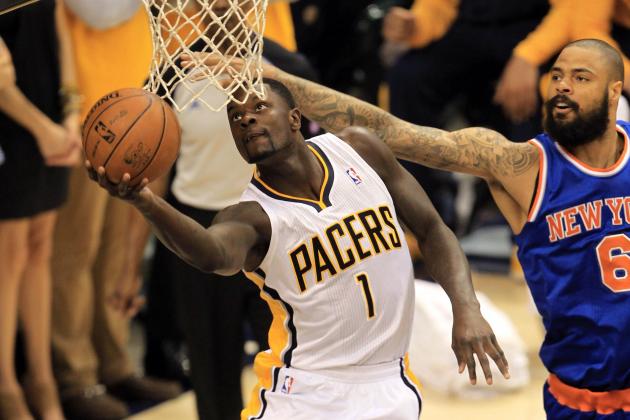 Pat Lovell-USA TODAY Sports

Pablo Prigioni
Offensively, Pablo Prigioni started the game off well, splashing a couple triples and making a couple of nice passes to set up teammates.
Unfortunately, he got manhandled by Hill and Stephenson on the other end, as the physically superior Pacers backcourt gave him trouble.
His second half featured a few more great passes, but not nearly enough firepower to make a difference.
Grade: C-
Lance Stephenson
Pacers fans couldn't ask for much of a better game from Stephenson, who was aggressive in transition and half-court scenarios early and often. Heading to the locker room at the half, he had 16 points on 6-of-8 shooting, a big reason why Indiana held a halftime advantage.
He cooled off considerably in the second half, but supplied a couple key buckets and some crucial rebounds, including a transition and-1 late in the fourth to put Indiana ahead. His ability to get to the free-throw line was a colossal X-factor throughout the contest.
Stephenson's 10 rebounds and career-high 25 points made him the clear-cut MVP of this showdown.
Grade: A+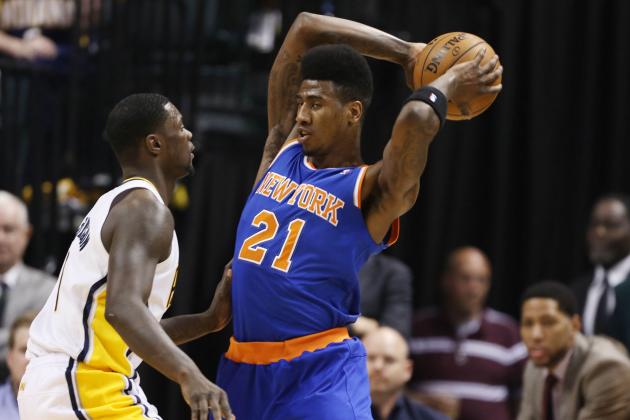 Brian Spurlock-USA TODAY Sports

Iman Shumpert
Early in Game 6, Iman Shumpert didn't help his teammates much. In fact, his three first-half fouls adversely affected his club's game plan.
Then he absolutely went off in the third quarter, starting with three straight triples. His 16-point outburst in the quarter changed the complexion of the game, helping New York even the score heading to the fourth quarter.
New York could have used more of that in the fourth. If he had continued his barrage, the Knicks would have been in a much better position in the final minutes.
Grade: A-
Paul George
Although Anthony got going against George for several stretches in the first half, George supplied some offense of his own, shooting 4-of-7 for 10 points at the break.
Give him credit for continuing to battle as a stopper, scorer and facilitator. He finally enjoyed an efficient night as a shooter, going 9-of-15 from the floor to pile up 23 points.
Grade: A-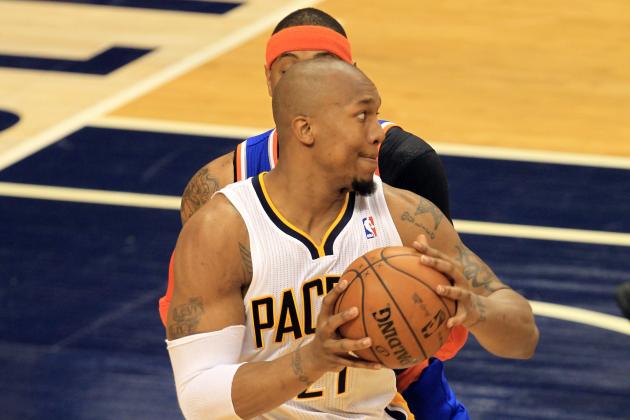 Pat Lovell-USA TODAY Sports

Carmelo Anthony
In a superstar-caliber effort, 'Melo put the Knicks on his back and notched 39 points.
Much to Mike Woodson's dismay, most of them were in the first three quarters. Up until the fourth, Anthony scored from all angles, including off-balance fade-aways and contested outside jumpers
He didn't get his first fourth-quarter field goal until 2:14 remaining in the game, and by then, it was almost too late.
Plenty of effort. Plenty of heart. Not enough results down the home stretch.
Grade: A
David West:
Overall, this was a superb game production-wise for West. He mixed several mid-range shots with some interior decorating and had 15 points through three quarters.
Late in the game, his post-up passing found Indiana some critical buckets to keep pace with New York.
Stephenson and Hibbert will garner most of the accolades from this game. Don't forget West, who served as a terrific glue guy for the blue and gold.
Grade: B+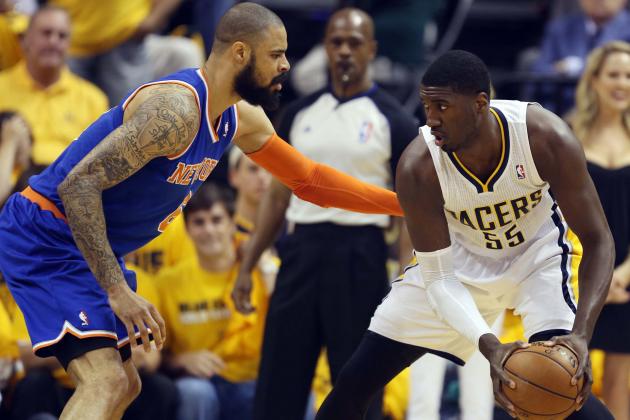 Brian Spurlock-USA TODAY Sports

Tyson Chandler
Although he provided his usual hustle and kept possessions alive with his patented volleys, Chandler was outplayed by Hibbert for almost the entire contest.
His lack of offensive skill became magnified in this series, and Game 6 was prime evidence.
When he fouled out midway through the fourth, it was a somber symbol of New York's demise.
Grade: D
Roy Hibbert
Game 6 was a classic example of how Hibbert can influence the game with his size. He protected the rim and redirected shots, scored deep in the post, cleaned up the boards and earned trips to the free-throw line.
Most importantly, he got Chandler in foul trouble and even got him upset at the referees at one point.
His final line? 21 points, 12 rebounds, five blocks and 9-of-12 from the charity stripe. Worthy of a rematch with the Miami Heat.
Grade: A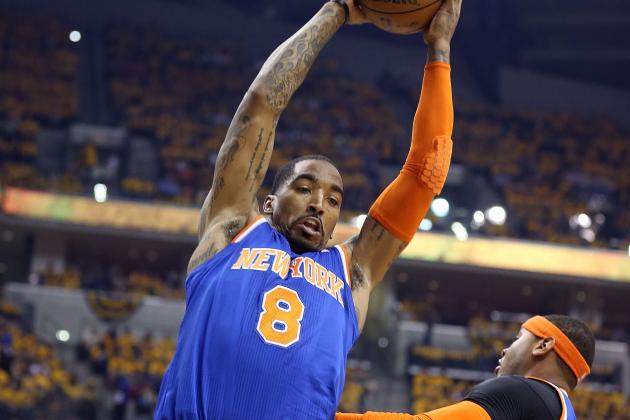 Andy Lyons/Getty Images

J.R. Smith
For a while, it was more of the same lackluster play from J.R. Smith.
More detrimental than the inefficient shooting was his mental lapses and intermittent lack of hustle.
Fortunately for Knicks fans, he warmed up a bit in the second half, hitting a couple timely triples and drives to keep the Knickerbockers in the ballgame.
Grade: B-
Tyler Hansbrough
He was the first one to come off the bench for Indiana, but Hansbrough didn't really get involved in the Pacers rotation substantially.
On the glass and in the scoreboard, "Psycho T" didn't make any positive impact: Zero points, zero rebounds, two turnovers and three fouls.
Grade: F
Elsa/Getty Images

Knicks
Led by the aforementioned J.R. Smith, New York's reserves definitely won the battle of the benches in Game 6.
Smith's supporting cast included Chris Copeland, who connected on three massive triples, and Kenyon Martin, who provided 22 minutes but fouled out.
New York's bench outscored Indiana's, 31-8, giving them the clear edge. Unfortunately for Mike Woodson, it wasn't enough.
Grade: A-
Pacers
Frank Vogel certainly wasn't singing the praises of his bench after this one. Indiana won despite its small reserve production.
In addition to Hansbrough's below-average outing, D.J. Augustin was a non-factor and Sam Young played decently, but only for nine minutes.
Grade: F