The NBA released its 2012-13 All-Rookie teams on Tuesday, and headlining the first team is dynamic Portland Trail Blazers point guard Damian Lillard.
The Association's official Twitter page broke the news:
2012-13 NBA All-Rookie First Team: @dame_lillard @realdealbeal23 @antdavis23 @dionwaiters3 & @hbarnes.

— NBA (@NBA) May 14, 2013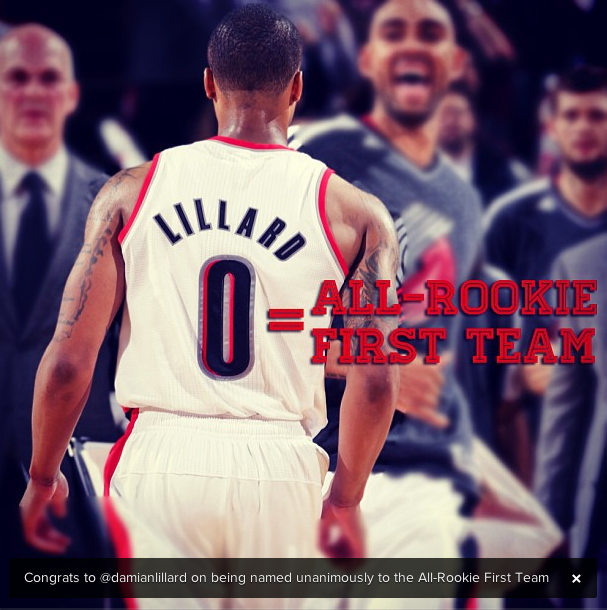 Lillard is the reigning, unanimous Rookie of the Year and was the sixth overall pick in the 2012 draft out of Weber State. He set a rookie record with 185 three-point field goals, a mark previously held by Golden State Warriors star Stephen Curry.
Was there ever any doubt? @dame_lillard unanimously chosen as the NBA's top rookie! #RipCity twitter.com/pdxtrailblazer…

— Trail Blazers (@pdxtrailblazers) May 1, 2013
Also on the first team with Lillard is Curry's teammate, Harrison Barnes, No. 1 overall pick Anthony Davis of the New Orleans Pelicans, Washington Wizards sharpshooter Bradley Beal and Cleveland Cavaliers guard Dion Waiters.
Harrison Barnes was a key player for the Warriors this year, but he is truly coming into his own this postseason.
Unsurprisingly, this group of rookies made up the top five scorers in their class, with Barnes being the lone first teamer not to average double figures.
Davis, Beal and Waiters all suffered through various injuries during their rookie seasons, forcing the youngsters to sit for significant stretches of the season. Barnes and Lillard, however, withstood the test of the grueling six-month schedule, playing in 81 and 82 contests, respectively.
As for the All-Rookie Second Team, the NBA also released that information on Twitter:
2012-13 NBA All-Rookie Second Team: @dre_drummond_ @mikegillie14 @kylesingler @zellertyler & Jonas Valanciunas.

— NBA (@NBA) May 14, 2013
Detroit Pistons swingman Kyle Singler and 2011 No. 5 overall pick Jonas Valanciunas of the Toronto Raptors both played overseas last season, but made strong enough impressions to earn this privileged distinction upon joining their respective clubs.
Which rookie second teamer belonged on the first team?
No. 2 overall pick Michael Kidd-Gilchrist continues to be somewhat unfinished on the offensive end. Having said that, the Kentucky product is a gritty defender and has plenty of time to improve on a rookie campaign in which he averaged nine points and 5.8 rebounds for the Charlotte Bobcats.
Andre Drummond was considered a boom-or-bust proposition, but he is making the Detroit brass appear wise with his play thus far. In only 20.7 minutes per game, Drummond averaged 7.9 points, 7.6 rebounds and 1.6 blocks.
Cavaliers big man Tyler Zeller rounds out the second-team quintet. Zeller flashed enough promise in his debut season to justify GM Chris Grant's costly draft-night trade to acquire him.