NBA Playoff Youngsters Finding Their Big Boy Pants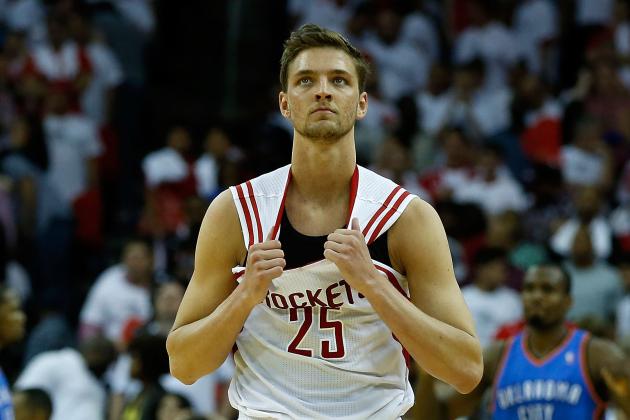 Scott Halleran/Getty Images
In his second year, second-round draft pick Chandler Parsons is showing his versatility.
Kobe Bryant says the darnedest things.
Earlier this year, when Pau Gasol was struggling to perform and adapt to new coach Mike D'Antoni's system, Kobe had some advice: "Put your big-boy pants on," said Bryant, according to ESPN Los Angeles.
The playoffs are over for the Lakers—and they never even began for Kobe.
But there are several young performers in this year's playoffs who should be making Bryant—and more importantly, their own teammates and coaches—proud.
When the spotlight shines brightest, some youngsters crumble.
Not these kids.
These are the young, largely unknown players who have put on their big-boy pants this postseason.
Begin Slideshow

»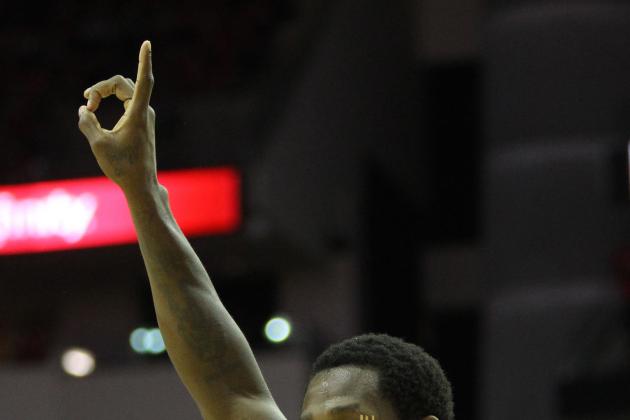 Brett Davis-USA TODAY Sports

Patrick Beverley is going to have a tough time living down his reputation as the guy who took out Russell Westbrook's knee. But that's really not fair.
He wasn't trying to injure anybody. He was just a guy who hasn't had many opportunities at the NBA level trying to seize one.
He saw a possible steal, and he went for it. The outcome—the end of Russell Westbrook's season—was unfortunate for both the Oklahoma City Thunder and Beverley, but amid the controversy, he has shown that he can play in this league.
Just look at his rebounding.
With Jeremy Lin sidelined by injury in Game 2, the 6'1" rookie made his first career NBA start and grabbed 12 boards. Nice entrance. He followed that up with eight rebounds in the team's all-important Game 5 win.
In his other games, he has come down with a more reasonable number or rebounds for a pipsqueak, but Beverley has countered with a bunch of points. He has scored at least 11 points in four of five playoff games, including two outings of 16.
So far during the two elimination games that the Houston Rockets have won, Beverley has hit 10-of-21 shots, including 4-of-9 from three-point range.
It's safe to say that, lacking Lin, this team would already be on summer vacation without Beverley, a player who has followed up a regular season in which he notched double-digit points just six times with a postseason in which he has done so in four out of five games.
Not bad for a guy nobody had heard of until he ended Westbrook's season.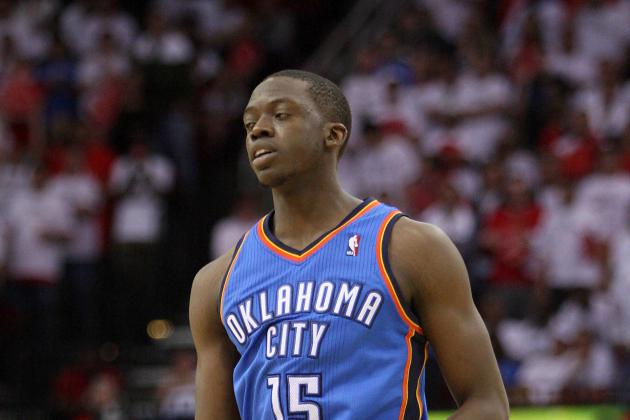 Troy Taormina-USA TODAY Sports

Entering the postseason, Reggie Jackson had played less than 1,500 minutes of NBA basketball. He was expected to get some run for the Oklahoma City Thunder in the playoffs, but mainly in spot, reserve minutes.
Then Russell Westbrook torn his meniscus.
Enter Jackson into the starting lineup.
He has responded by averaging 17.3 points per game as a starter in the past three games. He has also filled in for Westbrook by getting to the line.
While it is far below the All-Star's production, Jackson has gotten to the line 14 times in the past three games, good for 4.7 trips per night.
Two of his starts have come in losses.
This marginalizes his production somewhat. But the Houston Rockets are playing fantastic basketball, and the Thunder are simply a much less dynamic team without their second-best player.
It would be impossible for anyone to step in and replicate Westbrook's production.
If not for Jackson, however, the Thunder might be questioning their ability to close out this series.
That outcome remains up in the air, but with a capable producer stepping up—not to mention the world's best scorer still on the roster—the Thunder should be able to win one of these next two games and advance to the second round.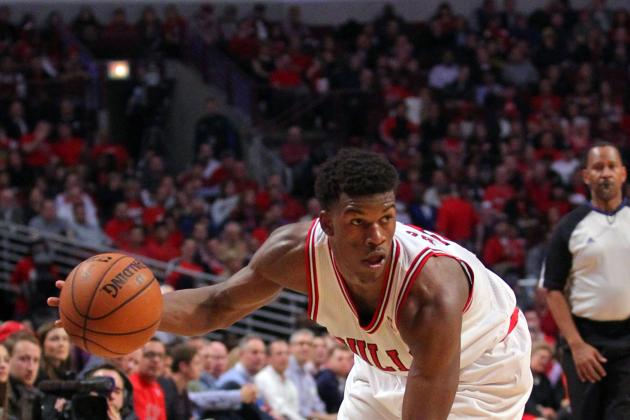 Dennis Wierzbicki-USA TODAY Spor

To the surprise of many, the Chicago Bulls appear poised to knock off the Brooklyn Nets and advance to the second round.
A huge reason is what will forever be known as "The Nate Robinson Game," a triple-overtime affair in which the three-time Slam Dunk Contest winner scored 23 fourth-quarter points to bring his team back from the jaws of defeat to an improbable victory.
A less-heralded cause, however, is Jimmy Butler.
While Luol Deng and Joakim Noah (rightfully) receive much of the credit for the Bulls' ability to stay afloat this season without Derrick Rose, Butler deserves praise as well.
He was solid all season, and that has carried over to the postseason.
It is fitting, then, that his biggest play has similarly gone largely unnoticed.
The Nate Robinson Game wouldn't have even come in a victory if not for a game-saving block by Butler at the end of regulation. Even after all of Robinson's heroics, Deron Williams had one last shot to win. With the game tied at 111, he drove right, pulled up and barely rimmed out a jumper.
Gerald Wallace was right there for the putback, however.
Wallace elevated, got the board and had an easy layup.
Then, out of nowhere came Jimmy Butler, with expert timing and Paul George length, to stop Wallace from putting in an easy game-winner.
It's the type of subtle stuff that coach Tom Thibodeau says he sees from Butler all the time while watching film, according to Comcast Sportsnet Chicago.
Then there is the glaringly obvious stuff: the 18-of-34 (52.9 percent) shooting and 11.2 points per game he is averaging so far this postseason.
The second-year pro still has a ways to go to become a true factor offensively, but the rise of Butler may be one silver lining this year for a Bulls team that has been riddled with injuries all season long.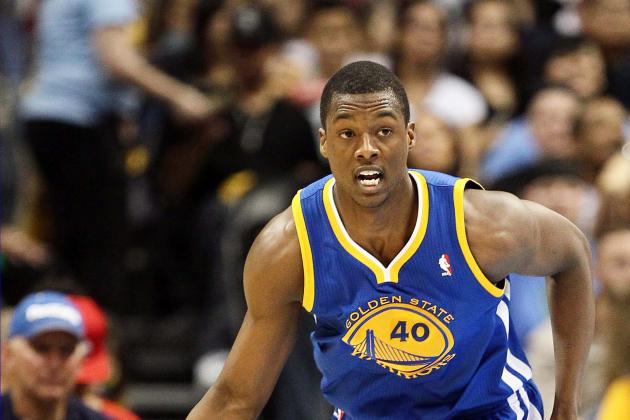 Isaiah J. Downing-USA TODAY Spor

One night before Damian Lillard was handed a Rookie of the Year Award for his great play during the regular season, Harrison Barnes proved without a shade of doubt who the best rookie has been in this year's postseason.
He made it rain from three-point land, hitting 5-of-10 triples on his way to 23 points.
Too bad it came in a loss.
Even more impressive: This wasn't even his career playoff high.
For the player they call the Black Falcon, that came two games earlier, when his 24 points helped the Golden State Warriors steal Game 2 in Denver. In this second-ever playoff game, he shot 9-of-14 as his team jumped out to a runaway 131-117 win.
He also did this: a nasty reverse dunk over Anthony Randolph that had his teammates celebrating like fools on the sideline.
"I've never tried that in a game," Barnes told radio host Jim Rome. "I've rarely tried that in practice. It was completely spontaneous, and I just drove and jumped and I can't really explain what was going through my mind at that point."
Whatever it was going through his mind, fans of dunks everywhere are glad he had the tenacity to try something new as a rookie in the playoffs.
The next game was more of the same. Really, it is becoming routine.
For a rookie, it shouldn't be like this. The game shouldn't seem this easy. He shouldn't be able to stroke threes and put veterans on posters with regularity.
But that's the thing with Barnes. Everything looks effortless.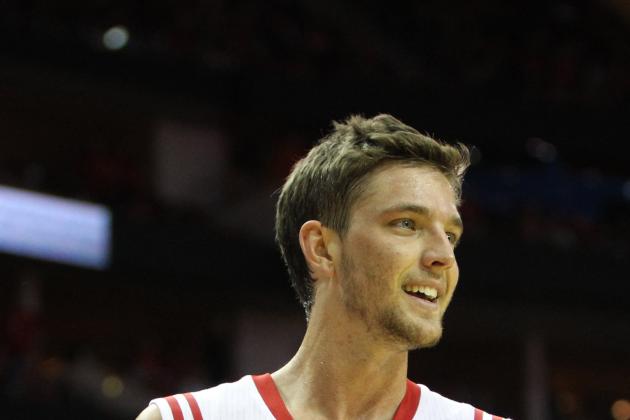 Brett Davis-USA TODAY Sports

At one point, Chandler Parsons was the only NBA player not on the Los Angeles Lakers who Kobe Bryant followed on Twitter. Basically, he was a trivia answer.
But he was always more than that; after a loss to the Houston Rockets, Bryant said that Parson "has a really bright future—and I don't say that a lot about a lot of people."
Real recognize real.
It has been apparent all season that Parsons had this in him.
That didn't take away any of the shine from actually seeing it come out, however—especially during his near-triple-double showing in the Rockets' Game 4 win over the Oklahoma City Thunder while facing elimination.
He was sensational.
Parsons finished with 27 points, 10 rebounds and eight assists. Who would have thought that the Rockets could win with James Harden struggling down the stretch?
But they did, largely behind Parsons' 7-of-10 shooting in the second half, including two huge driving layups in the final six minutes that kept the Thunder at bay. Both teams were struggling to put points on the board in the fourth. Parsons remained calm though, doing a little bit of everything down the stretch to help ensure his team's season did not end.