The 2012-13 NBA regular season is rapidly approaching its conclusion. With this in mind, the postseason is taking shape and the title favorites are beginning to emerge.
The question is, which title contenders are we selling short?
In the Eastern Conference, it's no secret that the Miami Heat are favored to make their third consecutive NBA Finals appearance. As the defending champions, the Heat are also expected to take home the gold for the second straight year.
This comes in the midst of a season in which the Heat have earned the top record in the NBA.
Their lone competition is believed to be the Indiana Pacers, who owned a 2-1 series lead over the Heat during the 2012 Eastern Conference semifinals. With their top ranked scoring defense, there is the outside possibility that Indiana pulls it off.
Just don't think they're the only Eastern Conference squad who can pull out the upset.
Out West, the three most commonly favored teams are the Oklahoma City Thunder, San Antonio Spurs and Los Angeles Clippers. The Thunder and Spurs made it to the Western Conference finals in 2012, while the Clippers are one of the most balanced squads in the NBA.
Much like the Heat and Pacers in the East, however, those three teams are not alone.
Brooklyn Nets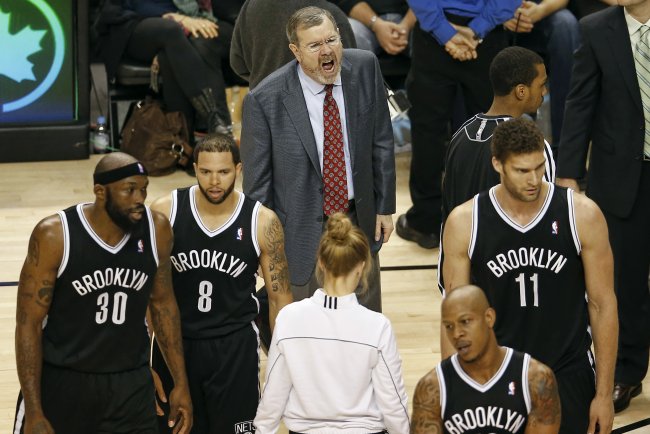 Tom Szczerbowski-USA TODAY Sports
W-L Record: 48-33
Scoring Offense: 96.8 (17th)
Scoring Defense: 95.0 (5th)
Key Statistic: 1.21 Point Per Shot (9th)
The Brooklyn Nets are one of the deepest teams in the NBA. They're also a star-studded squad with Deron Williams, Joe Johnson, Brook Lopez and Gerald Wallace leading the charge.
Most importantly, the Nets are just now beginning to find balance in their elite backcourt.
Prior to the All-Star break, Williams averaged 16.7 points and 7.6 assists on a slash line of .413/.347/.855. Since the All-Star Break, Williams is averaging 23.4 points and 8.1 assists on a slash line of .484/.422/.863.
Williams has 44 games of postseason experience and has reached the Conference finals before—don't think for a second that he can't do it again.
Paired with Williams is Johnson, one of the most notorious clutch scorers in the NBA with 62 games of postseason experience. With Wallace, who has averaged 16.1 points and 9.1 rebounds during his past two postseason trips, the Nets' perimeter is nothing short of elite.
Along the interior, Lopez is an All-Star and they have a plethora of rebounding bigs. That includes Reggie Evans, who leads the NBA at 21.7 rebounds per 48 minutes—second is Omer Asik at 18.7.
Brooklyn has the perfect storm to take down the Miami Heat.
Denver Nuggets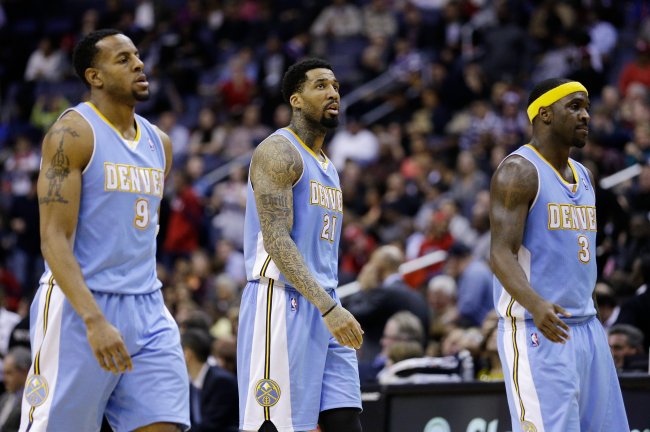 Rob Carr/Getty Images
W-L Record: 56-25
Scoring Offense: 105.9 (3rd)
Scoring Defense: 101.0 (22nd)
Key Statistic: 44.8 Rebounds Per Game (2nd)
Much has been made over the absence of Denver Nuggets forward Danilo Gallinari, and rightfully so. Gallinari, who suffered a torn ACL and will miss the rest of the season, was the team's second-leading scorer and was perceived as the team's top clutch scorer.
According to Basketball-Reference.com, however, Gallinari was fourth on the Nuggets in terms of field goals with less than two minutes remaining in the fourth quarter or overtime.
Although Gallinari's shooting will be missed, there is no way around how much faster the Nuggets can play without him. There's also no question that the Nuggets are a better defensive team without Gallinari.
They may not be better in the offensive half court, but they're more than sufficiently suited for a run without Gallo.
The Nuggets are third in terms of scoring offense and second in rebounds per game. Assuming Kenneth Faried recovers from his sprained left ankle, the latter number should continue to be a promising factor.
If that's not enough for you, Denver is an NBA-best 37-3 at home—good luck winning on the road against this team.
New York Knicks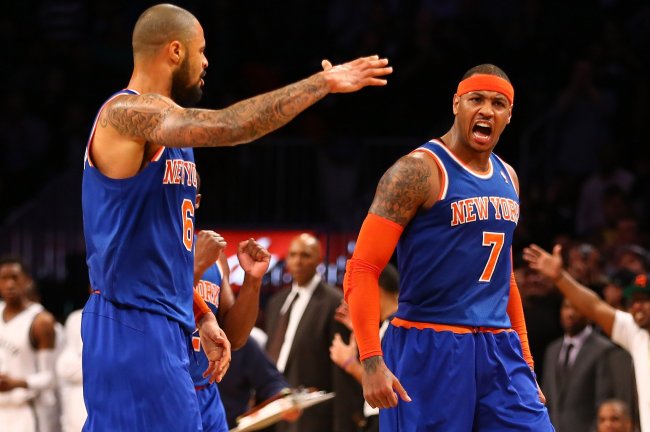 Al Bello/Getty Images
W-L Record: 53-28
Scoring Offense: 100.0 (11th)
Scoring Defense: 95.6 (7th)
Key Statistic: 10.9 3PT Field Goals Per Game (1st)
The New York Knicks are back and there's nothing they'd like more than to take down their rival Miami Heat. Fortunately for those Knicks fans who have been waiting for this day to come, the Knicks do have a chance.
It's all about execution.
The Miami Heat's greatest strength is their ability to complement elite slashers with equally as proficient shooters. They're third in three-point field goals made per game and second in three-point field-goal percentage.
Fortunately for the Knicks, they're first in three-point field goals made and fourth in three-point field goal percentage.
The key to New York's success is the fact that no individual has been forced to carry the load on either end. Carmelo Anthony is averaging 36.9 points per game in April, but the Knicks have put up 105.6 as a team.
Furthermore, the Knicks are seventh in scoring defense. They're anchored by reigning Defensive Player of the Year Tyson Chandler and Iman Shumpert.
For what it's worth, the Knicks are 3-1 against the Heat in 2012-13 and have won those games by an average margin of 17.3 points per game.