Players Who Will Be out of the NBA After This Season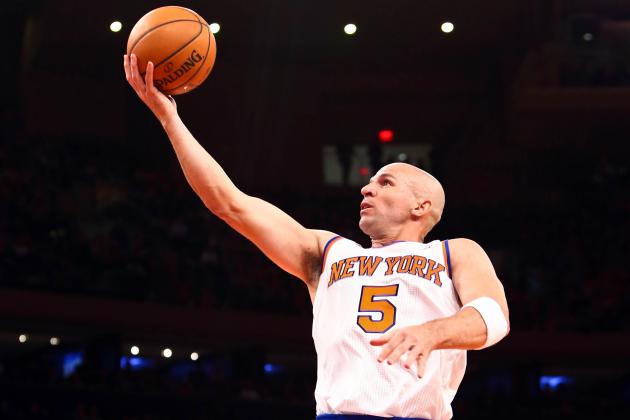 USA TODAY Sports

Jason Kidd turned 40 years old on March 23 and even though he's still a contributor for the New York Knicks, there's a good chance we may be watching the final season of the point guard's illustrious career.
But Kidd's not the only NBA player who might be on his way out of the league.
Throughout the Association, aging stars are nearing the ends of their contracts, veterans are on the brink of washing out and injuries are prematurely terminating careers.
The NBA's a cutthroat business and there's little sympathy for those who—because of age or the inability to compete—can't hack it anymore.
Here's a rundown of players who'll be out of the league after this season.
Begin Slideshow

»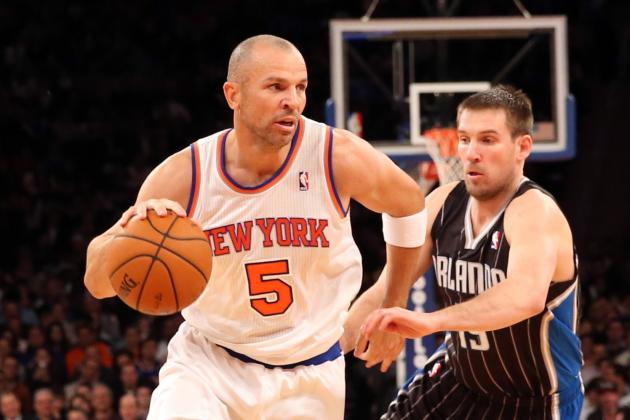 Anthony Gruppuso-USA TODAY Sports

Kidd's 40 years old and the shooting stroke that reinvigorated his career over the past few seasons seems to have deserted him.
Even though he's still under contract with the Knicks for two more years after this one, there's a pretty strong chance that he'll take his first-ballot Hall of Fame credentials into retirement this summer.
According to Frank Isola of The New York Daily News, Kidd is thinking of calling it quits:
Kidd, however, is not ready to commit beyond this season. Although he signed a three-year contract with the Knicks last summer, he isn't ruling out retirement at season's end. Several people close to Kidd have said they wouldn't be surprised if Kidd, now a backup for the first time in his Hall of Fame career, decides to walk away.
Should Kidd decide to hang it up, he'd be one of the few players willing to leave millions of dollars on the table in the process.
Of course, that would be an appropriate final act of unselfishness to cap off one of the most unselfish careers of all time.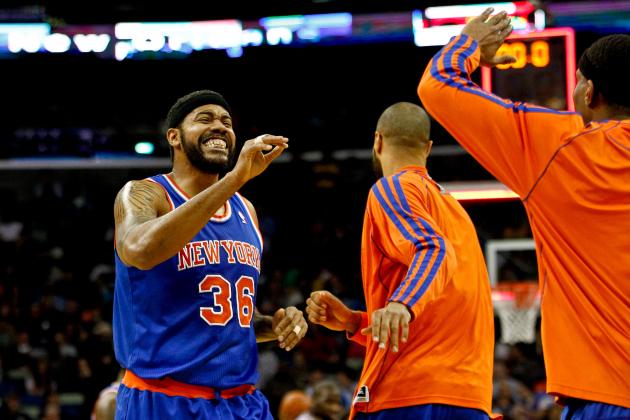 Derick E. Hingle-USA TODAY Sports

Foot problems are always a concern with big men, and when those foot problems belong to a pair of big men whose combined age is nearly 80, they're an even bigger issue.
Rasheed Wallace is out for the season after undergoing surgery last month to repair a broken left foot. Kurt Thomas, yet another ancient Knicks big man, could miss up to a month with a stress fracture in his own bad wheel.
An MRI of Kurt Thomas' right foot revealed an acute stress reaction surrounding a chronic stress fracture in his navicular bone.

— NY_KnicksPR (@NY_KnicksPR) March 19, 2013
With both players hobbled as they head into free agency this summer, it certainly seems like they're each at the end of the line.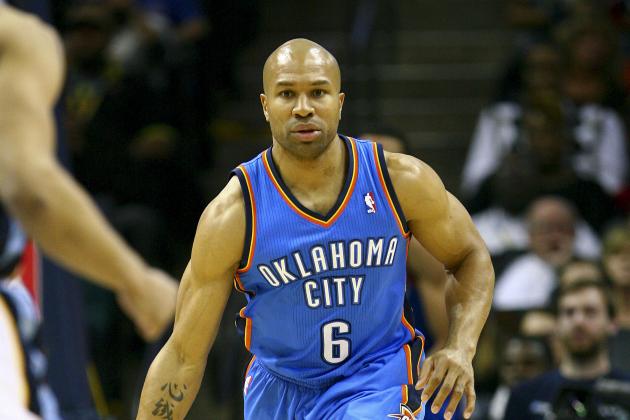 Spruce Derden-USA TODAY Sports

This one's a little tricky, as Derek Fisher has been out of the league a handful of times already. Yet for every instance in which he's walked away, there's been a return—usually to a championship-caliber team in the midst of a title run.
This season has been no different, as Fisher is seeking his sixth ring with the Oklahoma City Thunder after asking out of his contract with the Dallas Mavericks earlier in the year.
Fisher doesn't want to retire, but based on his inability to do more than contribute in the locker room these days, the choice may not be his to make.
Kurt Helin of NBC Sports summed up Fisher's status for next season, saying:
His game has deteriorated and he will be more locker room support and mop up guy than someone who will get minutes that matter in the playoffs. He hasn't shot better than 40 percent since 2009 and hasn't averaged more than 10 points a game since 2008. Next season teams are more likely to bring in young guards they can develop than put a 39-year-old Fisher on the end of the bench.
This may finally be it for the veteran point guard.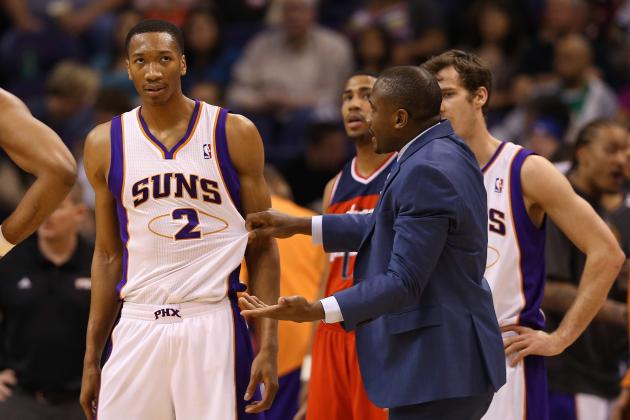 Mark J. Rebilas-USA TODAY Sports

Wesley Johnson is at risk of washing out of the NBA after being selected with the fourth overall pick in 2010.
Currently putting up a putrid 9.29 PER for the Phoenix Suns, Johnson hasn't yet proved himself to be an NBA-level talent. His career field-goal percentage of 39 percent simply isn't good enough for a wing player that lacks any other above-average skills.
The fact that he can't manage to see the court for more than 16 minutes per game on the go-nowhere Suns is a clear sign that he's not going to stick around in the league for much longer.
When his deal expires at the end of this season, Johnson may be forced to look outside of the NBA for employment.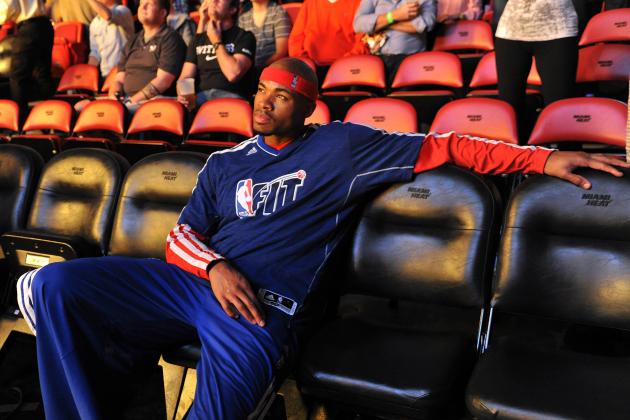 USA TODAY Sports

Corey Maggette hasn't seen the court for the Detroit Pistons since Dec. 15 when he put up a 1-of-7 performance in 16 minutes against the Indiana Pacers. That doesn't bode well for his future in the league.
But what makes his chances of playing in the NBA even slimmer next season is the fact that he hasn't been sidelined because of an injury. He's been benched because his coach—and to an increasing extent, the rest of the league—has realized that Maggette's empty scoring numbers and total inability to defend make him a detriment on the court.
With his contract due to expire at the end of the season, the 33-year-old forward seems to think a return to the Pistons is possible. It's hard to know where he got that notion, though, as being benched for a three-month period due solely to ineffectiveness should serve as a pretty good indicator that the team has little use for his services.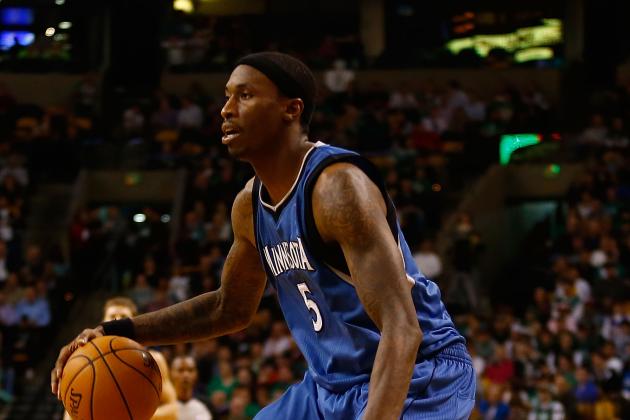 Jared Wickerham/Getty Images

Josh Howard tore his right ACL on Dec. 14, effectively ending his season with the Minnesota Timberwolves after playing fewer than a dozen games. He was released shortly thereafter.
That injury, in addition to a left ACL tear Howard suffered in 2010, makes it seem unlikely that we'll see Howard in an NBA uniform ever again.
And it's not just the major injuries that could put an end to the 32-year-old forward's career; he's also suffered through a litany of smaller nicks and scrapes that limited him to just 96 total games in the three seasons before this one.
With a pair of surgically repaired knees and a lengthy injury history on the side, it'd be a wonder if any team took a chance on Howard as a free agent this summer.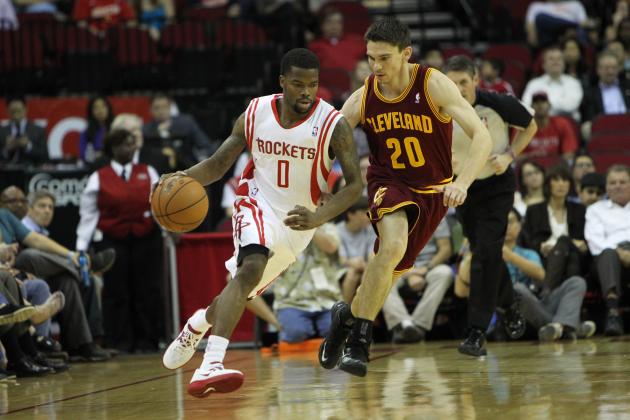 USA TODAY Sports

Aaron Brooks is under contract with the Houston Rockets for $2.5 million this season, and although the club has a $2.5 million option to bring him back next year, the smart money is probably on this being the end of Brooks as an NBA player.
Houston brought in Brooks after a buyout from the Sacramento Kings but the Rockets hardly need him. Jeremy Lin has proved to be a solid starter, while backup Patrick Beverley has provided 40 percent three-point shooting and boundless energy off the bench.
As little more than a cheap insurance plan, Brooks doesn't have much value to the Rockets going forward.
Don't worry about the veteran point guard's future, though; he's got a fallback option in China, where he played in 2012.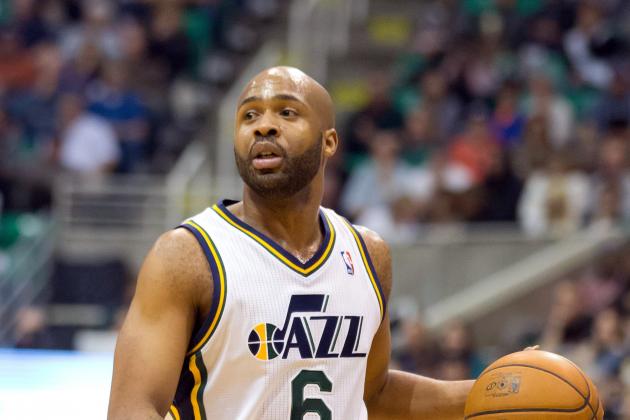 USA TODAY Sports

Since January, Utah Jazz point guard Jamaal Tinsley's minutes have been in steady decline. He may stop logging them altogether after this season.
A free agent this summer, Tinsley's once-valuable (but limited) skills have eroded to the point that they no longer cover up the major holes in his game. Once upon a time, his ability to run the pick-and-roll and break down the defense off the dribble masked his broken shot and porous defense.
Now, all the warts are showing for the nine-year veteran.
Averaging just 3.9 points per game and hitting only 29 percent of his threes, Tinsley is all but washed up.
A bad attitude and poor conditioning caused Tinsley to slip out of the league once before, as he missed the entire 2008-09 season. But the decline he's suffering now isn't of the reversible variety.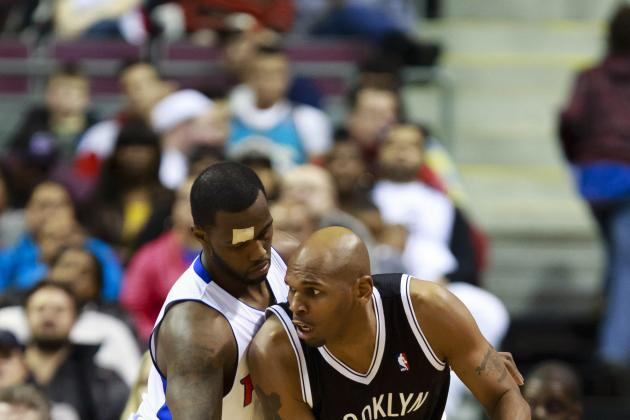 Rick Osentoski-USA TODAY Sports

Jerry Stackhouse has played on five different teams in each of the past five seasons. Let's just say there probably won't be a sixth.
One of the NBA's preeminent low-percentage shooters for nearly two decades, Stackhouse has managed to hang on in the league largely because of his reputation as a gritty competitor.
It certainly hasn't been because of his field-goal accuracy or passing acumen.
Though his numbers this year include a 38 percent field-goal percentage and 0.9 assists per game—which are the best marks he has mustered in the last three seasons—there's little reason to believe there'll be a market for a 38-year-old shooting guard who hasn't been able to shoot for nearly 15 years when he hits free agency this summer.
It's amazing he's been around this long, but that improbable run figures to come to an end after this season.
The Toronto Raptors aren't getting much out of 31-year-old Mickael Pietrus, but really, no other team in recent years has either.
Pietrus hasn't shot better than 40 percent from the field since the 2009-10 season he spent with the Orlando Magic. For a player that has averaged more turnovers than assists over his nine-plus NBA seasons, that kind of shooting just won't cut it.
It's a shame that Pietrus, a free agent after this year, probably won't be around much longer. His sideline antics and interview shenanigans are great for entertainment. But his on-court gaffes, including an uncanny ability to step out of bounds on the wing for no reason, are probably just as big a factor in his dwindling future prospects as anything.