Potential SuperSonics Owners Release Pictures of Amazing New Arena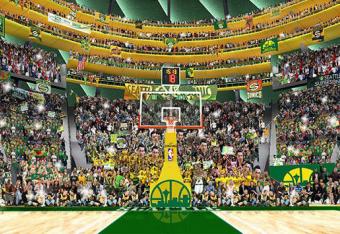 Photo Credit: SonicsArena.com

The Seattle SuperSonics' potential new arena looks perfectly suited for Emerald City.
Yahoo! Sports directs our attention to all-new artist renderings of an arena that may come to NBA fans in the Seattle area shortly, brought to you by lead investor Chris Hansen.
Granted, a lot of things have to fall into place first, but the renderings and animations below should bring back memories of Gary Payton, Sam Perkins and Shawn Kemp.
Granted, we aren't talking about the older and plumper versions.
Renderings
Here are sights many Seattle basketball fans thought they would never see again, via Yardbarker and Sonics Arena.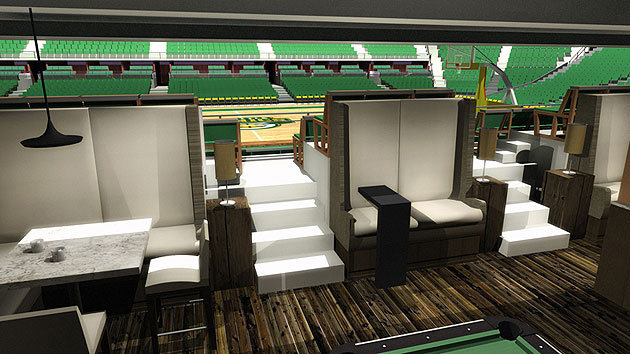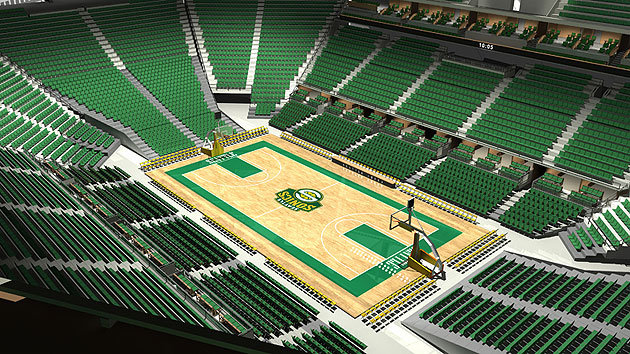 Details
As you can see, the arena that may serve as the home for the Kings, if they do indeed move to Seattle, has some interesting aspects.
Here are some of the more intriguing details from the potential arena.
Improved Viewing Angles: The creation of the Sonic Rings and resulting ability to significantly increase steepness of the lower bowl, results in MARKEDLY improved sight lines for all seating categories.

Reduced stratification between seating levels: Creating a more vibrant, festive and social experience in the upper levels and giving typically premium seating amenities to all of our fans.

Significant Flex Capacity: In addition to seating for over 2,000 patrons, the design of the Sonic Rings allows for significant incremental standing room capacity so we can "flex up" for the big game or "flex down" for more intimate events.

Increased Intimacy, Energy... and Noise: We believe that pushing the entirety of the seating bowl closer to the court and having 2,000-4,000 fans literally overhanging the game not only creates the most intimate venue in the NBA, but will also provide you with the opportunity to create the loudest, most energetic atmosphere in yet another pro sport—or better yet two!

More Cost Effective and Sustainable Building: This introduction of the Sonic Rings and resulting compression of the seating bowl significantly reduces the roof spans — which makes for a more cost-effective and sustainable building.
You will notice in some of the animations there are standing-room only sections in the upper areas of the stadium. This is by design and provides a cheaper option for fans who don't mind standing to watch their games.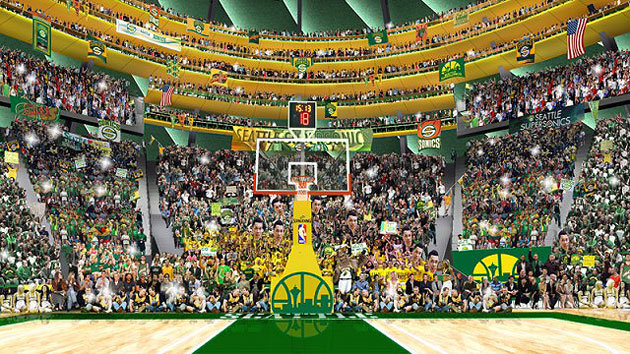 I, on the other hand, enjoy my games while sitting—preferably in the comfort of my home while near my fridge filled with beer.
To each his own, I guess.
Potential Move
Of course, this is all the work of fan fiction at the moment. As Yahoo! Sports' Kelly Dwyer reminds us, the Kings are in something of a state of limbo at the moment.
They are quite the rarity in sports: a team that has no assurances of where it will play, but also has the love and affection of two cities and their fanbases.
As reported, the NBA's board of governors will meet in about a month and vote on whether the Kings franchise will be granted a sale.
As of this moment, officials in Sacramento continue to maintain a wait list for season-ticket holders just as potential owner Chris Hansen started a ticket wait list for Seattle's potential arena.
For the moment, the Kings are a team with an unclear future.
Hit me up on Twitter for more NBA nonsense.
This article is
What is the duplicate article?
Why is this article offensive?
Where is this article plagiarized from?
Why is this article poorly edited?