Chicago Bulls vs. Indiana Pacers Recap: Grading the Bulls' 97-92 Loss to Pacers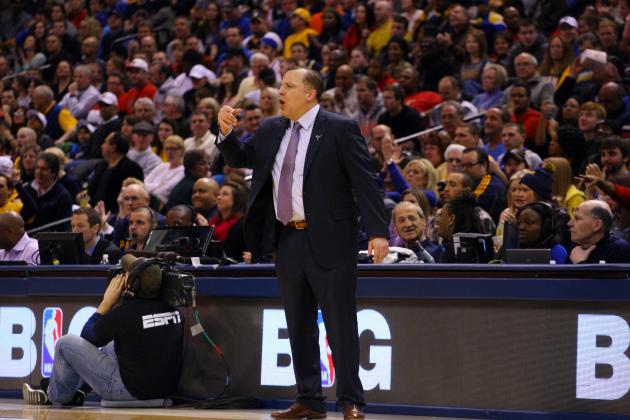 Brian Spurlock-USA TODAY Sports

The Chicago Bulls were missing more than Derrick Rose when they faced the Indiana Pacers last night. Kirk Hinrich was scratched from the lineup with a foot injury, Rip Hamilton was missing in action due to back problems and Taj Gibson is expected to be out for another week.
Although the Bulls are pretty banged up these days, with an injury seemingly around every corner, they hung tough with the Pacers, before falling short 97-92.
The Bulls received solid contributions from both Joakim Noah and Marco Belinelli, but it was not enough to offset the 62 points scored by the Pacers' frontcourt.
The loss dropped the Bulls to 34-26 and more importantly, squashed the team's hopes of catching the Pacers in the race for the Central Division crown.
Begin Slideshow

»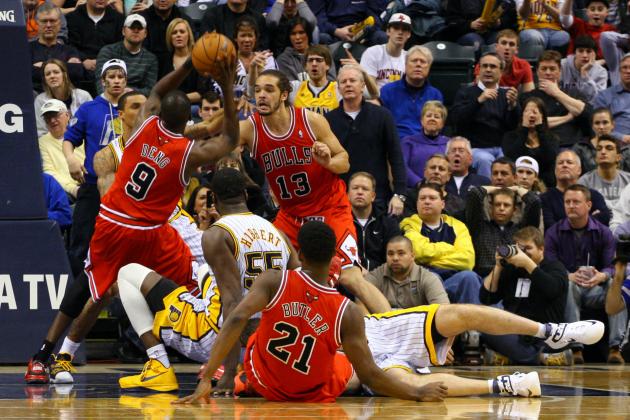 Brian Spurlock-USA TODAY Sports

Grade: B
Luol Deng did not shoot particularly well from the field (5-for-13), but he did manage to score 15 points to go along with five rebounds and three assists.
It was good to see Deng being more aggressive on the offensive end compared to his effort in the Bulls last two outings. Unfortunately, he exerted a lot of energy trying to contain David West, who erupted for 31 points and seven rebounds.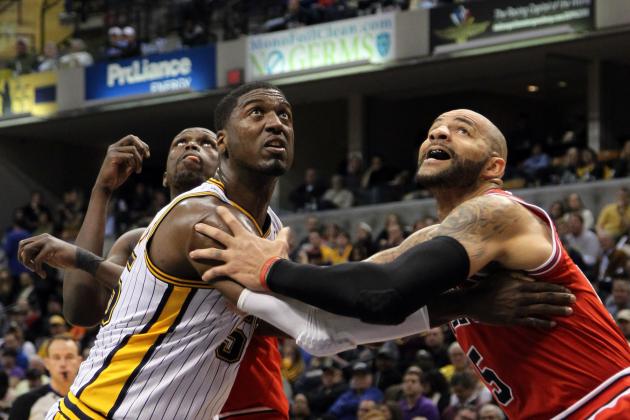 Brian Spurlock-USA TODAY Sports

Grade: D
Carlos Boozer had a quiet night offensively, scoring just six points on 3-of-9 shooting from the field, and pulled down just two rebounds.
While the Pacers are very solid up front, it was disappointing to see Boozer unable to provide an inside presence in this contest. If the Bulls were able to score a few more points in the paint, the outcome of this game would have been much different.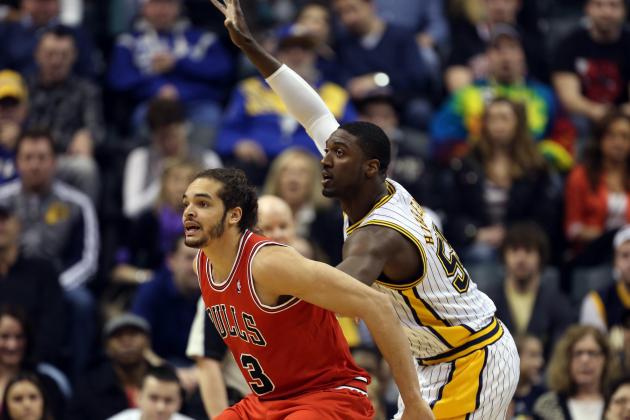 Brian Spurlock-USA TODAY Sports

Grade: B+
Joakim Noah gave the Bulls another solid effort, scoring 14 points to go along with 10 rebounds.
Noah had his work cut out for him on the defensive end, trying to guard Roy Hibbert, but the young center held his own and remained aggressive offensively.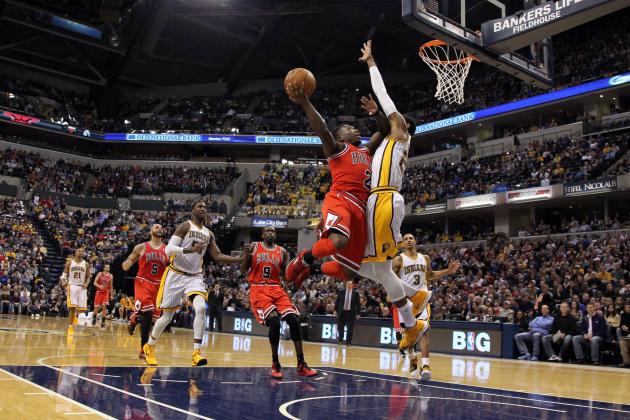 Brian Spurlock-USA TODAY Sports

Grade: D
Nate Robinson's performance was hardly noticeable in this game, as he scored just six points, connecting on only two of his six shot attempts.
While Robinson is known for his ability to provide instant offense for the team, it wasn't there for him on this night, which is a big reason why Marquis Teague saw 28 minutes of playing time compared to just 20 for Robinson.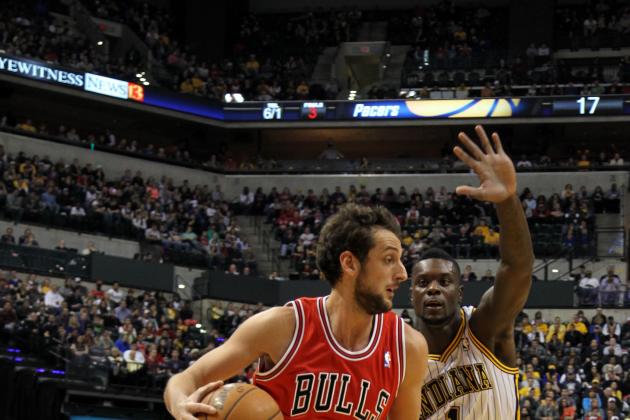 Brian Spurlock-USA TODAY Sports

Grade: A
I was pretty hard on Marco Belinelli following the Bulls last two games, but he showed up big time against the Pacers.
Following a seven-point effort against the Brooklyn Nets a few nights ago, Belinelli poured in 20 points for the Bulls and handed out five assists.
With the injuries starting to mount, his number will be called upon more frequently, so the Bulls will need more games like this from Belinelli.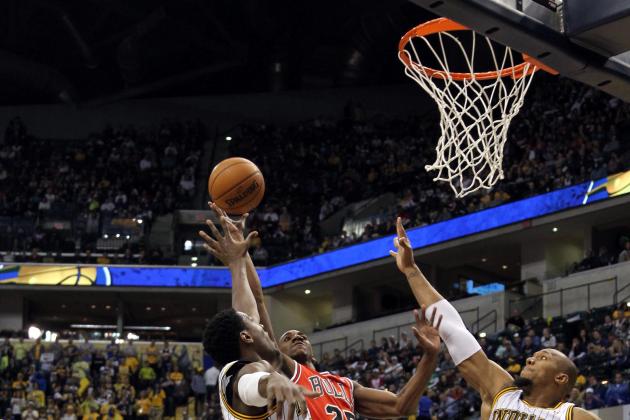 Brian Spurlock-USA TODAY Sports

Grade: A
Jimmy Butler gave the reserves a lift with 20 points to go along with 4 rebounds in 31 minutes.
Nazr Mohammed chipped in with seven points, five rebounds and two blocks. The real significance in Mohammed's production was the fact he allowed Noah to get some much needed rest.
Marquis Teague was not really a factor from a scoring standpoint (two points, 1-of-5 shooting), but he did round out his game with three rebounds and three assists.