Memphis Grizzlies: Top 5 Shooters in Grizzlies History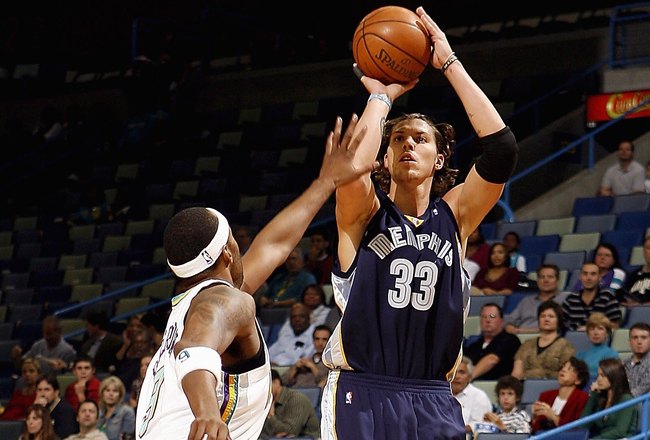 Chris Graythen/Getty Images
The Memphis Grizzlies have only been in the league for about two decades, yet their record books are already filled with established and renowned players. The team is a competitive force in the Western Conference at 35-18, and has a solid hold on the fourth seed.
However, let's step back into the past and review the top five shooters in the history of the Grizzlies franchise.
All the following information is sourced from www.basketball-reference.com
Honorable Mention: Michael Dickerson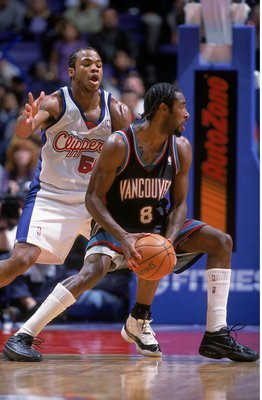 Todd Warshaw/Getty Images
While Michael Dickerson will be remembered more in a Vancouver uniform, he remained one of the team's many outside threats despite a limited career.
Dickerson came to the Grizzlies in the trade that sent Steve Francis back to Houston. Taken 14th overall in the 1998 draft, the 6'5" guard played just five seasons in the league before his time in the NBA was cut short by injury.
In four seasons with the team, Dickerson knocked down 217 three-point field goals out of 553 attempts.
His career percentage of 39.2 from beyond the arc ranks fifth in franchise history, highlighted by a 40.9 clip in his first season in Vancouver.
Dickerson's career free-throw percentage of 80.2 with the Grizzlies ranks seventh.
5. Mike Conley Jr.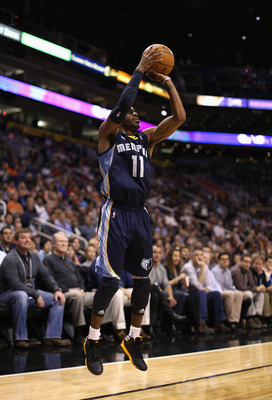 Christian Petersen/Getty Images
Mike Conley Jr. is one of the top point guards in the NBA. His combination of speed and ball-handling makes it difficult to keep him in check. The same can be said for his shooting.
The six-year veteran ranks sixth in points for Memphis, and trails fifth-place Bryant Reeves by a mere 29 points.
Conley has hit 407 field goals from deep, which has been a major factor in his placing on the Grizzlies' all-time scoring list. He slots in at fifth in three-pointers made.
Conley's 1,076 three-point attempts gives him a nice 37.8 percent from that range for his career with Memphis, and is ranked eighth in said category.
His 78.6 free-throw percentage trails 10th-place Othella Harrington by a mere 0.2 percentage points, so it's safe to say Conley will place top 10 in terms of foul shooting for the Grizzlies at some point.
For those who question Conley's ranking at fifth: it has more to do with his overall skills as a player as opposed to as a pure shooter.
4. O.J. Mayo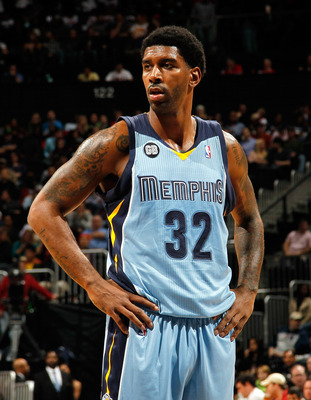 Kevin C. Cox/Getty Images
Much like his former teammate, O.J. Mayo had an overall scoring game that transcended to the three-point line.
His career average of 15.6 points indicates his prowess offensively, but Mayo has been a long-distance marksman since stepping foot in the league.
Mayo, who was dealt to Dallas this season, is ranked fourth in both three-point field goals made and attempted.
His career percentage of 37.5 is stellar, in addition to ranking eighth all-time in points with 4,584.
3. Shane Battier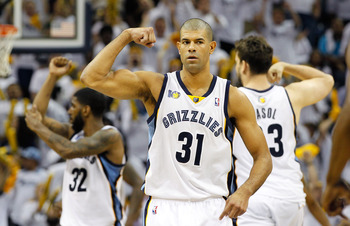 Kevin C. Cox/Getty Images
Shane Battier is renowned for his defense, yet possesses a deadly three-point stroke that has made him a coveted role player. His impact with the Miami Heat is obvious, and he was absolutely deadly in the 2012 Finals.
Battier's 3.0 makes from deep per game against the Thunder were a major factor, in addition to his 57.7 percent shooting.
However, it is his performance in a Grizzlies uniform that is the discussion at hand.
The versatile swingman played six seasons with Memphis, and totaled 403 makes from beyond the arc.
Battier is sixth in makes and 10th in attempts, thus giving him a hold on seventh place in terms of accuracy at 38 percent.
Battier also ranks 10th in scoring for the franchise, which is odd to see considering his notability as a defensive player. However, it also indicates just how consistent he was as a shooter.
2. Jason Williams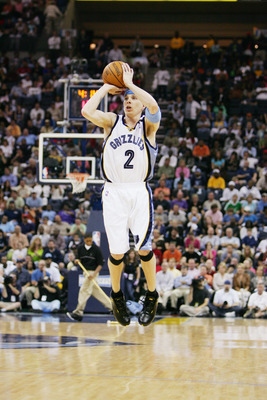 Andy Lyons/Getty Images
Once a highlight factory at the point guard position, it seems like forever ago that Jason Williams was on the hardwood.
His retirement came abruptly after the 2007-'08 season, before returning for short stints with Orlando and Memphis.
Williams played a little over four seasons with the Grizzlies, where he ultimately made a name for himself as a playmaker.
Current point guard Mike Conley Jr. has since eclipsed what was once a franchise leading-number for Williams in assists.
Nonetheless, the 6'1" guard made exactly 500 of his 1,238 career three-pointers in a Grizzlies uniform.
Both Rudy Gay and O.J. Mayo, now former Memphis players, came as close as 12 and 23 makes respectively to overtake Williams, but he remains second in both field goals made and attempted from deep.
Williams' career percentage of 32.4 on threes with the Grizzlies isn't great, but peaked at 35.4 in the 2002-'03 season. However, he is tied with Mayo for the fourth-highest free-throw percentage at a 81.7 clip.
1. Mike Miller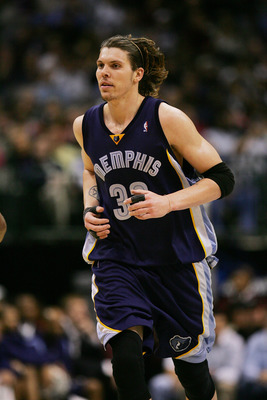 Ronald Martinez/Getty Images
There's really no discussion in labeling Mike Miller as the greatest shooter in Grizzlies' history.
It's a role he's been known to fill for his entire career, and Miller has been consistent throughout. He had his best years as a pro in Memphis, scoring 14.6 points per game.
Miller is the all-time leader in both field goals made and attempted from beyond the arc, ahead of Williams by more than 200 in both categories.
He secured the Sixth Man of the Year award back in 2005-'06 season, coming off the bench for all but nine games.
Miller averaged 13.7 points per game that season, shooting 40.7 percent from deep. He also holds the franchise record for points in a game at 45, as well as most threes made in a game with nine.
He is the most accurate long-distance shooter in Memphis' history at 41.4 percent, and is fourth all time in points with 5,403.
Keep Reading

Memphis Grizzlies: Like this team?