NBA Rookie Stock Watch: Can Anyone Top Damian Lillard in Season's Second Half?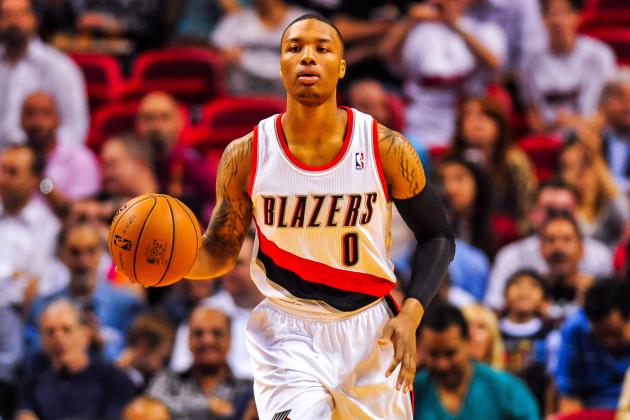 USA TODAY Sports

It's probably just not going to happen.
It doesn't appear that anyone is within reach of Damian Lillard for the Rookie of the Year race. In a few months, he's established himself not only as a standout first-year player, but as one of the premier young point guards in the NBA.
At this point, Lillard is three-quarters of the way around the track, while everyone else is still making his first turn.
This is certainly no knock on Anthony Davis or Andre Drummond, who have both been exceptional to start their careers. But Lillard has seamlessly hopped over every obstacle thrown his way and has essentially skipped the whole transition and adjustment process that most struggle through.
Without much NBA action over the past week because of All-Star festivities, all of the rankings will remain the same from last week's Stock Watch.
Begin Slideshow

»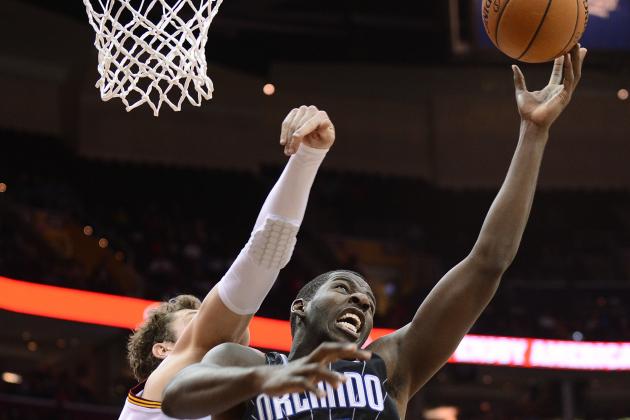 Eric P. Mull-USA TODAY Sports

Andrew Nicholson entered his rookie year with a polished offensive post game that has translated nicely at the NBA level.
He's come on strong over the past few weeks, averaging 11.7 points per game on 59 percent shooting in the month of February.
Nicholson was well-regarded as a collegiate athlete for years at St. Bonaventure, and he is just another example of a prospect who's thriving despite coming from a mid-major conference.
There hasn't been much to get excited about in Orlando, but it looks like the Magic found themselves a rotation player in the mid-first round of the 2012 NBA draft.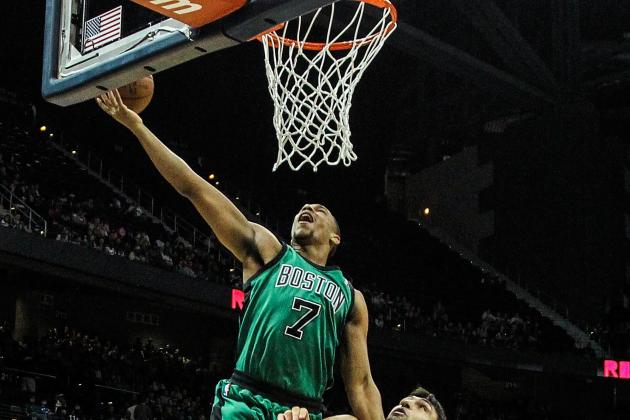 USA TODAY Sports

Before being placed on the season-ending injury list, Jared Sullinger proved he can be an impact rotational big.
Though his numbers were nothing to write home about, Sullinger's toughness shined through. He's a fighter, and with a strong frame and active motor, his presence is certainly felt on the interior.
Sullinger has a game that translates with the ability to post inside or pop out for the jumper, although it hasn't yet fallen with the consistency he might have hoped for.
The only legitimate concern with Sullinger will be his back, which NBA doctors red-flagged just days before the draft. If he can shake the injury bug, Sullinger is bound to have a long, productive career as a physical yet skilled power forward.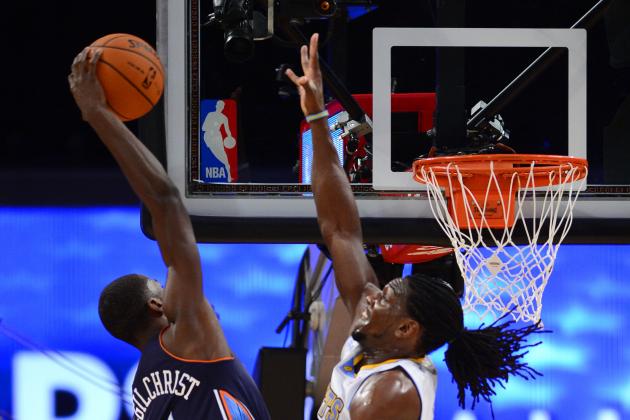 Bob Donnan-USA TODAY Sports

Michael Kidd-Gilchrist has hit the rookie wall and can't find a way plow through it.
He hasn't scored in double figures since January 14, and it's evident his offensive game needs loads of work.
Without the ability to create in the half court, Kidd-Gilchrist is relegated to finishing as a slasher or in the open floor.
I'm not sure he's currently justifying No. 2 overall value, but most of his strengths don't show up on the stat sheet anyway.
Kidd-Gilchrist will be a lot more effective once the Bobcats can surround him with a few more playmakers.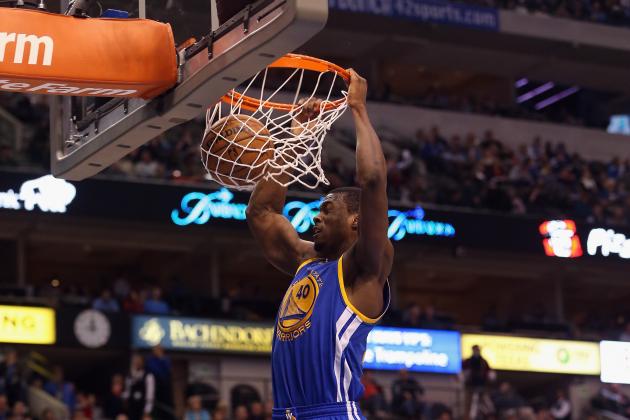 Ronald Martinez/Getty Images

Harrison Barnes has been somewhat inconsistent, although at least he's had some ups to go with the downs.
There's no question he will be a solid rotational wing once he finds his offensive rhythm. He struggles to create for himself in the half court, although he has the shot-making tools on the perimeter and finishing abilities at the rim to be an effective supporting scorer.
Barnes' goal moving forward will be improving his off-the-dribble game, particularly in the mid-range. The Warriors will need him to produce if they want to be taken seriously as a playoff team in the West.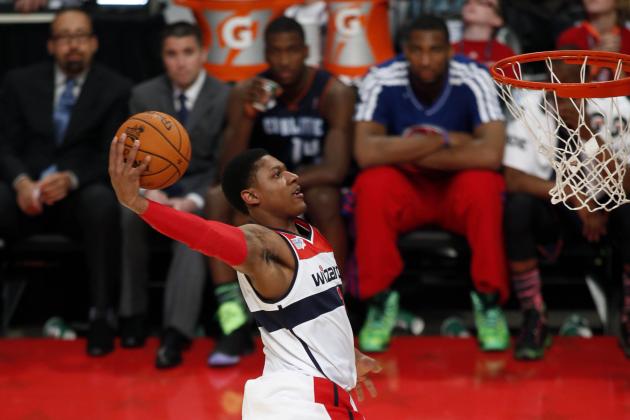 Brett Davis-USA TODAY Sports

Bradley Beal got hot during the month of January, averaging 15 points per game on a ridiculous 50.8 percent shooting from downtown.
After being forced to miss a short stretch of February with a wrist injury, Beal bounced back last week to drop 28 points on the Bucks.
It's games like these that remind us why Beal was heavily coveted out of Florida despite his limited offensive role.
He can flat-out stroke it from deep or attack off the bounce. This is a smart kid who's clearly gotten better since the start of the season, and there's no reason to believe this type of progression won't continue.
Beal's been much more effective since John Wall returned to the lineup and has solidified his position as a long-term cog in Washington's rotation.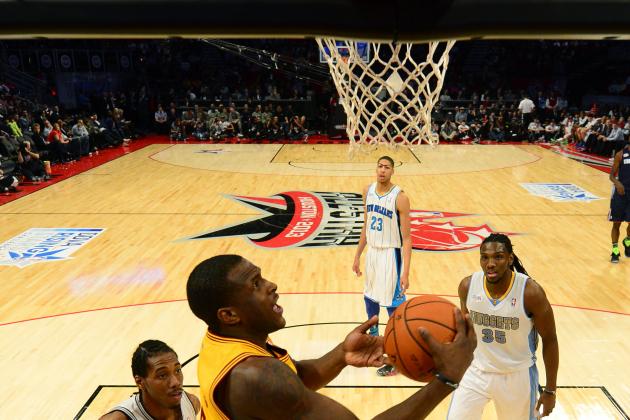 Bob Donnan-USA TODAY Sports

Dion Waiters was taken No. 4 in the 2012 NBA draft with the idea that he'd translate into a prolific scoring guard.
And the Cleveland Cavaliers were right.
However, he's not converting at a high rate (39.6 percent), and his inefficiency drops him down the board despite a 14.2 points per game average.
Waiters' ability to score points in bunches makes him a fitting candidate as a lethal sixth man down the road. Picking and choosing when to create and when to attack will be his challenge moving forward so that his shot selection isn't all over the place.
He's an obvious talent who just needs a few years to sort everything out.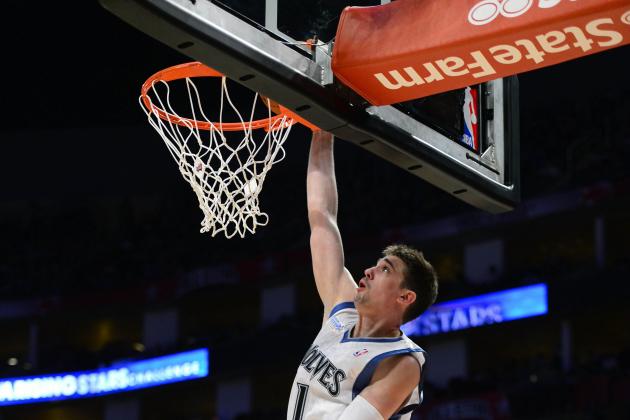 Bob Donnan-USA TODAY Sports

Alexey Shved tailed off a bit over the past month, but when you consider the overcrowding in Minnesota's backcourt, inconsistency can be expected.
Looking at the big picture, it's clear that Minnesota got itself a steal when it scooped Shved from the European circuit.
A 6'6'' combo guard with tools to play both backcourt positions, Shved is a tough cover for anyone. He's averaging 10.5 points and 4.4 assists despite playing second fiddle to Ricky Rubio and Luke Ridnour.
If the Wolves end up dealing Ridnour at the deadline, expect a bump in production from one of the sneakiest young prospects in the game.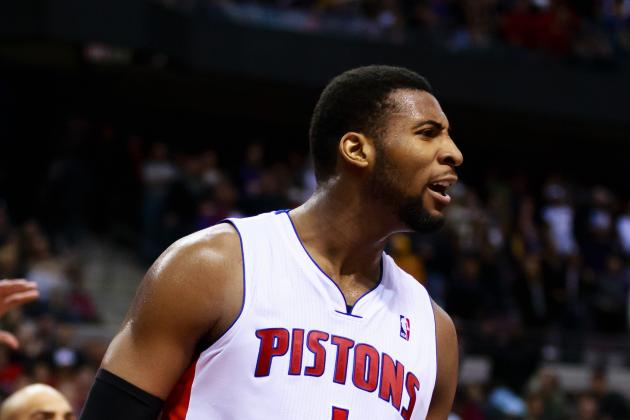 Rick Osentoski-USA TODAY Sports

Though he is overly raw, Andre Drummond has managed to remain productive despite lacking anything resembling a refined offensive repertoire.
He's pulling in 7.5 rebounds and blocking 1.7 shots in only 20 minutes per game.
With a relentless motor and nearly unmatchable physical tools, Drummond's body allows him to contribute just by staying active on the court.
He hasn't come close to touching the surface of his potential, and everything we've seen so far is just a teaser for what's to come.
The only challenge moving forward for Detroit will be making it work with Drummond and Greg Monroe on the floor at the same time.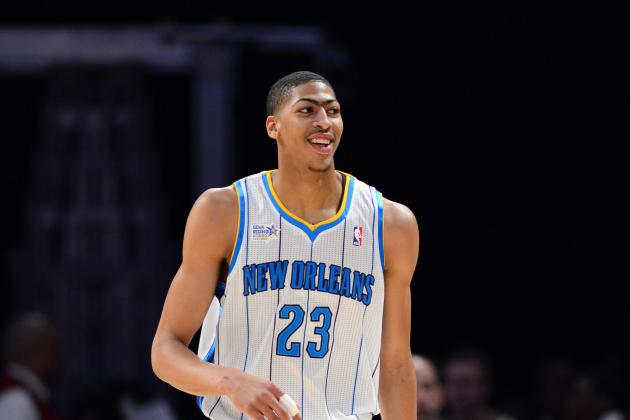 Bob Donnan-USA TODAY Sports

Though Damian Lillard has raised the bar, Anthony Davis has not disappointed.
In fact, he's actually surpassed his offensive expectations while providing even more long-term promise than we initially anticipated.
Davis has illustrated an extremely versatile skill set, and though the 12.5 points per game is nothing to party over, he's only taking 10 shots a night compared to Lillard's 15.5.
Throw in 7.5 rebounds and 1.9 blocks per game, and Davis has proven he's a legitimate two-way forward with All-Star upside.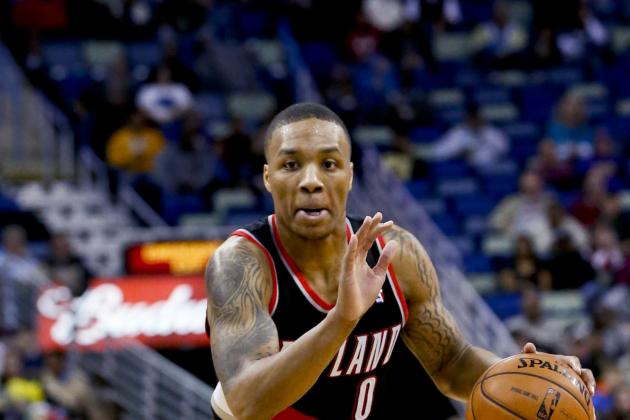 USA TODAY Sports

Damian Lillard finished the first half of his rookie NBA season with averages of over 18 points and six assists per game. These just aren't numbers from your everyday rookie.
Brandon Jennings is putting up the same numbers in his fourth year in the league.
Lillard has already had two games with at least 33 points, and he has adjusted to this new pace as if he's been playing at it all along.
The only other rookie with a shot at chasing him down would be Anthony Davis, but it just seems unlikely.
The Portland Trail Blazers have found a long-term fixture at the most important position on the floor. No team found better value in the 2012 NBA draft.