Reasons NBA Fans Should Celebrate Royce White's Return to the NBA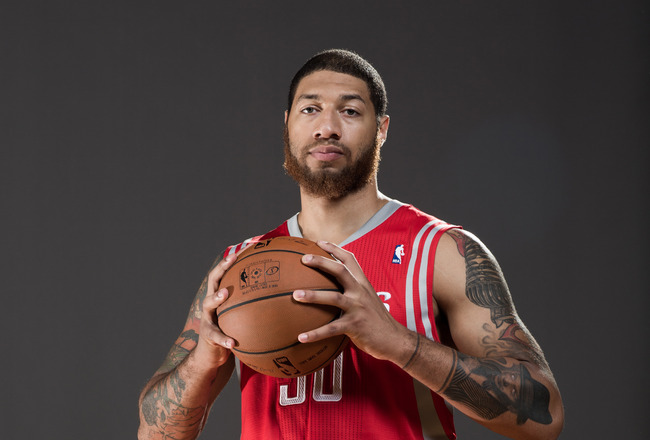 Nick Laham/Getty Images
Royce White has arrived in Rio Grande Valley and is officially ready to play basketball for the Houston Rockets, or at least their D-League affiliate, the Rio Grande Valley Vipers.
White tweeted about his arrival, and it seems to be an announcement met with a ton of relief from everybody involved.
Rio Grande... Im here! They're going to get this work, and they're going to love it. #LandofLions#BeWell

— Royce White (@Highway_30) February 11, 2013
White was assigned to Rio Grande twice already, but has refused to go because of what he called an unsafe atmosphere and decisions being made solely by Houston's doctors with no collaboration with White's doctor.
The next few months will doubtlessly be met with mixed reaction to White, with boos scattered in with a few cheers here and there. But it really seems like this is an important mark in the NBA season, for reasons that have very little to do with basketball, and a few that do.
It's exciting to see White finally getting to playing basketball, and there's something for anybody with an opinion on the issue to be happy about.
The Next Step in the Saga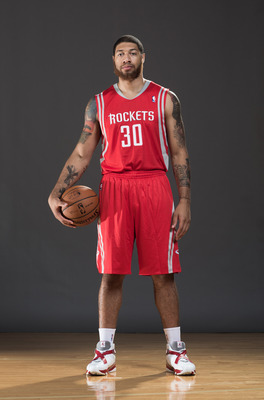 Nick Laham/Getty Images
White is rallying for an issue that falls in an incredibly grey area, which seems to be true for most people with an opinion on the man.
We've heard everything from vehement support, to others viewing him as a completely deplorable person. Some sympathize with what he's going through, but are upset with his outbursts, and then those who are just downright intrigued by the entire situation.
I'd have to say that last one is the category that I fall under. I can't say I completely support the way he's acted over the past few months, but he's got intriguing ideas, and the way things are going there could be a lot of interesting things happening in the NBA.
Many people have some sort of interest in the case, and it's gotten to the point where we're all getting tired of White going off on Twitter, but we're not ready to see the story end. It's time to see where this story can go, and what twists it takes along the way.
Change Is on the Way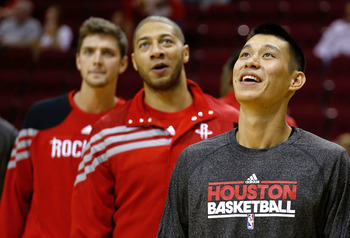 Scott Halleran/Getty Images
One would assume that the reason White is finally making his way to Rio Grande Valley is because he's struck some kind of deal with the Houston Rockets.
Whether there's a lot more cooperation going on between the two parties, or if White has just grown more comfortable with the situation, we'll find out in the coming weeks I'm sure.
So what does that mean for the future of mental health in the NBA? Well, that's really impossible to tell at this point.
In an interview with Chuck Klosterman, Royce lamented that while he hadn't had the treatment that he felt he needed, there should be a concern about most of the players in the league and the way they carry themselves.
If this is a situation in which White's own doctor is going to be able to have input with the Rockets organization, what kind of precedent does that set? Couldn't every NBA player now claim the need for their own doctor for any situation?
We've watched as the NFL started to change for the better as the league became more concerned about concussion and brain issues. So could this be the point in which the NBA begins to take a more serious look at mental health issues?
Royce Is a Unique Player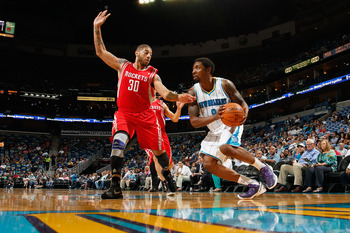 Chris Graythen/Getty Images
Even though he's only making his way into the D-League, I'm excited to see Royce finally play against NBA-level competition.
There's going to be a lot of time between right now and the point when White becomes a player that we see on the court every day, but it's a step in the right direction toward seeing him play basketball in any capacity.
We're talking about a big, strong power forward who is capable of taking the ball from the top of the key down into the post, and then passing out with the ease of a guy a good six inches shorter than he is.
White's long been compared to Boris Diaw, in that he's a relatively tall fellow who has an unconventional game for his size. Yet he's completely different from Diaw at the same time.
The intrigue around Diaw has always existed because he's able to shoot the three, as well as pass from just about anywhere on the floor. White, on the other hand, is more of a ball-handler who is capable of passing as well.
Hopefully his time at home hasn't poisoned the league against him. I'm ready to see what kind of game he has.
The First Step Toward the End of the Drama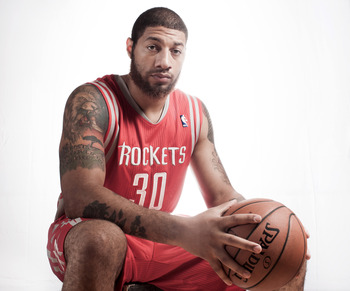 Nick Laham/Getty Images
If you're not one of those people who is intrigued by the narrative that the conflict between White and Houston has created, then odds are you're one of the many that just wants this all to end. Enough is enough already.
White playing basketball means at least one thing: He's not sitting at home tweeting about why he won't play because of the Rockets' mistreatment.
At the very least he's going to have some more accountability for what he says on a daily basis, now that he's going to be coming in to work every day, working alongside the people he's criticizing.
There's going to be more of an opportunity for internal communication, and while White may continue to retweet some of the hateful messages he gets, it seems incredibly unlikely that it continues at such a massive rate.
A Fun Offensive Weapon for the Rockets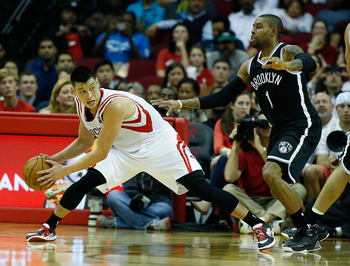 Scott Halleran/Getty Images
The Houston Rockets have made themselves a part of the Western Conference playoff race thanks to a fast-paced, highly effective offense, something White could end up helping to expand.
It will be intriguing to see if he can work himself into the lineup by the end of the season, perhaps getting eight to 10 minutes per game. But if he does get in there he could bring yet another dynamic to an already expansive offense.
Just imagine having the likes of Jeremy Lin, James Harden, Marcus Morris, Royce White and Omer Asik on the floor together.
Suddenly you've got an incredible size advantage, yet there's still the shooting threat from Morris and the slashing threat from White.
After seeing them run a ton of lineups out already this season, it wouldn't be surprising to see the Rockets find a way to use him a bit.
Plus, just imagine what Kevin McHale would be able to teach a guy like White who is able to handle the ball incredibly well for a guy his size.
Keep Reading

Houston Rockets: Like this team?