Memphis Grizzlies: What We Have Realized After the Grizzlies' Trades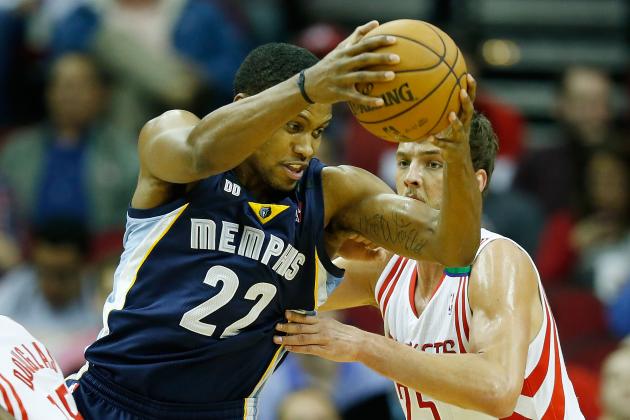 Scott Halleran/Getty Images

The Memphis Grizzlies have been the biggest players near the trade deadline so far, pulling the trigger on the only two transactions so far this season.
In their first trade (via ESPN), they cleared some room on their salary cap because they're a small market team looking to avoid the luxury tax. The Grizzlies basically gave up two of their best bench players in Wayne Ellington and Marreese Speights, along with a young point guard in Josh Selby and a future first round pick. All for consistent D-League big man, Jon Leuer.
This trade made sense at the time, considering that the Grizzlies can keep together their core for the future.
But they didn't.
They decided to part ways (via ESPN) with Rudy Gay, and received a package of young prospects surrounding veteran Tayshaun Prince.
With only two games under their belt, what have we realized from these trades so far?
This slideshow discusses some of the pros and cons of the Grizzlies' trades so far.
Begin Slideshow

»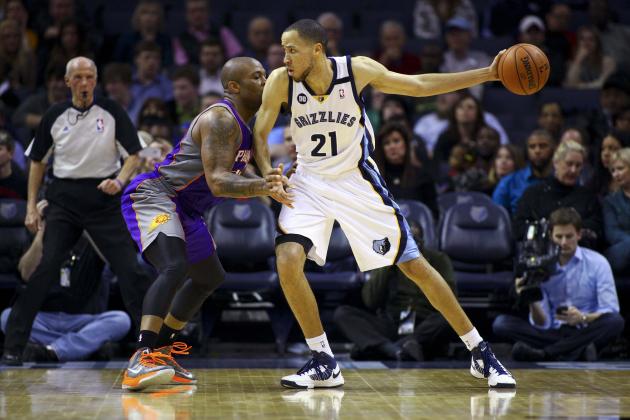 Spruce Derden-USA TODAY Sports

After winning his championship as the starting small forward for the 2004 Detroit Pistons team, Tayshaun Prince has pretty much faded into obscurity, but still remained the last member of that team until his trade to the Grizzlies.
He's brought his consistency and steady play over to this team, and it definitely showed in the two outings against the Washington Wizards and Phoenix Suns. He put up 12.5 PPG, 3.5 RPG and 3.5 APG on 52 percent shooting in the small sample size.
On top of that, he's a lengthy defender who fits in nicely with this slow-paced, half-court oriented Grizzlies team. Prince's transition has been rather smooth so far and he has been a pleasant surprise, especially his spot-up shooting.
I wouldn't go on and say that he's a better fit for this team than Gay, but he's certainly proving that he deserves to belong on a winning team again.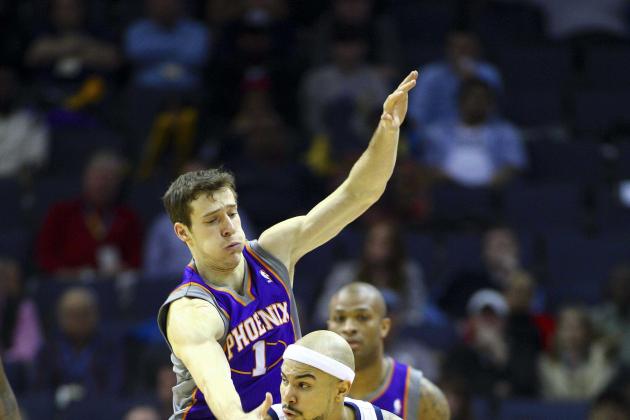 Spruce Derden-USA TODAY Sports

It hasn't been evident in the stat sheet, but the ball has been moving much better on offense after the Gay trade.
We expected the Grizzlies to look more towards their two All-Star caliber big men, but Zach Randolph and Marc Gasol actually averaged less field-goal attempts than they did before the Gay trade.
Gay hasn't been as ball-dominant in recent seasons, but he was still occasionally stopping the flow of the offense. He was unquestionably one of the team's best players, but his style of play sometimes just didn't fit into the system.
Prince isn't as talented as Gay, especially at this stage in his career, but he can still shoot, post-up and pass and is more willing to give up the ball in the right situations.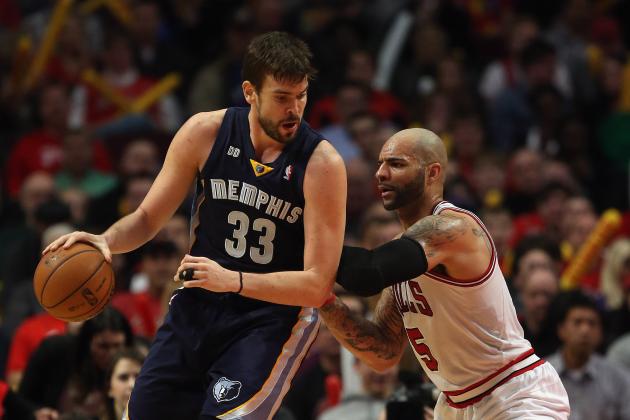 Jonathan Daniel/Getty Images

If yesterday's matchup against the Phoenix Suns didn't open the eyes of the front office, then I don't know what can.
It just proves how valuable Marc Gasol is to this team. He is probably the most talented player on the roster now, but his presence on the floor goes beyond anything on the stat sheet.
When Gasol got into foul trouble, it was clear that the Grizzlies were struggling to contain the Suns in the paint. Ed Davis and the lanky Austin Daye are both natural forwards, and are unaccustomed to banging with the big guys down low.
Speights and Hamed Haddadi aren't spectacular, but they were two serviceable backup big men who possessed more developed body structures to compete against other centers.
Sometime before the trade deadline, I'm expecting the Grizzlies to make a move to acquire a legit backup center. Maybe Timofey Mozgov of the Denver Nuggets, perhaps?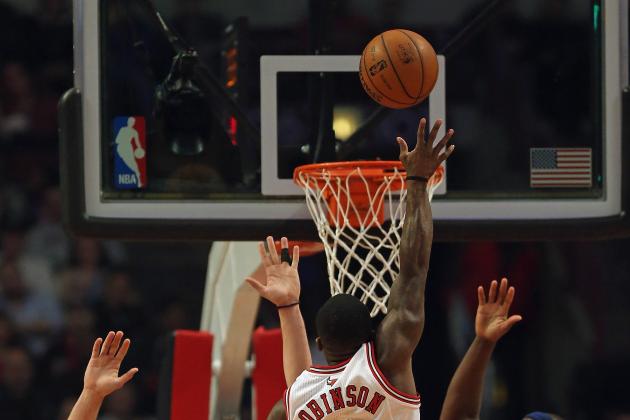 Jonathan Daniel/Getty Images

Before either trade, the Grizzlies were ranked first in opponents' points per game (per Team Rankings).
Now, they still remain the number one defensive team in the NBA.
Gay is one of the best defenders at his position, and his combination of length, quickness and intelligence allowed him to defend any guard or forward in the league. In the last two games without Gay, the Grizzlies held their opponents to 75 and 96 points, respectively (although one of them came at a loss).
With him gone, the Grizzlies' defense hasn't missed a beat.
Prince is known as a very capable defender himself, even though he might not be as fast as he was during his prime. Davis is an athletic young big, who already possessed an above-average defensive game for a power forward.
Nonetheless, the Grizzlies' "Grit and Grind" mentality is staying put, and their identity as a suffocating defense-first team will not wither.