Charlotte Bobcats vs. Houston Rockets: Live Score, Results and Game Highlights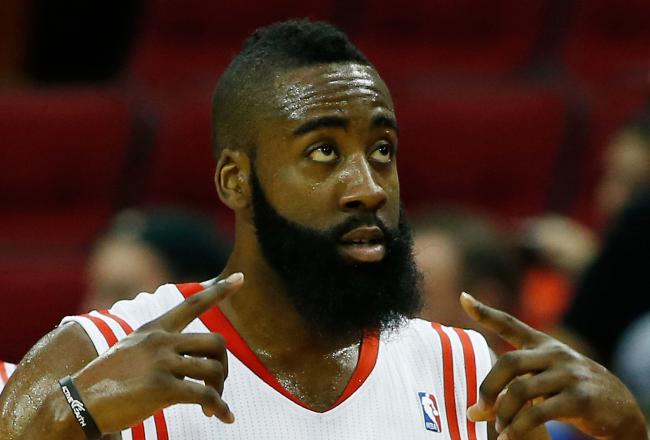 Scott Halleran/Getty Images
The Houston Rockets were down by five points with nine minutes left, but roared back behind 14 fourth-quarter points from Patrick Patterson to soundly defeat the visiting Charlotte Bobcats, 109-95.
James Harden registered his first career triple-double and two other Rockets had double-doubles as Houston sprinted past the stunned Bobcats in the final minutes.
The Rockets enjoyed an 11-point halftime advantage, but a solid third quarter and an early spurt by the Bobcats in the opening minutes of the final period put a Houston victory in serious doubt.
It's hard to know how big an effect it had, but Michael Kidd-Gilchrist's scary injury, which required him to be removed on a stretcher after being knocked out cold by an inadvertent knee to the head, seemed to visibly deflate the Bobcats.
Charlotte led at the time MKG went down in the fourth, but simply shut down after the frightening injury to its rookie forward.
Houston played excellent transition offense all game, netting a total of 28 fast break points and consistently beating the lackadaisical Bobcats down the floor.
Kemba Walker led Charlotte with 24 points, but his team shot just 41 percent overall and suffered a crushing defeat on the glass. Houston out-rebounded Charlotte by a margin of 50-35.
The Rockets moved to 26-23 with the win, but their flaws (transition defense in particular) should give coach Kevin McHale some serious pause. It shouldn't have taken a furious fourth-quarter comeback to vanquish the lowly Bobcats—especially at home.
Charlotte fell to 11-35 in defeat.
Final Score: Rockets 109, Bobcats 95

Postgame Storylines
Asik Happens
Plus-minus can be a misleading stat sometimes, but you'd better believe that Omer Asik's plus-26 figure in this one was an accurate reflection of his contributions.
Asik scored 19 points and pulled down 15 boards, but his defensive presence was what mattered most for the Rockets. He's the only player on the roster who seems at all concerned with stopping the opposition, and his presence on the floor turns the Rockets from a one-dimensional club into a more balanced outfit.
If Houston has any designs on being taken seriously as a playoff team, it'd do well to find more players like Asik. For now, he'll just have to play big minutes. The Rockets don't stop anybody when he's on the bench.
Patterson Shows Up
Inconsistent play has cost Patrick Patterson his starting job during some short stretches this season, but if his impressive fourth-quarter burst is any indication, he's not likely to lose his grip on the starting 4 spot anytime soon.
After a quiet 10 points through three, Patterson ignited in the fourth, pouring in 14 points from everywhere on the floor. He knocked down a pair of threes, followed misses with dunks and even hit improbable jumpers off the dribble as the shot clock wound down.
Charlotte had no answer for him, and his inspiring energy was largely responsible for the Rockets' late surge. Without him, this could have been a hugely depressing home loss for Houston.
Kitties Declawed
I mean, at some point, Mike Dunlap has to just start benching guys, right?
Nobody on the Bobcats—and I mean nobody—got back on defense in the first half of this game. Houston built an 11-point halftime lead by making layups as the Bobcats simply watched outlet passes sail over their heads. Those passes landed in the laps of streaking Rockets, who were all too happy to swiftly turn them into easy buckets.
Charlotte is a young team, and should presumably have plenty of energy. And that's what makes their complete failure to run back on defense so perplexing. It's not a strategic shortcoming; it's a failure to put forth effort.
A team with so little talent simply cannot afford to lose the hustle battles. But the Bobcats consistently do just that, which is why they've got the league's worst defense and the league's worst record.
Final Score: Rockets 109, Bobcats 95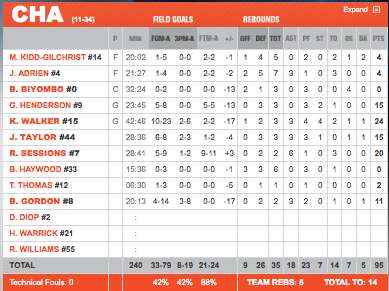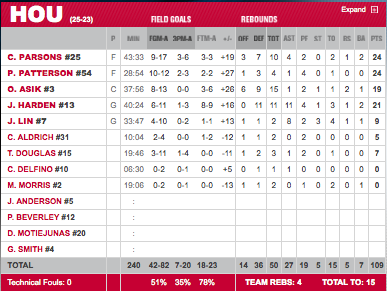 Final box score via NBA.com.
Final Score: Rockets 109, Bobcats 95
Rockets Leaders
Harden: 21 points, 11 rebounds, 11 assists
Patterson: 24 points, 4 rebounds, 1 assist
Asik: 19 points, 15 rebounds, 2 blocks
Parsons: 24 points, 10 rebounds, 4 assists
Bobcats Leaders
Walker: 24 points, 3 assists, 4 steals
Sessions: 20 points, 6 assists
Henderson: 15 points, 3 rebounds, 2 steals
Final Score: Rockets 109, Bobcats 95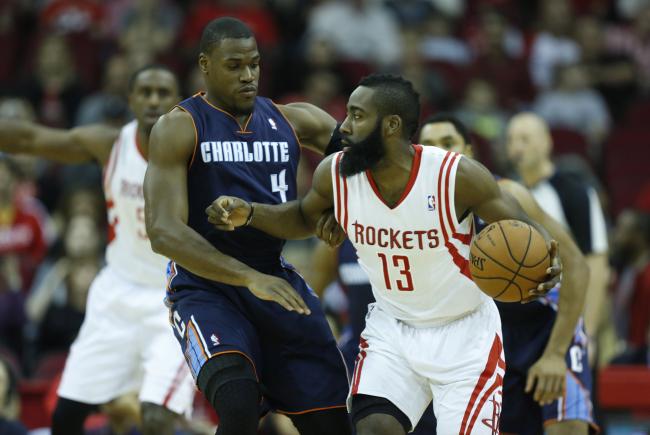 This one's a wrap, folks.
Three Rockets had double-doubles, Harden tripled up and Charlotte allowed 28 fast break points. It was tight for a while, but Houston pulled away late behind Patterson and Harden.
Final Score: Rockets 109, Bobcats 95
Triple Double for the Beard!!!!

— Houston Rockets (@HoustonRockets) February 3, 2013
Twitter informs me (by which I mean, "Twitter exploded") that this triple-double is the first of Harden's career.
He's been incredibly efficient, with 19 points, 10 assists and 10 rebounds on 5-of-10 shooting.
Rockets 105, Bobcats 95—1:00 remaining in 4th quarter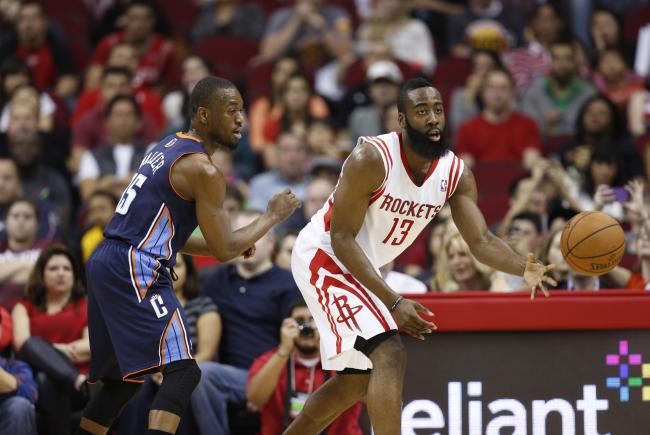 Charlotte is casting away from three and hasn't hit one in their last three possessions. The latest miss sends James Harden on the way for an and-1 layup.
Oh, and the rebound that precipitated the break was Harden's 10th. He's got a triple-double.
Rockets 105, Bobcats 95—1:01 remaining in 4th quarter
And very quietly, James Harden has put himself a rebound away from a triple-double. 16 points, 10 assists, 9 rebounds.

— Jason Friedman (@JasonCFriedman) February 3, 2013
All of the noise has belonged to Patterson, who hasn't missed a shot in the fourth. But Harden's been pretty good, too.
Rockets 102, Bobcats 93—2:50 remaining in 4th quarter
10 straight Rockets points scored by Patrick Patterson. #RedNation

— Howard Chen (@ho_chenCSN) February 3, 2013
Dominating. Add another bucket to that. 14 in the quarter now.
Rockets 101, Bobcats 93—3:30 remaining in 4th quarter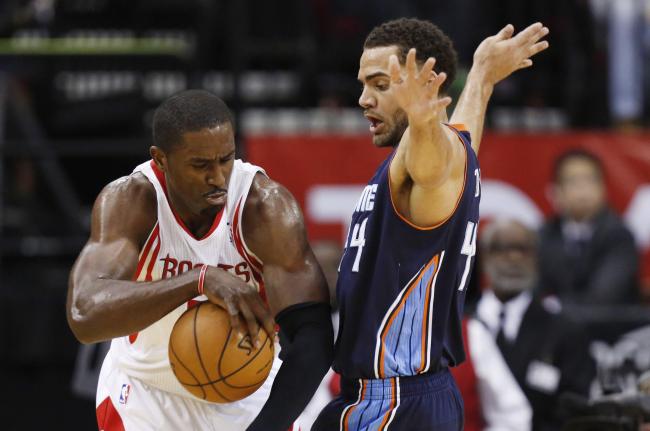 Wow, Charlotte's small lineup yields another bucket for Patterson. This time, it's a dunk.
Double wow: he spikes one on Biyombo next time down.
Patterson's got 22, including 12 in the fourth quarter.
Rockets 99, Bobcats 93—4:09 remaining in 4th quarter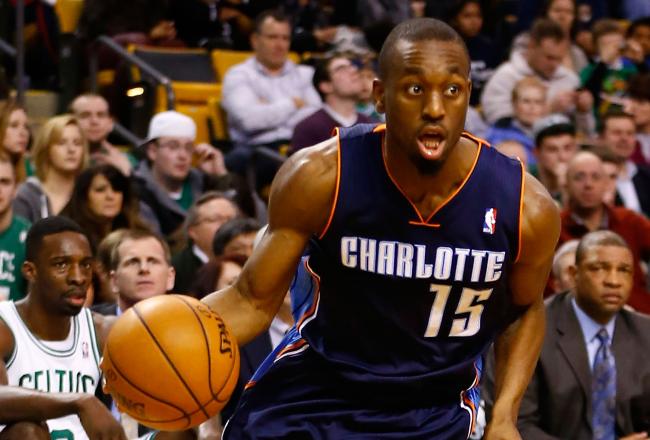 The Bobcats have gone extremely small, with Biyombo and four guards. Walker hits a three for the Bobcats, but Patterson answers with his second of the night on the other end.
Patterson has suddenly shown up.
Rockets 95, Bobcats 91—4:59 remaining in 4th quarter
MKG transported to Houston's Memorial Hermann Hospital emergency room for X-rays.

— Rick Bonnell (@rick_bonnell) February 3, 2013
More updates as I get them.
Rockets 92, Bobcats 88—6:16 remaining in 4th quarter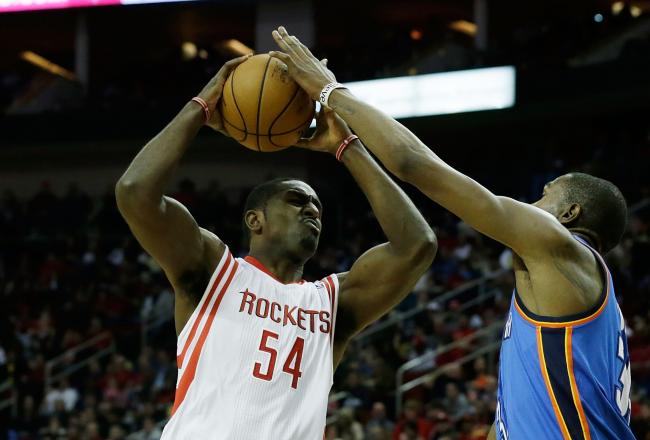 Yep, Charlotte's in the penalty the rest of the way. Harden is on the line now and give Houston a one-point lead.
And then Patterson hits a big three to complete a 9-0 Rockets run.
Rockets 92, Bobcats 88—6:15 remaining in 4th quarter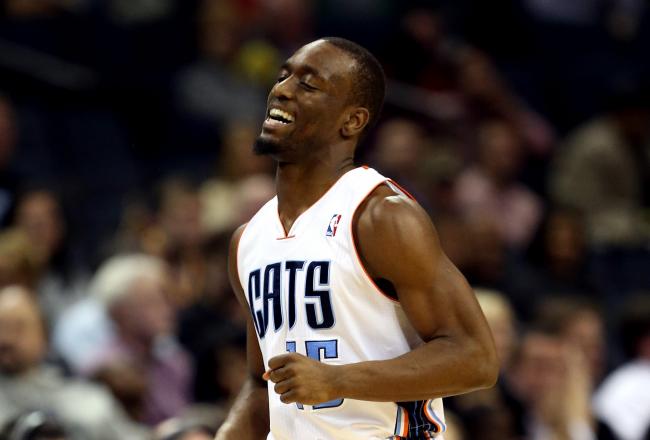 Kemba Walker stops a Rockets break by just wrapping up Parsons in the backcourt. Might have also been due to frustration over a previous no-call, but a smart move nonetheless.
Maybe that's how the 'Cats should start playing transition D from now on.
Bobcats 88, Rockets 86—7:29 remaining in 4th quarter
Scary stuff. MKG was wheeled off in stretcher. Crowd, teams seem in shock. Parsons just ran by Bobcats bench to say a word or two.

— Jonathan Feigen (@Jonathan_Feigen) February 3, 2013
This would be an appropriate reaction, for reference.
Bobcats 88, Rockets 83—8:30 remaining in 4th quarter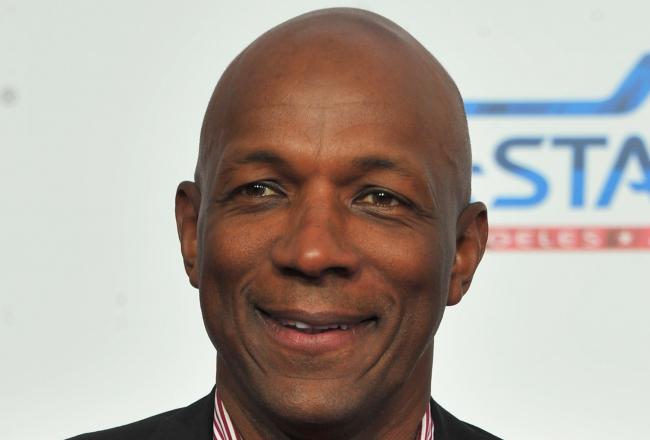 Sort of amazed by how unprofessional the Rockets' TV team, and Clyde Drexler in particular, were throughout that whole ordeal. They didn't treat the MKG injury with nearly as much solemnity or seriousness as you'd expect. Far more concerned with the Bobcats' putting on a late run than with MKG's health.
There's homerism, and then there's this.
Bobcats 86, Rockets 81—9:40 remaining in 4th quarter
Not going to speculate, but very, very little movement from MKG as he was taken off on a stretcher. Eyes closed and arms folded on his chest. Definitely still out cold.
Hard to think about playing the rest of the game now.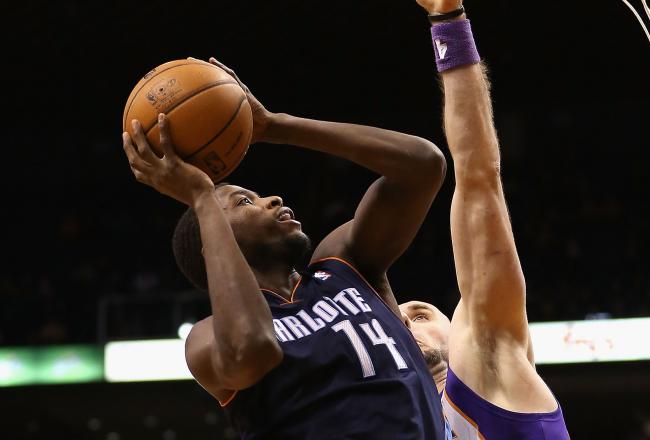 MKG knocked out cold by Jeff Taylor's knee. Obviously, it was a very weird play. MKG was going down after contesting a Rockets' breakaway layup, and Taylor's knee caught him as he was swooping in to block the shot up high.
Stretcher is out on the court and it is very quiet in the arena.
Bobcats 80, Rockets 79—10:35 remaining in 4th quarter
MKG is down and not moving after what looked like a knee to the back of the head in a pile-up underneath. Scary moment.
Bobcats 80, Rockets 79—10:35 remaining in 4th quarter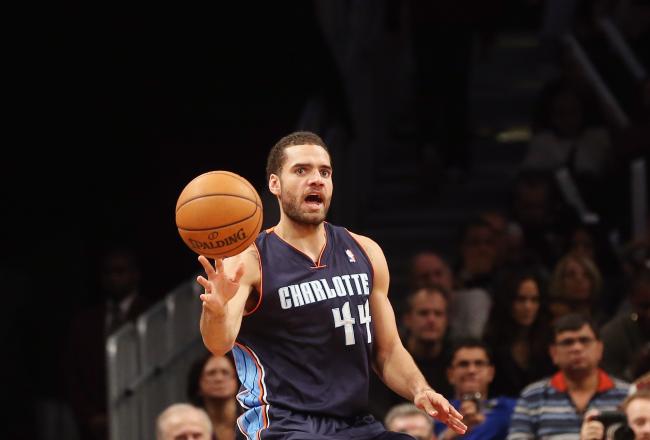 Bad start for the Rockets. Jeffery Taylor hits his sixth consecutive shot, a three, to give the Bobcats a lead.
Bobcats 80, Rockets 79—11:04 remaining in 4th quarter
Rockets Leaders
Harden: 15 points, 7 rebounds, 7 assists
Asik: 14 points, 12 rebounds, 1 block
Parsons: 19 points, 7 rebounds, 2 assists
Bobcats Leaders
Walker: 19 points, 3 assists, 3 steals
Sessions: 18 points, 6 assists, 2 rebounds
Henderson: 13 points, 3 rebounds, 2 steals
Rockets 79, Bobcats 77—start of 4th quarter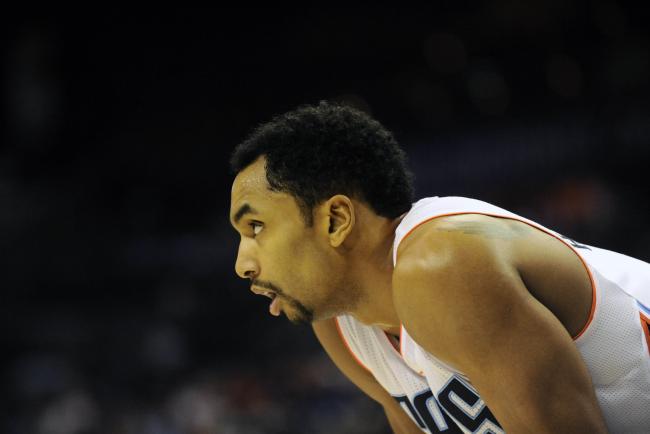 Charlotte closes the quarter on a 13-3 run, cutting the Rockets' lead from 11 to two. Houston will absolutely lose this game if it doesn't get its act together.
Gerald Henderson gets the breakaway dunk to cap the run.
Rockets 79, Bobcats 77—end of 3rd quarter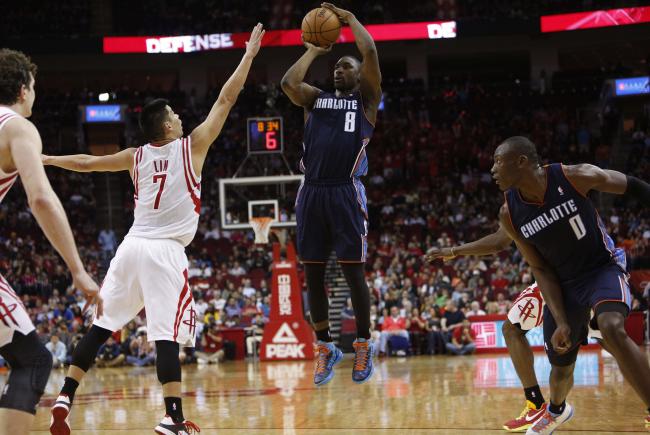 A horrible turnover by Lin results in a Bobcats breakaway. Sessions will shoot a pair of foul shots with a chance to cut the lead to four.
Houston just can't get anything done without Asik.
Rockets 79, Bobcats 73—:47 remaining in 3rd quarter
Rockets can't put Bobcats away. Have led by 15; up 7 with 3 min left in 3rd. Bench outscored 29-9 with Asik (14p, 12r) about to sit.

— Jonathan Feigen (@Jonathan_Feigen) February 3, 2013
The bench has been *an issue.
*killing the Rockets
Rockets 76, bobcats 69—2:22 remaining in 3rd quarter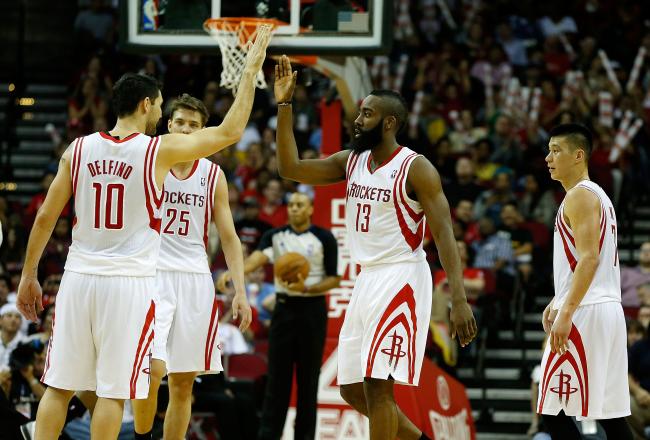 I'm nitpicking, but the Rockets should be concerned. Good teams put bad teams away, especially at home. The Bobcats are hanging around because the Rockets just don't even pretend to care about defense.
They'll probably win this game, but this game is saying a lot about why they're barely a playoff threat and a certain first-round out if they make it.
Rockets 76, Bobcats 69—2:57 remaining in 3rd quarter
Smart play by Lin, darting to rim to draw foul as Bobcats caught napping expecting timeout to be called. Rockets still up 10.

— Jason Friedman (@JasonCFriedman) February 3, 2013
Or, as it's otherwise known, "The Andre Miller Special."
Rockets 76, Bobcats 67—3:55 remaining in 3rd quarter
This article is
What is the duplicate article?
Why is this article offensive?
Where is this article plagiarized from?
Why is this article poorly edited?