Milwaukee Bucks vs. New York Knicks: Live Score, Results and Game Highlights
Carmelo Anthony scored at least 20 points for the 31st consecutive game as the New York Knicks knocked off the visiting Milwaukee Bucks by a final score of 96-86.
The Bucks seemed to have New York's number before the break, but a 33-point second half turned Milwaukee's six-point halftime advantage into a double-digit deficit by the time the final buzzer sounded.
Anthony led all scorers with 25, and the Knicks got 17 apiece from their offensive-minded bench duo of Amar'e Stoudemire and J.R. Smith. As a team, the Knicks hoisted 35 three-point shots (13 by Smith alone) and managed to make 13 of them after starting just 4-of-16 from long distance.
Tyson Chandler policed the paint and pulled down 20 rebounds, including eight on the offensive glass as he continued to be the only consistent "dirty work" player for New York. His tenacity and aggressiveness on the boards gave the Knicks the extra possessions they needed to keep the game close in the first half.
After the break, Milwaukee went ice-cold from the perimeter and couldn't generate any easy looks inside. Brandon Jennings and Monta Ellis, who handled the ball on virtually every Bucks possession, have to take the blame for the second-half swoon. Ellis had a hot third quarter on his own, but he still finished the game with just 16 points on 7-of-20 shooting.
Jennings was just as bad, tallying 14 points on 5-of-18 from the field.
The Knicks seem happy to continue living and dying by the three point shot. They survived against the Bucks, but that had as much to do with Milwaukee's woeful offense as it did with New York's second-half hot streak.
The Knicks moved to 29-15 with the win, while the Bucks slipped to 24-21 in defeat.
Final Score: Knicks 96, Bucks 86

Postgame Storylines
Looking Ahead
The Knicks and Bucks are presently the second and seventh seeds in the Eastern Conference, respectively. That, of course, means they're slated to match up in the playoffs right now. Given the unlikelihood of the Knicks moving any higher and the Bucks slipping into the eighth spot, it's not crazy to assume that the standings might hold true for the rest of the season.
If that happens, the Knicks should be worried.
Both teams played one good half of basketball tonight, and in each case, the quality of those 24-minute performances had everything to do with whether jumpers were falling. From a pure talent perspective, the Knicks are definitely a better team, but what I'm arguing is that the Bucks could very easily knock the Knicks out of a series if they get hot for a game or two.
The Knicks depend on their perimeter shooters to make shots, as do the Bucks. When that's such a huge part of both offenses, the overall talent disparity matters much less than it otherwise would.
There are a lot of ifs in the equation, but the Knicks should be a bit concerned about the Bucks.
Floodgates Closed
After giving up 50 combined points to J.J. Redick and Jameer Nelson on Jan. 30, the Knicks held the (theoretically) much more dangerous Monta Ellis and Brandon Jennings to a mere 30 points on 12-of-28 shooting.
Consider that a small victory, but take it with a grain of salt.
Nobody really defends Ellis and Jennings. Instead, they defend themselves with their mutually poor shot selection and low-percentage offense. It's great that the Knicks limited their production, but in watching the game, much of Milwaukee's backcourt struggles resulted from forced drives and bad shots.
More than anything, we saw precisely why the Bucks' offense is among the league's worst on a points-per-possession basis. They just don't generate good looks on a consistent basis.
The Shooting Guard Conundrum
Jason Kidd turned in a forgettable effort after missing his last game with a sore back, and Iman Shumpert's defense was so bad that he got himself yanked after just one minute in the second half.
On a team with so many shooters, it's interesting that the Knicks really haven't found a consistent answer at shooting guard.
Mike Woodson is obviously reluctant to start J.R. Smith, but with Amar'e Stoudemire playing well as a scorer off the bench, perhaps he'll reconsider.
Whatever happens, the Knicks need to find somebody to man the 2.
Final Score: Knicks 96, Bucks 86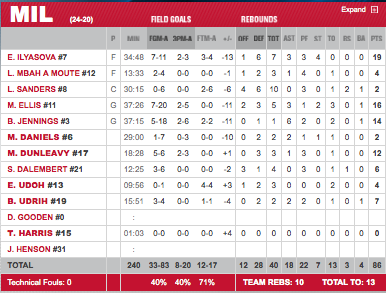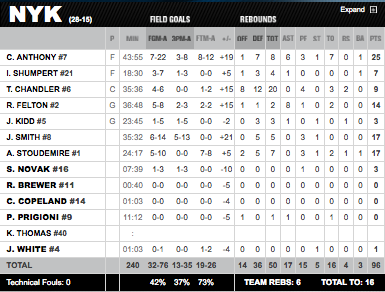 Final box score via NBA.com.
Final Score: Knicks 96, Bucks 86
Knicks Leaders
Anthony: 25 points, 8 rebounds, 6 assists, 7 turnovers
Chandler: 9 points, 20 rebounds, 2 blocks
Stoudemire: 17 points, 7 rebounds, 1 block
Bucks Leaders
Ilyasova: 19 points, 7 rebounds, 3 assists
Jennings: 14 points, 6 assists, 1 rebound
Ellis: 16 points, 5 rebounds, 3 assists
Final Score: Knicks 96, Bucks 86
It's interesting to note that if the playoffs started today, the Knicks and Bucks would match up as the second and seventh seeds. It doesn't seem like the Bucks would be very excited about that right now.
Knicks 96, Bucks 81—:38 remaining in 4th quarter
The Bucks have scored 28 points in the second half, with less than two minutes left. Offense has been a problem all year, and now we know why: They've got streaky shooters and their guards don't create easy looks for themselves or anyone else.
Knicks 94, Bucks 81—1:03 remaining in 4th quarter
With this one seemingly in hand, here are the highlights from a much closer first half.
Knicks 94, Bucks 81—1:53 remaining in 4th quarter
Stoudemire and Smith have given the Knicks a great boost off the bench for the second night in a row. They've got 17 apiece on 50 percent shooting, and Smith has hit five threes.
There might not be a more potent bench scoring duo in the league. Since I'm being nice, I won't mention defense.
Knicks 92, Bucks 81—2:56 remaining in 4th quarter
13-4 run since the start of the 4Q for the #Knicks & they now lead 87-77 w/ 4:58 left in the gm. Bucks just 2-of-10 this quarter

— NBA New York Knicks (@nyknicks) February 2, 2013
Ugly, ill-timed drought for the Bucks.
Knicks 87, Bucks 79—4:33 remaining in 4th quarter
Shumpert got pulled one minute into the third quarter for falling asleep on D, but has returned in the fourth with his only two buckets of the game. This will forever be known as "The Shumpert Redemption."
Probably not, actually. But you get the point.
Knicks 87, Bucks 77—4:58 remaining in 4th quarter
There's your lead expansion. New York reels off back-to-back buckets to take a seven-point advantage. Chandler punctuated the mini run with a big slam, and the Bucks are in the danger zone now.
Knicks 82, Bucks 75—6:20 remaining in 4th quarter
According to the Knicks ..,Raymond Felton is available. He's currently on bench icing right hand / pinky.

— Tina Cervasio (@TinaCervasio) February 2, 2013
He's back in, with a small wrap on that pinkie. The Bucks have just one basket in the quarter, but the Knicks haven't expanded their lead at all.
Knicks 78, Bucks 75—7:25 remaining in 4th quarter
At the risk of sounding cliched, it's a make-or-miss league. At the risk of stating the obvious, the Bucks are missing.
New York has started the final period on a 4-0 run after closing out the third strong.
Knicks 78, Bucks 73—9:35 remaining in 4th quarter
Felton, who appeared to re-injure his right pinkie, begins fourth quarter on bench.

— Frank Isola (@FisolaNYDN) February 2, 2013
Something happened in the third. He was grimacing and shaking it. We know the Knicks need his penetration and pick-and-roll skills. This could be a big deal.
Knicks 74, Bucks 73—10:41 remaining in 4th quarter
Knicks close the third on an 11-3 run and outscore the Bucks 27-20 in the quarter to take a 74-73 lead to the fourth quarter.

— Andrew Gruman (@AndrewGruman) February 2, 2013
When the threes fall, New York is very good. Nobody has ever said any different. As far as relying on that strategy in pursuit of a championship, well, we'll just have to see about that.
Knicks 74, Bucks 73—start of 4th quarter
Knicks Leaders
Anthony: 23 points, 4 rebounds, 4 assists
Smith: 17 points, 4 rebounds
Felton: 9 points, 7 assists, 2 rebounds
Bucks Leaders
Ilyasova: 19 points, 7 rebounds, 4 steals
Ellis: 16 points, 3 assists, 2 rebounds
Jennings: 10 points, 6 assists, 1 rebound
Knicks 74, Bucks 73—start of 4th quarter
Live by the 3 or die by the 3. That's essentially what tonight's game is about, folks. The Knicks, right now, are alive.

— Nate Taylor (@ByNateTaylor) February 2, 2013
Up over 40 percent from long distance after starting 4-of-16.
Knicks 74, Bucks 73—:40 remaining in 3rd quarter
Smith buries a three to get the Knicks their first lead since the early going. Ilyasova subsequently ties it up at the foul line.
We've got a game, folks.
Bucks 71, Knicks 71—1:13 remaining in 3rd quarter
Ellis has been unstoppable in the third quarter. After a horrible start to the game, he has recovered to get his current line to 16 points on 7-of-14 shooting. The Bucks have been posting him repeatedly and neither Kidd nor Smith has been able to stay in front of him on the perimeter.
Bucks 70, Knicks 66—2:50 remaining in 3rd quarter
Just getting this on the record right now, in case there's any revisionist history if/when the Knicks come back and win: Anthony has played terribly.
He's 6-of-16 from the floor and 5-of-9 from the line with four turnovers against four assists.
But, he has now extended his 20-plus points streak to 31 games. So, there's that.
Bucks 70, Knicks 66—3:13 remaining in 3rd quarter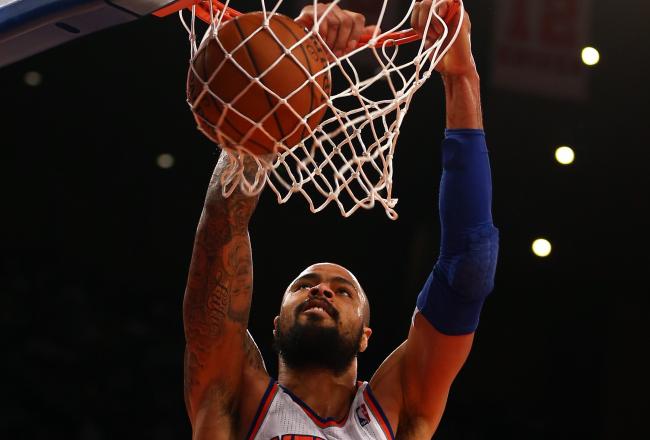 Tyson Chandler is a beast on the offensive boards. He keeps so many Knick possessions alive, but gets no statistical credit for it. And no, I'm not referring to his awesome back taps, which the league has finally started considering a rebound. I mean the little tips and swipes he makes underneath that he doesn't even end up coming down with.
Also, he has 16 boards and has made 2-of-3 shots. He's great.
Bucks 68, Knicks 62—4:10 remaining in 3rd quarter
Remember those weird Beno Udrih pull-up jumpers I mentioned in the first half? Here you go:
Bucks 64, Knicks 57—6:00 remaining in 3rd quarter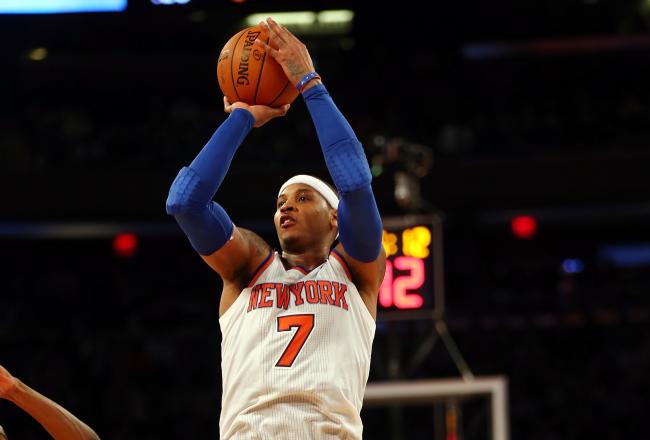 After dying by it for the games first 26 minutes, the Knicks are living by the three right now. Three straight triples cuts the Bucks lead to three points.
New York is now shooting a respectable 38 percent from long distance.
Bucks 59, Knicks 56—7:30 remaining in 3rd quarter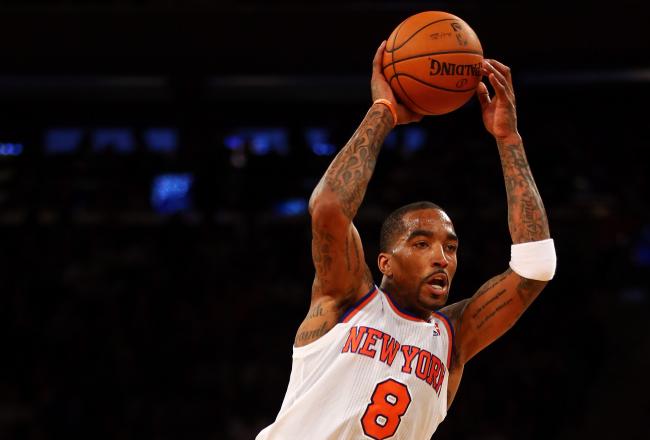 Even in scattered situations, the Bucks are getting back on D. Limiting the Knicks' transition opportunities is a key to beating them.
Of course, as I say that, J.R. Smith hits a three in transition. I'll be quiet now.
Bucks 59, Knicks 53—8:39 remaining in 3rd quarter
Mike Woodson not happy with Iman Shumpert...Gave him 61 seconds this half

— Frank Isola (@FisolaNYDN) February 2, 2013
A quick 6-0 run by the Bucks might have something to do with that. Shump didn't make much of an impact on D and he can't score, so what's Woodson supposed to do?
Bucks 59, Knicks 47—10:09 remaining in 3rd quarter
Halftime Storylines
Isolations and Post-Ups
In a nutshell, the Knicks are relying on two basic forms of offense in this one, and neither one has been working very well.
Plenty of NBA teams feature heavy use of both isolation and post-up sets, but it seems like the Knicks are going overboard against the Bucks. It also bears mentioning that these particular "sets" aren't really sets at all; they're basically pickup basketball strategies.
For much of the year, the Knicks would start in an isolation or post-up situation, but then swing the ball around, depending on where the defense came from. That yielded a ton of three-point looks, which the Knicks knocked down at a stunning rate over the season's first six weeks.
Now, the threes aren't falling and defenses are collapsing and sending double-teams at New York's preferred isolation and post-up options. As a result, the Knicks are struggling to get any decent looks inside.
A screen or two wouldn't hurt, coach Woodson.
Kidd Struggling
Maybe his back's still bothering him, and maybe he's just going through a slump, but Jason Kidd just doesn't look right. He's a step slow on defense and made just one of his five attempts in the first half. Worst of all, he hasn't registered an assist.
If defenders aren't worried about him knocking down shots, they don't run as hard at him, which means Kidd doesn't have the option to swing the ball to open shooters. That's been the story for him in the first half so far.
The Bucks aren't worried about Kidd beating them from long distance, so they're not leaping out at him. And when Kidd has to face a defender who's not off balance or running toward him, he's pretty much useless at this point.
Ilyasova Looking Good
Eryan Ilyasova has been killing the Knicks. He's got 16 points on 7-of-8 shooting and no Knick has been able to bother him on the perimeter.
For the Bucks, his performance is a great omen in this game, and in their playoff push. They need a frontcourt scorer to complement Ellis and Jennings in the backcourt.
For the Knicks, his shooting spree is just another example of their inability to shut down opposing scorers, especially on the wings. Ronnie Brewer, anyone?
Bucks 53, Knicks 47—start of 3rd quarter
This article is
What is the duplicate article?
Why is this article offensive?
Where is this article plagiarized from?
Why is this article poorly edited?