Most Injury-Prone NBA Stars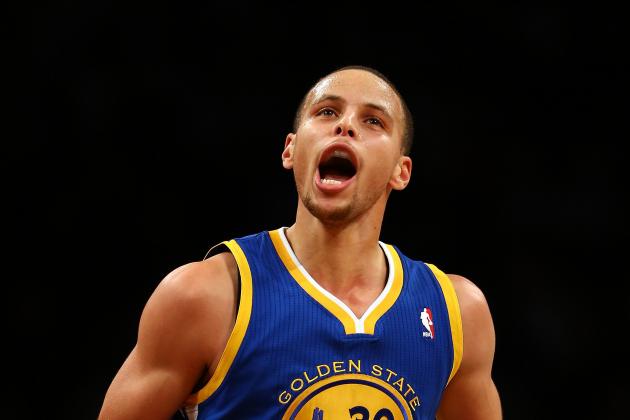 Elsa/Getty Images

You know a player is injury-prone, if every time he ends up twisting an ankle, his entire team holds their collective breath hoping that he's not out for the rest of the season. That's Stephen Curry's reality for you these days.
Regardless of the fact that he's an amazing player who is capable of some unthinkable things on the court, he's easily stopped by an accidental trip or a foot getting under him when he lands after a shot.
It's really a shame to see such a good player taken out of a game so easily, but with the fast-paced nature of the game, and how herky-jerky he can be at times, it's not at all surprising.
There are a handful of players like that throughout the league, guys who are able to play as well as some of the best players in the league but are constantly undervalued and even underappreciated thanks to their sketchy injury past.
Some players get hurt more than others, and a few guys have had some really unexpected and "freakish" injuries, but they're names who tend to pop into a person's mind whenever somebody mentions injury-prone basketball players.
Begin Slideshow

»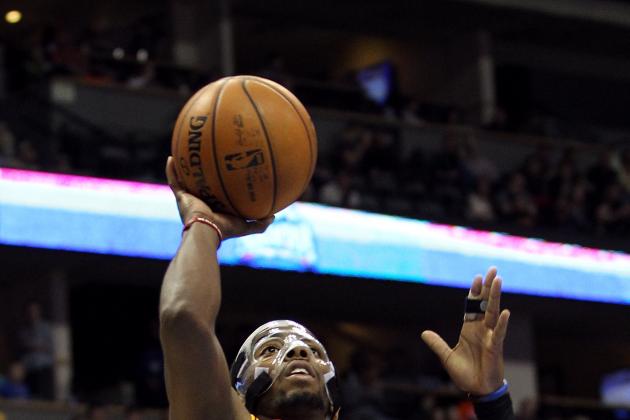 Chris Chambers/Getty Images

In just over two years, Kyrie Irving has gone through six different injuries, all forcing him to miss at least a game or two.
He hasn't seen a particular part of his body get hurt over and over again, but he's definitely looking injury-prone with all the parts of his body that seem to be falling to pieces.
First was the weird foot injury at Duke that resulted in some bone and ligament damage that kept him out for the majority of his time in college.
Then, there was his first year in the NBA. A concussion kept him out for a few games, and a sprained right shoulder did the same, although for more precautionary measures than anything else.
Summer came along, and it looked like time for a fresh start, and then, he broke his hand.
OK, whatever. He healed up in time for the opening game of the season, and he was rolling along nicely, until breaking his pinky finger in November. Of course, just a few games later, he hit the ground hard and broke his jaw.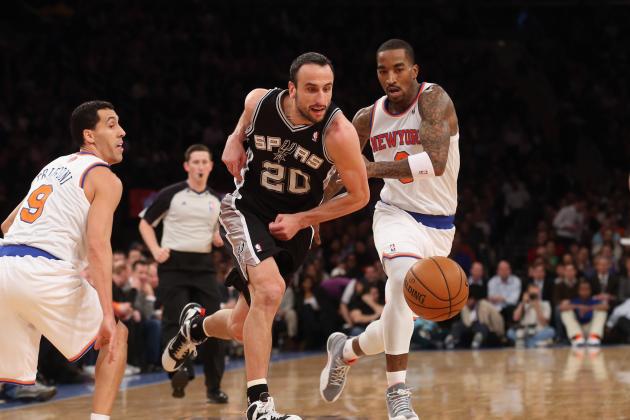 Bruce Bennett/Getty Images

Manu Ginobili's high-wire act on the court has led to a ton of games sitting on the bench over the course of his career, and this season has been no different.
It all started in his rookie year as he missed a handful of games with a tweaked ankle. That was just the beginning of things.
Ginobili has played in 75 games or more just four times in his career, and twice, he's played in fewer than 50 (not counting last year's lockout-shortened season).
This season, Ginobili started the year in traction with an injured back as little dinks and dunks have ailed him throughout the season.
Over time, he's just learned to live with it, and he's made a pretty successful career out of being hurt.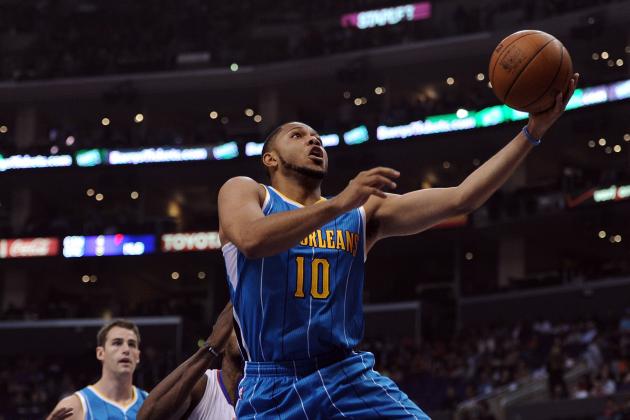 Harry How/Getty Images

Eric Gordon had a very successful first two seasons of his career, missing a few games here and there, but being generally productive even if he was injured here and there.
His third year rolls around, and his wrist goes on the fritz. A few tweaks here and there eventually leads to a sprain, and then, a second sprain. He heals up, and then a few months later comes a fracture. Up to this point, it seemed like it could all be chalked up to Los Angeles Clippers bad luck.
The 2012 season rolls around, and he's traded to the New Orleans Hornets and in comes a knee injury that ended up getting re-aggravated, leading to just nine games played all year long.
November rolls around, and his knee pain continued to linger, which kept him out of the 2013 season up until the end of December.
Mike Ehrmann/Getty Images

Ever since Dwyane Wade came into the NBA, he's dealt with little injuries here and there keeping him out of games.
It wasn't ever a huge deal until he played in just 51 games in back-to-back seasons, 2007 and 2008.
The most damning injury was the shoulder dislocation that took him out in a big chunk of the 2007 season, requiring surgery after the end of the season.
2008 rolled along, and the Heat were struggling as Wade battled knee pain. With the team looking like they were dead in the water, Wade had OssaTron shock wave treatment done on his left knee, keeping him out for the remainder of that season.
Wade has been as healthy as he could be since the rough patch near the middle of his career, but he's still feeling the effects and is considerably more hobbled at times than he used to be.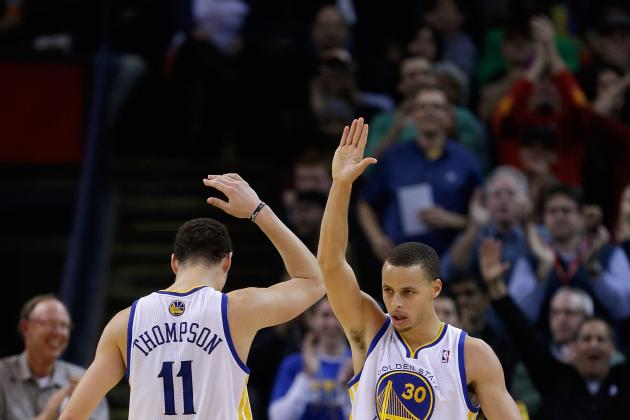 Ezra Shaw/Getty Images

Stephen Curry seems to be the poster child for injuries these days, but he's really only spent the better part of one season on the sidelines, and that was last year's lockout-shortened year that kept him out of 40 games.
The injury came a few months into the shortened season, and what happened was really nothing more than a series of ankle injuries.
Of course, sometimes, it seems like it's better to break something once, rather than to sprain it over and over again.
There's a reason why Curry is still looked at as injury-prone, despite the fact that he hasn't missed a ton of games. Every time he lands a bit sideways on his ankle, it makes national news. That's got to say something about his brittle ankles.
When people talk about freak injuries, Andrew Bogut is always a name that pops up. However, an injury is an injury, and Bogut has played in just 184 of a possible 357 games since the 2009 season.
Bogut's back was the first thing to turn on him back in 2008. Knee and ankle injuries followed him into the '08-'09 season, but a stress fracture in his back was the big story down the stretch.
Late in 2010 was one of the ugliest injuries you'll see on tape, as he went up for a dunk and came down directly on his hand, leading to his elbow exploding.
Fast forward to 2012 and Bogut played in just 12 of a possible 66 games after an ankle injury kept him out of most of the season.
The ankle pain lingered on into this season, and he missed a huge chunk of the middle of the season, returning just a few games ago.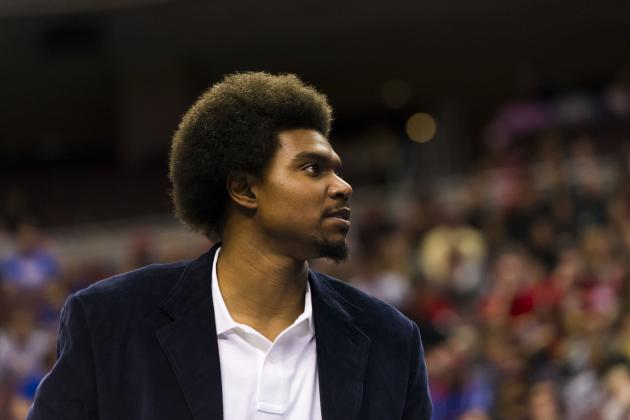 Howard Smith-USA TODAY Sports

Few players have played so few games in their careers but still ended up being looked at as one of the best players in the league.
That's just how we viewed Andrew Bynum last season.
He missed nearly 130 games between 2007 and 2011, but coming into the 2012 season, all we talked about was how he could make a run to become the best center in the NBA, and he almost had us fooled.
That is until he went down with another knee injury this past summer.
Bynum went to Germany to have a platelet enrichment procedure done on his knee in August, but he still entered the season with a ton of knee pain.
Here we are five months later, and he's yet to suit up for the Philadelphia 76ers. His return around the All-Star break is expected, but the damage to his reputation has been done.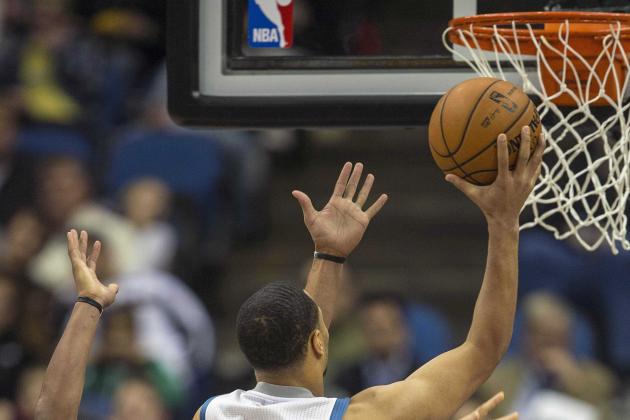 Jesse Johnson-USA TODAY Sports

There are few sadder, more disappointing careers in the history of the NBA. Brandon Roy had the potential to become one of the five best players in the NBA, and he probably would have been just that at this point in his career would his knees have survived his days in Portland.
Roy has played in 326 games since 2007, but that's out of a possible 517 games in the past seven seasons.
Of course, he spent the 2012 season retired, but that was, as usual, due to his chronic knee injuries.
That's been the story of Roy's career, as his first knee problem came in 2008 when doctors removed a piece of irritating cartilage in his left knee—a simple procedure.
From there, the knee problems piled up, leading to his retirement in 2012, thanks to a degenerative knee condition.
Roy did attempt a return this season, but he was able to suit up for just five games before requiring more surgery. Roy is still adamant that he'll return to basketball.