How Rajon Rondo, Boston Celtics Might Have Let Star Play Through ACL Injury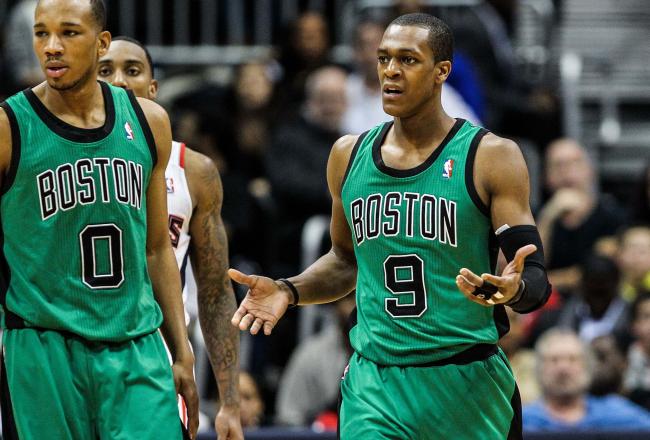 USA TODAY Sports
The Boston Celtics announced after Sunday's game against the Miami Heat that Rajon Rondo has a sprained ACL in his right knee. Rondo apparently sprained the ligament during Friday's game against the Atlanta Hawks.
If the speculation on when the injury happened is correct, Rondo played the last few minutes of the Hawks game with a sprained ACL. How, you might wonder, is this possible? How did the Celtics not discover the injury until Sunday?
In the initial moments after the announcement, Rondo's declaration that he would be back in two weeks led to some speculation about the severity of the sprain. If the sprain had been very low grade, this might have been possible, but even then, it would be an aggressive timetable for a key player.
Rajon Rondo to Max during the last timeout."I'm coming back to play in two weeks."

— Sean Grande (@SeanGrandePBP) January 27, 2013
Instead, Rondo is being scheduled for surgery and is done for the season. While details are not yet known on the severity, doctors must have seen that there is a significant enough sprain—Grade II or greater—that a reconstruction would be necessary. Note that a sprain is by definition a tearing of the fibers of the ligament.
I spoke with several athletic trainers around sports, including two from the NBA, who could not speak on the record. All believed that Rondo's knee injury would have been difficult to detect due to the strength around the knee. This strength would act as a stabilizer, making Rondo both able to play and making it more difficult to diagnose the sprain with manual testing.
One noted that the body tends to guard around an injury, and that while the medical staff likely suspected a sprain, they wanted to wait and see Rondo's response to treatment.
Another reason that Rondo may have been allowed to warm up is that many athletes will resist surgery, either feeling that they can overcome this or that they are letting their teammates down. A player has to be given the chance so that they realize they simply cannot perform at their previous level.
Surgery for Rondo will cost him the rest of the year, including the playoffs. A comparable player would be Derrick Rose of the Chicago Bulls, who also sprained his ACL. Rose got hurt in late April and is not yet back on the floor. A similar timetable would have Rondo back around the start of next season.
Another comparable player is Ricky Rubio, who has struggled since returning from his ACL sprain.
Rondo faces an eight- to 12-month rehab while the Celtics face trying to replace him in the short term. There are some new and aggressive techniques, but these type of reconstructions have not been performed on a top-level athlete in the U.S. yet.
Even the best case four-and-a-half-month recovery with this technique would not get Rondo back in time for the playoffs, so there's no need to complicate things with a player this valuable.
This article is
What is the duplicate article?
Why is this article offensive?
Where is this article plagiarized from?
Why is this article poorly edited?