The Brooklyn Nets fired their coach and are looking to find a long-term replacement. Many names have been bandied around, but the most intriguing, ideal candidate is Kelvin Sampson.
Sampson, according to Adrian Wojnarowski of Yahoo! Sports, is considered one of the top options to be the new head coach for Brooklyn. Nets GM Billy King is expected to speak with Sampson soon.
Sampson, who is currently the assistant coach for the Houston Rockets, has been mentioned as a head-coaching candidate numerous times. He was a finalist for the Detroit Pistons job, which went to Lawrence Frank. He took over for the Rockets during Kevin McHale's leave of absence. The team went 7-6 under Sampson, and that stretch helped trigger a 16-12 run that allowed them to become the sixth seed in the Western Conference.
Sampson, according to the Yahoo! Sports report, has been given a lot of freedom on both the offensive and defensive sides of the ball to implement his style. He's also noted for his "ability to connect with star players, something he cultivated spending several months with Gregg Popovich and the San Antonio Spurs and under McHale in Houston." (via Yahoo!)
That will be important because perhaps the biggest issue facing the Nets is Deron Williams. Williams was critical of Avery Johnson and blamed his struggles on the offensive system:
I said that we've had struggles on offense here. I haven't felt as comfortable here, which I've said all year. My stance hasn't changed. I said I could adapt to any offense, and I'm working toward that.

We have great plays. We've had instances where we've had great offense, so it's not a problem. It's a problem with consistently executing. And we do run a lot of iso plays, which benefits a lot of other people, so we're gonna continue to run those plays, because that's Joe (Johnson)'s game, that's what he's most successful at, and then Brook (Lopez) on the block as well.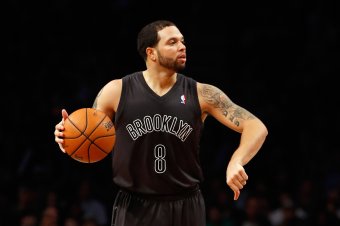 Mike Stobe/Getty Images
While there may not be a direct correlation between Williams' comments and Johnson's firing, the timing is suspect. Williams made those comments on Tuesday. Johnson was fired on Thursday.
There are reports that Williams "quit" on Johnson. It is possible that, as the star player, Williams has enormous influence on coaching and personnel decisions. If he was unhappy with Johnson, he made it known and a change was made.
Which is why Sampson would be a perfect fit. He works well with star players, and the Nets will need Williams to be at his best if they want to get back into contention. Williams has not had a great year, averaging below his career numbers in points and assists.
Sampson has been successful wherever he's gone, posting a 425-227 record at three colleges over 21 seasons. The Nets don't necessarily need a big name—they need a coach who can get the most out of Williams' enormous ability. Right now, that person seems to be Kelvin Sampson. He would be an ideal fit for the Nets and would help them get back on track quickly.