New York Knicks vs. Los Angeles Lakers: Live Score, Results and Game Highlights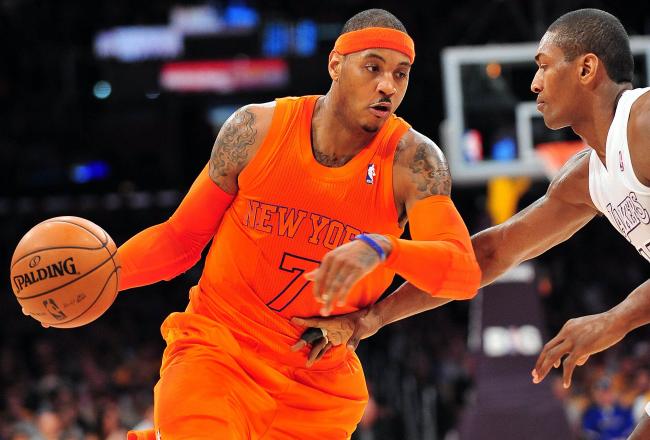 Gary A. Vasquez-USA TODAY Sports
The Los Angeles Lakers defeated the New York Knicks 100-94 on Tuesday afternoon to improve their record to 14-14. The Knicks fell to 20-8.
Redeeming themselves after a poor showing two weeks ago at Madison Square Garden, the Lakers came out playing with some renewed vigor thanks to the contributions of Steve Nash and Metta World Peace.
Nash played his best game of the season to date, scoring 16 points (7-of-12 shooting) and dropping 11 dimes to help facilitate a more fluid Laker offense.
World Peace scored 16 second quarter points, ultimately finishing with 20, and played strong defense in both the half court and on the fast break before fouling out in the fourth quarter.
Kobe Bryant, the NBA's leading scorer, sustained his usual pace with 34 points (14-of-24 shooting and 5-of-7 from beyond the arc) in a team-high 43 minutes.
For the Knicks, Carmelo Anthony led the way with 33 points (including 17 in the third quarter) while J.R. Smith was big off of the bench, dropping in 25 points.
Aside from Anthony and Smith, the Knicks didn't have much working for them on the offensive end. Raymond Felton was stymied all night long after sustaining a sprained pinkie finger (10 points) while Tyson Chandler was only able to muster six points in 40 minutes.
Keep it locked here on Bleacher Report throughout the night for continuing coverage of Christmas day action.
L.A. Lakers Final Plus/Minus Numbers
Kobe Bryant: +11
Pau Gasol: +2
Dwight Howard: -1
Steve Nash: +4
Darius Morris: -4
Metta World Peace: +6
Jodie Meeks: +8
Jordan Hill: +2
Chris Duhon: +2
New York Knicks Final Plus/Minus Numbers
Kurt Thomas: +11
Carmelo Anthony: -7
Tyson Chandler: -9
Raymond Felton: -4
Jason Kidd: -1
Ronnie Brewer: -2
J.R. Smith: -18
Steve Novak: -7
Marcus Camby: +3
Pablo Prigioni: +4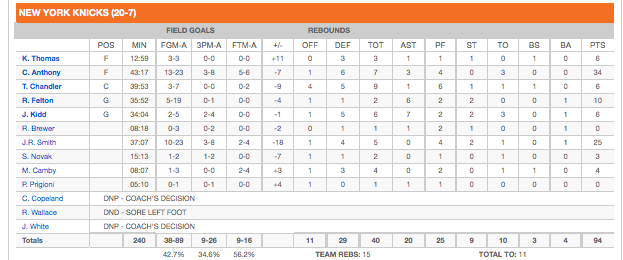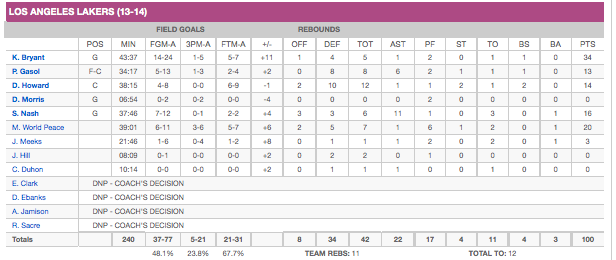 Final Box Scores, courtesy of NBA.com
LAL 100, NYK 94 - Final
The Lakers extend their winning streak to five games as Kobe Bryant led his team with 34 points. Four other Lakers finished in double-figures, and the most notable was Metta World Peace, who chipped in with 20 of his own.
The Knicks were led by Carmelo Anthony's 34 points (17 in the third quarter) but Mike Woodson's bunch wasn't able to come up with any creative sets or clutch shots down the stretch.
Steve Nash had his best game of the season, pouring in 16 points and 11 assists.
LAL 99, NYK 94 - 12 seconds remaining in Q4: Pau Gasol takes advantage of a double-team on Kobe Bryant had hammers home a huge bucket with 12 seconds to go. Really nice game for Gasol, even if it's been a quiet one.
LAL 97, NYK 94 - 30 seconds remaining in Q4: Steve Nash: Game changer
By my count, Nash has scored or assisted on 10 of the Lakers' last 12 points. L.A. leads 97-94 with the ball, 29.5 secs left.

— Ken Berger (@KBergCBS) December 25, 2012
LAL 97, NYK 94 - 41.4 seconds remaining in Q4: J.R. Smith continues to come up big when the lights shine brightest, and he's got 25 points on 10-of-21 shooting.
Smith could get a look here for the tie if the Lakers decide to double Melo.
LAL 96, NYK 91 - 1:20 remaining in Q4: Metta World Peace's final stat line:
Metta World Peace finished w/ 20 points on 6 of 11 clip;7 boards. Most of his work done in 1st half

— Mark Medina (@MedinaLakersNBA) December 25, 2012
LAL 94, NYK 91 - 1:58 remaining in Q4: And now Metta World Peace fouls out. Prior to fouling out it appeared as if the Lakers were giving New York a zone look, perhaps even a box-and-one, to limit Carmelo.
LAL 94, NYK 90 - 2:22 remaining in Q4: Raymond Felton continues to struggle from the floor, converting on just 5 of his 19 shots on the day.
On the other end, Tyson Chandler has fouled out which means Marcus Camby will be tasked with holding down the fort.
Tyson Chandler fouls out, ruining the last chance of Raymond Felton's shots having any positive impact on the offense.

— Noam Schiller (@noamschiller) December 25, 2012
LAL 92, NYK 90 - 3:01 remaining in Q4: These are the moments where having Steve Nash will pay off for the Lakers. With a cerebral player like Nash running the show in crunch time you can bet the whole team is feeling a lot more confident.
Kobe and Carmelo lead their teams with 34 and 33 points respectively.
LAL 91, NYK 86 - 4:29 remaining in Q4: Pau Gasol is quietly putting together a nice game. He's got 10 points, eight rebounds and six assists in 30 minutes.
It seems like Gasol shoots about 15% better from 15 feet than he does from 18.

— Beckley Mason (@BeckleyMason) December 25, 2012
LAL 87, NYK 82 - 6:56 remaining in Q4: Raymond Felton has looked out of sorts after spraining his pinkie finger, turning the ball over and taking questionable mid-range shots. It may be time to get him out of there.
Felton's teammates keep letting him down and prevent him from getting Kobe Assists.

— Mike Prada (@MikePradaSBN) December 25, 2012
Background: A Kobe assists is a missed shot that results in an offensive rebound and successive basket for your team.
LAL 85, NYK 82 - 7:34 remaining in Q4: The Lakers are on a 6-0 run, take a three point lead and Kobe Bryant has his ninth straight 30-point game of the season. He's got 32 on the night on 13-of-21 shooting.
LAL 83, NYK 82 - 8:19 remaining in Q4: The Lakers take their first lead in quite some time as Metta World Peace continues to energize his team's defense.
The league's two leading scorers are neck-and-neck today: Kobe has 30 on 12-for-20. Melo has 29 on 12-for-21.

— Dave McMenamin (@mcten) December 25, 2012
NYK 82, LAL 79 - 9:15 remaining in Q4: Kobe Bryant has hit a Christmas scoring milestone.
#Lakers Kobe Bryant: 28 points. His 377 on Dec 25th are tied with Oscar Robertson for the most on this date.

— ESPN Stats & Info (@ESPNStatsInfo) December 25, 2012
NYK 82, LAL 79 - 9:15 remaining in Q4: The Lakers open the quarter with a few sloppy possessions, taking contested threes and turning the ball over in transition. That's no recipe for success.
NYK 78, LAL 77 - End of Q3: What a third quarter. Carmelo Anthony drops in 17 points to give himself 27 for the game, but Kobe Bryant isn't backing down.
Bryant has 26 points of his own, and coupled with Metta World Peace's inspired defense, the Lakers are in this thing with 12 minutes to play.
Dwight Howard has been contained for all three quarters, as he has just nine points and nine rebounds. Credit Tyson Chandler's All-NBA defense.
Steve Nash has looked sharp with 14 points and eight assists. Pau Gasol is threatening to post a triple-double as the Spanish big man has eight points, seven rebounds and six assists through three quarters.
Get ready for a wild fourth quarter.
NYK 76, LAL 71 - 1:53 remaining in Q3: Metta World Peace hasn't been able to check Carmelo Anthony this quarter but he's playing with a purpose as he attempts to rip the ball away from Tyson Chandler.
Everyone in Staples Center clamors for a scrum, but it wasn't going to happen. Good to see someone on LAL play with their heart on their sleeve.
NYK 74, LAL 69 - 2:45 remaining in Q3: Carmelo with a three pointer that he launched from the Bay Area. Give him 15 in the third quarter alone.
NYK 71, LAL 62 - 4:29 remaining in Q3: J.R. Smith, Carmelo Anthony and Kobe Bryant are all up to 20 points on the night, and you get the sense that this one is going to come down to a classic Carmelo-Kobe duel in the 4th.
NYK 67, LAL 58 - 6:04 remaining in Q3:
Injury Update on Raymond Felton:
Heather Cox just reported that Ray Felton has a right sprained pinky... Monitor the situation today/moving frwd & hope for the best.

— NBA Fantasy (@NBAFantasy) December 25, 2012
NYK 64, LAL 56 - 7:15 remaining in Q3: Dwight Howard continues to look slow on the blocks. His face-up game has lacked a quick first step and he doesn't look to have the strength to beat Tyson Chandler on post ups.
NYK 64, LAL 56 - 8:23 remaining in Q3: The Lakers' offense has looked particularly good when they have situated their bigs at the elbows, and their swing men in the corners (conventionally known as a "Horns" set)
This has allowed Nash to facilitate the offense through Gasol and feed World Peace and Bryant out on the wing.
Lakers have made 21 field goals; 13 assisted by either Nash or Pau.

— Noam Schiller (@noamschiller) December 25, 2012
NYK 61, LAL 53 - 10:19 remaining in Q3: Rotational note: Antawn Jamison seems to have fallen out of favor with Mike D'Antoni in recent weeks, with Jordan Hill assuming a larger role in place of his defensively challenged teammate.

This article is
What is the duplicate article?
Why is this article offensive?
Where is this article plagiarized from?
Why is this article poorly edited?