Report Card Grades for Ricky Rubio's Return from Knee Injury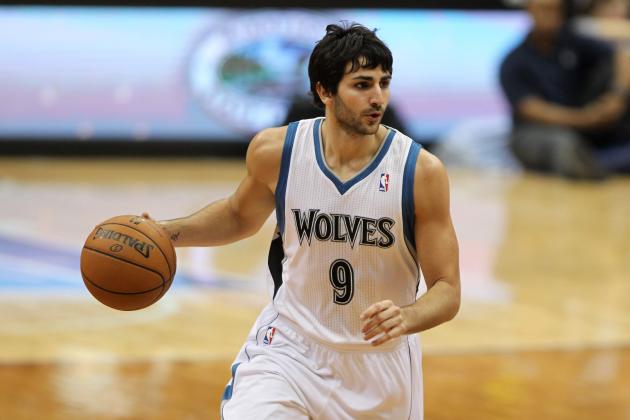 Brace Hemmelgarn-USA TODAY Sports

Over nine months removed from tearing his left ACL, Ricky Rubio made his 2012-13 NBA regular-season debut against the Dallas Mavericks. The Minnesota Timberwolves emerged victorious by a score of 114-106.
Rubio finished with eight points, nine assists, four rebounds and three steals in 18 minutes.
The question is, how exactly should we grade Rubio's return to action? The numbers are clearly impressive, but is there more than meets the eye?
To answer those questions, allow the following slides to offer insight.
Begin Slideshow

»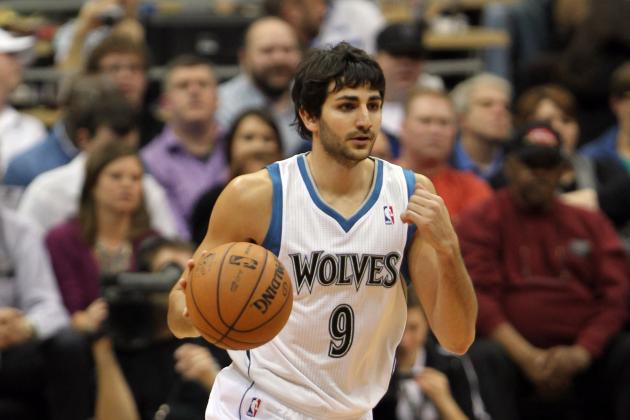 Brace Hemmelgarn-USA TODAY Sports

Grade: A
Ricky Rubio had moments in which he appeared hesitant to place too much pressure on his knee upon entering the game. Once that first drive-and-dish went down, however, Rubio looked as good as he ever has.
Mobility is of no concern.
Clearly, Rubio will need to adjust to the NBA pace before returning to an All-Star-caliber pace. Wait, who are we kidding?
Rubio torched the Mavericks in just 18 minutes. He did so by moving his way around the court at a comfortable pace.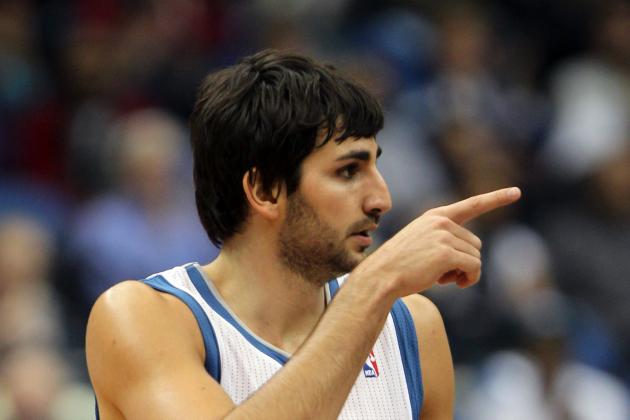 Brace Hemmelgarn-USA TODAY Sports

Grade: B
When Ricky Rubio first entered the game, we instantly saw his excitement to have returned from a nine-month layoff.
We also witnessed signs of rust as Rubio was consistently out of position due to his desire to make an impact. Fortunately, the more responsible side of Rubio came out after a few early mistakes.
Specifically on defense, where Rubio committed too hard to avoiding screens and bit hard on Darren Collison crossovers.
Overall, Rubio displayed a great feel for the game. He turned things around defensively, began to pick up steals and created transition scoring opportunities by virtue of his knowing where to be.
It all started with a steal during the closing minutes of the second quarter which led to a three-on-one assist to J.J. Barea.
His game-altering foul to Derek Fisher on a late-game three-point attempt forces his grade down. Even still, an impressive return from a fundamental standpoint.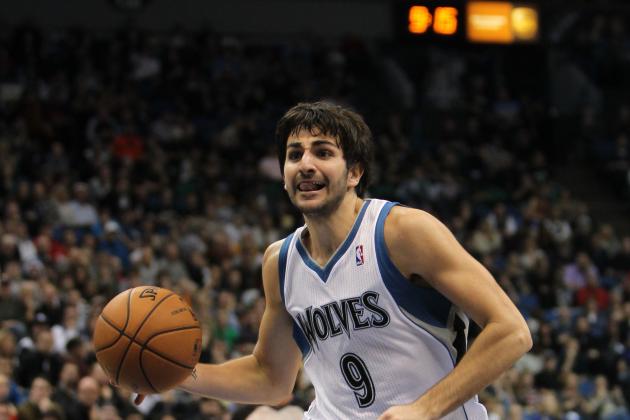 Brace Hemmelgarn-USA TODAY Sports

Grade: A+
Ricky Rubio had the ball on a string.
Although he did commit two turnovers in 18 minutes, Rubio had the ball jarred loose on fouls more than he did natural plays. Rubio also found a way to bring the rock between defenders and into the paint.
When you're able to work a basketball floor like Bobby Orr would a hockey rink, your ball-handling is on par with the best of them.
That's exactly how Rubio played tonight, befuddling the Mavericks with crafty fakes and controlled handles.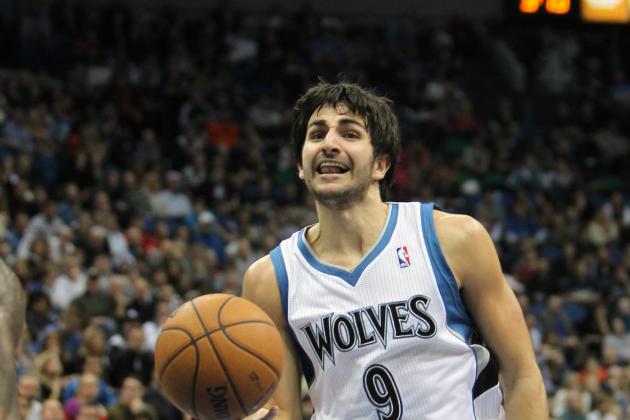 Brace Hemmelgarn-USA TODAY Sports

Grade: B
Ricky Rubio displayed his struggles with footwork on the first possession he played.
With Darren Collison handling the ball at the top of the key, Rubio instantly pressed him and nearly forced the turnover. Moments later, he committed too hard to avoiding an opponent's screen and allowed Collison to cut back for positional mismatch.
Something that is bound to happen to a player that has been away from basketball for this long.
After that instance, however, Rubio was masterful with his footwork.
Rubio worked his way into the paint and made the proper adjustments with his feet to complete the perfect passes. Although his footing on his jump shooting could improve, that will come with time.
A solid evening with his feet for Rubio.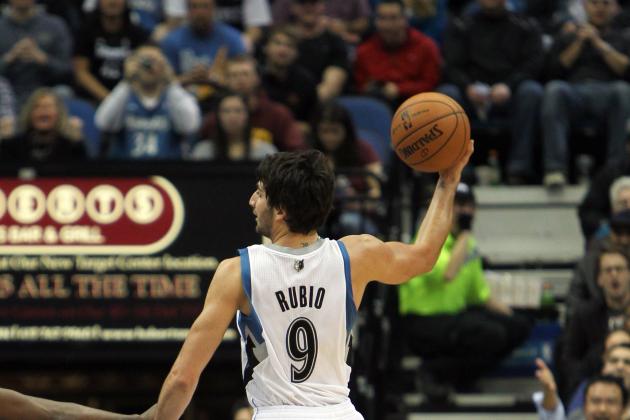 Brace Hemmelgarn-USA TODAY Sports

Grade: A
Ricky Rubio's decision making was phenomenal for the majority of the Minnesota Timberwolves' 114-106 victory. He made the perfect passes at the ideal moments, thus leading to his total of nine assists in 18 minutes.
With that being said, he also made decisions which displayed his hesitance. Both of his turnovers were a result of that.
Rubio also made decisions that some would describe as crafty and others risky.
For instance, Rubio went three-on-one in transition with Greg Stiemsma and J.J. Barea. Rather than finding Stiemsma for a close finish, Rubio kicked it out to a Barea for a three-pointer.
Barea converted the attempt. With that being said, Barea is also shooting 26.8 percent from beyond the arc in 2012-13.
Is this an instance of trusting his teammates or making the wrong move? It worked out this time, so we'll give him the benefit of the doubt.
An excellent performance by Rubio.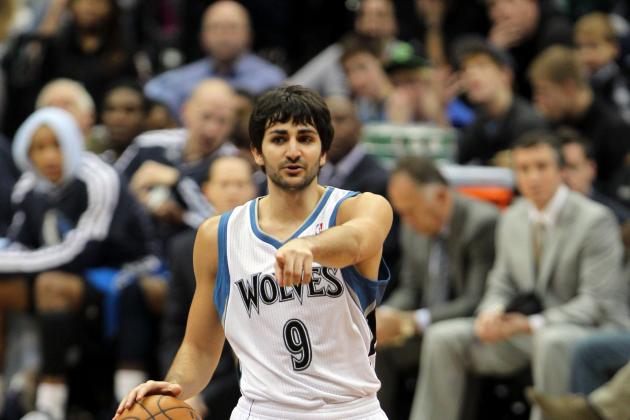 Brace Hemmelgarn-USA TODAY Sports

Grade: A+
Ricky Rubio started this game off with a bang, completing a gorgeous no-look pass to a streaking J.J. Barea along the baseline. Rubio would be credited with his first assist of the season after Dallas was called for a goaltend.
So far, so good.
During the second quarter, we saw more of the same. Rubio drove the lane and hit Derrick Williams with a behind-the-back look along the corner three-point line.
Unfortunately, Williams did not convert. Rubio would make amends.
One possession later, Rubio hit Greg Stiemsma with a bounce pass between Elton Brand's legs. Stiemsma would finish.
Williams would again fail to convert a nice feed, botching an alley-oop.
For the game, Rubio finished with nine assists in 18 minutes. Tack on the amount of assists which his teammates failed to finish and you have an outstanding evening of facilitating.
One which earns a perfect grade.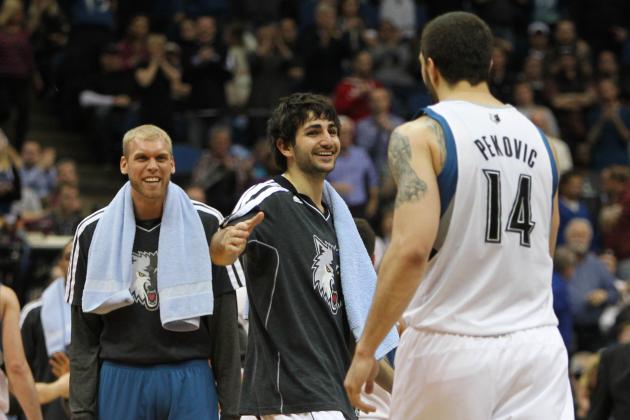 Brace Hemmelgarn-USA TODAY Sports

Overall Grade: A-
As always, Ricky Rubio was very creative and accurate on his passes out to the perimeter. He also made the type of passes to the interior that only Rubio has proved capable of making, hitting teammates in stride.
Most specifically, going through Elton Brand's legs for a rather extraordinary find.
For the most part, Rubio hit his teammates in stride. He'd find them on the numbers and allow them to go right up with the ball.
With that being said, Rubio had isolated incidents in which he failed to complete passes as planned.
Although Derrick Williams should have converted, Rubio failed to place the ball where he needed to on two botched scoring opportunities.
First, Rubio kicked it out to Williams for a corner three, but placed the ball too far outside for a clean rise. He then undershot an alley-oop attempt, although Williams is athletic enough to finish.
Rubio garners an "A-" for this performance. One that symbolizes future things to come.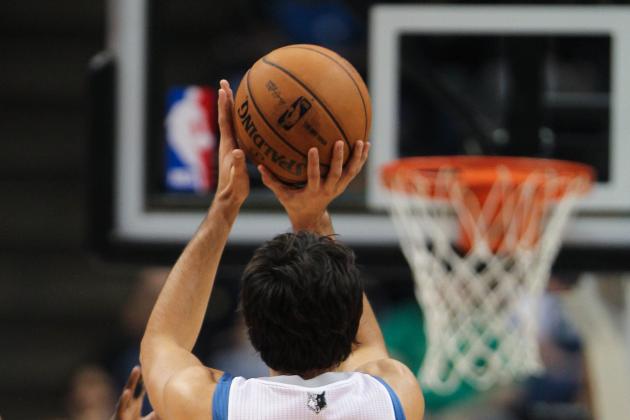 Brace Hemmelgarn-USA TODAY Sports

Grade: F
Forgive me for being so harsh, but Ricky Rubio didn't just miss his jump shots. When he wasn't well short of the net, he overshot his attempts.
Hence his going 1-of-4 from the floor and 0-of-3 from beyond the arc. Fortunately, he hit a decent-enough 6-of-8 from the free-throw line.
Rubio is a better shooter than his career percentages would suggest. His touch will be found as soon as his knee has enough strength for the proper rise.
A minor hiccup in an otherwise phenomenal outing.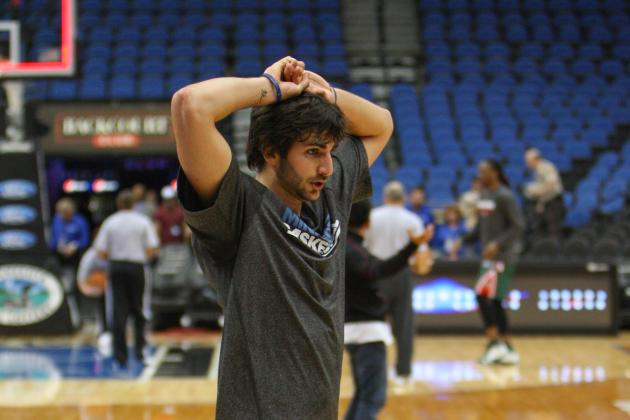 Brace Hemmelgarn-USA TODAY Sports

Grade: A-
We saw both the good and the bad of Ricky Rubio during his first possession back.
With Dallas Mavericks point guard Darren Collison handling the ball, Rubio got into the passing lane and nearly forced a turnover. As Collison backed up, Rubio pressed him hard and nearly forced yet another turnover.
He may not have come up with the steal, but he proved what he is capable of from a turnover-creating standpoint.
As the game progressed, Rubio proved just how capable he was at disrupting the passing lanes. He picked up three steals for the game, with each leading to transition scoring opportunities.
As we could only expect, Rubio found a way to make the most of those chances.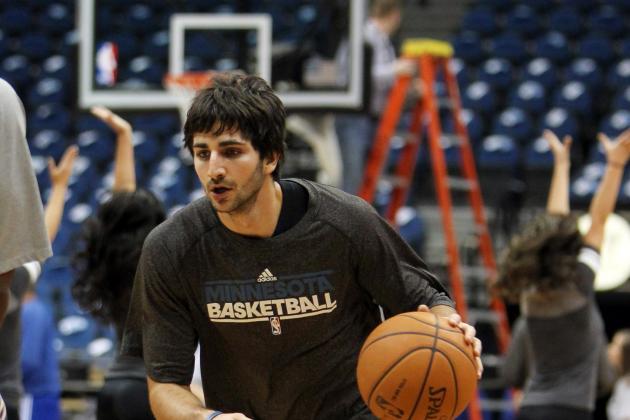 Brace Hemmelgarn-USA TODAY Sports

Overall Grade: A
How could you not be thoroughly impressed with Ricky Rubio's return from a nine-month layoff? Even if he had been healthy, how could you not hand him an "A"?
After what he achieved in just 18 minutes against the Dallas Mavericks, I couldn't give him anything less.
Rubio finished the game with eight points, nine assists, four rebounds and three steals in that time. That equates to averages of 16.0 points, 18.0 assists, 8.0 rebounds and 6.0 steals per 36 minutes.
Clearly, that's a stretch for what he would have done in that time, but why not offer up some praise?
The only thing that brings Rubio's grade down here is the fact that he struggled to gain the proper rise on his jump shot. That and his inability to remain in the proper position.
Other than that, an "A+" outing. Settle for an "A" as Rubio completes one of the best comeback performances you'll ever see.
In fact, Rubio put up an elite performance regardless of playing time or time missed. He just so happens to have done it in 18 minutes.
Exciting times are ahead in Minnesota.
Final Stat Line: 18 minutes, 8 points, 9 assists, 4 rebounds, 3 steals