Still Too Soon to Declare Lakers Winners in Andrew Bynum-Dwight Howard Trade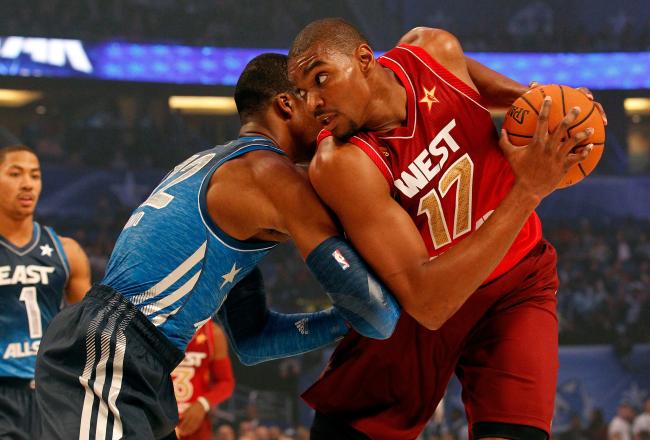 Ronald Martinez/Getty Images
Four months after the four-team megatrade that brought Dwight Howard to the Los Angeles Lakers and Andrew Bynum to the Philadelphia 76ers, the Lakers appear to be the landslide winners on the surface.
A 10-14 start to the season isn't quite what the Lakers envisioned after adding Howard and Steve Nash in the summer, but at least Howard managed to return from offseason back surgery by the first game of the 2012-13 season.
That's far better than the situation Philadelphia currently faces with Bynum.
He hasn't played a single minute in a Sixers uniform through the first quarter of the 2012-13 season due to two separate knee injuries, the latter of which he suffered while bowling.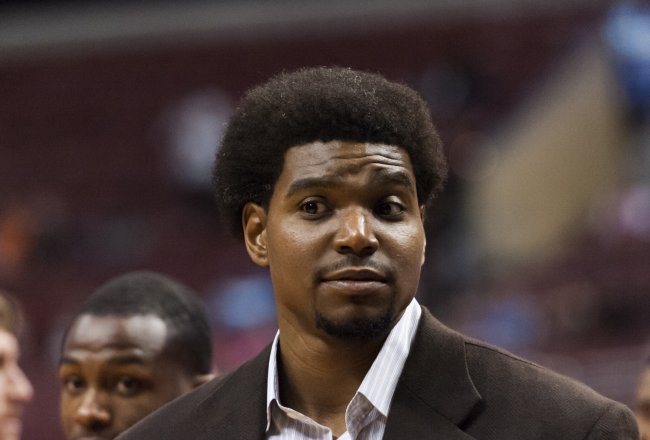 Philadelphia 76ers fans are used to seeing Andrew Bynum in a suit this season.
Howard Smith-USA TODAY Sports
Before rushing off to taunt the nearest 76ers fan, though, remember this: When the Lakers traded away Bynum for Howard in August 2012, a handful of critics believed the Lakers were the ones who got the short end of the stick on a trade for once.
In other words, it's far too early to decide upon an ultimate winner and loser of this trade.
Both teams made the move with a six-year window in mind, mainly concerned this season with convincing their respective centers to sign a long-term contract in the summer of 2013.
When the Sixers traded for him, the then-24-year-old Bynum had just come off his most productive season as a pro, averaging 18.7 points and 11.8 rebounds per game for the Lakers.
He played 60 of the 66 games in the lockout-shortened 2011-12 season, only the second time in his career where he missed fewer than 10 games in a season.
Injuries to his knees had troubled Bynum in his early 20s, but he remained largely injury-free in his last year with the Lakers.
Finally, after seven relatively up-and-down years, Bynum appeared poised to break out as one of the NBA's few remaining franchise centers once he was traded to the 76ers.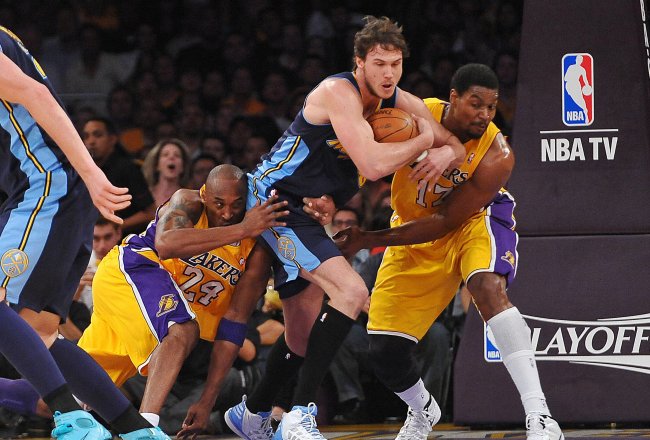 Andrew Bynum went into beast mode in his final season as a Los Angeles Laker.
Jayne Kamin-Oncea-USA TODAY Sports
To obtain Bynum, Philadelphia traded away its only All-Star, Andre Iguodala, along with its first-round draft picks from 2011 (Nikola Vucevic), 2012 (Moe Harkless) and a future first-round pick. The team was more than ready to hand the keys to the franchise over to Bynum, establishing him as their No. 1 option on offense and defense.
Instead, Bynum went on his ill-fated bowling trip, injured his left knee before fully healing from the bone bruise in his right knee and now remains sidelined indefinitely.
Point guard Jrue Holiday's breakout season for the Sixers is easing some of the pain from the ongoing Bynum mess, but the longer Bynum remains out, the worse the situation appears for Philadelphia.
In Howard's case with the Lakers, he's been putting up entirely respectable averages of 18.2 points, 12 rebounds and 2.6 blocks per game, despite the team's subpar record.
Defensively, he's sound as ever, according to SynergySports. Howard ranks fourth overall in the NBA in terms of points per possessions allowed (0.62), according to Synergy's database, and ranks second overall in terms of post-up defense (0.5 points per possession allowed).
He doesn't appear to have fully recovered from that offseason back surgery, though. The advanced metrics may say otherwise, but he's often looked a step slow this season with the Lakers.
How else can you explain Anderson Varejao of the Cleveland Cavaliers being able to shake Howard right out of his shoes?
Really? A healthy Dwight Howard allows this to happen?
Kyrie Irving is a little more explainable.
There's no shame in getting faked out by Uncle Drew. No worries, Dwight.
That point alone is enough to prove why it's too early to declare the final winner and loser in this four-team supertrade.
The Lakers knew Howard would be returning from back surgery this season, but he presumably won't be feeling any side effects from that surgery five years down the line.
The team traded for him hoping to convince him to become the next in a line of Hall of Fame Laker centers, the future face of the franchise when Kobe Bryant decides to hang up his shoes for good.
Winning a championship this season would be icing on the cake, but ultimately, it's all about the summer of 2013 for Los Angeles.
Re-sign Howard to a five-year deal—the most plausible scenario out there, given that the Lakers can offer over $25 million and an extra year more than any other team—and the Lakers remain a power team in the Western Conference.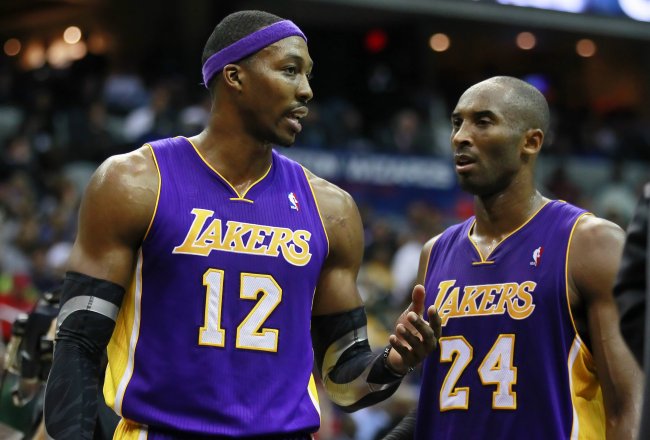 Is Dwight Howard the next in the line of Los Angeles Lakers legends?
Geoff Burke-USA TODAY Sports
Originally, the same went for the 76ers. Coming together into a cohesive unit in 2012-13 and challenging Miami's dominance over the Eastern Conference would be swell and all, but heading into the season, Sixers fans wanted one thing and one thing only: Bynum's name on a five-year maximum contract.
With the swath of knee problems Bynum already experienced in the first month of the season, there's now hesitation where there once was pure elation. Ensuring his next contract, given the state of his knees, sounds all but impossible.
Will the Sixers be willing to invest nearly $100 million into a player like that? Will any team?
On Nov. 25, Sixers general manager Tony DiLeo said Bynum's "condition now and what it was at the trade deadline are completely different," according to John Mitchell of the Philadelphia Inquirer.
Less than one month later, the notoriously controversial Skip Bayless went on ESPN's First Take and said that a source told him "Bynum's knees are shot," according to Mitchell.
If true, the Lakers win the trade over the Sixers, hands down.
If Bynum can come back healthy at any point in 2013 and perform anywhere close to what he did in 2011-12, on the other hand, it's anyone's game.
After the dust settles in the 2013 free agency period, it'll be considerably easier to gauge who ended up benefiting most from the trade.
Until then, pray for Andrew Bynum's knees.
This article is
What is the duplicate article?
Why is this article offensive?
Where is this article plagiarized from?
Why is this article poorly edited?

Los Angeles Lakers: Like this team?