5 Fantasy Basketball Trade Targets You Should Be Angling for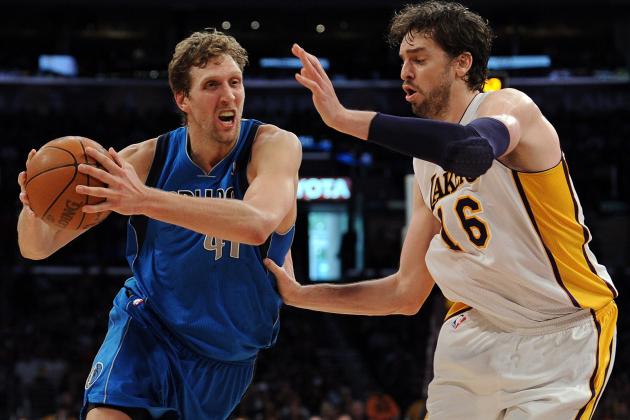 Harry How/Getty Images

Dirk Nowitzki's imminent return from injury to the Dallas Mavericks makes him a prime trade target in fantasy basketball. The Dallas Mavericks superstar will seemingly make his return to lineups sooner rather than later, giving him appeal to fantasy teams that can afford to gamble on the elite potential of his services.
Along with Tim Duncan and Rudy Gay, Nowitzki is one of three fantasy frontcourt players who are prime trade targets for various reasons. If you're in need of a guard, Kyrie Irving and Kevin Martin are productive fantasy threats for your backcourt, too.
What follows is a fantasy starting five of players who may be acquired in the trade market at a discount.
All statistics accurate prior to games played on Dec. 12, 2012.
Begin Slideshow

»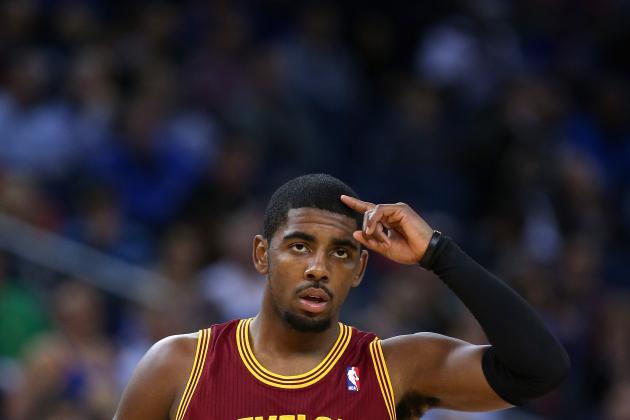 Ezra Shaw/Getty Images

Kyrie Irving was viewed as a No. 1 fantasy point guard prior to getting injured early this season. The Cleveland Cavaliers sophomore has had some issues staying on the court—which is a prime reason why his owner in your league may be frustrated with him—but he has been very productive while on the floor.
In his first game back against the L.A. Lakers, Irving shot 11-of-21 from the floor, 4-of-6 from deep and 2-of-3 from the line en route to 28 points. He added 11 dimes, six boards and a steal.
In his young career, Irving is shooting 46.9 percent from the field and 85.9 percent from the line on enough attempts for both to matter for your fantasy team. He also scores more than your average PG, so his sub-seven APG number (6.1) is no problem at all.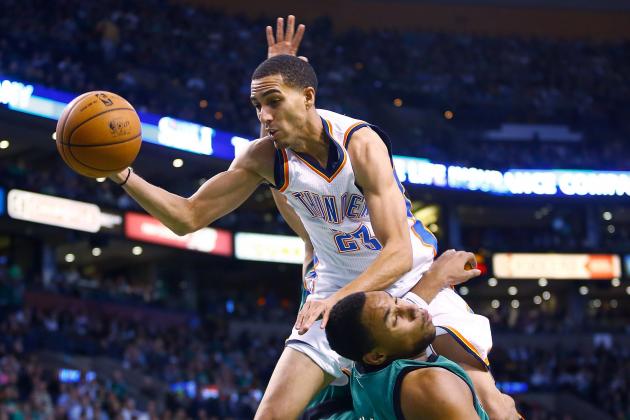 Jared Wickerham/Getty Images

Kevin Martin's fantasy value doesn't come in gaudy 25-PPG scoring numbers or elite status in any counting category. He's not even top-10 in terms of average three-pointers made per game, which is his NBA role.
That's exactly what you'll tell Martin's fantasy owner in trade talks.
You want Martin on your team because of his contributions from the great beyond as well as his efficiency: In 29.5 minutes per game, Martin is shooting 47.1 percent from the field, 47.9 percent from deep and 92.6 percent from the line on 4.5 tries per game.
He doesn't give you much in the way of rebounds (2.2), assists (1.7) or blocks (0.1), but Martin's shooting numbers, 15.8 points per game, 2.2 three-pointers drained nightly and relatively modest 1.6 turnovers make him an attractive fantasy option.
You may be able to pry him away for cheap if his fantasy owners don't see the value of his percentages—specifically his rare combination of field-goal shooting and three-point volume—but you'll notice the difference when Martin's in your lineup.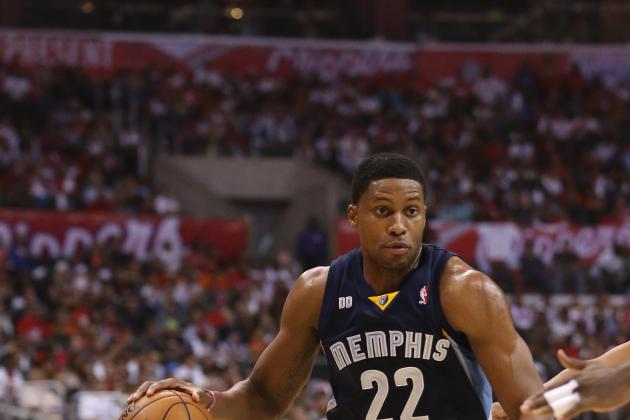 Stephen Dunn/Getty Images

Rudy Gay has been struggling with his shot so far this season, converting a career-low 41.8 percent of his shot attempts on the year. He's still averaging 19 points per game, though, a testament to his career-high 17.3 field-goal attempts per game.
Gay is the uncommon fantasy player who can get his owners a three (1.3 threes made per game), a steal (1.1 SPG) and a block (1.5 BPG) nightly. His relatively woeful field-goal percentage is somewhat of an anchor to fantasy lineups, but trading for Gay would be a safe bet that he'll turn things around from the floor.
If that in fact happens, you can also expect a scoring uptick from the Memphis Grizzlies leading scorer. It won't take much for him to vault into the top-10 NBA leaders in points per game.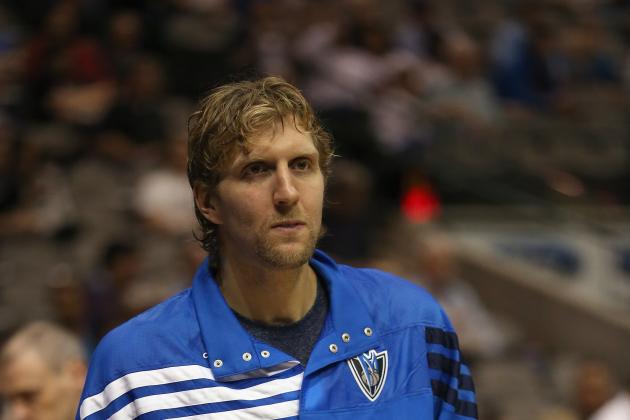 Ronald Martinez/Getty Images

Dirk Nowitzki is almost back.
The ultra-efficient Dallas Mavericks power forward began running post-knee surgery last week. He might be back on the floor by Christmas day, but he's already done plenty damage to his fantasy basketball owners by being absent for so long.
If the Nowitzki owner in your league is struggling to stay competitive without his services, you could offer up a couple of short-term solutions for a potential fantasy stud.
Your motivation: Dirk's career averages of 47.5-percent field-goal shooting, 87.8 percent of high-volume (6.5 per game) free-throw attempts, 1.2 threes per game, 22.9 PPG, 8.3 RPG, 2.6 APG, 1.0 BPG, 0.9 SPG and just 1.9 TOPG in 36.3 minutes.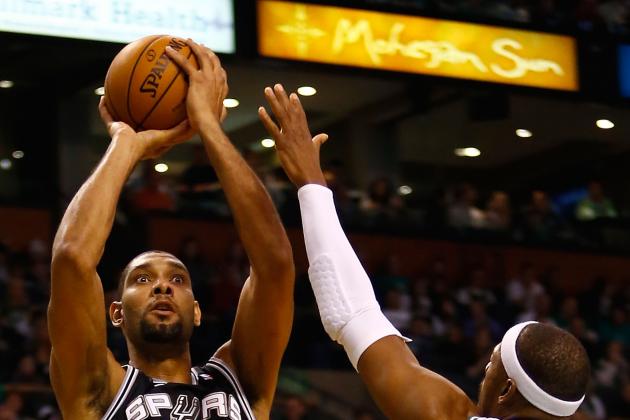 Jared Wickerham/Getty Images

Despite limited minutes, Tim Duncan is still essentially a walking double-double (17.7 PPG, 9.9 RPG) and an offensive machine (51.7 FG%, 79.6 FT%, 2.6 APG, 1.5 TOPG). His defensive numbers (2.4 BPG, 0.8 SPG) are also impressive.
Duncan is 36, though, and has a history that includes a DNP because he was old—and that was when he was 35.
Every now and then, Duncan will rest for a game just to stay fresh throughout the season. His injury risk is still less pronounced than a lot of other guys': He hasn't missed more than six games in any 82-game campaign since the 2004-05 season.
You can trust your fantasy frontcourt to The Big Fundamental, even if your competitors don't.
For more fantasy basketball analysis, follow Jamal on Twitter: Follow @StatManJ