Denver Nuggets vs. New York Knicks: Live Score, Results and Game Highlights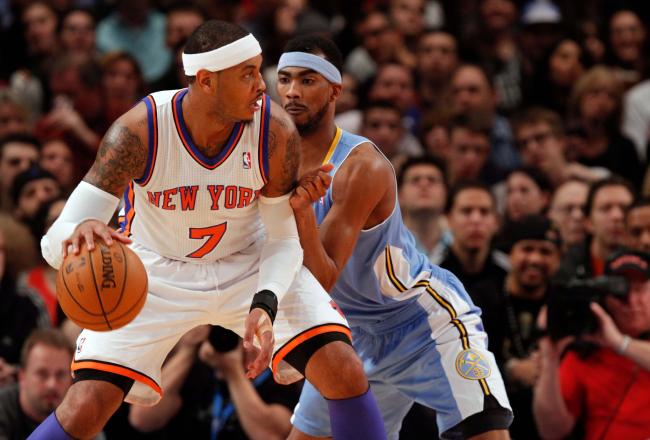 In a seesaw battle, the New York Knicks came out on top against the Denver Nuggets, using a strong fourth quarter to come away with a 112-106 win.
The Knicks improved to 8-0 at home and 15-5 overall. The Nuggets dropped to 10-11.
Let's examine how New York got this win.
1. Jason Kidd's calm influence
Yes, Carmelo Anthony may have dropped 34 points, but Jason Kidd was huge for the Knicks tonight. The 39-year-old veteran finished with 17 points, seven rebounds, and four assists and played incredible defense. He was hustling all over the floor and put his teammates in great position to make shots throughout the game. Kidd's fingerprints were all over this win.
2. Anthony's fourth quarter explosion
Anthony came into the fourth quarter shooting 5-for-17. He then went 5-of-7 in the fourth, this coming after missing the past two games with a finger laceration. Carmelo hit numerous big shots in the final period, scoring 11 points overall to help lead the Knicks to the win. He also got to the line at will tonight, going 11-of-16 from the stripe.
3. Free throws, free throws, free throws
New York attempted 37 free throws tonight, 27 of the coming in the first half. That ended up playing a significant part in the final outcome, as the Nuggets badly outshot the Knicks (56 percent to 43 percent).
4. Won the turnover battle
As they have been doing all season, New York won the turnover battle tonight. While the Knicks only turned the ball over nine times, which limited Denver's fastbreak opportunities, the Nuggets turned the ball over 16 times, five of them coming courtesy of Andre Iguodala, who had a rather rough night for Denver.
5. Stifled Ty Lawson in the second half
Ty Lawson exploded for 19 first half points, but he ended the game with 23. The Knicks did a great job on him in the second half, preventing him from getting dribble penetration and easy buckets. Lawson's offensive outburst also made his teammates' jobs a lot easier in those first two quarters, as New York's defense had to constantly collapse on him whenever he drove the ball into the lane. That wasn't the case late.

So, once again, the Knicks defeat the Nuggets 112-106 to stay undefeated at home.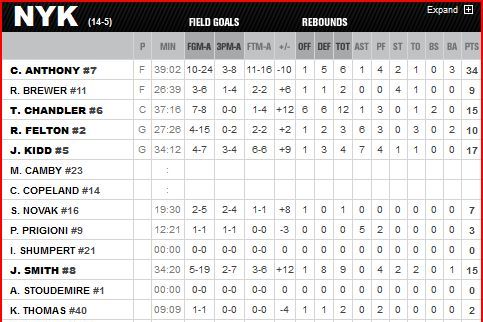 Knicks final box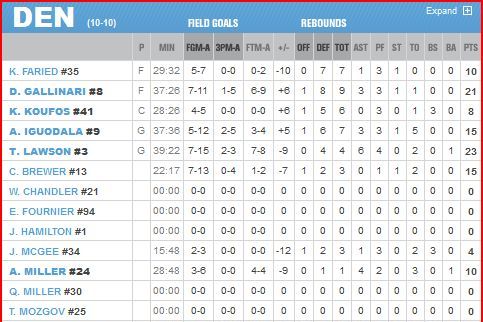 Nuggets final box
Iguodala bricks a three, and that'll do it. The Knicks win by six. 112-106.
Kidd hits a pair of FTs. Barring some kind of miracle here in the last 20 seconds, the Knicks look like they have this one. What a fourth quarter for NY on both ends.
KNICKS 112, NUGGETS 106 - 20.1 SECONDS REMAINING IN 4TH QUARTER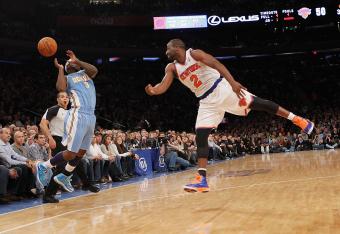 After Anthony misses a three, Lawson tries to rush the ball back down the other end and just loses it. Story of the fourth quarter for Denver, as they were very helter-skelter during this final period. Kidd is intentionally fouled and we'll have a timeout.
KNICKS 110, NUGGETS 106 - 20.1 SECONDS REMAINING IN 4TH QUARTER
Melo with 11 points in the quarter. 34 for the game. He has erupted.
KNICKS 110, NUGGETS 104 - 1:15 REMAINING IN 4TH QUARTER
Both teams trading buckets here. Still anyone's game.
KNICKS 108, NUGGETS 104 - 1:42 REMAINING IN 4TH QUARTER
Smith misses two FTs only to have Anthony tip in the second for two points. Iguodala didn't box Anthony out there. He then comes down and banks in a three. Nothing pretty with Iggy.
KNICKS 106, NUGGETS 100 - 2:36 REMAINING IN 4TH QUARTER
Free throws now relatively even tonight. Knicks have attempted 35, Denver 27.
Smith hits a huge three. After having a terrible night, he hits a big trifecta that was certainly deflating to Denver.
KNICKS 104, NUGGETS 97 - 3:09 REMAINING IN 4TH QUARTER
Iguodala...just awful tonight. Drives the lane only to have Anthony knock it off his leg and out of bounds. Knicks ball.
Big 3-point play for Gallo. The Nuggs will need him down the stretch.
KNICKS 99, NUGGETS 95 - 4:35 REMAINING IN 4TH QUARTER
And the fourth alley-oop to Chandler today. Apparently, the Nuggets don't know how to stop lobs.
KNICKS 99, NUGGETS 92 - 4:42 REMAINING IN 4TH QUARTER
Good numbers for Kidd tonight. 13 points, 6 assists, 4 rebounds.
Jason Kidd's body is 39, but his hands are still 24.

— Alan Hahn (@alanhahn) December 10, 2012
Nuggets all out of sorts right now after looking so fluid in the third quarter. Gallinari, who scored 14 in the third, has done nothing here in the fourth. Lawson hasn't scored a point in this half after dropping 19 in the first half.
Anthony comes back in and nails two shots, one being a three. 17-4 run for NY. The offense has come alive here in the fourth.
KNICKS 97, NUGGETS 92 - 5:43 REMAINING IN 4TH QUARTER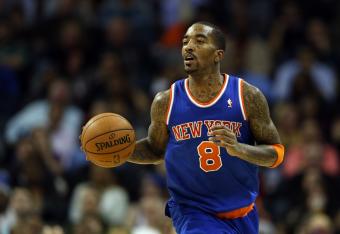 The Knicks need to get Smith out of the game. Bricking threes, and now shuffles his feet on the perimeter for a travel and a turnover. He has been horrendous.
Kidd doing all sorts of good for the Knicks right now. Picks up a loose ball and makes a beautiful pass to an open Brewer for the lead. Brewer then hits two FTs. 12-0 run by the Knicks. All with Melo on the bench.
KNICKS 92, NUGGETS 88 - 7:38 REMAINING IN 4TH QUARTER
McGee bit on another one of Kidd's pump fakes. Avoided hitting Kidd this time, though.
JaVale McGee and Steve Novak are leading the Knicks comeback

— Frank Isola (@FisolaNYDN) December 10, 2012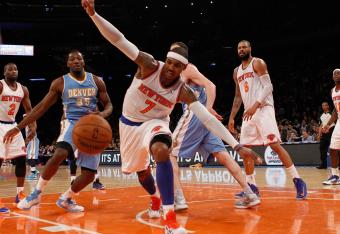 Also, Anthony with the worst plus-minus stat on the Knicks (by far) tonight. He is a -12.
This 8-0 run all came with Anthony on the bench. If he can be somewhat effective down the stretch, it will obviously pay huge dividends. Not sure the Knicks can count on that, though. He is 5-for-17 tonight.
This article is
What is the duplicate article?
Why is this article offensive?
Where is this article plagiarized from?
Why is this article poorly edited?