For more than a year now, rumblings of Pau Gasol's looming departure from Los Angeles have plagued the Lakers, and with no public vote of confidence from ownership, Gasol's days in the yellow and gold may be numbered.
According to Doug Smith of The Toronto Star, if the Lakers are shopping the four-time All-Star, and the Toronto Raptors are one of the most likely destinations, former No. 1 overall pick Andrea Bargnani may be going the other way.
The Bargnani-Gasol chatter — borne in part because the Lakers are struggling, relatively, as much as the Raptors are — became the story of the day in Toronto for a few hours as fans grow even more impatient with the enigmatic Roman and a losing team.

They want a trade, they want a better team that wins more consistently and, believe it or not, so does management and they will explore whatever avenues are available to do that.
As Smith points out, the Gasol for Bargnani rumblings have come about primarily because both the Raptors and Lakers are off to disappointing starts. But team records aside, both big men appear to be in need of changes in scenery.
Bargnani, once touted as the Raptors' franchise player, has quietly put up impressive numbers but has been unable to lead Toronto to a postseason appearance as the team's go-to scorer.
Furthermore, Bargnani's offensive numbers have been in decline for the past two seasons since averaging more than 21 points per game in 2010-11. And now, six years into his career, he may never blossom into the player the Raptors once hoped he'd be.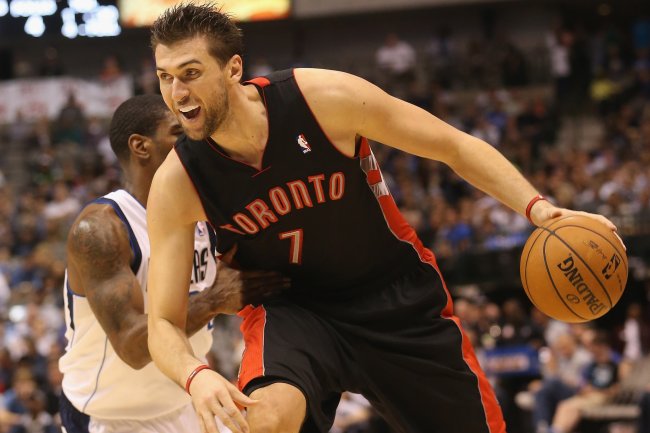 Ronald Martinez/Getty Images
As for Gasol, there's no doubting the big Spaniard's talent or value, as he was a pivotal component of two championship teams in Los Angeles. But with the constant trade rumors floating around, he finally appears worn out by the endless speculation regarding his future with the Lakers.
Ultimately, if the Bargnani-Gasol trade were to go down, both the teams and players involved would be better off for a couple of reasons.
First of all, it appears unlikely that Bargnani will ever live up to the lofty expectations laid in front of him when he was selected first overall in 2006, and he'd get the opportunity to play with far more skilled players than ever before.
For the Lakers' part, they'd receive another young talent to help the team transition into the next generation once Kobe Bryant and Steve Nash are done. And at 27, there's simply no telling how much more effective Bargnani could be if surrounded with an All-Star cast.
On the other end of the deal, the Raptors would receive a franchise player in Gasol, who has enough talent and gas in the tank left to get the team back to the postseason.
Yes, Toronto is rebuilding, but at some point, they'll have to make a postseason push, and unless Bargnani suddenly becomes a franchise cornerstone with the Raptors, that won't happen without a star-caliber player.
Both Gasol and Bargnani would get the fresh starts their respective careers need, and more importantly, the Lakers and Raptors would each inject some life into their struggling squads.