2012 Rookie-Hype Team: 5 NBA Rookies Who Aren't Living Up to the Hype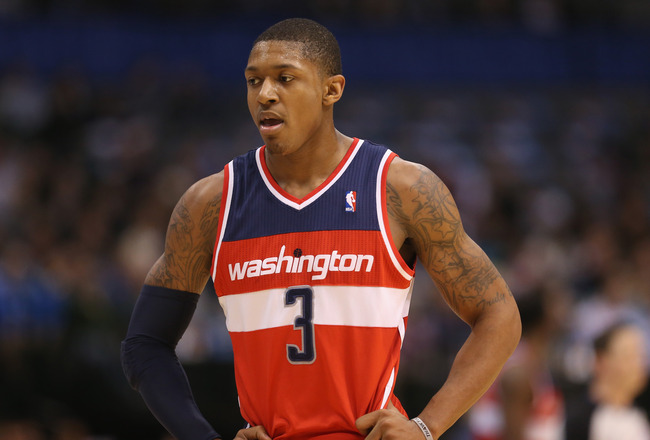 Ronald Martinez/Getty Images
There are busts in every professional sport. It's just the nature of hype and it's subsequent impact on professional sports.
Busts in the NBA mean a bit more though than any other professional sport, because every NBA team is only allotted two draft picks each year.
Messing up one of those two picks, especially when it's in the lottery portion of the draft, can hold a team back for years to come.
The players on this list certainly aren't busts by any stretch of the imagination. But they aren't living up to the hype that preceded their grand entrances into the NBA.
Ahead is a list of the 2012 NBA Rookie-Hype team.
2012-13 per-game statistics are through Nov. 27, 2012.
Captain of the All-Hype Team: Royce White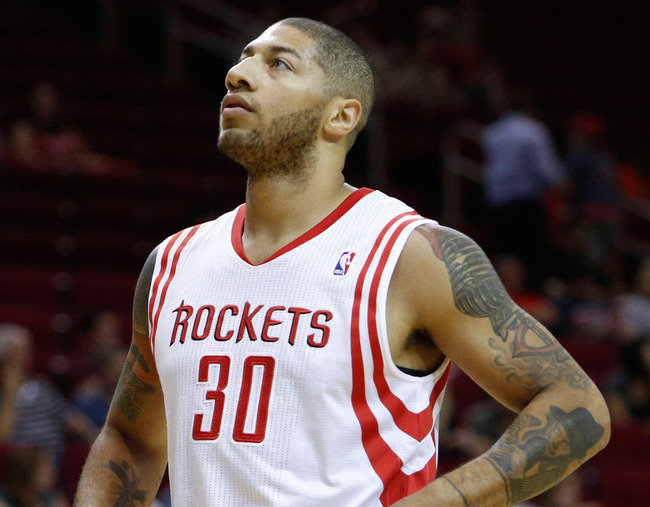 Thomas Campbell-US PRESSWIRE
2012-13 Per-Game Stats: No Games Played
It doesn't take a rocket scientist to see that Royce White is the 2012 NBA draft's biggest disappointment.
He hasn't played a single minute this season and he's even said that he's "willing to quit" the game that he once loved—according to ESPN.com.
It's a shame that White is letting his mental illness get in the way of his dream potential, instead of using the NBA as a platform to promote positive change.
The way White has handled his current situation isn't inspiring to those struggling with mental illness. Instead, it's frustrating to watch White throw his dreams away, especially when he has support and structure to help him.
Time is ticking away at White's NBA career. If he never plays a minute in an NBA uniform, White will go down as one of the biggest busts in the history of the NBA.
Starting Guard: Jeremy Lamb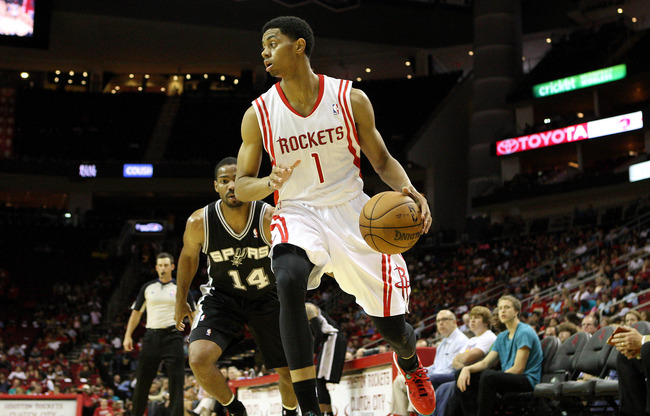 Troy Taormina-US PRESSWIRE
2012-13 Per-Game Stats: 1.6 PPG, 23.1 FG%, 0.4 RPG, 0.3 APG, -0.69 PER, 4.6 MPG
I could put up the production that Jeremy Lamb has put up this season, and I'd do it for 10% of what the Oklahoma CIty Thunder are paying him as a lottery pick.
There's no doubt that Lamb's lack of production is in part due to the lack of minutes he's getting with the Thunder.
But at the same time, if he was impressing his coaches during practice he would certainly get more minutes, because the Thunder are clamoring for production off the bench.
A negative PER and a below 25 percent field-goal percentage aren't befitting of a lottery pick and unless Lamb picks up his play, he's a shoe-in for being a bust from the 2012 NBA draft class.
What makes Lamb's lack of production even worse, is that his style of athletic play fits well into Scott Brooks' style in Oklahoma City.
The Thunder will be a great team with or without Lamb's production. But they can't be the best team in the NBA if they don't get production from their bench and that's where the Thunder hope Lamb finds a way to fit in.
Starting Guard: Bradley Beal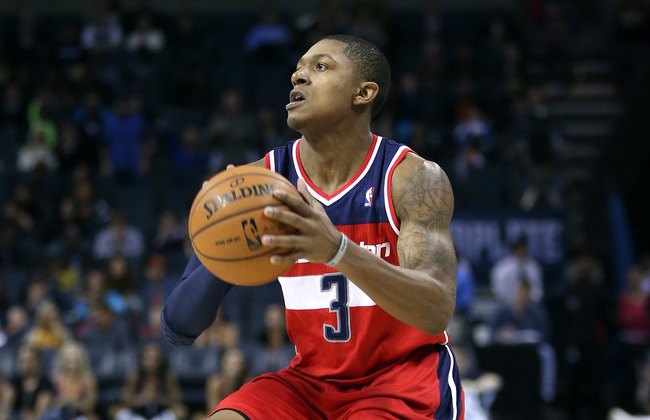 Streeter Lecka/Getty Images
2012-13 Per-Game Stats: 11.3 PPG, 32.6 FG%, 3.6 RPG, 2.0 APG, 0.9 STLPG, 11.21 PER, 28.3 MPG
Not having John Wall beside him in the backcourt has certainly hurt Bradley Beal's transition into the NBA. In the end though, it's Beal's responsibility to live up to the hype, and right now he isn't.
Putting up 11.3 points per game isn't necessarily bad. But when you look at how many shots Beal puts up to get that average, that production doesn't look as enticing.
Beal jacks up close to 11 field goals and 4.3 three-point attempts per game, which gives him an underwhelming 32.6 FG% on the year.
That isn't the kind of efficiency the Wizards were hoping to get out of the No. 3 overall pick in the 2012 NBA draft.
The Wizards have the lowest points-per-game average in the NBA with 90.0 points per game, and they are currently winless, sitting at 0-12 overall. While that isn't only Beal's fault, he's still responsible for a decent part of it.
Let's hope that once John Wall returns to the court, Beal becomes the sharp-shooting player everyone thought he would be.
Starting Small Forward: Perry Jones III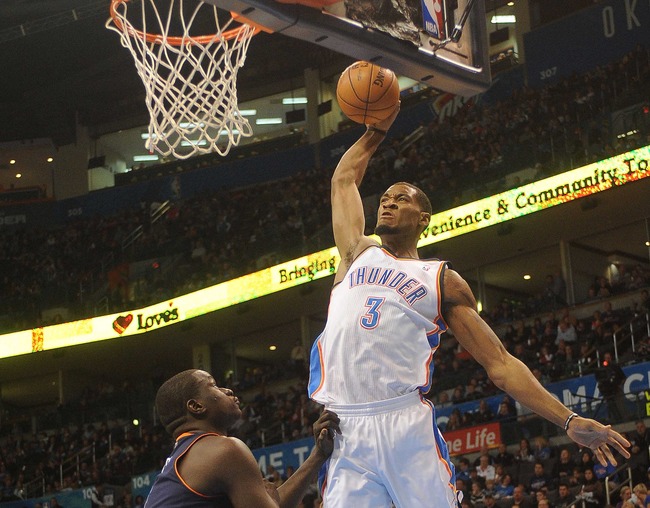 Mark D. Smith-US PRESSWIRE
2012-13 Per-Game Stats: 1.4 PPG, 31.3 FG%, 1.7 RPG, 0.6 APG, -1.66 PER, 9.6 MPG
When the Oklahoma City Thunder selected Perry Jones with the No. 28 overall pick in the 2012 NBA draft, many thought they made the steal of the draft.
Now, it's looking like the other 27 teams knew what they were doing when they passed on Jones.
It's one thing to have a low PER (Player Efficiency Rating), but it's a whole other level when you have a negative PER, and that's what Jones does.
If Jones wasn't getting minutes, his lack of production wouldn't mean as much. But the fact that he's averaging near 10 minutes per game puts his low efficiency—31.3 FG% and -1.66 PER—into perspective.
The Thunder are still one of the best teams in the NBA, they just need to find bench production to compete at an elite level.
Right now it's clear that Jones isn't a part of that bench production.
Starting Power Forward: Thomas Robinson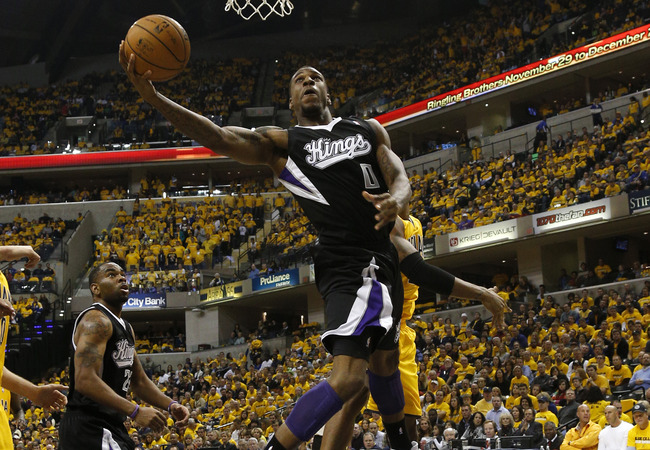 Joe Robbins/Getty Images
2012-13 Per-Game Stats: 5.4 PPG, 54.3 FG% 3.5 RPG, 0.2 BLKPG, 12.6 PER, 15.7 MPG
Back on draft night, Thomas Robinson looked more than annoyed that he fell all the way to the No. 5 overall pick.
Now it looks like getting drafted that high was a blessing, as he's not putting up lottery pick production.
For a player who was regarded as one of the most mature players in the 2012 NBA draft class, his ejection for throwing an elbow at Detroit Pistons forward Jonas Jarebko, has to bring about some red flags.
Robinson was supposed to bring maturity and discipline to a young Sacramento Kings team. Instead, the Kings are at the bottom of the Western Conference and still searching for an identity.
Robinson needs to be a more physical and productive player for the Kings to warrant such a high pick in last year's draft.
Right now, he is nothing more than a player who looks out of his league in the NBA.
Starting Center: Meyers Leonard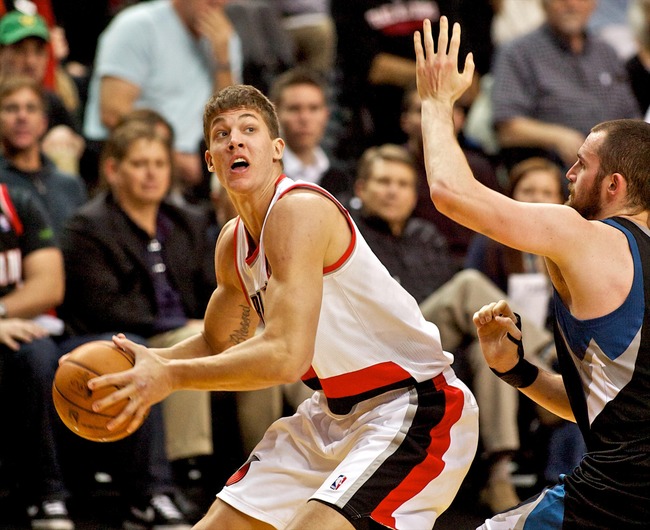 Craig Mitchelldyer-US PRESSWIRE
2012-13 Per-Game Stats: 5.1 PPG, 54.9 FG%, 3.6 RPG, 1.0 BLKPG, 13.14 PER, 19.2 MPG
Meyers Leonard has a lot of growing to do, there's no doubt about that.
When you look at his statistics and see his above 50 percent field-goal percentage it's easy to think he's a more efficient player than he really is.
In reality, Leonard gets most of his production in transition where he's either getting easy dunks or put-backs.
He's an 88.9 percent free-throw shooter, so it's not that he isn't a good shooter. The problem with Leonard is that he lacks the confidence to take shots outside of the paint.
The Blazers need Leonard to be a bit more aggressive on offense than he currently is. His 5.1 points in 19.2 minutes per game isn't going to cut it for a lottery pick.
Growth needs to happen for Leonard, and it has to happen fast, unless the Blazers want to miss the playoffs again this year.
Keep Reading