New York Knicks vs. Brooklyn Nets: Live Score, Results and Game Highlights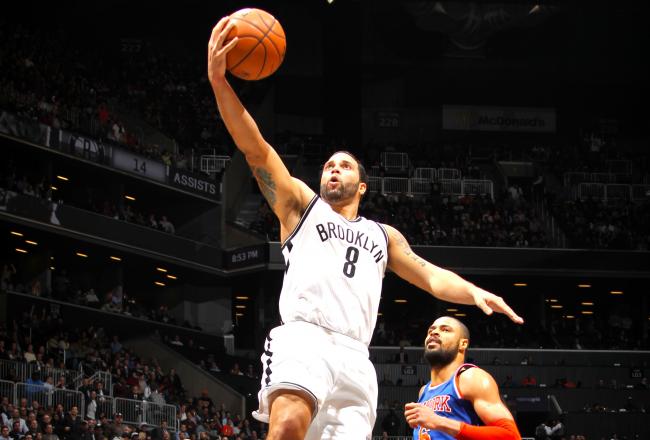 In the first regular season meeting between two teams who look to be on the verge of becoming longtime rivals, the Brooklyn Nets defeated the New York Knicks 96-89 in overtime.
This was a see-saw battle with both teams looking to be in control at certain times. Let's go over the keys to victory for the Nets tonight.
1. Reggie Evans
Reggie Evans was an animal tonight. In 18 minutes, he pulled down 14 rebounds and created many second chance opportunities for Brooklyn. There is no way the Nets force overtime without him tonight. He was outstanding. It should come as no surprise, though, as Evans has made an NBA career out of this scrappy style of play.
2. Second half surge from Deron Williams
Deron Williams was relatively quiet in the first half, shooting 2-of-7 from the floor. He finished the game with 16 points and 14 assists, many of those dimes being key ones down the stretch. He didn't shoot the ball all that well, hitting on six of his 17 shot attempts, but he did enough as a floor general to lead his team to a win.
3. Gerald Wallace coming up big late
Gerald Wallace had numerous big buckets late in the game, and he also did an incredible job on Carmelo Anthony for most of the second half. Yes, Anthony scored 35, but 23 of those 35 came in the first 30 minutes or so. After that, Melo was held in check, and he became so frustrated that he threw a little elbow into Wallace for an offensive foul on the Knicks' last possession of the game.
4. Bench production overall
It wasn't just Evans tonight. How about Jerry Stackhouse pouring in 14 off the bench and going 4-of-5 from three? Keith Bogans also gave Avery Johnson 20 productive minutes, scoring six points and playing some physical defense.
Now, as for why New York lost...
1. Itchy trigger finger from Raymond Felton
You would think that when you are shooting the ball as poorly as Raymond Felton was tonight, you would stop taking shots, but he didn't. Felton ended up going 3-for-19, including a few huge misses late on shots that everyone in the building was probably second-guessing. You can't have your point guard missing 16 shots. It just can't happen.
2. Missed free throws
The Knicks were 17-of-24 from the line, and while that is not terrible, their best player, Anthony, was responsible for six of those misses. Anthony, a normally reliable free throw shooter, was 10-of-16 from the charity stripe, as it seemed like he was going 1-for-2 every trip to the line. Had he been hitting his free throws, we're probably talking about a New York win.
3. No production outside of Anthony and Tyson Chandler
Anthony had 35 and Tyson Chandler had a career-high 28. The Knicks' next-highest scorer was Felton with 8. You can't expect to win a game when only two of your players are in double-figures. On the flip-side, the Nets had four players hit double-digits in points. The game was really lost right here for New York.
This was an incredible game, one that was certainly entertaining for viewers regardless of who your favorite team is. And think about it: we get to see this three more times this season...and who knows? Maybe we'll see it in the playoffs, too.
So, once again, the Nets beat the Knicks 96-89 in overtime in the first regular season meeting between these two teams. It was a great game.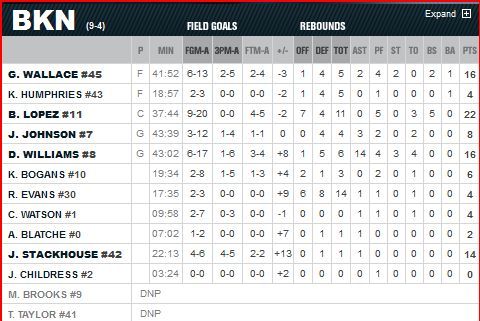 Final Nets box score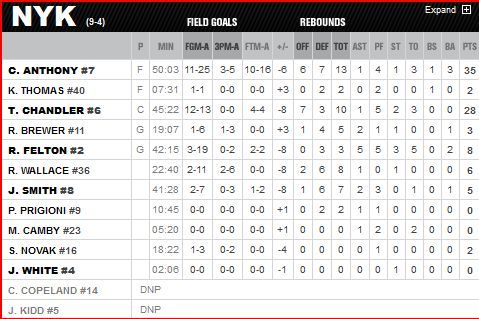 Final Knicks box score
Anthony showing some frustration by extending his arm and giving Wallace a little forearm shiver. Now the Nets dribble the clock out and come away with the win. Great game.
NETS 96, KNICKS 89 - FINAL
Chandler tips in another miss and now has a career high 28 points. 12-of-13 from the floor. Knicks then foul Stackhouse and he hits a pair.
NETS 96, KNICKS 89 - 20.4 SECONDS REMAINING IN OT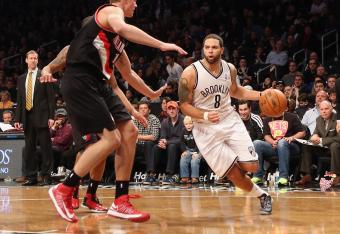 After a Johnson turnover, Melo comes down and has his layup attempt altered by Lopez. Looks like the Nets may have this one in the bag as NY now fouls Deron intentionally. He hits both and hears MVP chants.
NETS 94, KNICKS 87 - 30.1 SECONDS REMAINING IN OT
Right on cue, Carmelo comes down after a Wallace miss and gets fouled. He hits one of two free throws (again) to bring the Knicks to within five.
NETS 92, KNICKS 87 - 1:15 REMAINING IN OT
Anthony has 34 points and 13 boards, but he has gone scoreless over the past six-and-a-half minutes.
Novak misses his first three of the game. D-Will attempts a three of his own on the other end, but can't connect. As has been the case for much of the game, though, the Nets get the offensive board and create another possession. That is now 18 offensive rebounds for Brooklyn tonight. Timeout Nets.
NETS 92, KNICKS 86 - 1:44 REMAINING IN 4TH QUARTER
Anthony takes an ill-advised three and misses. The Nets march down the floor and Wallace finishes a layup to put Brooklyn up six. After a great second period and a great start to the third quarter, Melo has been struggling. He is taking some poor shots and is just not getting his teammates involved like he should.
NETS 92, KNICKS 86 - 2:21 REMAINING IN OT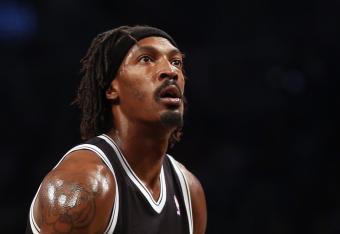 Chandler picks up his fifth foul. Wallace goes to the line and hits one of two.
NETS 90, KNICKS 86 - 2:55 REMAINING IN OT
Stackhouse hits his fourth three of the night to put the Nets up three. How about the elder statesman coming up big?
NETS 89, KNICKS 86 - 3:09 REMAINING IN OT
Felton needs to stop shooting. He is now 3-of-18.
Chandler and Lopez trade buckets to start OT.
KNICKS 86, NETS 86 - 4:08 REMAINING IN OT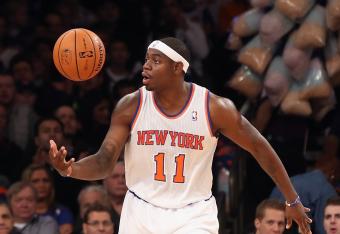 According to TNT's Craig Sager, Brewer dislocated his ring finger. He's done for the game.
Williams misses a long three at the buzzer. Overtime. What a game.
KNICKS 84, NETS 84 - END OF REGULATION
Felton runs some time off the clock, gets it to Melo, and he misses the jumper. Chandler taps it out, but it goes to the Nets. Brooklyn calls timeout.
KNICKS 84, NETS 84 - 3.6 SECONDS REMAINING IN 4TH QUARTER
Watch out for Novak here on this possession. Melo is obviously option number one, but if someone is silly enough to leave Novak to collapse on a Melo drive, it could be lights out.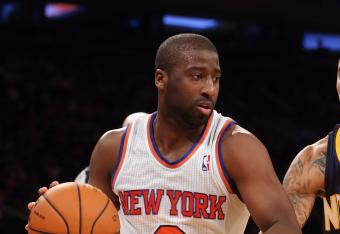 Felton misses a jumper. He is now 3-of-17. Dreadful night for Felton.
On the other end, Lopez gets fouled and hits one of two. Tie game.
Ronnie Brewer, who committed the foul, just headed to the locker room. Looked like he hurt his finger.
KNICKS 84, NETS 84 - 24.1 SECONDS REMAINING IN 4TH QUARTER
Wait, what? The Thunder are beating the Bobcats by a score of 76-25? Oh ok.

— Moke Hamilton (@MokeHamilton) November 27, 2012
It's now 84-41, but yeah.
Lopez once again posting up from too far out. He leans into Chandler, and Chandler draws the charge. That's why he is the reigning Defensive Player of the Year.
Let's see if the Knicks can get a bucket here and put some more pressure on Brooklyn.
KNICKS 84, NETS 83 - 57.2 SECONDS REMAINING IN 4TH QUARTER
Felton now air-balls an uncontested floater after a Lopez layup on the other end. Not sure what in the world that was supposed to be.
KNICKS 84, NETS 83 - 1:10 REMAINING IN 4TH QUARTER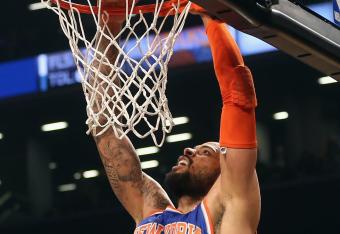 Chandler with yet ANOTHER follow dunk and lets out an emphatic yell. He pounds his chest and screams to some Knicks fans sitting courtside.
Now, Isola's tweet is starting to become a bit meatier. Johnson has just been HORRENDOUS. He is 3-of-12 from the floor and could not even take advantage of the much smaller Felton on a post-up on the other end. Seems like he is never going to shed his inability to perform in big games.
KNICKS 84, NETS 81 - 1:38 REMAINING IN 4TH QUARTER
Johnson now throws up a brick with Felton on him. Felton then drains one on the other end.
KNICKS 82, NETS 81 - 2:00 REMAINING IN 4TH QUARTER
Anthony BATTLING inside. Has two shots blocked underneath the basket, gets both rebounds, then gets fouled on the third attempt.
Melo hits one of two.
Setting up to be an absolutely phenomenal finish.
NETS 81, KNICKS 80 - 2:45 REMAINING IN 4TH QUARTER
This article is
What is the duplicate article?
Why is this article offensive?
Where is this article plagiarized from?
Why is this article poorly edited?