5 NBA Teams That Badly Need to Sign Kenyon Martin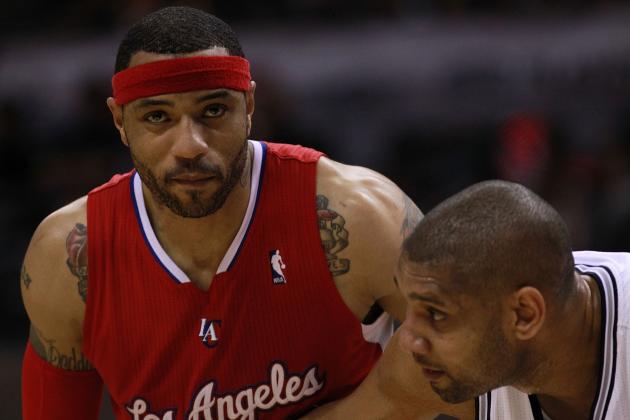 Ronald Martinez/Getty Images

With nearly three weeks of the 2012-13 NBA regular season behind us, we've begun to learn quite a significant amount about where each franchise is as a unit. While some have set on the path expected of them, others have fallen short in areas in which they believed they'd be stronger.
Which is exactly why the following NBA teams are in desperate need of signing Kenyon Martin.
In a defiance of logic, Martin remains without a franchise to call home. Not to be confused with teams passing over because of a decline in talent, Martin has simply stated that he will not accept the veteran's minimum for a deal (via Marc Stein of ESPN).
The question is, which of the following teams must talk him out of said mindset?
Begin Slideshow

»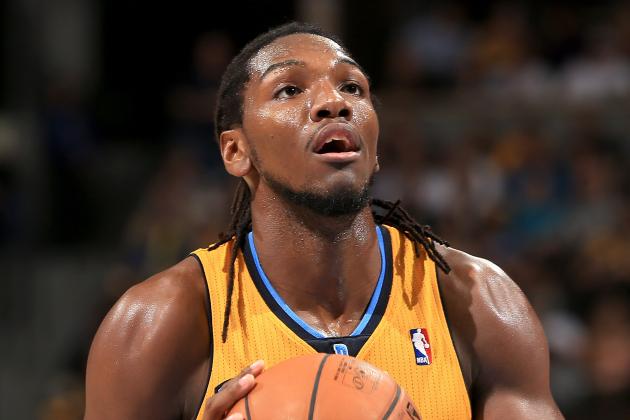 Doug Pensinger/Getty Images

Could the Denver Nuggets reunite with Kenyon Martin after roughly two years apart? If they want to solidify their interior defense, they should.
With the likes of Kenneth Faried, JaVale McGee and Kosta Koufos on the roster, youth is at a premium. Although head coach George Karl and point guard Andre Miller have gone a long way towards developing said players, they lack the veteran presence in the frontcourt to finish the process.
Enter Martin.
Martin may not have the size of a McGee or Koufos, but he does possess the interior toughness that some feel they lack. He could help each player develop their mid-range game, all the while working with Faried on his offensive fundamentals.
Keep in mind, Faried and Martin are of a similar build. They also played virtually the same role at this stage in their respective careers, which suggests Martin could offer perspective into how The Manimal can improve.
It may be a long shot, but Denver needs a veteran frontcourt player to keep their young stars on the right path. Martin is the perfect player to fill said void.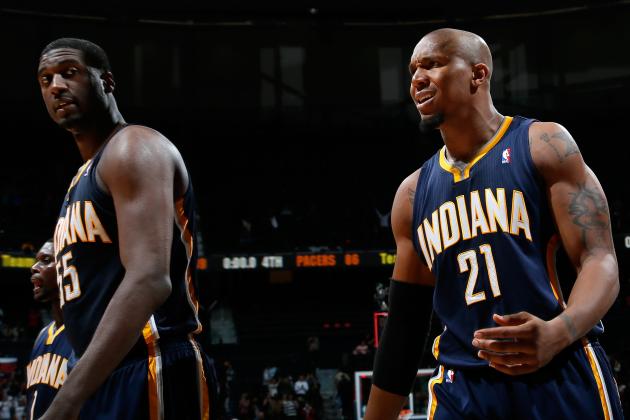 Kevin C. Cox/Getty Images

Entering the 2012-13 NBA regular season, the Indiana Pacers' greatest strength appeared to be the depth of their interior. Nine games in, however, it appears as if the Pacers' strength has become a devastating hindrance.
David West and Roy Hibbert man the starting lineup, while Tyler Hansbrough and Ian Mahinmi are quality reserves. Things just aren't going as planned.
Hibbert is presently averaging 8.2 points and 8.0 rebounds on 38.6 percent shooting from the floor. West is scoring at a quality pace, but is shooting just 41.6 percent from the floor and performing poorly on defense.
Although they're allowing just 91.1 points per game, the Pacers need a consistent interior player to pace this team on both ends.
Although Kenyon Martin has lost a step or two on offense, he'll be able to provide a consistent scoring option for the team. With his ability to shoot the ball off the catch and crash the offensive glass, Martin can complement West on that end of the floor.
On defense, his consistency in effort and tenacity in on-ball defense will make Hibbert's job a whole lot easier.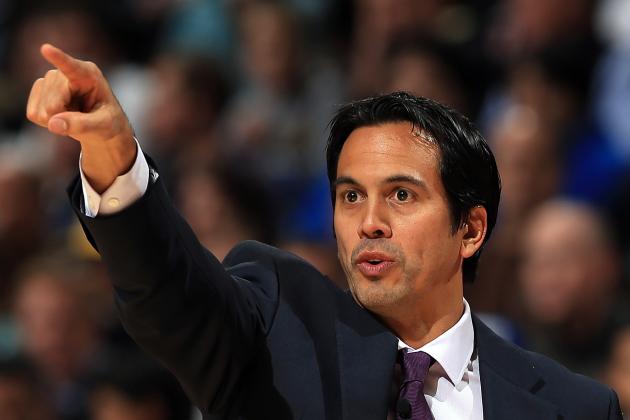 Doug Pensinger/Getty Images

Thus far this season, the Miami Heat have allowed an average of 101.0 points per game. At the heart of their defensive deficiencies has been the fact that they are allowing opponents to crash the offensive glass and score in the paint at virtual will.
Considering they're unwilling to utilize a traditional center, they might as well place an enforcer in the paint by signing Kenyon Martin to the veteran's minimum.
Martin will provide the interior toughness necessary to keep opponents out of the paint. Although Chris Bosh has done a fine job at center, he is not of the necessary build to take on the stronger centers in the league.
Although Martin is more of a power forward, he has made a living as the enforcer for the New Jersey Nets, Denver Nuggets and Los Angeles Clippers. As each team can attest to, he has made every defense he's played in better.
So why not Miami?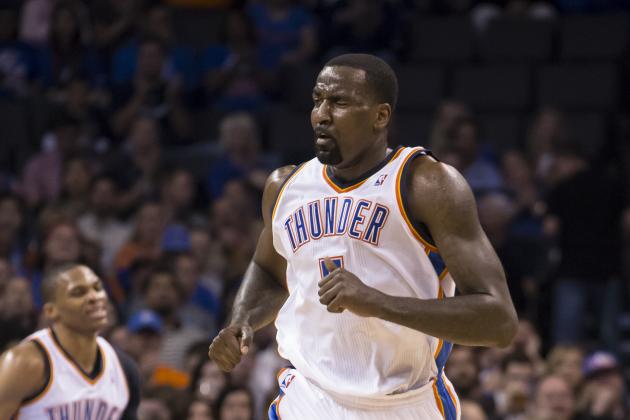 Shane Bevel/Getty Images
The Oklahoma City Thunder matched up best against the Miami Heat when they went small. Replacing Kendrick Perkins with Kenyon Martin in said scenarios is the best route to take.
Kendrick Perkins is an exceptional defender whose interior toughness has played a key role in three trips to the NBA Finals by the Boston Celtics and Oklahoma City Thunder, respectively. With that being said, he became the odd man out in 2012.
As the Thunder went small against the Miami Heat, they discovered their best results. That placed Perkins firmly on the bench.
This is not to say that Perkins can't continue to thrive as an enforcer, but instead to suggest that the Thunder must find a more mobile option for certain defensive sets. Although difficult, they must also find a player with the enforcer's mentality that has made Perkins so valuable.
Which is exactly why they need Kenyon Martin.
Martin will provide the same interior toughness as Perkins. He'll also be the mobile weapon that can play both interior positions in small lineups, as well as providing a consistent spot scorer.
He won't put up 15 points a night, but Martin is efficient as a shooter from 10-to-15 feet. With or without Serge Ibaka's progression as a scorer, that makes Martin a potential key player in the Thunder's pursuit of a title.
Until rookie Perry Jones III proves capable of filling said role, Martin remains a necessity.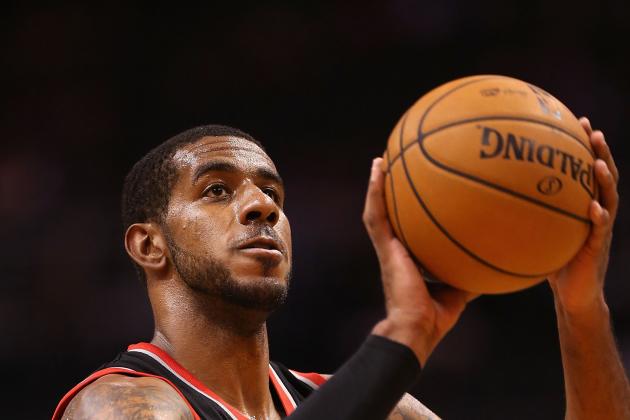 Christian Petersen/Getty Images

The Portland Trail Blazers have a starting lineup that could compete with virtually every team in the NBA. With a trio of sharpshooters in Damian Lillard, Wesley Matthews and Nicolas Batum on the perimeter, they're able to score with the best of them.
Having stat sheet stuffers in All-Star LaMarcus Aldridge and rebounding machine J.J. Hickson certainly doesn't hurt, either.
Unfortunately, there is virtually nothing behind those five players. Rookie Meyers Leonard is a quality reserve at center, but the power forward position is one of many that lacks the necessary talent to win games.
As the Blazers displayed in their heartbreaking loss to the Los Angeles Clippers, playing without a quality second unit will do nothing, but leave the starters with dead legs at the end of the game.
Add Kenyon Martin to the mix and the Blazers suddenly have a leader of their presently weak second unit. Without him, they're looking at Jared Jeffries and Sasha Pavlovic to lead their bench players.
This one appears to be a no-brainer, does it not?
As for a statistical evaluation, Portland's interior players lack the necessary defensive tenacity to make a difference. Aldridge is more of a quality defender than an enforcer, while Hickson lacks the necessary size to alter shots.
Although Leonard can block shots, he is just a rookie. Add Martin to the mix and, despite his relatively small size, you cure a majority of the team's defensive woes.
Otherwise, they will continue to allow 100.9 points per game.