New York Knicks: 5 Positive Signs from Early NBA Season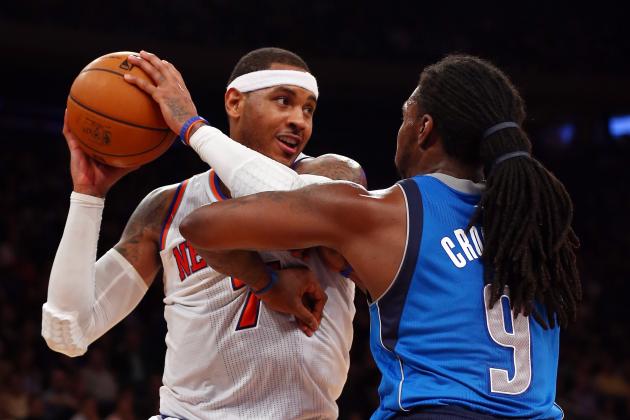 Elsa/Getty Images
Carmelo Anthony
If you have a heart condition, you may want to take a seat for this. The New York Knicks are 4-0 to start the 2012-2013 NBA season. Not only that, they have done it by defeating the Philadelphia 76ers twice, the Miami Heat and the Dallas Mavericks. All by double digits.
Please stay seated, because it also looks like it may just be for real. New York is winning, and they are doing it with style. Three of the wins have been dominant from start to finish, and the fourth was courtesy of the right plays at the right time.
New York fans were not expecting to see these results so quickly, so the wary Knicks fan is reverting to his justified skepticism, but there are positive signs indicating this team is winning in a sustainable way, and not just on the back of one star.
Begin Slideshow

»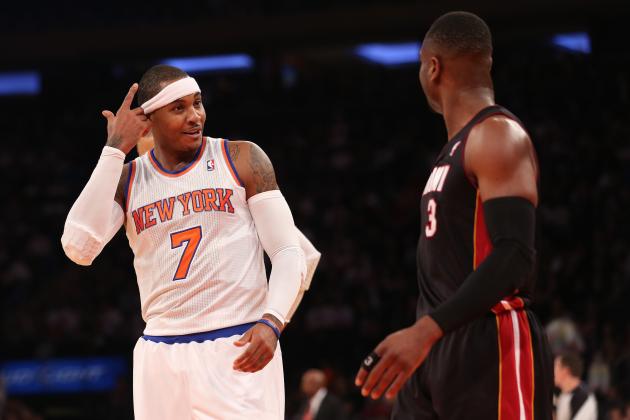 Nick Laham/Getty Images
Carmelo joking around.
This one is probably the most obvious to anyone that has been watching the Knickerbockers this season. Carmelo Anthony quite simply isn't the same player he was last year on the defensive end of the floor.
Now, he's diving into the stands to retrieve a steal he just made and he's sliding along the floor to force turnovers. Virtually every Knicks fan would tell you they need to see it to believe it.
The defense, already anchored by Defensive Player of the Year Tyson Chandler, has used Melo's newly found intensity to put together the least amount of points allowed per game in the league at 87.5.
New York has the weapons to succeed offensively, so if this suffocating defense continues (and Iman Shumpert will only help it), New York will be a tough win every night.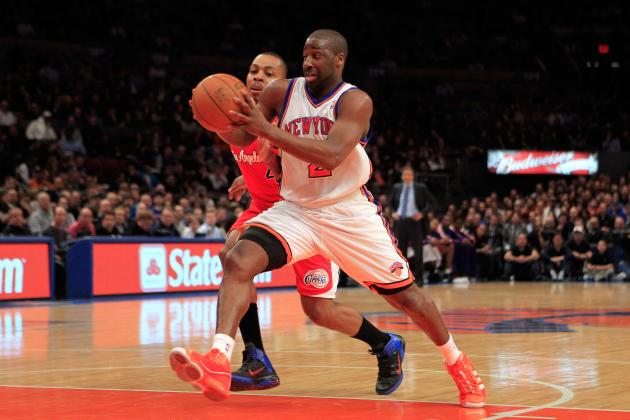 Chris Trotman/Getty Images
Raymond Felton driving.
Another main difference between the 2012 Knicks and the 2013 version is ball movement. Last season, when push came to shove, it was the Melo Show. Too often, teammates watched as Carmelo tried to save them with a solo performance.
Nowadays, the team isn't forced to resort to isolation plays. The ball movement has been superb across the board and has created much more space for shots. New York consistently finds itself with an open man simply by being willing to make the extra pass. Mainly, Felton's penetration combined with Kidd's vision have facilitated the process.
These improvements have also actually helped Anthony in the isolation department. By combining ball movement with isolation plays, the pressure is taken off of Melo's shoulders, which in turn allows him more choices and more freedom when the ball comes to him.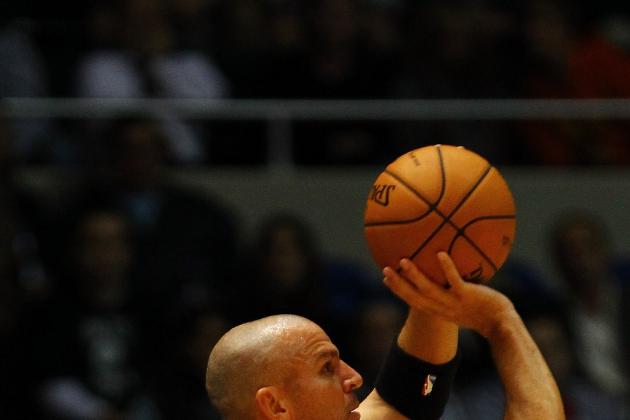 Al Bello/Getty Images
Jason Kidd shooting.
As a team, the Knicks have made 51 of their 117 three-point attempts this season, which is good enough for a 0.46 shooting percentage from behind the arc. If that number stays where it is, and it likely can't, no team can touch New York.
Much of New York's success so far this season has come from excellent shooting and facilitating movement inside from Melo and Chandler. Both players have more room to work with as the excellent shooting has spread the floor and both were already capable finishers at the basket.
The usual suspects of Steve Novak and and J.R. Smith (11-of-16 from three-point land) are the main contributors, but Jason Kidd (6-of-12) and Ronnie Brewer (7-of-13) are also draining shots when they need to. A good sign of consistent team shooting to come.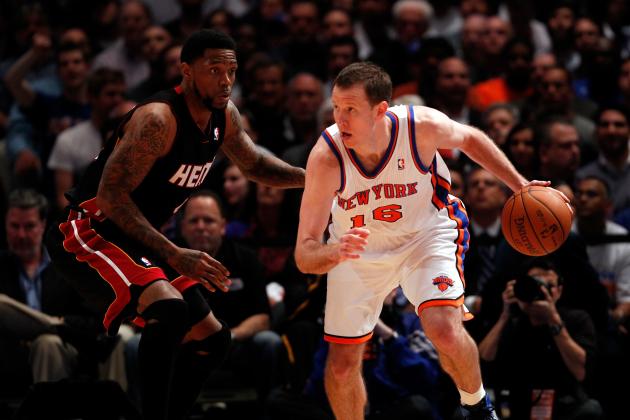 Jeff Zelevansky/Getty Images
Steve Novak controlling the ball.
Everyone knows what Steve Novak brought to the Knicks last season. He shot threes, better than anyone in the league in fact, but brought little to the offensive movement and to the defense. However, when playoff time came around, Novak became obsolete. His lack of off-ball movement left him constantly covered, and he was ineffective through and through.
Those sorts of performances may be shifting to being in the past, though. Thus far this season, Novak has done a great job of mobilizing in order to spread the floor. He is still a three-point specialist, but he is now more dangerous by showing a willingness to shift around both with and without the ball.
Against Dallas, he took a ball in the corner and faked the shot before dribbling inside and swishing a short jumper. If he can continue to produce those kinds of plays, New York will find itself with an even more dangerous asset coming off the bench.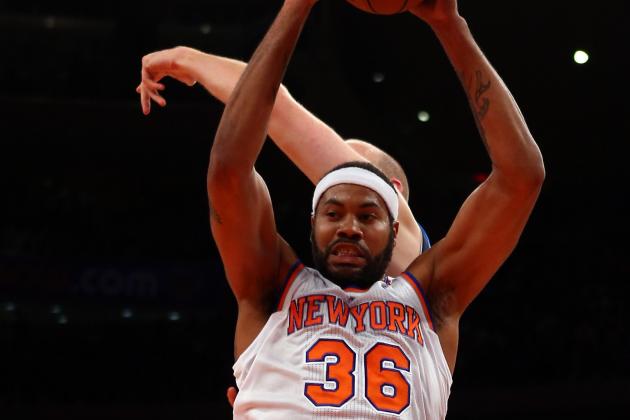 Elsa/Getty Images
Rasheed Wallace pulling in a rebound.
Teams don't win without the help of everyone. Granted, there are always stars that the team revolves around, but you can't win basketball one-on-five. The Knicks still tried to last season, though.
Too often were the Knicks resting all of their hopes on the broad shoulders of Anthony. Melo is still the undisputed leader and the center of the team, but nowadays he's getting some great help, and not all of it is coming from the expected sources.
J.R. Smith is averaging 17.5 points per game, and better yet, he's doing it on 45 percent shooting from the field. Ronnie Brewer has decided he can shoot threes now. Jason Kidd is hitting half of his. Rasheed Wallace is not only getting real minutes, he's getting three rebounds and over five points per game. Tyson is Tyson.
The Knicks have the skill on paper to succeed, but the issue up until now has been developing chemistry and gelling as a team. It may just be happening right before our eyes.