Philadelphia 76ers vs. New York Knicks: Postgame Grades, Analysis for New York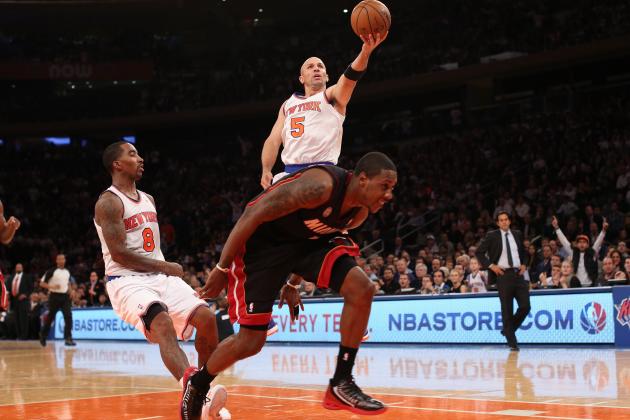 Nick Laham/Getty Images

The New York Knicks took another step toward proving that having the oldest team in the league doesn't mean they can't take down the young bucks. Of course, having Carmelo Anthony scoring at will doesn't hurt too much either.
New York is sitting pretty with wins over Miami and Philadelphia early in the season and has done so with an ultra-small starting lineup in the absence of Amar'e Stoudemire.
With Carmelo going all-out in these games and the team actually looking like they have a nice flow, it's going to be interesting to see what they do once Stoudemire returns, but for now everything seems to be coming up roses for the Knicks.
A nice balance of productivity from the starting lineup and help off the bench has allowed them to jump out to this quick start.
New York's win over Philly comes on the front end of a home-and-home series with the 76ers, as they'll travel to Philadelphia tomorrow to play them in the Wells Fargo Center.
There's a lot to like about the first two games from the Knicks, but it should also be noted that this game was against the 76ers without Andrew Bynum, and they will be a completely different team with him on the floor.
That being said, let's shake out just how well each part of this Knicks lineup fared in this game.
Begin Slideshow

»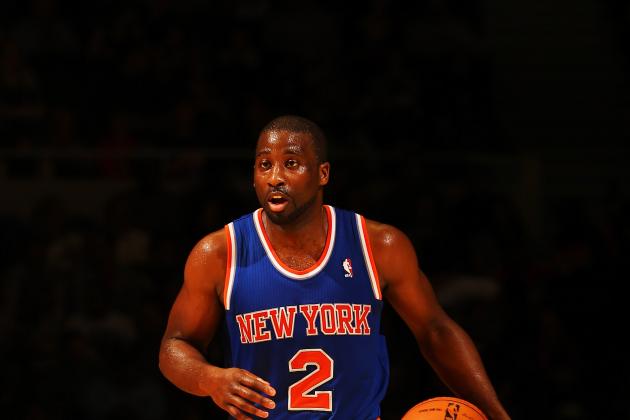 Al Bello/Getty Images

Final Grade: B-
Let me start out by saying that I've become absolutely enamored with Mike Woodson over these first two games. With Amar'e out and things looking a bit bleak, he's thrown out a lineup that an old-school coach would freak out about.
With Raymond Felton and Jason Kidd both starting, they've basically got co-point guards on the floor, which somehow works. Add Ronnie Brewer playing as a small forward, Carmelo Anthony abusing power forwards on offense and Tyson Chandler continuing to anchor the defense, and this lineup is downright batty.
For the second game in a row, Felton both looked competent and knocked down his shots, which is more or less what New York is asking of him early on.
His 11 points added just enough for New York, and while he only added one assist, he was actively involved in the offense throughout and hasn't looked half as bad as he did last year in Portland.
Defensively, he had to deal with Jrue Holiday, who happens to be one of the most impressive up-and-coming guards in the league, so you can't give Felton too much flak for meeting Holiday on a day when he was hitting shots.
Al Bello/Getty Images

Final Grade: B
Jason Kidd has come into this season looking like he's ready to play for a very good basketball team. I had doubts with his age starting to creep higher, but through two games, he has looked quite good.
The lineup that Woodson is running out, with Kidd as the default shooting guard next to a much smaller point guard, is starting to give me flashbacks of when Rick Carlisle would run him next to J.J. Barea or Roddie Beaubois, giving the Mavericks two incredibly competent ball-handlers on the court at once.
Kidd put up 12 points and six assists through 25 minutes in this one and was able to play some halfway decent defense. Of course, a lot of that might need to be chalked up to Nick "Swaggy P" Young taking any shot that he felt was necessary.
I'm really interested to see him play tomorrow night with the team on the second end of a back-to-back in a new city.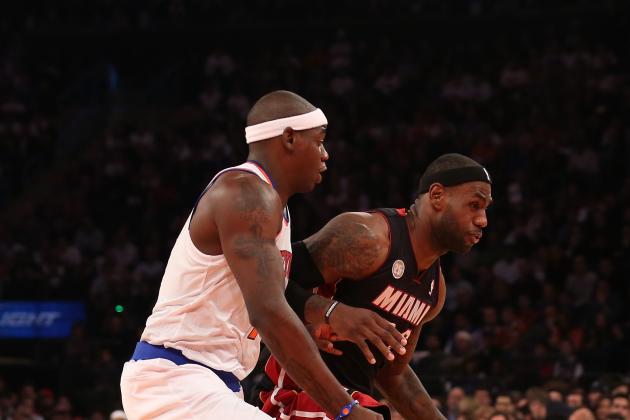 Nick Laham/Getty Images

Final Grade: B+
Ronnie Brewer isn't going to get the credit he deserves until the playoffs roll around and he shuts down a few big-name players, but he's going to be a huge part of this Knicks defense. The fact that the Bulls let him walk away for a million bucks is ridiculous.
In this game, Brewer was given the task of holding Evan Turner down and beating him with a sock filled with a few bars of soap. He did just that.
Turner was absolutely terrible in this game, thanks, almost entirely, to Brewer's stellar defense.
He knocked down a three, put up nine points, grabbed five boards and got in the way of a pass for a nice little steal to round this game out. If it weren't for J.R. Smith's offensive outburst, Brewer would have seen a lot more time.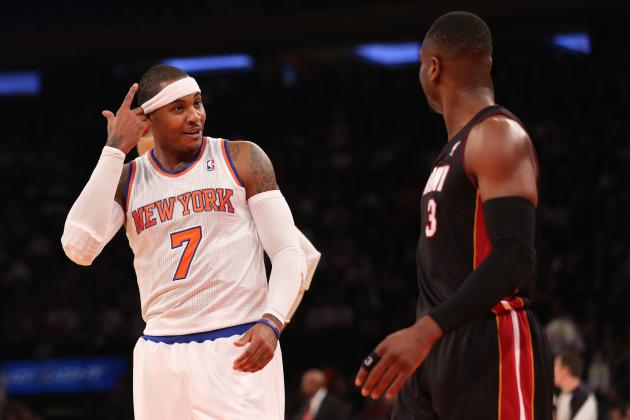 Nick Laham/Getty Images

Final Grade: A
This was actually a matchup that I was really intrigued with coming in. Normally, when he's at power forward, Carmelo Anthony is thrown up against guys who are visibly slower than he is. That's not the case with Thaddeus Young.
What we figured out after this game is that Young is indeed fast enough to stay in front of Carmelo, but he can't deal with him once he's able to create a bit of space. The best he could do was swat at Carmelo every once in a while, which eventually led to him fouling out.
It was a game that really made me appreciate what this dude can do. There is an endless array of players out there with different styles, but Carmelo has at least a few moves to throw up against any of them and can do so effectively.
Defensively, Carmelo was a little bit better than we normally see him. He seemed quite lively in this one, coming away with a steal and two blocks.
Put that together with a 27-point, five-rebound day on 10-of-18 shooting, and he's got himself a nice little stat line for his fantasy owners.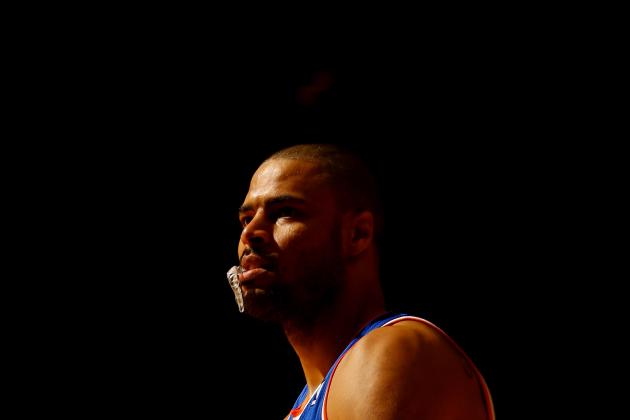 Al Bello/Getty Images

Final Grade: B
This was another game in a long line of games throughout his career in which watching his stats pile up just didn't tell the whole story for Tyson Chandler.
He only scored two points and grabbed seven rebounds, but look at the guys he guarded in this one. Lavoy Allen was powerless to get the ball most of the time, and when he or Spencer Hawes did get the ball with Chandler on them, they would settle for jumpers or extreme angles.
Chandler played less than 21 minutes because of his return from the flu, but while he was in, he was able to make the most of his minutes—which is all that really matters.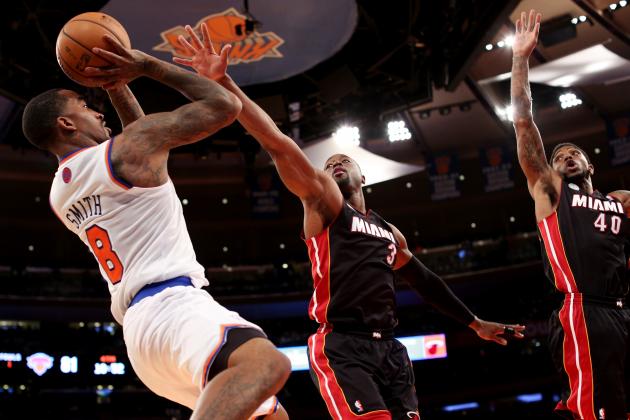 Nick Laham/Getty Images

Final Grade: A
J.R. Smith scored a point for every tattoo he has between his right shoulder and his right elbow, racking up 20 points on the day.
When the Knicks have a guy like Carmelo ruthlessly breaking down defenders and scoring at will, and then have Smith going 4-of-5 from downtown and hitting eight of his 15 shots, it's going to be hard for other teams to stop them.
Smith came off the bench and played a meaty 35 minutes, staying involved the entire time on both ends of the court.
He was able to grab nine rebounds and steal a couple passes, all while putting together his impressive game from the field.
This is why they gave this guy a contract.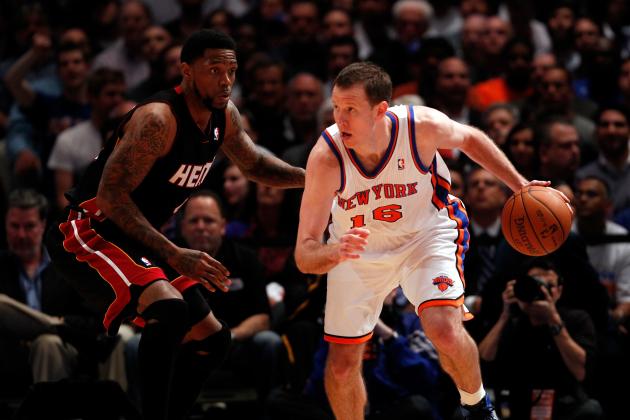 Jeff Zelevansky/Getty Images

Final Grade: B+
When you take this team apart and look at the players individually, they actually ended up doing what was expected of them as far as the theory went coming into the season.
Steve Novak hit two threes; Kurt Thomas grabbed rebounds, blocked a shot and scored when he was at the rim; Pablo Prigioni looked about as good as any 35-year-old rookie I've ever seen; and Rasheed Wallace and Chris Copeland came in to provide some entertainment.
If you're New York after this one, you've got to be pretty optimistic based on the performance of your bench alone.
The Knicks have a long road ahead of them if they want to prove that they're worthy of being included in the top-tier of the Eastern Conference, but you couldn't ask much more from them in their first two games of the season.