San Antonio Spurs vs. New Orleans Hornets: Live Score, Results and Highlights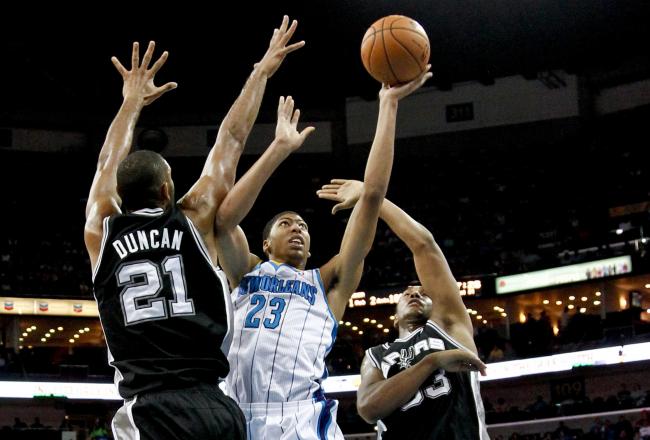 Derick E. Hingle-US PRESSWIRE
The San Antonio Spurs did what they do best to spoil rookie Anthony Davis' NBA debut. Capitalizing on a late Tony Parker three-pointer and a few free throws, the Spurs outlasted the New Orleans Hornets 99-95 to win their season opener.
Davis was every bit the No. 1 overall prospect for the Hornets, putting in 21 points and grabbing seven rebounds in his rookie debut. Not to be outdone, former No. 1 overall pick Tim Duncan had 24 points and 11 rebounds for the Spurs, including two free-throws to put the game away late.
New Orleans used an inspired game from its bench in the first half to take a seven point halftime lead, but San Antonio roared back in the third quarter, going on a 19-5 run to start the frame.
Greivis Vasquez was a bright spot for the Hornets, finishing with eight points and 13 assists. Rookie Austin Rivers really struggled, though, and finished with only one field goal in nine attempts on his way to seven points.
Parker finished with 23 points and Kawhi Leonard had 19 for the Spurs, who have now won 11 consecutive regular season games, dating back to last year.
The Spurs will travel to Oklahoma City tomorrow night to face the Thunder, but still might be without sixth-man Manu Ginobili. The Hornets will get the Utah Jazz at home on Friday night, and look to continue their impressive defensive performance while getting a win in their second home game this season.
Thanks for staying with us tonight, and be sure to keep checking back with Bleacher Report tonight and every other night for extensive NBA coverage.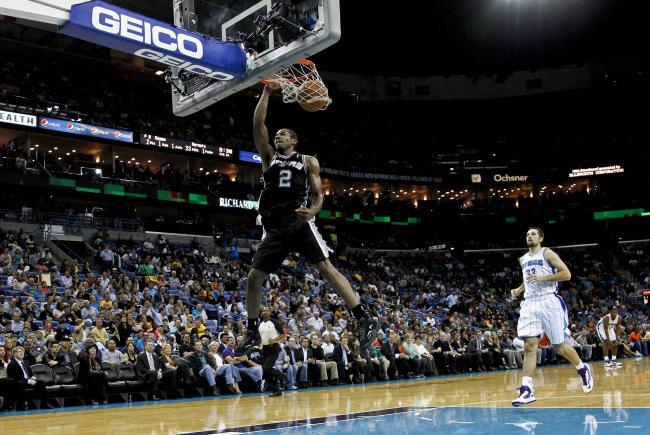 Here's some quick thoughts from tonight's 99-95 Spurs win:
Davis was very impressive, but big nights from both Robin Lopez and Jason Smith kept him off the floor for the majority of the second quarter and late into the fourth. He finished with 21 points and seven rebounds, but was a -20 on the night.
Tony Parker once again looks like an MVP candidate. His floater was in rare form, and he made Greivis Vasquez and Austin Rivers look silly on fast break attempts for most of the night.
Speaking of Vasquez, he had a great first half, and was the reason (along with Al-Faroq Aminu) that New Orleans had a halftime lead. He tailed off in the second half, but he was a distributor in the first half and was getting the ball to all four of his counterparts for easy baskets when New Orleans was running with efficiency.
Tim Duncan was showing no ill-effects from another long offseason, as he was the high man for both rebounds and points on the night. Will the 82-game season catch up with him? Time will tell.
In the battle of injured shooting guards, it was San Antonio that wasn't affected as much by the loss. Austin Rivers didn't perform well, and it was clear New Orleans has a hole right now at the guard position. By comparison, the Spurs weren't great other than Tony Parker, but both Leonard and Danny Green made late shots to help put the game away.
And finally, it's going to be fun to watch this Hornets team this season. The Spurs are already in mid-season form with their one-high offense, but the Hornets push the pace and aren't afraid to sling the ball around the key when the opportunity presents itself.
Lots of good takeaways for both teams, and lots of things that need to be addressed. But, alas, it's the first game, and after a four month hiatus, we're finally back to the NBA basketball we know and love (a full 82 games this time).
And the Hornets: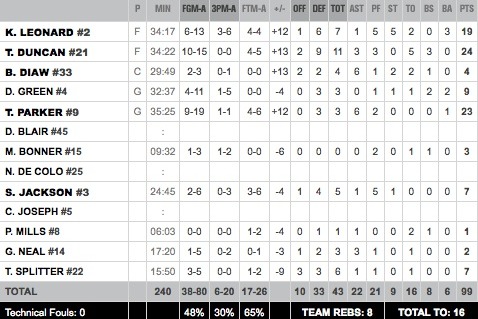 Here's a final box for the Spurs:
Ball game in New Orleans.
Spurs 99, Hornets 95.
Stay tuned for final box scores for both teams, as well as some quick hitters from this opening game for these two Western Conference foes.
Vasquez, who's been so good all night, with a terrible pass before missing a three that would have given the Hornets the lead.
Duncan makes it a four-point game, and it's down to the 'ol free-throw shooting game now.
Here's Aminu's great line from tonight so far.
Al-Farouq Aminu may be a breakout candidate. He was excellent tonight, with 17 points, 7 rebounds, 3 assists, 3 blocks and 2 steals vs. SAS.

— Alex Kennedy (@AlexKennedyNBA) November 1, 2012
Tony Parker, a career 31 percent three-point shooter, buries one as the shot clock winds down for a two-point Spurs lead.
SA 97, NO 95
This one might come down to who has the ball last, folks.
2:00 minutes to play, and Duncan with the high-low dunk after the feed from Boris Diaw!
Spurs have a chance to take the lead...
Davis with two CLUTCH free throws for the Hornets. He's clearly benefiting from his Olympic experience.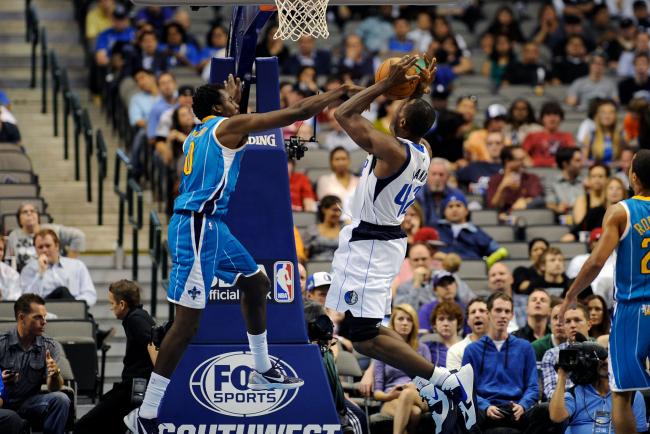 AMINU!!!!!
Aminu Acids?
Give me a new nickname for the Hornets' suddenly red-hot small forward!
This New Orleans team is killing it on the boards tonight. The stats (40-37) don't show it, but the Hornets have made the right rebound in the right time tonight, and it's why they'll have a chance to win this game late.
Aminu and Leonard are really trading blows tonight. Love the effort by both on both ends tonight.
Loving this gritty effort by Jason Smith right now, but don't understand Monty Williams allowing Rivers to run the point.
It's paying off, though, as the game is still very close and Rivers has made several nice passes in pick-and-roll situations.
Put your hands down, Danny Green!
Great block by Aminu at the third quarter buzzer.
And we're going to head to the final quarter tied up.
Hornets 71, Spurs 71.
Rivers still hasn't made a shot from the floor. A disturbing trend for the Hornets so far, but if you're an NBA optimist, the learning curve is expected to be a little bit greater for a tweener guard now a days.
Leonard really has a case of the offensive foul bug tonight. That's three, and all three were drawn by Hornets rookies.
Patty Mills, fresh off being the leading scorer in the Olympic games, is into the game for the Spurs. Gary Neal had a poor first half, so Pop is going to mix it up.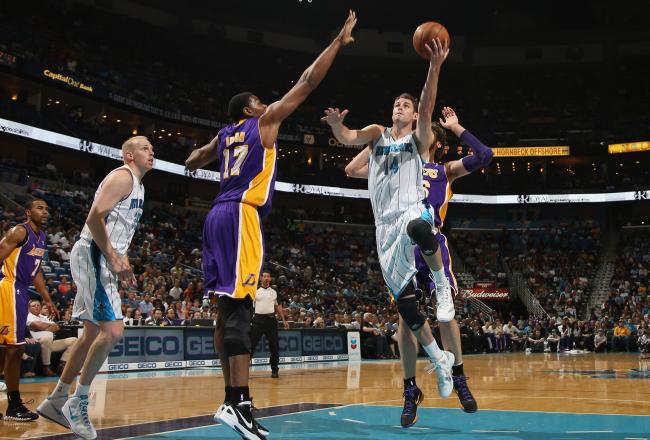 The New Orleans bench is outscoring San Antonio's bench 20-9.
The Hornets were thought to have a real weakness there, but due to Jason Smith and Roger Mason, Jr. they have really stepped it up on both ends tonight.
Timeout, Hornets, and this game is getting out of control in the third.
Spurs 62, Hornets 55.
San Antonio has done to New Orleans in this third quarter what it had done to itself in the first half, pushing the pace in transition and attacking the basket.
A 19-5 run has reminded everyone how dangerous this Spurs team is, and how young the Hornets are. No real touches for Davis in this third quarter.
Early prediction:
Kawhi Leonard for All-NBA Defensive First Team.
Spurs have quietly clawed back in the third.
Is there a better halftime coach than Gregg Popovich?
San Antonio hasn't lived from the three-point line, and really has collapsed the defense to stop giving up offensive rebounds to Davis and Lopez.
Rivers looking for his first point of his NBA career, and it will come at the free throw line. He's scoreless in five attempts from the floor so far.
Rivers hasn't looked comfortable, but Monty Williams has little other options on a Hornet bench that is not guard heavy, especially without Eric Gordon in the lineup.
Lost in the debut of Rivers and Davis and the emergence of Vasquez has been the performance of Al-Faroq Aminu, likely fighting for his NBA life this season.
Aminu has 10 points on 5-of-7 shooting, as well as the highlight of the night with the one-handed alley-oop dunk.
Look for the Spurs to start pounding the rock down low to Tim Duncan. Three point shooting has not been there so far, and Pop isn't one to come out of the locker room without making some needed adjustments.
How do you think Davis is performing so far in his rookie debut?
Anthony Davis's first test: 4-time NBA Champion, 2-time MVP, 13-time All-Star, "The Big Fundamental" Tim Duncan. Welcome to the @nba.

— ESPN (@espn) November 1, 2012
This article is
What is the duplicate article?
Why is this article offensive?
Where is this article plagiarized from?
Why is this article poorly edited?