The Most Unpredictable Breakouts of the 2012-13 NBA Season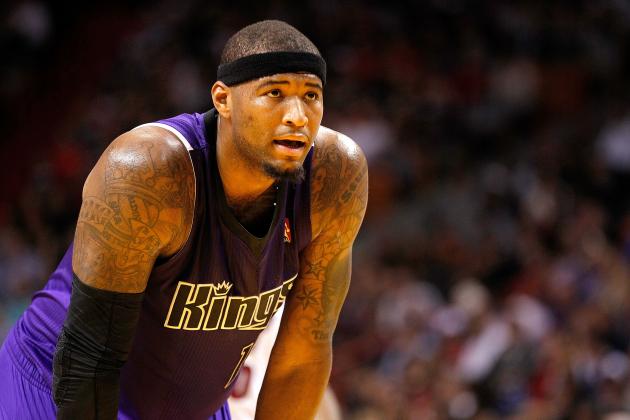 Mike Ehrmann/Getty Images

It is easy to foresee big years from some of the NBA's emerging players. Kyrie Irving may very well make his first All-Star team. Demarcus Cousins will probably come up short trying to do the same. Kawhi Leonard might make a few people consider calling the Spurs a Big Four. And Evan Turner will have to make good on his promise for the Sixers to meet the lofty expectations now upon them since the Andrew Bynum trade.
But what about the less-heralded players who will have a major impact on their teams' success this season?
In a world of fantasy stats and YouTube highlights, some of those with a more nuanced skill set often fall through the cracks. And while the following players still won't make a ton of headlines, they are poised to break out in ways that have coaches and diehard fans across the league wishing they played for their team.
Begin Slideshow

»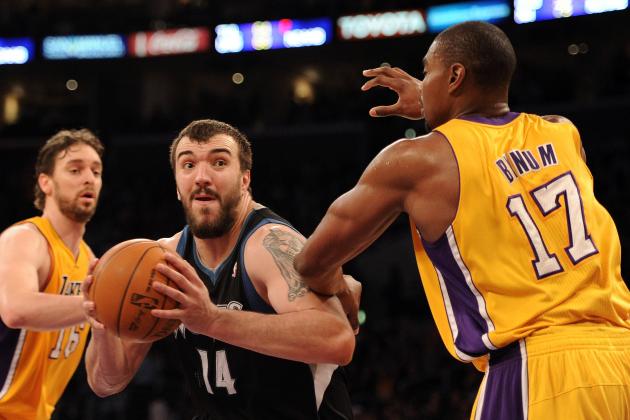 Harry How/Getty Images
Minnesota's center will need to improve his good play from last year while Love and Rubio heal.
The Timberwolves' plans to propel themselves towards contention in the Western Conference will be delayed by Ricky Rubio's recovering knee and Kevin Love's broken hand. But the team's season may be not completely sunk due to an improving frontcourt led by the mammoth Nikola Peković.
"He's slimmed down, but he's stronger," said his coach Rick Adelman about the center during training camp. While preseason platitudes are the norm in this league, Pekovic should build on an impressive 2011-12 campaign and be even better this season, especially without Love in the middle to demand touches.
He is already among the league's most efficient scorers, shooting 56.4 percent from the floor last year while finishing 14th in points per possession. And on the offensive glass, he was a monster, as he led the league with an offensive rebound rate of 15.8 to help himself score 13.9 per game in under 27 minutes a night.
In short, he was excellent last year and will be even better this year—something Minnesota will need in order to remain in sniffing distance of the playoffs with its two stars sidelined until December.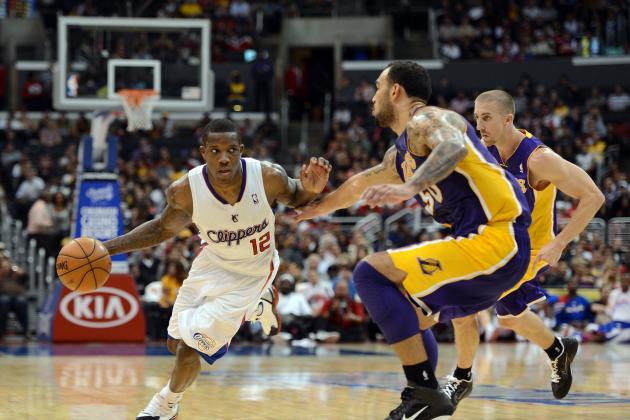 Harry How/Getty Images
John Wall's former backup at Kentucky should finally get his chance to shine as Chris Paul's backup.
At first glance, Eric Bledsoe's pedestrian, almost embarrassing, stats over the past two seasons make him look more like a guy headed for Europe than a breakout season in the NBA. But those who have watched more closely realize that Bledsoe is an emerging player whose talents should be on display more often this season.
With Chauncey Billups sidelined nearly all of last season, this is something that should have happened last year. But the young guard was still developing and an overcrowded backcourt rotation all too often led to him sitting on the bench, watching Vinny Del Negro give one-dimensional players with known names the playing time he deserved. Randy Foye, Mo Williams and Nick Young were all above him on the depth chart, and the result was up-and-down play from Bledsoe when he did get the occasional nod.
That won't be the case this year. Jamal Crawford has been brought in to help the reserves score and Billups is healthy, but Bledsoe will actually have a role now and the guard depth—hopefully—makes it impossible for Del Negro to ignore Eric's talents again this season. This continuity and consistent time should allow his production to more resemble his 2012 postseason numbers (58.7 percent shooting and 16.6 points per 36 minutes) than his regular season stats (38.9 percent shooting and 10.2 points per 36).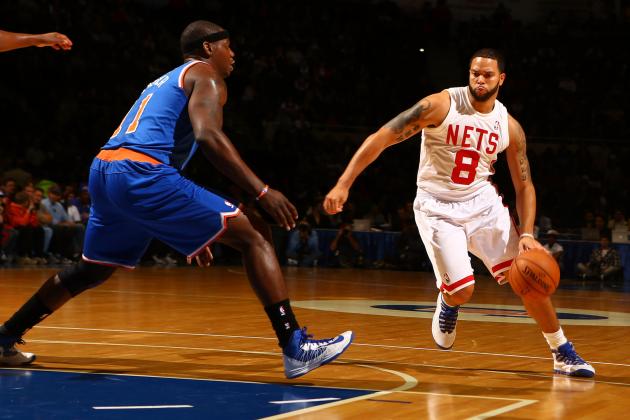 Al Bello/Getty Images
The Knicks will need Brewer to take on a larger role than he had in Chicago.
This offseason, the Chicago Bulls' loss was the New York Knicks' gain. Ronnie Brewer has long been heralded as an excellent defensive player and nowhere will that become more exaggerated than in Gotham.
Knicks fans have grown tired of the J.R. Smith routine, and Iman Shumpert, who showed much promise as a two-way guard last year before suffering a devastating knee injury in the playoffs, will be out until at least mid-December. This should leave plenty of time for Brewer's defensive skills to engender praise among the Knicks' coaching staff and the team's supporters in a way that never fully happened in Chicago, despite his contributions to the Bulls' stalwart defense.
The result should be a hold on playing time that won't dissipate greatly later in the season and offensive production that may mimic his time with the Utah Jazz. The only thing holding him back is a meniscus repair operation he had done to his knee in September, but the recovery appears to be progressing as scheduled and Brewer should immediately be ready to fill a stopper role for a team that badly needs one.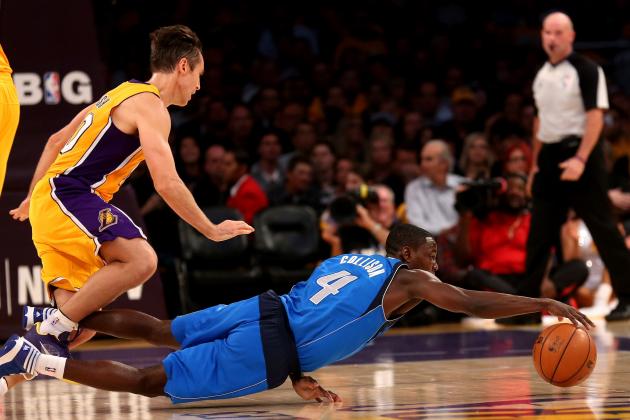 Stephen Dunn/Getty Images
With a defined role and a refocused game, Collison should have people talking again.
You saw what Collison did last night in the Dallas Mavericks' opener against Los Angeles. While that will not be the norm, the team needs his offense and the still-young point guard appears eager to re-prove to the world that he is an NBA starting point guard.
As his job got taken by George Hill in Indiana last season, Collison fell back into a spark-plug role as a guy willing to play full-court defense and push the tempo. The shakeup seemed to refocus him on the skills—and speed—that makes him stand out in this league, and there were full quarters of Pacers' playoff games in which his energy and scoring helped Indiana pull out victories. His 19-point performance, on 9-for-10 shooting, in Indiana's close-out game against Orlando was just one of the many reasons that so many in the Hoosier state were left shaking their heads when the team seemingly gave him away this summer.
As Collison moves on to a better situation for him to shine, expect this playing style to stick. The Mavericks are a team in limbo, stuck between the fading light of a recent title and the dawn of a day when they can properly rebuild by getting Dirk another (hopefully younger) star to play beside. This season in Dallas will be a shooting star: something never seen again but hopefully a memory fans can enjoy. Nobody is expecting greatness. So Collison's speed and ability to both shoot and drive will likely be seen more as attributes every team would want rather than just footnotes to what he doesn't bring (namely, many assists or a true to commandeer an offense). By the end of the year, this should have everyone thinking about him more as they did during his New Orleans days than they have over the past two years.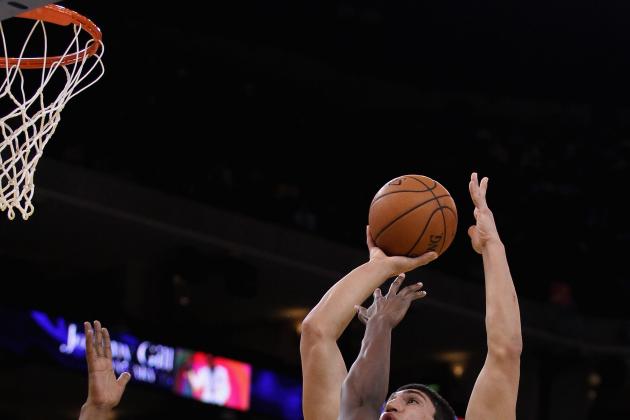 Ezra Shaw/Getty Images
Kanter has all the tools, and now it appears he also has the dedication.
Enes Kanter is another member of the All-Preseason In-Shape team that often allures fans with hopes of grandeur that never materializes. But this season should be a marked improvement for the second-year big man from Turkey.
Currently, the frontcourt rotation for his Utah Jazz is overcrowded. With Al Jefferson, Derrick Favors and Paul Millsap all more accomplished, it would seemingly leave Kanter as the forgotten man. But it is unlikely that the Jazz finish another season with this logjam still in place, so look for Kanter to see an increased workload in Utah if it decides to make the youth movement—or somewhere else that recognizes his ability if he is the one who gets dealt.
His footwork, touch around the hoop, strength and, now, fitness mean he will carve out a sizable role with a team somewhere. It's just up to Utah whether or not they want to be that place.
Christian Petersen/Getty Images
Dragic will light up the stat sheet in his return to Phoenix.
We could call this Goran Dragic's Back to the Future season. Because in returning to Phoenix, where a 26-points-in-17-minute Western Conference finals performance made him into a legend, he is now ready to make good on a career that was supposed to blossom in the desert.
The Suns will be terrible this season, but the homecoming should still be sweet for Dragic, who was stuck playing behind Kyle Lowry for the Houston Rockets last season. This role put the clamps on his production early in the year, but he showed his true break-out ability in the second half, averaging 16.3 points per game (on 47.4 percent shooting) and 7.3 assists per game after the All-Star break. (This number jumped to 18.9 points and 7.7 assists per night during 14 games in April).
In Phoenix, he won't have to play backseat and should be asked to call his own number early and often. And imagine if he can start hitting his threes with more consistency? The lack of other options isn't the best thing for the Suns' upcoming season, but it will allow Dragic to remake his name in the city from a one-hit wonder to a legitimate starting point guard.